India's External Affairs Minister S. Jaishankar on February 20 arrived in Paris on a three-day visit, which is aimed at boosting bilateral ties and increasing cooperation in the Indo-Pacific region.
Jaishankar met with his French counterpart Jean-Yves Le Drian, during which he discussed bilateral cooperation, Indo-Pacific, and the Ukraine situation. 
"Arrived in Paris. Held wide-ranging and productive talks with FM @JY_LeDrian. Discussions on bilateral cooperation, Ukraine situation, Indo-Pacific and JCPOA reflected our deep trust & global partnership. Look forward to participating in the EU Ministerial Forum on Indo- Pacific," Jaishankar tweeted.
During their meeting, Jaishankar and Le Drian lauded India and France's close cooperation during the COVID-19 pandemic and agreed to strengthen their strategic partnership, specifically in the realm of trade and investments, defense and security, health, education, research and innovation, energy, and climate change, according to a statement from the Ministry of External Affairs (MEA).
In line with this vision, both sides adopted the India-France Roadmap on the Blue Economy and Ocean Governance that will involve institutional, economic, infrastructure, and scientific cooperation.
France is a leading European player in the Indo-Pacific with territories it has held since colonial times. It has been attempting to expand its bilateral activities with regional maritime powers as well as through the EU missions.
The two countries also agreed to deepen the long-standing cooperation between their agencies dealing with public administration and administrative reforms, according to the statement.
Jaishankar and Le Drian further deliberated about important regional and global topics, including the India-EU relationship and the priorities of the French EU Council Presidency, which began on January 1, 2022.
Arrived in Paris.

Held wide-ranging and productive talks with FM @JY_LeDrian.

Discussions on bilateral cooperation, Ukraine situation,Indo-Pacific and JCPOA reflected our deep trust & global partnership.

Look forward to participating in EU Ministerial Forum on Indo- Pacific. pic.twitter.com/qo5PX3fAsA

— Dr. S. Jaishankar (@DrSJaishankar) February 20, 2022
The Indian foreign minister praised France for hosting an EU Ministerial Forum on Indo-Pacific Cooperation on February 22, 2022, which he would attend alongside many other ministers from the Indo-Pacific and the EU.
They additionally agreed to strengthen India-EU ties during France's presidency, as well as the need to start negotiations on India-EU FTAs and implement the India-EU Connectivity Partnership. The two ministers also agreed to jointly launch the Indo-French call for an 'Indo-Pacific Parks Partnership' during the EU Forum.
Made In India Engines
France is regarded as one of India's most important strategic allies and shares strong defense ties with New Delhi. India has already ordered 36 Rafale fighter jets from France and is reportedly considering ordering more. 
Given the growing defense collaboration between the two nations, Jaishankar may hold negotiations with the French government about the transfer of technology to produce 100-kilonewton Safran aircraft engines in India as part of the 'Aatmanirbhar Bharat' (self-reliant India) program.
The engine development agreements between the two countries have been ongoing for quite some time. Indian Defense Minister Rajnath Singh said in December last year that France has agreed to jointly produce aircraft engines in India to increase the country's self-reliance in the defense manufacturing sector.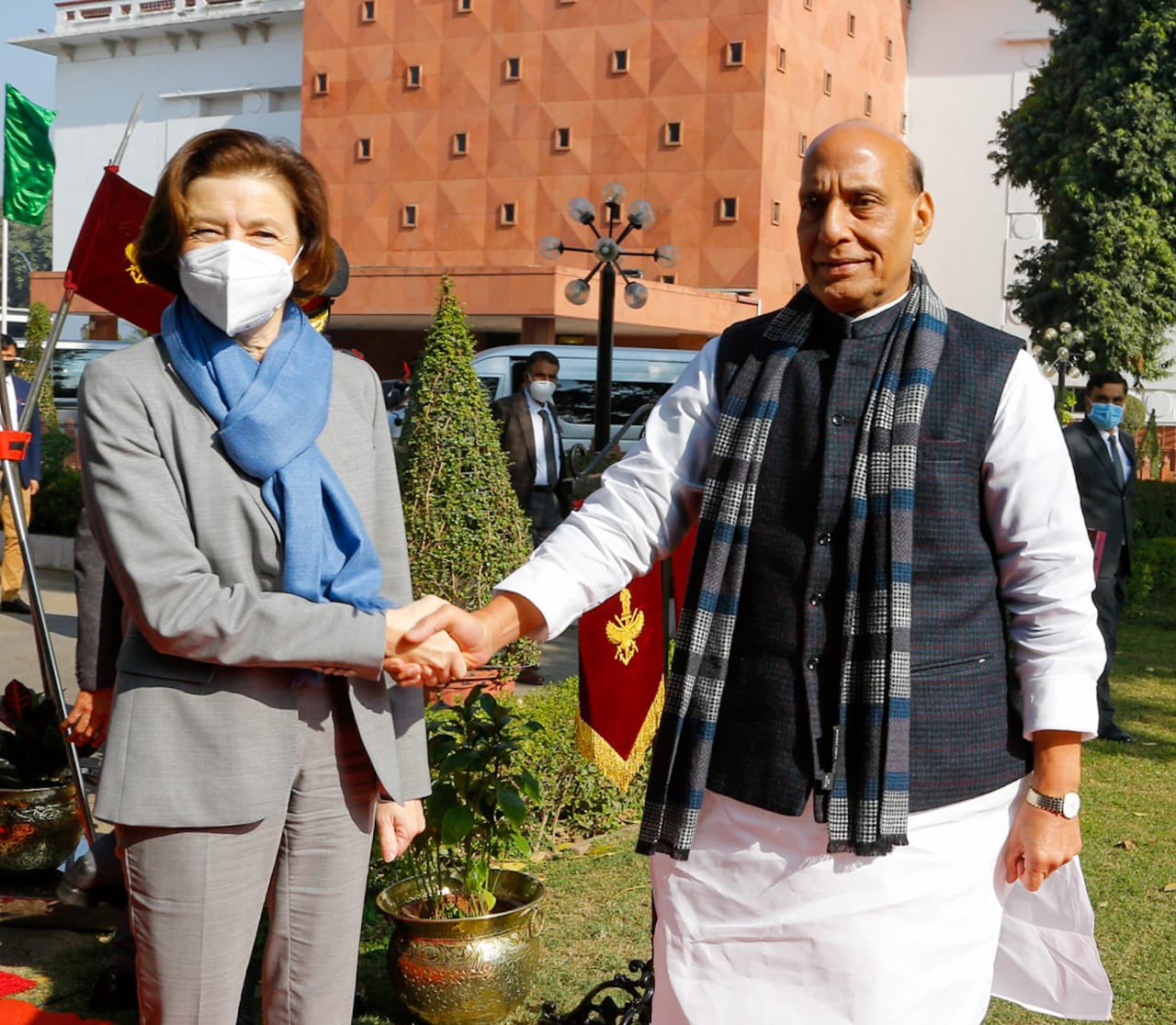 "A big French company will manufacture an engine in India, thus far not made in the country, in collaboration with an Indian firm," Rajnath Singh then said, most presumably referring to the Safran group.
France had earlier also proposed an enticing proposal to revive plans to develop the indigenous Kaveri jet engine as part of the Rafale agreement, as previously reported by The EurAsian Times. In addition, a detailed presentation on developing an aircraft engine ecosystem in India was given.
Safran, which develops engines and electronics for the Rafale fighter, has offered to co-develop the Kaveri engine for the Indian Light Combat Aircraft (LCA) program, which currently relies on GE engines.
Rajnath Singh stated that the Indian defense and aerospace industry market, which is currently around $85,000 crore, would grow to $1 lakh crore in 2022 and $5 lakh crore by 2047.
In early 2021, Hindustan Aeronautics Limited (HAL), India's state-owned aircraft maker, and Safran signed an MoU (Memorandum of Understanding), announcing their intention to collaborate on bringing niche engine technology to India.
France had indicated that India will be the sole country to get such advanced technology transfer, ensuring that New Delhi would achieve complete "sovereignty" in the field of aero-engine technology.
France To Offer Nuclear-Powered Subs?
Owing to the changing security dynamics in the Indo-Pacific, it is widely thought that France could also offer to manufacture and jointly develop nuclear-powered conventional attack submarines in India. 
Last year, the United States, the United Kingdom, and Australia announced the formation of a regional security partnership, ousting its "traditional ally" Paris. Australia will be given the technology and capability to deploy nuclear-powered submarines as part of the AUKUS partnership.
Despite the fact that this was a major setback for France, many experts considered it could be good news for India's defense industry. During French Defense Minister Florence Parly's visit to Delhi in December last year, it was reported that France had offered its Barracuda nuclear attack submarine to India. 
It's worth noting that this is one of the most advanced military equipment offered to India, and it could enable the Indian Navy a potent sea denial capability in the Indian Ocean. Nuclear submarine technology is considered the pinnacle of naval prowess.
Following the Rafale fighter jet contract, this purported French promise to equip India with nuclear submarine know-how has the potential to cement France's status as India's top defense partner. This position has been historically held by Russia.
The submarines of the Barracuda class are nuclear-powered but not nuclear-armed. Despite this, a Submersible Ship Nuclear (SSN) like the Barracuda is the most lethal sea denial weapon. With the 1,000-kilometer-range Scalp Naval cruise missile, it can stay submerged for long periods of time and yet have a significant land strike capability. According to reports, the time between refueling is 10 years.
The Naval Group, which is currently building six Scorpene-class diesel-electric submarines for the Indian Navy at Mazagon Dock Shipbuilders (MDL), Mumbai, is the manufacturer of the Barracuda submarine.
If the Barracuda proposal gains traction, it could have ramifications for the Indian Navy's existing $5.7 billion Project 75 (I) program to develop a new line of six diesel-electric submarines. The project has already suffered delays with foreign vendors seeking time to formulate their proposals. Russia recently said it is not participating in the competition.