Washington could send Ukraine a very economical and what could potentially also be a game-changing weapon, dubbed Ground-Launched Small Diameter Bomb (GLSDB). This is in addition to the weapons repair facility that the US plans to set up near Ukraine for its howitzers.
Boeing's proposed system comprises small precision bombs mounted on widely available rockets, offering a way forward for continued military assistance to Ukraine amid dwindling US and allied military inventories.
The Ground-Launched Small Diameter Bomb (GLSDB) combines the GBU-39 Small Diameter Bomb (SDB) with the M26 rocket motor, both of which are common in US inventories.
It could be delivered as early as spring 2023, according to a document reviewed by Reuters and three people familiar with the matter.
Ground-Launched Small Diameter Bomb (GLSDB)
Jointly developed by Boeing and SAAB AB, GLSDB is GPS-guided, can defeat some electronic jamming, is usable in all weather conditions, and can be used against armored vehicles, according to SAAB's website.
The cost of each GBU-39 is only about $40,000, and the M26 rocket motor is available in abundance, making the GLSDB cheap and its main components readily available, thus making it possible to deliver the weapon system as early as 2023, albeit at a low rate of production.
Also, the GBU-39 has small, folding wings that enable it to glide over 100 kilometers if dropped from an aircraft. The GLSDB can strike around 150 kilometers, allowing Ukrainian forces to attack high-value targets inside Russia.
Therefore it is doubtful if the US would agree to provide this weapon system to Ukraine, considering that Ukraine's repeated requests for long-range weapons like the ATACMS have been rebuffed.
Even the HIMARS MLRS, which has wreaked havoc on the Russian military, was earlier off the table for Ukraine, as President Biden feared that providing highly advanced, destructive, and long-range weapons to Ukraine would be interpreted as an escalation by Moscow.
However, Washington later agreed to provide HIMARS to Ukraine after Kyiv gave "assurances" that it would not use the missiles to strike inside Russia. Also, the HIMARS munitions being supplied to Ukraine can only reach up to a distance of 84 kilometers.
Furthermore, while a few GLSDB units have already been produced, there are still several logistical hurdles to formal procurement. Boeing's plan will require a price discovery waiver, exempting the contractor from an in-depth review needed to ensure the Pentagon gets the best deal possible.
Furthermore, any arrangement would require at least six suppliers to speed up their parts and services shipments to produce the weapon quickly.
As per the document reviewed by Reuters, Boeing's proposal to the US European Command (EUCOM), which is supervising weapons deliveries to Ukraine, is that the main components of the GLSDB would be sourced from current stores in the US.
That said, the GLSDB is only one of around a half-dozen plans under consideration for getting new munitions into production for Ukraine and the US allies in East Europe, the industry sources told Reuters.
US Sets Up A Repair Facility In Poland
Apart from exploring new weapon systems for Ukraine, the US is also making enormous efforts to ensure that the weapons already transmitted to Ukraine get proper maintenance.
US EUCOM has set up a repair facility in Poland for Western-made artillery weapons provided to Ukraine that are failing after months of overuse, or being damaged or destroyed during hostilities, reported New York Times on November 25.
Western-made artillery breathed new life into Ukraine's resistance when the Ukrainian military began running out of 152-millimeter shells for its Soviet-era howitzers.
Ukrainian troops widely employed NATO-standard howitzers that fired 155-millimeter shells. The US and other NATO partners have shipped hundreds of thousands of rounds of 155-millimeter ammunition to Kyiv.
However, some of those shells and propellent charges had not been tested for use in certain howitzers. Eventually, according to unnamed US military officials cited by New York Times, some can wear out barrels more quickly.
Furthermore, the kind of artillery warfare happening in Ukraine often requires the Ukrainian forces to fire at their targets from incredibly long distances to make Russian counterattacks more complex, and the larger propellant charges needed to do that produce much more heat, causing the gun barrels to wear out rapidly.
Another problem is the rate at which the ammunition is being deployed. Currently, Ukrainian forces are reportedly firing 2,000-4,000 artillery shells per day, which has rendered many of the M-777 howitzers ineffective, as shells fired from them are not traveling as far or as accurately.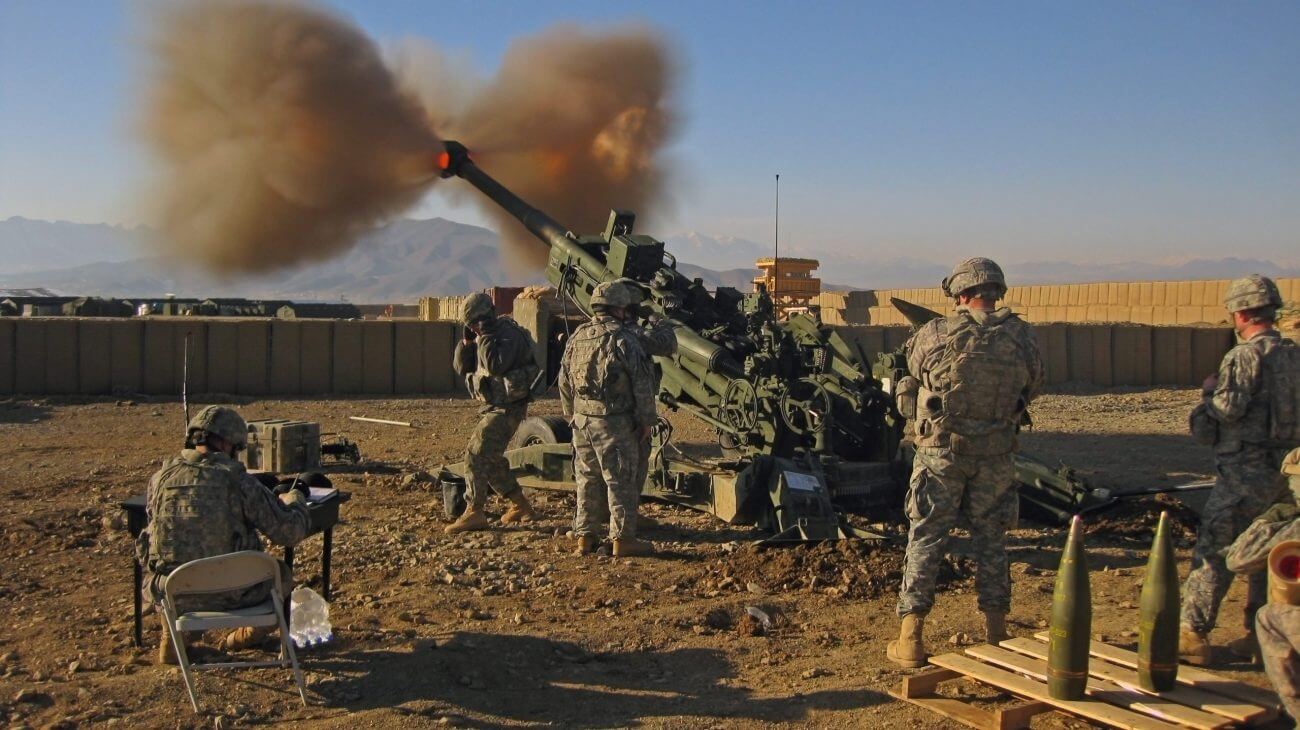 According to officials familiar with Ukraine's defense requirement, as cited by New York Times, one-third of approximately 350 Western-made howitzers sent to Ukraine are out of action at any given time.
It is impossible for the soldiers in the field to take out a howitzer's barrel and replace it with another, which can be at least 6 meters long and weigh thousands of pounds. Therefore dedicated facilities for the repair of these howitzers are a necessity.
However, such facilities also need to be safe from enemy fire, which makes the US EUCOM's repair facility in Poland appropriately positioned. However, Ukrainian officials would still like to have the maintenance sites closer to the frontlines so that guns can be returned to combat sooner.
According to New York Times, the effort to repair Western-made artillery weapons in Poland began in recent months and is being presided over by the US EUCOM in Stuttgart, Germany. However, it might soon be placed under a new command focussed on training and arming Ukrainian troops.
Germany Establishes Repair Center In Slovakia
Germany has also set up a repair and maintenance center in Slovakia for weapons and military equipment provided to Ukraine.
Weitere Schritte zur Unterstützung der #Ukraine: Ministerin Lambrecht verkündet in Brüssel, dass bis Juni 2023 bis zu 5000 ?? SoldatInnen in Deutschland ausgebildet werden. Zudem richten wir ein Instandsetzungszentrum in der #Slowakei ein, das sofort seine Arbeit aufnimmt.? pic.twitter.com/1lWb8CVr7W

— Verteidigungsministerium (@BMVg_Bundeswehr) November 15, 2022
Spiegel reported in October that Germany is considering repairing Panzerhaubitze 2000 self-propelled howitzers sent to Ukraine in Slovakia.
Initially, the German government was working with the manufacturer of Panzerhaubitze 2000, Krauss-Maffei Wegmann (KMW), to set up a repair center in Poland, as it is closer to the Ukrainian border.
However, Poland insisted that its state-owned company Polish Armaments Group (PGZ), handle these repairs, for which PGZ would have required confidential information about the Panzerhaubitze 2000 from the manufacturer.
The German defense industry representatives did not agree to share specifics of their technologies with a foreign manufacturer because of the competition in the market. So KMW and the German Ministry of Defense instead began negotiations with Slovakia to deploy repair facilities there.
The repair center in Slovakia will reportedly commence operations by this year's end.