Ukrainian President Volodymyr Zelensky's top aid has expressed displeasure about a Politico story on Ukraine's potential counteroffensive against the Russian military in May, saying such a military move "should be a surprise for the enemy."
On March 15, Politico published a story citing unnamed American officials saying they believe Kyiv will launch its counteroffensive against the Russian military in May. Also, the article discussed two possible strategies the officials reportedly believed Ukrainian could adopt while conducting its counteroffensives.
As per Politico's story, US officials said that Ukraine has "essentially two options: push south through Kherson into Crimea or move east from its northern position and then south, cutting off the Russian land bridge."
The first option, according to officials, is "not realistic," as Russian forces are well entrenched on the eastern bank of the Dnipro River, and Ukraine does not have enough manpower to carry out amphibious assaults across the Dnipro under the Russian guns. Therefore, US officials think the second option is more likely.
"I find it a bit ironic when journalists say what counterattack scenarios Ukraine will use. Maybe they should take a direct part in the work of the General Staff of Ukraine and plan operations then?" Mykhailo Podolyak, the adviser to the head of the presidential office, said in an interview with 24tv.ua – Ukrainian television station Channel 24's website – when asked about the Politico story.
Podolyak said that Ukraine is not adhering to a timeline and that such a military move will be undertaken only when the country is ready. He also expressed displeasure about Politico reporting any information regarding Ukraine's potential counteroffensive, saying such a military move "should be a surprise for the enemy."
He said President Zelensky and Ukraine's top military brass realize that counterattacks are necessary for Ukraine to retain its statehood. However, a larger counteroffensive "requires a concentration of resources."
He added that Ukrainian armed forces "cannot simply retreat or advance without being prepared for different scenarios and taking into account all the risks."
"It can only be said that the following months are required to accumulate a certain resource," Podolyak said. "After all, an offensive requires tools in a certain amount, which must be accumulated. We understand how long this will take logistically."
He also clarified that the "military does not need to talk about the priority directions or scenarios of the attack."
"Ukraine is much more creative than Politico journalists think," Podolyak continued. "We have already proven these many times during the war."
However, in an interview with the Italian newspaper La Stampa this month, Podolyak provided an estimated counteroffensive timeline.
"We are not in a hurry. We will reorganize over the next two months. We will exhaust the Russians in Bakhmut and then focus elsewhere," Podolyak said.
Bakhmut Depleting Ukraine's Munitions
In recent months Ukraine and Russia have fought essentially to a standstill around Bakhmut, with both sides having suffered significant losses in terms of military equipment, munitions stockpile, and manpower.
Led by mercenaries from the Wagner private military company, Russia had seized the Bakhmut city for around nine months, making slow but steady tactical gains, which could soon become operational gains if Ukraine withdraws its forces from Bakhmut.
As EurAsian Times discussed earlier, taking Bakhmut would rupture Ukraine's supply lines and open a route for Russian troops to move further toward Kramatorsk and Sloviansk, the last two Ukrainian-held major cities in Donetsk.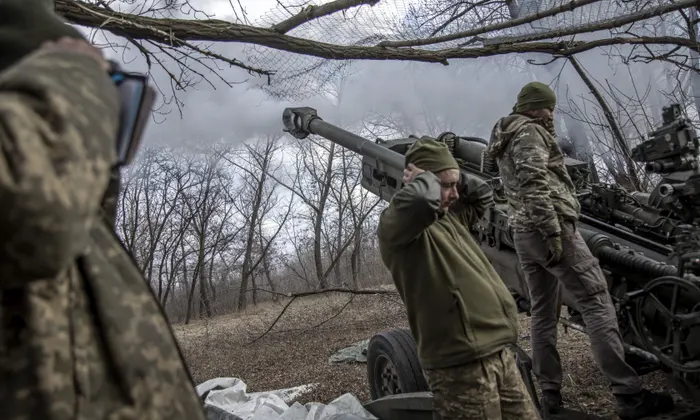 However, the US does not consider Bakhmut strategically important, as was evident in the remarks made by US Defense Secretary Lloyd Austin, wherein he said the city is "more of a symbolic value than it is strategic and operational value."
However, the Ukrainian armed forces have been refusing to yield so far, with President Volodymyr Zelenskyy insisting that defending Bakhmut is critical to holding other eastern cities. Also, as Podolyak said, Ukrainians intend "to exhaust the Russians in Bakhmut" by bleeding their manpower and material, degrading their capacity to carry out any broader spring offensive.
According to the Washington-based Institute for the Study of War (ISW), this strategy works. Russian forces have not even managed to cross the river that partitions Bakhmut, and the Russians do not appear to have the combat power to advance further westward beyond the besieged city.
However, in the process, the Ukrainian forces have been expending munitions at a rapid pace, as a result of which they have been left with very scarce ammunition, forcing the artillery units to pick and choose which fellow troops under fire to help.
Also, the Ukrainian military leadership seems to be setting aside shells for the upcoming spring offensive, which has caused frustration among the Ukrainian troops fighting in Bakhmut, who have resorted to gripping journalists about their dire predicament caused by lack of ammunition.
The Coming Ukrainian Spring Offensive
Military observers are speculating that the Ukrainian counteroffensive could begin in Zaporizhzhia Oblast in southern Ukraine, based on what appear to be initial Ukrainian probes in the region that could precede a more expansive assault.
However, some of these so-called probes have become very costly for the Ukrainian forces, as videos shared on social media indicate what challenges lie ahead for Kyiv's forces as they shift from defense to offense.
The Ukrainian 128th Mountain Brigade garrisoned just south of Zaporizhzhia city, has been undertaking recon operations to probe Russian defenses along the Zaporizhzhia sector.
For instance, last week, on March 17 or before, the 128th Mountain Brigade carried out a recon op in the direction of Robotyne, a village located around eight kilometers south of the southern front line. The op reportedly got several Ukrainian troops injured or killed.
One video of the skirmish reportedly associated with this recon op shows an ex-Dutch YPR-765 tracked armored personnel carrier (APC) being hit by an anti-tank missile or tank shell, with smoke coming out of it, and at least six Ukrainians exiting the vehicle. One of them appeared to drag a wounded seventh soldier.
What looks to be a Ukrainian YPR-765 got hit by something, likely an ATGM.

There are reports of the Ukrainian 128th Mountain Assault Brigade (should be renamed Suicide Assault Brigade) making another attempt at going on the offensive in Zaporozhye today. pic.twitter.com/P7jkNV5vvx

— Fennec_Radar (@RadarFennec) March 19, 2023
The images, also reportedly related to this recon op, show at least four YPR-765 APCs abandoned by the Ukrainian forces, with two burned out and the other two being damaged but mostly intact.
The video of the skirmish also provides a glimpse of what could happen when the Ukrainian forces start their much-anticipated spring offensive.
The Ukrainian forces were attacked in broad daylight along the treeless field north of Robotyne. Without the cover of trees, Russian drones could easily pick up Ukrainian movements.
Also, the Ukrainian troops lacked the artillery support necessary to suppress the Russian forces, making the thinly armored YPR-765s easy prey for the Russian anti-tank missiles and guns.
#Ukraine: With new imagery released it is now clear that three other Ukrainian vehicles were also YPR-765 APCs – two of them were destroyed and one was abandoned during an attempted Ukrainian attack in the vicinity of Robotyne, #Zaporizhzhia Oblast.https://t.co/s3AYH6lSnx pic.twitter.com/yRiKkVHuvY

— ?? Ukraine Weapons Tracker (@UAWeapons) March 19, 2023
Since last fall, the Ukrainian forces have mainly been fighting defensively from positions they had prepared in advance for months. However, to progress, they must leave the safety of their positions and expose themselves to Russian fire, which should be devastating on the flat and open terrain of the Zaporizhzhia Oblast.
While neither the Russians nor Ukrainians have a lot of manpower in southern Ukraine, offensive operations are always costlier than the defensive ones, which partly favors the defending Russian forces, holding a 50-mile-long sector between the Dnipro River and the town of Staromlynivka.
Therefore, the Ukrainian army must want to ensure artillery support for its troops who would take part in a counteroffensive, which should explain the alleged hoarding of artillery ammunition by the Ukrainian military leadership instead of sending it to troops fighting in Bakhmut.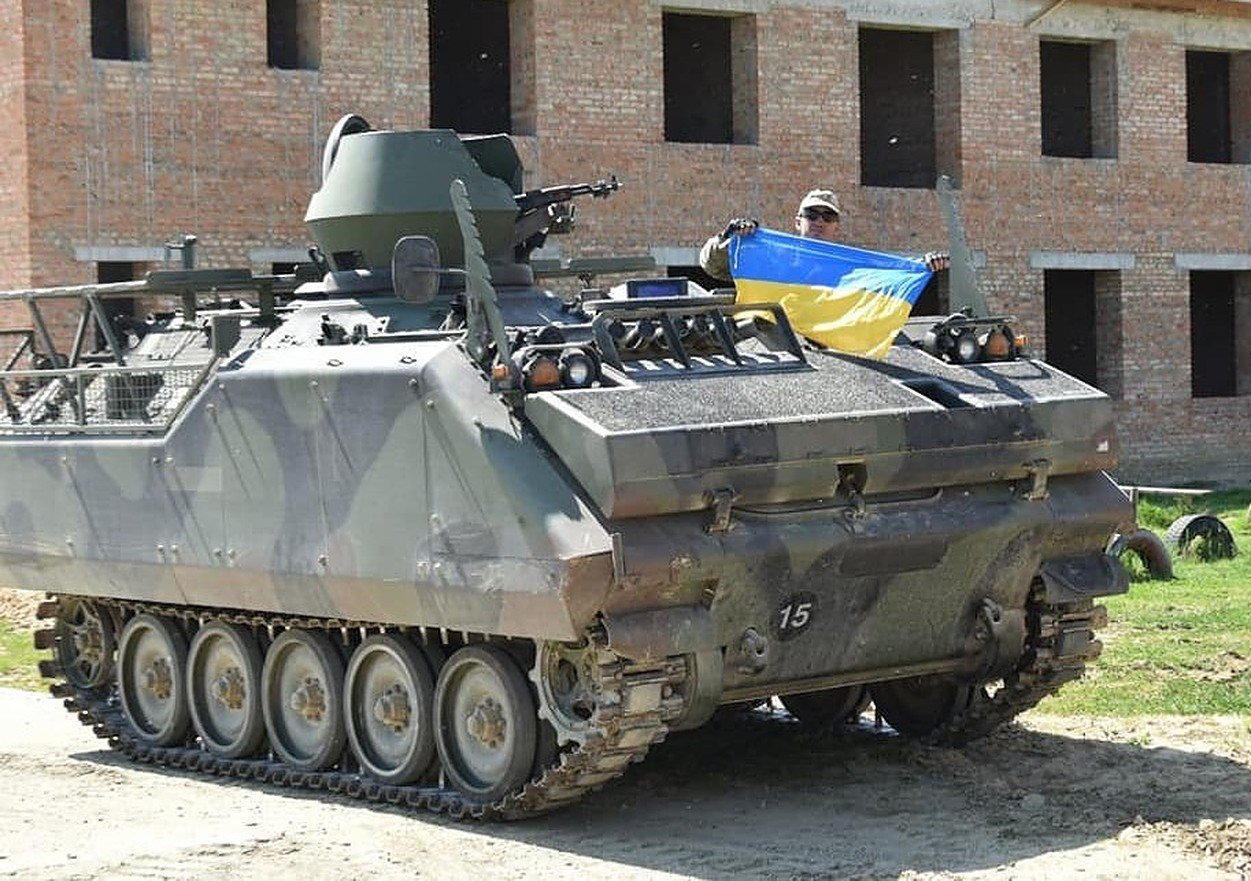 According to Politico's story, which Podolyak took exception to, US officials have also been pressing Kyiv to conserve artillery shells and fire in a more targeted manner.
While at the same time, the US and European countries are sending massive amounts of ammunition and 155-millimeter shells to Ukraine, as well as hundreds of tanks and armored vehicles, including, for the first time, eight armored vehicles that can launch bridges for troops to cross rivers.
US aid packages "going back four or five months have been geared toward what Ukraine needs for this counteroffensive," an unnamed US official was cited as saying by Politico.
Also, in February, more than 600 Ukrainian troops completed a five-week training program in Germany, including instruction on combined arms maneuvers with US-made Bradley Fighting Vehicles and Stryker APCs. Those forces are not back on the Ukrainian battlefields, while a second batch of hundreds of additional Ukrainian soldiers is now going through the program.
As discussed earlier by EurAsian Times, the combined arms training in Germany is intended to train Ukrainian soldiers in the integrated use of artillery, armor, and ground forces so that they can move better and coordinate their company and battalion-sized units in battle and hence will be better prepared to mount an offensive or counter any Russian offensive.