Ukrainian armed forces have released a video showing the launch of HIMARS rockets, demonstrating a unique feature of the HIMARS multiple launch rocket system (MLRS), which protects it from counterfire.
---
A video released by Ukrainian troops on the frontline is making rounds on social media, showing the American-made HIMARS MLRS in action. In the clip that lasts for about a minute, around eight to nine HIMARS rockets can be seen launched, which follow different trajectories.
A Russian-language media outlet published a report about this video citing unnamed experts, asserting that the video provides insight into the flight path adopted by HIMARS rockets, which interferes with the counter-battery operations of the enemy.
According to these unnamed experts, the HIMARS rockets, after launch, change their flight path almost immediately, which distinguishes this American system from other conventional MLRS in which the projectiles fly along a ballistic trajectory.
It is this feature of the HIMARS rockets which, in high likelihood, prevents the enemy counter-battery radars from determining the exact coordinates of the launchers, thereby making it impossible to deliver accurate retaliatory strikes.
Experts further noted that HIMARS rockets are not always known to change their trajectory. This ability is only used by the Ukrainian forces when the MLRS is located in areas with a threat of retaliatory strikes.
Counter-battery radars detect and track incoming projectiles and, based on their trajectories, calculate their point of origin, so if the rockets can alter their courses in such a way as to confuse the counter-battery radars, then it is indeed possible to prevent precise retaliatory strikes.
However, it is not just the trajectory of rockets but also the sound generated when rockets are launched that the counter-battery systems use to determine the location of enemy launchers.
EurAsian Times asked an expert to see if such a feature is known to exist in MLRS rockets or do the HIMARS rockets have them. Maj Gen Harsha Kakar (Retd), who served in the Regiment of Artillery in the Indian Army, said that it is not possible to comment on it as there is no data to confirm or deny it.
When asked how HIMARS units have survived the retaliatory strikes from Russian forces until now, as not even a single unit has been confirmed destroyed so far, Kakar said, "HIMARS, like other mobile rocket systems, adopts shoot and scoot tactics.
This implies launching its rockets and moving to another location. This is adopted by most weapon systems currently to beat counter bombardment by the enemy." "It is nothing new. Most weapon systems which fire salvos are so designed," Kakar added.
"The information about HIMARS – launched missiles that mislead counter artillery radars by maneuvering in flight is indeed impressive," Konstantinos Grivas told the EurAsian Times, who teaches advanced weapons systems at the Hellenic Army Academy.
Grivas hinted at the possibility that the US might have sent small numbers of under-development PrSM (Precision Strike Missiles) to Ukraine while noting it is rather unlikely.
The most likely possibility, according to Grivas, is that the Ukrainian forces could be using "HIMARS in reconnaissance-strike complexes with the rockets being able to update the targeting data in flight via data link and adjust their trajectory accordingly using lateral thrusters so that they can engage targets in motion or, precisely, to have an erratic course that will confuse counter artillery radars."
He noted that the Israeli TCS (trajectory correction system), which has been presented about twenty years ago, had similar capabilities and said that "presumably, the US has developed rockets with similar capabilities for HIMARS and MLRS."
Russia Acknowledge The Effectiveness Of HIMARS
The HIMARS MLRS provides Ukraine with a rapid precision strike capability at standoff ranges without needing air power, thereby allowing the Ukrainian military to compensate for the small size of its air force.
Therefore, over the past few months, Ukrainian forces have been able to destroy hundreds of Russian positions and ammunition stockpiles far from the frontlines by leveraging the long-range HIMARS rockets.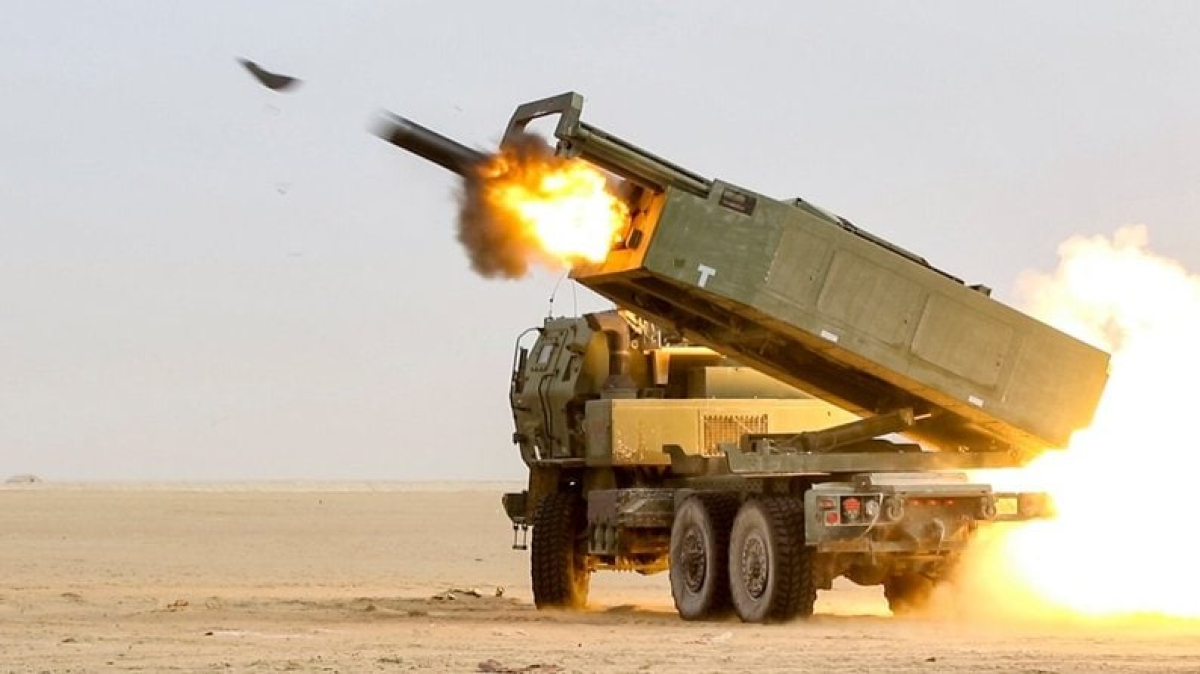 The effectiveness of HIMARS on the battlefield made the pro-Kremlin figures so nervous that they publicly voiced their concerns.
For example, a former commander of Russian separatist forces in eastern Ukraine, Igor Girkin, said on July 10 on the Telegram messaging app that "the Russian air defense systems, which relatively (very relatively) coped with attacks with the help of "Tochek-U" and "Uraganov" – turned out to be ineffective against massive strikes by Hymers (HIMARS) missiles."
There has also been some appreciation of the precision of HIMARS rockets from Russian eyewitness accounts, such as Roman Saponkov, a Russian military blogger who is embedded with frontline Russian forces and was present during a HIMARS strike on Chernobaevka, Kherson, on July 9, which made quite an impression on him.
"As it happened yesterday, I watched the HIMARS strike on Chernobaevka, Kherson, almost before our eyes. I have been under fire many times, but I was struck that the package, 5 or 6 missiles, landed almost into a penny. Usually, MLRS fall over large areas and at maximum distance scatter in a fan-like manner," Saponkov said on July 10 in a Telegram post.
Meanwhile, there have been regular claims from Russia that its forces have destroyed HIMARS units. However, these claims remain unverified as of yet.
When asked about the overall effectiveness of HIMARS on the battlefield, Maj Gen Kakar said that the HIMARS is more suitable against stationary targets rather than mobile targets.
"Destruction of bridges, railway yards, ammunition depots, communication centers, and troops concentrations can change the nature of the conflict. It can stall offensives and delay the movement of reserves. This is what HIMARS has done. Its effectiveness against mobile targets is limited," Kakar said.