Pakistan PM Imran Khan met Russian President Vladimir Putin in Moscow, probably a few hours after he ordered strikes on Ukraine.
Prior to that, there were rumors that Imran Khan's visit was cut short amid Russia-Ukraine tensions. Refuting such reports, Information Minister Fawad Chaudhry — who was part of the Pakistani delegation — later confirmed that Khan was on his way to meet President Putin.
The meeting between Khan and Putin on February 24 reportedly focused on economic and energy cooperation.
This is the first time in 23 years that a Pakistani leader has visited Moscow. Before Khan, then-Prime Minister Nawaz Sharif had made an official visit to Russia in March 1999, according to RIA Novosti news agency.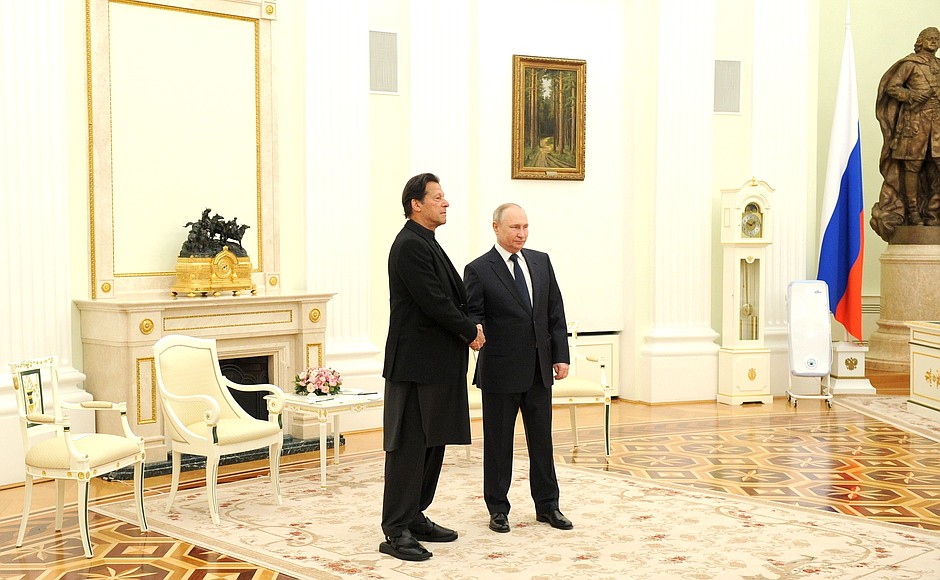 Khan and Putin held wide-ranging consultations on bilateral relations as well as regional and international issues of mutual interest, a statement from the Pakistan PMO said.
"​Recalling the telephone conversations during the recent months between the two leaders, the prime minister expressed confidence that the positive trajectory of bilateral relations will continue to move forward in the future," the statement said.
The two leaders, however, did not address the press.
Why Is Pakistan So Important For Moscow?
Dawn News correspondent Adil Shahzeb reported from Moscow that the Pakistani PM's "important meeting" with Putin was extended to three hours, which was earlier scheduled for an hour.
This is indicative of Moscow's special relationship with Pakistan.
"Pakistan is our rather important partner, including a partner within cooperation organizations. Putin already met with Imran Khan in Bishkek in 2019, met at the SCO Summit, spoke on the phone several times on Afghanistan, on other matters," Putin's Press Secretary Dmitry Peskov told reporters ahead of the President's meeting with Khan. 
The erstwhile Soviet Union established diplomatic relations with Pakistan on May 1, 1948. This remained unchanged even after the collapse of the USSR in 1991. Pakistan joined the international antiterrorist coalition in the 2000s, which gave a new impetus to the Moscow-Islamabad ties.
According to the PMO, Khan reaffirmed the importance of the Pakistan Stream gas pipeline as a flagship economic project between the two countries and also discussed cooperation on prospective energy-related projects.
The two countries had in 2015 agreed to build a 1,100 km-long pipeline to deliver imported Liquified Natural Gas (LNG) from Karachi to power plants in Pakistan's northeastern province of Punjab, according to Reuters.
The cost of the project is estimated between $1.5 billion and $3.5 billion, of which Russia will bear 26% and the remaining 74% by Pakistan.
While the pipeline has been designed to carry 12.4 billion cubic meters of gas (bcm), its capacity may be increased to 16 bcm in the future. The project is at a very preliminary stage. Only feasibility studies are being conducted at present, with no formal date has been scheduled for its launch.
Prime Minister @ImranKhanPTI meets President Vladimir Putin.

#PMIKInRussia pic.twitter.com/fnCbyW1k8k

— PTI (@PTIofficial) February 24, 2022
The two countries also share a close trade partnership. In 2020, the volume of their trade amounted to a record $790 million, an increase of 46%, from the previous year. However, a year later, Russia's trade with Pakistan slipped to almost $697 million, RIO-Novosti reported.
Russia primarily exports food products and agricultural raw materials (61.29% of total exports to Pakistan); metals, minerals and chemical industry products as well as machinery, equipment, and vehicles.
???? President Vladimir #Putin and Prime Minister @ImranKhanPTI held a meeting in Moscow.

They discussed the main aspects of bilateral cooperation and exchange views on current regional topics, including developments in South Asia.

? https://t.co/aFME3GqZXZ#RussiaPakistan pic.twitter.com/p2B463g4jY

— MFA Russia ?? (@mfa_russia) February 24, 2022
On the other hand, Moscow imports textiles and footwear (54.83% of Russia's total imports from Pakistan); food products and agricultural raw materials; machines, equipment, and vehicles among others.
Pakistan has also expressed interest in the modernization of the Karachi Metallurgical Plant, built with Soviet assistance, and the reconstruction of Pakistan's energy and railway systems.
Military Cooperation
During the Cold War period, Pakistan was dependent on American weapons while its arch-rival, India had received Soviet-built arms. Islamabad changed this policy after the disintegration of the USSR. The first batch of Russian-made military hardware was delivered to Pakistan during the period from 1996 to 2004 in the form of 70 Mi-17 helicopters. 
However, there was a long pause until the next decade. In 2014, the two nations signed a landmark military agreement during Russian Defense Minister Sergei Shoigu's first visit to Pakistan.
In 2017, Islamabad received four Mi-35 attack helicopters and two Mi-171E transport choppers from Moscow.
Since 2016, bilateral military exercise 'Druzhba' has been held alternately in Pakistan and Russia. The tactical training seeks to strengthen cooperation in anti-terrorist operations in the mountains. In September-October 2021, the exercise was held at the Molkino training ground in southern Russia's Krasnodar.
Additionally, the two countries conduct joint maritime exercises to curb piracy and other criminal groups in the Arabian Sea.
Pakistan Eying Russian S-400?
Last year, The EurAsian Times had analyzed whether Pakistan was financially capable of buying the Russian S-400 air defense system.
India and Russia signed a deal on the weapon system in 2017. New Delhi has received the first batch of the S-400 missile batteries a few months ago and is preparing to deploy the same along its borders with Pakistan and China.
"Russia has good tanks, helicopters, electronic equipment, air defense systems that Pakistan may consider. S-400 is a big-ticket number and it will all depend on our budget," a top Pakistani military official had told Sputnik News on February 15, 2017.
Big story: S-400 Triumf missile system deliveries to India have begun, announce Russian agencies. Milestone in a major diplomatic tightrope for India. I reported from the S-400 facility near St. Petersburg in 2019. Full report here: https://t.co/hsEwmizgT4 pic.twitter.com/i5fqmdXEPK

— Shiv Aroor (@ShivAroor) November 14, 2021
At that time, questions were raised whether Pakistan would be able to spend that kind of money required to buy S-400. According to an analysis published in The Diplomat, Pakistan would require $2.5 billion to buy at least three regiments of S-400.
"Given that Pakistan was not able to or willing to pay $700 million for eight F-16 fighter jets (a clear budgetary priority) from the United States in 2016 following Washington's refusal to provide Foreign Military Financing (FMF) support, it is highly doubtful that the country's defense ministry would allocate $2 billion or more for a new missile air defense system in the near future given other defense priorities," defense analyst Franz-Stefan Gady wrote.