Former three-time Chief Minister (CM) of Jammu and Kashmir and five-time parliamentarian Farooq Abdullah was freed on Friday by Jammu and Kashmir administration after he was put under detention in August 2019 following the abrogation of article 370.
Jewish Settlements, Israeli Tourists Potential Target Of Terror Groups In India – Intelligence Reports
The National Conference (NC) President wearing a black coat and accompanied by his wife Molly and daughter Safia calmly spoke to the media gathered outside his Gupkar Road residence.
"I'm free… I hope other political leaders would be released soon. I thank all parliamentarians who fought for my freedom. I will be able to take a decision on the future only after all the leaders are released," he said.
Abdullah was detained on August 5. The Centre initially denied his arrest, with home minister Amit Shah telling Parliament that he was a free man. In September, he was charged under the PSA, which allows detention without trial for three to six months, a period that can be extended. His detention was extended by three months and today was its last day.
He sounded reconciliatory as he referred to India as "country," saying he thanked the leaders and people "in the rest of the country" for speaking for Kashmir.
While opposition, as well as some journalists, welcomed the NC President's release, many Kashmiri residents were indifferent about Abdullah's release. "What's the big deal? Has he even cared about the neighbourhood where he lives? Asked an auto-rickshaw driver near his residence.
After Article 370, Modi-Government Takes Another Massive Decision On Jammu and Kashmir
Another one said, "It's better for him to shun politics. There is nothing for him to do now. He has been reduced to a pauper and everything is up to the lieutenant governor. Had these leaders cared about the wishes of their people and not always crushed its own people to keep Delhi happy, they would have found sympathy today."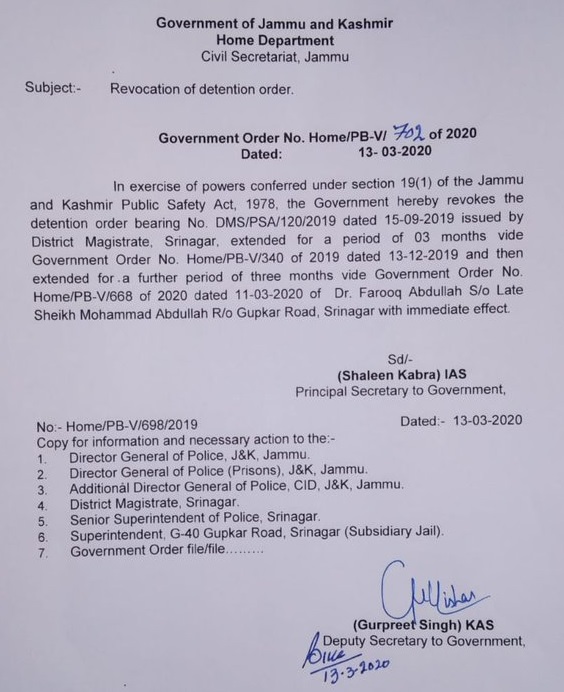 A man from north Kashmir said, "The release of Abdullah is no cause for celebrations in Kashmir. Will he be able to speak about the autonomy, which the NC has been talking about since 1953? We have seen many leaders, who only talk about statehood".
Are India, Afghanistan Using Pashtuns Against Pakistan? Expert Analysis
Yawar Hussain, a netizen, said that Abdullah seems to have come to terms with the abrogation of Article 370. "He seems to follow his father Sheikh Abdullah, who was released in 1975 by the Indian government after several years of detention.
He appears to have accepted the abrogation of Article 370 of the Indian Constitution like his father did with the dilutions of J&K's special status. History would judge him like it has judged his father," Hussain said.
New Malaysian Government Keen To Restore Ties With India, Correct Mahathir's Mistakes
The decision to release Farooq Abdullah came as a surprise as two days ago the J&K administration had extended his detention for a further period of three months. While it is believed that health concerns played an important role in revoking the detention, his release also points to the Centre's larger outreach plan for expanding political engagement in the valley, a part of which was the setting up of a new political party in Kashmir.
His son and Vice President of NC Omar Abdullah and PDP chief Mehbooba Mufti continue to be under detention since the Central Government decided to withdraw article 370 and had charged them under the PSA.