Japan has once again departed from its stated position of "passive defense" which has been its policy since World War II.
Its military policy stance has shifted more towards "active surveillance" from being a passive defender in recent years and amid renewed tensions with China. With the new statement on record by the Prime Minister, Tokyo seems to have forgone all previous defensive posturing.
Japanese Prime Minister Fumio Kishida said that he didn't rule out the possibility of a pre-emptive strike against enemy bases as a defensive measure. He was speaking at the Asaka camp of the country's land self-defense forces while reviewing the troops.
In a speech to the military, Kishida said, "We will study all options necessary to bolster our defensive capabilities, including the ability to execute a preemptive strike against enemy bases." Defense Minister Nobuo Kishi was also present for the live preview.
The Japanese prime minister is committed to taking all necessary measures to safeguard Japan's territories, territorial waters, and airspace, as well as the lives of its residents. "This is the most essential responsibility that has been assigned to us," he emphasized.
Japan's public expression of a preemptive strike could be seen as a stern warning to its adversaries, including China as well as North Korea. Kishida took the opportunity to condemn and warn against both countries.
Tokyo's top official addressed the DPRK issue, emphasizing the importance of keeping an eye on Pyongyang's missile technologies, notably the introduction of supersonic weapons.
Kishida also pointed out that China is beefing up its military capabilities without revealing them.
As tensions mount in the East China Sea between China and Taiwan, Japan has been making efforts to assertively air its discomfort and seems to be preparing for an act of aggression.
Japan's security is fundamentally linked with that of Taiwan due to the proximity between the two countries. And as the United States deepens its engagement with Taiwan's Tsai government, Japan could be feeling the urge to up its ante.
A Paradigm Shift In Japan's Security?
The government's fiscal 2021 supplementary budget plan which was approved on  November 26 provides 773.8 billion yen for defense spending, the greatest amount ever in an extra budget, up by 1.8 times from the previous high of 428.7 billion yen established in fiscal 2019.
The Defense Ministry's budget request for fiscal 2022, which was filed earlier this year, totaled $5,479.7 billion, which included spending for defense equipment.
The ministry wants to procure some of the equipment, including P-1 patrol and C-2 transport planes and upgraded Patriot or PAC-3 interceptor missiles, using the fiscal 2021 extra money, three to six months earlier than originally planned.
The extra funding will also cover costs associated with the relocation of a US military base from Ginowan in Okinawa Prefecture to the Henoko shoreline area in Nago.
In a joint declaration published during a Japan-US summit in April, Tokyo expressed its intention to "bolster its own national defense capabilities to further strengthen the Alliance [with Washington] and regional security". The US is pressing Japan to take a more active role in resisting China's rising hegemony.
Japan's concerted and concrete efforts to upgrade its military and expand its geopolitical footprint seem to be an exercise at containing China. Even though it is constitutionally bound to keep its military forces only for self-defense, the new preemptive strike warning is a clear departure.
Earlier in 2015, it got its parliament to reinterpret Article 9 and pass a series of military legislations. For the first time under Japan's constitution, the regulations permitted the Self-Defense Forces to collectively defend allies in the conflict. The Japan Self Defense Force (JSDF) may provide material assistance to allies fighting in foreign wars. The new rule also authorizes JSDF troops to defend weapons platforms belonging to Japan's allies if doing so will help Japan's defense in some way.
The government is developing a new National Security Strategy and rethinking its approach to missile defense as North Korea upgrades its nuclear weapons.
A common recurring theme in all of the Japanese military advancements is its threat perception related to China. However, its concerns don't seem to be blown out of proportion given increased Chinese belligerence in the Indo-Pacific region and enhanced collaboration with another Japanese adversary, Russia.
Defense Minister Nobuo Kishi said recently that a fleet of two Chinese and two Russian bombers sailed from the Sea of Japan to the East China Sea and the Pacific Ocean, causing Japanese Self-Defense Force jets to scramble.
Military Upgrades 
In what has been seen as an unprecedented move by a country that swears by limited Self Defense, Japan has also announced plans about developing its own stealth fighter aircraft with more internal carriage capacity for missiles inside the aircraft.
This is in addition to its fleet of advanced 5th generation fighter F-35 that gives it the distinction of having the largest F-35 fleet after the United States. The reason cited for this new fighter program is the Chinese J-20's missile-carrying capacity.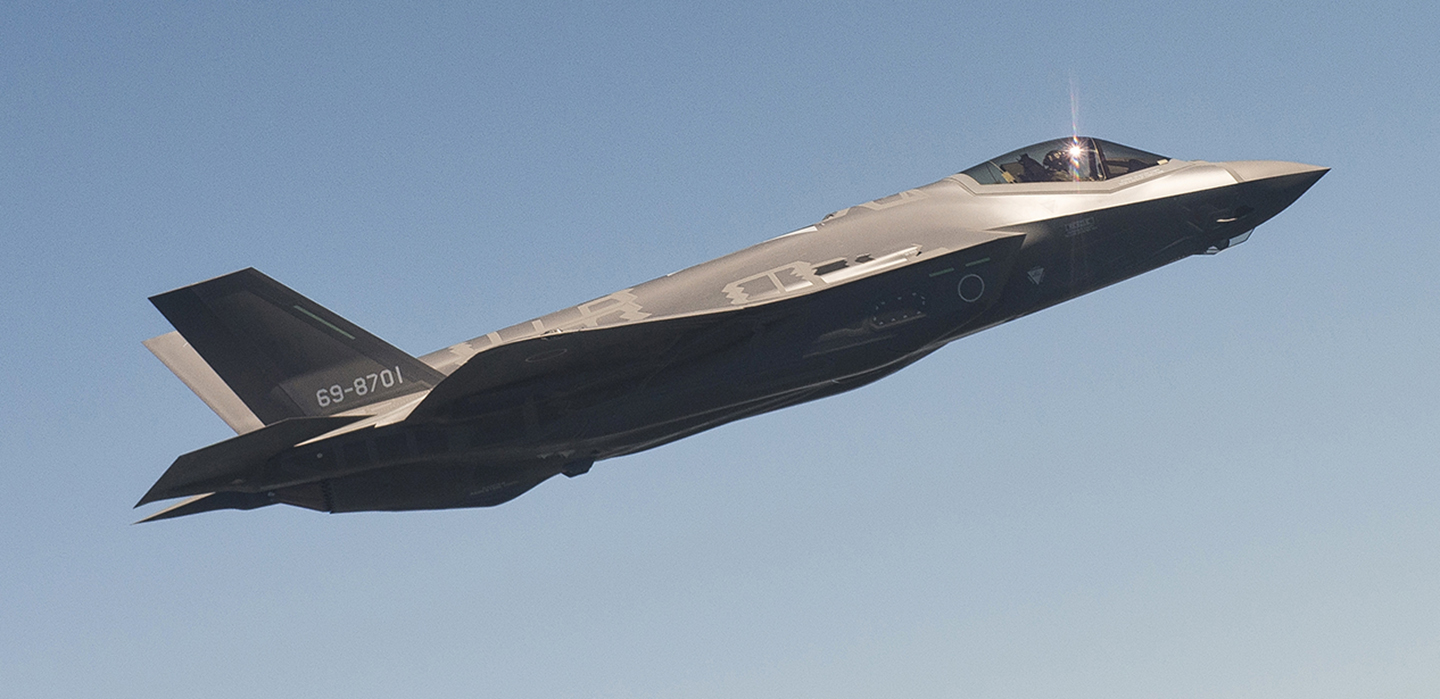 Even though the then-Japanese Defense Minister Taro Kono informed the US in June 2020 that Tokyo would not buy the US-made Aegis Ashore missile defense system due to technical issues, it is still debating whether offensive strike capabilities are required to counter North Korean threats.
In recent times, Japan has also deepened its military ties with the US to procure sophisticated equipment needed to harden its defenses. It became the first country to get KC-46A tanks from the US which are likely to be used to refuel its F-35 fighters.
Japan is also aiming to strengthen its technology sector's competitiveness. The creation of the Acquisition, Technology, and Logistics Agency provides incentives for Japanese enterprises and university-based researchers to improve their competitiveness in emerging military technology. Japanese defense corporations are actively competing for military sales in other countries as well.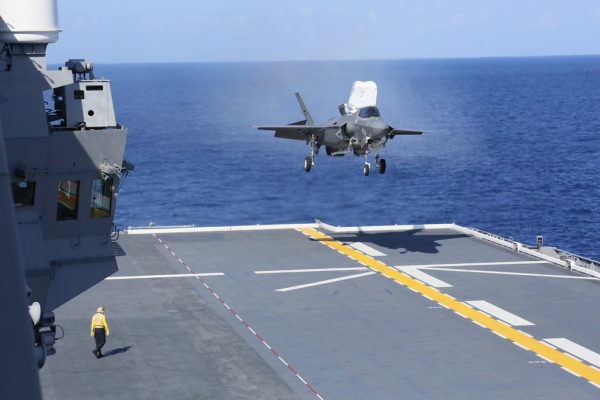 In a curious case of mounting cooperation between Japan and other countries with strategic interest in the Indo-Pacific region and China's overall containment, Japan has been courting Germany.
Earlier the defense minister said that the government will strengthen military ties with Germany in the Indo-Pacific area, as he welcomed the first German battleship to visit Japan in nearly two decades. The frigate Bayern was in Tokyo after two days of joint drills in the Pacific Ocean with the destroyer Samidare of the Japanese Maritime Self-Defense Force.
In October this year, US Marine Corps F-35Bs showed off their short takeoff and vertical landing (STOVL) capability as they first hovered on the side of the Japanese carrier Izumo and then slid sideways and landed vertically. Later they took off without any hiccups from the short runway of the carrier, as previously reported by The EurAsian Times.
This was the first time in 75 years any fixed-wing combat aircraft landed and took off from the deck of a Japanese navy carrier recently. The last time this happened was during World War II.
When American Navy Secretary Carlos Del Toro returned from his trip to Japan, he tweeted about his visit to the "Aircraft Carrier Izumo" in that country. It was a brief remark that acknowledged a significant new naval reality for the long-time partner hinting that the F-35s could potentially take off from this ship.
In a clear departure from its earlier military tradition, Japan's Ground Self-Defense Force (GSDF) undertook a large statewide military exercise to prepare troops for potential combat for the first time in nearly 30 years.
This is a remarkable shift for a country that has relied on passive defense for generations together. It also participated in the military drills called the Malabar Exercise held in the Arabian Sea between all the partners of Quad grouping.
The China Factor
According to a Japanese Defense Ministry think tank, the Chinese military has integrated its land, sea, and air conventional forces with new space, cyber, electromagnetic, and cognitive domains to enhance its joint operations capabilities, with the goal of equaling or surpassing the United States by 2050.
China has been a decisive factor in Japan's military acquiring defense systems and taking on an offensive role on land, air and at the sea. China's belligerence and expansionism in the East and South China seas have meant that Japan is emerging as a principal challenger and first line of defense in the Indo-Pacific.
On Nov 9, ??#JASDF #U125A , #UH60J & ??@usairforce #CV22, #MC130J conducted bilateral search & rescue training over the #EastChinaSea north of Miyako-jima & Ishigaki-jima to improve tactical skills and bilateral response capabilities. pic.twitter.com/cwtfNVGfPp

— Japan Ministry of Defense/Self-Defense Forces (@ModJapan_en) November 12, 2021
In a virtual conference attended by 50 Asian and European countries, Japan's Prime Minister said he firmly opposes unilateral attempts to change the status quo in the East and South China seas, implying that he was condemning China's military expansion. When these public rebuttals are seen with Japan's military expansion, a clear picture emerges that puts China at the center of its security policy.
Japan has also been trying to counter China in the Indian Ocean Region where India is the principal impediment for China.
According to government sources, Japan has dispatched numerous Self-Defense Forces and other staff to Djibouti to assist Japanese nationals in neighboring Ethiopia in evacuating if necessary due to rising armed tensions in that country.
It's not a coincidence that forces have been sent to Djibouti where China is reported to have a military base of its own.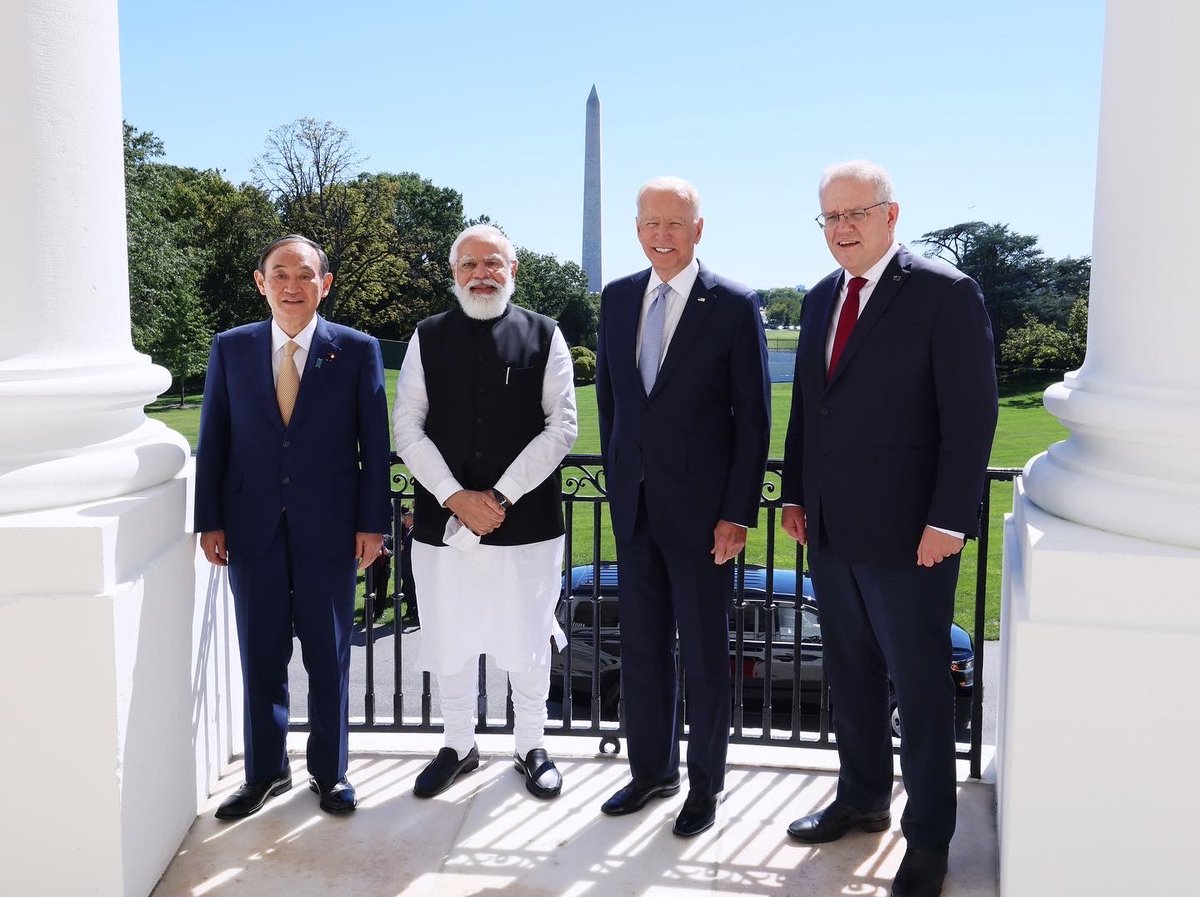 Significantly, Japan has also been upping the ante in the Quad grouping that China sees as an attempt to circumvent it. The leaders of Japan, the United States, Australia, and India may attend their second in-person summit in Japan next spring, in a show of strengthening ties among the Quad countries amid China's growing aggression.
It is believed the Japanese government has discussed hosting the talks. If the plan comes to fruition, it will be the first time that Japanese Prime Minister Fumio Kishida, who assumed office in October, has attended such an event.
Amid China's deteriorating relations with the US and its aggression against Taiwan and India besides sporadic exchanges with Tokyo over the Senkaku Island issue, Japan's Self Defense Forces are expected to adopt a more offensive role under the ambit of its constitution and through US support.