Israel has been growing belligerent against Iran with each passing day as the nuclear talks at Vienna remain caught in a stalemate.
After having echoed its opposition to any relief being granted to Iran and threatening Tehran with a nuclear strike, Israeli PM Naftali Bennett has again upped the ante against its arch-foe.
On January 10, Bennett told the Israeli Parliament, Knesset, that the country's military and other security forces were being re-equipped for the first time in years, reported The Times of Israel.
Bennett's remarks came as the Israel Defense Forces (IDF) are preparing for a possible military strike on Iran's nuclear facilities, amid growing concerns that ongoing talks in Vienna between world powers and Tehran about curbing the latter's nuclear program could result in an agreement that Israel may find unacceptable.
"We are investing in security rearmament of the IDF and the entire defense establishment. I would say this was rearmament that we haven't seen for years. This rearmament is important to our survival, and I am very glad about it and am determined to see it through quickly," Bennett said, speaking to Parliament's powerful Foreign Affairs and Defense Committee.
Earlier, Israel's Defense Minister as well as its incoming Air Chief had warned Iran in no ambiguous terms that the Israeli Air Force (IAF) was ready to bomb its nuclear facilities. In an interview published in the Jerusalem Post last month, Major General Tomer Bar, the new head of the Israel Air Force, had stated that if necessary, Israel could strike Iran's nuclear program tomorrow.
#US #Israel : On visit to #Jerusalem, National Security adviser Jake Sullivan says United States and Israel⁰at "critical juncture" on various security issues &⁰should develop joint strategy pic.twitter.com/WICEJNM14m

— sebastian usher (@sebusher) December 22, 2021
Speculation was rife that the US National Security Adviser, Jake Sullivan had then visited Israel to work out a common strategy. However, Washington was understood to have denied expediting the sale of a refueling tanker that Israel would need if it were to actually bomb Iran, as previously reported by the EurAsian Times.
Many Israeli skeptics and external observers have expressed their doubts about a strike on Tehran. However, Israel's massive rearmament drive and open announcements about its belligerence against Iran mean that it will not back down.
#Israeli Prime Minister Naftali Bennett – "#Israel would not be bound by any nuclear deal with #Iran and would continue to consider itself free to act "with no constraints" against its arch-foe if necessary" pic.twitter.com/clTvbSXz1f

— IDU (@defencealerts) January 11, 2022
Additionally, Prime Minister Bennett also clarified that Israel will not be a party to any deal and could act without constraints against Iran.
Israel considers Iran's nuclear program as an existential threat to its national security. From the very outset, it has remained averse to the idea of lifting any sanctions from Iran or any nuclear deal. In fact, it had earlier stated that an Iran atomic bomb would be ready in about 5 years, deal or no deal, as previously reported by Reuters.
Israel's constant warnings and its rearmament of IDF all indicate that the Jewish nation is preparing for some confrontation with Iran in case the talks fail.
IDF's 'Largest Rearmament' 
Bennett's government increased the defense budget for 2022 to approximately $19.2 billion, with a substantial portion of it intended for military engagement plans with Iran, including billions to upgrade or buy vehicles, munitions, and other items, Times of Israel reported. This is reportedly the largest rearmament of IDF in as many years.
This was Bennett's first appearance as Prime Minister before the Foreign Affairs and Defense Committee, a legislative committee tasked with overseeing the military, foreign affairs, and other relevant concerns. He told the committee at the start of the meeting that Iran was "at the top of our list of challenges."
Inital imagery via @sentinel_hub of #Natanz Nuclear Facility, #Iran shows no changes in the core area to suggest any form of explosion etc. Mountain area to the south checked as well, nothing there either. pic.twitter.com/l8pgoDBu2m

— Aurora Intel (@AuroraIntel) December 5, 2021
"Iran is the head of the octopus that sends enemies and proxies and its tentacles at us, on all of our borders. We are dealing — day and light — with Iran and its proxies. We are making a change, moving to a mindset of constant attack and not just constant defense," he said.
Though there was no specific mention of the weapon systems that the IDF is acquiring or the country that is generously exporting to Tel Aviv, there have been previous reports that can give some perspective.
On the last day of 2021, Israel agreed to buy 12 Lockheed Martin-Sikorsky CH-53K helicopters and two additional Boeing KC-46 refueling planes from the United States, according to the Israeli Defense Ministry.
The ministry had then said that the deal is worth around $3.1 billion, adding that the procurement is "part of a wider program to strengthen the capabilities of the IDF and preparedness to face current and developing threats."
These two Boeing KC-46 refueling tankers are in addition to 8 more for which a deal was signed in two years ago. The US State Department had approved the sale of up to eight Boeing KC-46 tanker aircraft, as well as supporting equipment and services, to Israel for a total cost of $2.4 billion in 2020.
Israel had also asked the United States to expedite the sale of these tankers, which the United States had denied despite being its closest ally and its largest defense partner.
Israel has also acquired a fleet of stealth fifth-generation F-35 Lightning II fighters, many of which were unique F-35I 'Adir' variants developed to include Israeli-made technologies.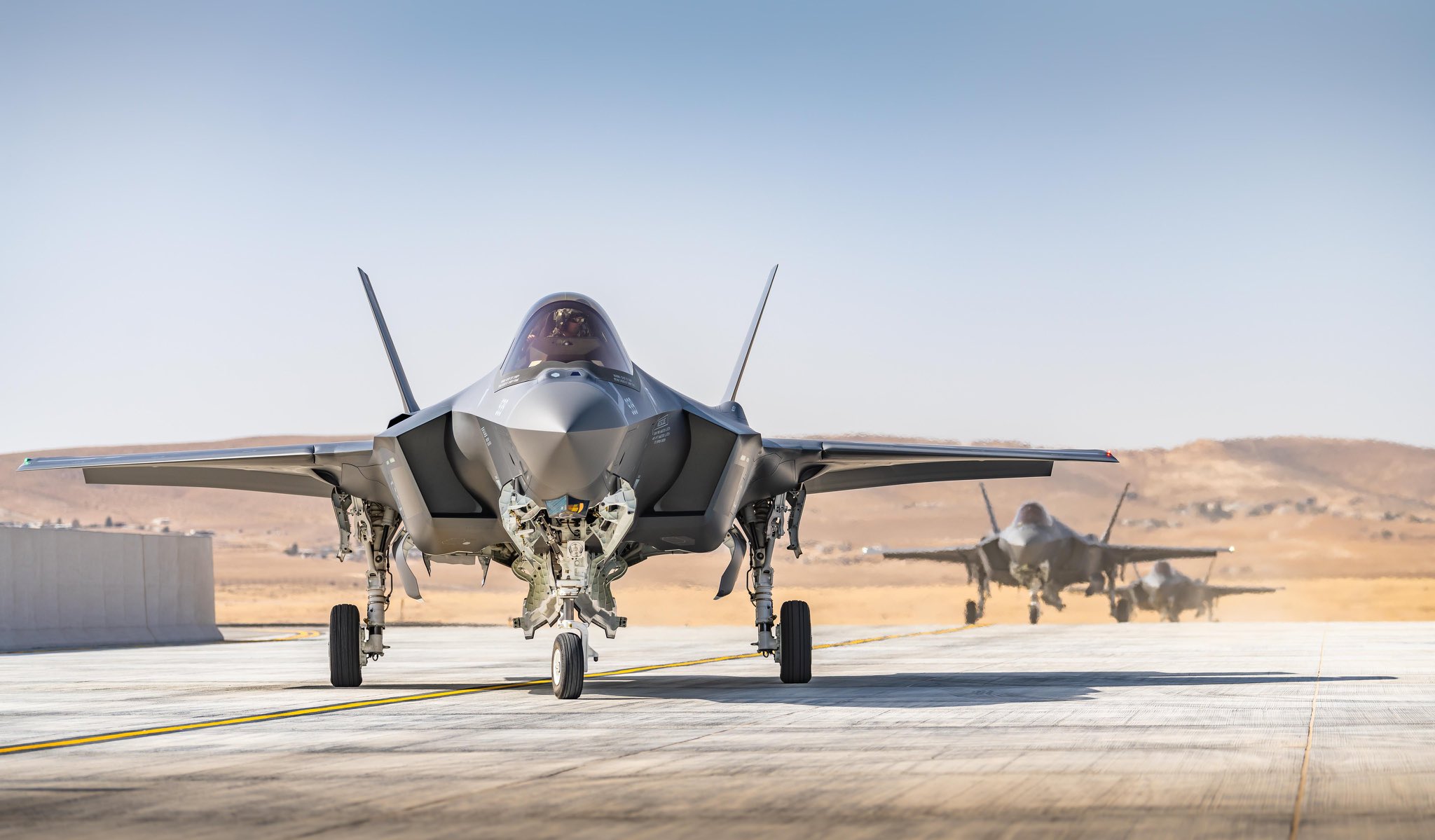 In 2019, then-Israeli Prime Minister Benjamin Netanyahu had declared that F-35I Adirs "can reach any place in the Middle East, including Iran, and of course also Syria".
However, when armed, the F-35's range is about 650 miles, which is insufficient for a round flight from Israel to Iran's nuclear facilities. This is the reason why Israel has been eager to import the refueling tankers from its ally, the United States.
In order for the Israeli Air Force to fly to bomb Iran's nuclear facility, it either needs to make a stop at say, the UAE or Saudi Arabia or carry out a mid-air refueling.
Due to the US denial of fast-tracking the sale, that proposition could seem to be bleak unless one of the Arab Gulf states allows Israel F-35s to land and refuel, which is also an unlikely precedent.
The Israel-Iran Tussle
Israel has been involved in a long-simmering shadow war with Iran, mostly through regular bombings on Iranian-linked targets in Syria as well as occasional attacks — both physical and cyber — on Iranian nuclear facilities.
Israel has opposed a resumption of the 2015 agreement, instead urging negotiators to rewrite it with tougher sanctions on Iran and a focus on hostile activities in the area outside the nuclear issue. Officials have stated that Israel could use military force to prevent Iran from obtaining a nuclear weapon, even if other countries do not support them.
After the former US President Donald Trump walked out of the deal, Iran has breached its limit of uranium enrichment. This has further alarmed Israel that considers Iran's nuclear program as one of the biggest threats to its security.
Iran's hardened stance in the present Vienna talks and its military drills have all contributed to the acrimony that is only expected to rise in the future.