Israeli Defense Minister Benny Gantz has categorically stated that Israel was firm on not supplying weapons to Ukraine, which is battling Russia.
While the Jewish country has offered to help Ukrainians develop air attack alerts for civilians, Ukraine continues to push for air defense systems to shoot down Iranian suicide drones.
The Foreign Minister of Ukraine, Dmytro Kuleba, requested air defense weapons from Israel following a drone swarm attack on Kyiv. However, the appeal has been rejected by Israel largely because Jerusalem depends on Russian support for its air raids in Syria and does not want to end cooperation with Moscow.
Amid the diplomatic back and forth between the two countries, reports suggest that Israel has not only helped Ukraine's military with crucial intelligence required to shoot down kamikaze drones but also supplied it with anti-drone systems if reports are to be believed.
Speaking anonymously, a Ukrainian official said Israel had provided valuable intelligence for targeting the Iranian drones. These claims follow a previous report that Israel was supplying Ukraine with some "basic intelligence" regarding Iranian suicide drones that have overwhelmed Ukrainian air defenses.
⚡️Israel passes intelligence information on Iranian drones and satellite imagery to Ukraine — The New York Times

Basically, Israel is waging war against its enemy Iran in Ukraine. The interests of Kyiv and Jerusalem coincided here.

— Ukraine NOW (@UkraineNowMedia) October 13, 2022
EurAsian Times noted earlier this month that an Israeli security company supplied satellite images of Russian military positions to the Ukrainians. The report was also based on the claims made by some anonymous Ukrainian officials.
However, there was no official acknowledgment from the Israeli government regarding such assistance. Just days after the report, on October 17, a new round of airstrikes by Russia's Shahed-136 (Geran 2 in Russia) drones hit Kyiv killing four people.
Over the past week, the Russian military has attacked residences, power plants, sewage treatment facilities, bridges, and playgrounds in several Ukrainian cities using over a hundred Iranian kamikaze drones. On its part, Ukraine has shot down several of these drones by scrambling all its assets in place.
This has pushed Ukrainian President Zelensky to give Israel an ultimatum to pick a side. The President has also warned that Moscow's cooperation with Tehran would likely result in its assistance to Iran's nuclear weapon development which is a clear red line for its biggest enemy in the region, Israel.
The diplomatic calls have been growing louder for Israeli assistance by the day.
⚡️ Zelensky: It's time for Israel to choose side, back Ukraine.

President Volodymyr Zelensky made the appeal for more support from Israel during an online speech at the Haaretz Democracy Conference.

— The Kyiv Independent (@KyivIndependent) October 24, 2022
The adviser to the Ukrainian Defense Minister, Yuriy Sak, recently warned in one of his media interactions that Israel may be passing up a chance to improve its strategies for fending off threats in its territory by choosing not to support the counter-drone initiatives currently under progress in Ukraine, New York Times reported.
While Benny Gantz said in unambiguous terms that his country could help with an early warning but not air defense, there are now reports from the Ukrainian battlefield that Israel has armed the country with a cutting-edge anti-drone weapon system called the Smart Shooter.
Like the claims of critical intel, these, too, have not been acknowledged by the administration in Tel Aviv.
Countering The Russian Kamikaze Assault
A Hebrew-language publication Debka reported that Ukraine finished installing the advanced Israeli interception system "Smart Shooter" on light aircraft and drones to take down Iranian "kamikaze drones."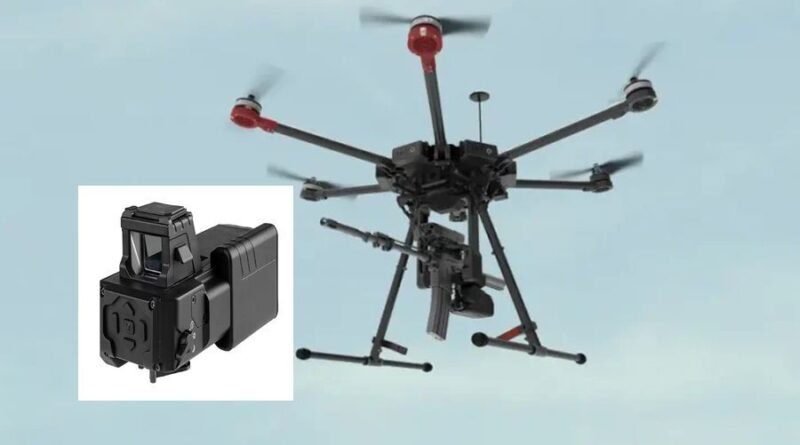 Smart Shooter, or "Smash," is a high-tech individual fire control system that employs radar to locate its target. With unmatched accuracy, it can identify, locate, and hit ground and air targets. It operates under the "one shot, one hit" tenet with the assistance of artificial intelligence.
According to some claims, an Israeli company allegedly sold these weapon systems to Poland. Even though the Defense Ministry of Israel knew that the system's end user would be Ukraine, it decided not to interfere.
At the same time, according to the publication, the Ministry of Defense of Israel knew that the end user of the anti-drone system would be Ukraine, but decided not to interfere. Before Russia's invasion of Ukraine, Israel's Ministry of Defense issued export licenses to

— Malinda ???????????????????? (@TreasChest) October 25, 2022
The current defense system in Ukraine consists of three layers: fighter jets that patrol constantly, anti-aircraft missiles launched from the ground, and groups of soldiers armed with machine guns who attempt to shoot down drones as they fly by.
If the Israeli intelligence and anti-drone systems report is authentic, Kyiv could be readying an intense counter-drone operation in the coming days.
Since Russia started using Iranian kamikaze drones to strike Ukrainian cities, the Ukrainian military has shifted its attention to an aggressive counter-drone campaign.
A Ukrainian fighter jet pilot, code-named Juice, said that the air war against the Russian drones has been extremely busy and exhausting for the Ukrainian troops over the last two weeks. "It's still very, very difficult to shoot them down," he told NYT.
As of now, the conflict in Ukraine is being fought on two largely distinct fronts: on the ground in the south and east, where the Ukrainian Army is in the lead, and in the air, where Russia is launching long-range missiles and using Iranian drones that explode to destroy the electrical and heating infrastructure in Ukrainian cities and cause large-scale blackouts as the country is entering winter.
Juice claimed that just locating the drones is the most challenging aspect. The small, lumbering drones can be mistaken for trucks on a roadway or migrating birds on the radar. Jets are directed to intercept possible targets by ground controllers, although often, the pilots are unsuccessful.
Yuriy Sak, an advisor to the Ukrainian minister of defense, stated in an interview that despite the difficulties, the Ukrainian military is already consistently shooting down more than 70% of the Shahed-136 drones Russia purchased from Iran in August. "We are trying to adapt to the new reality quickly," Sak said.
Kamikaze drones are rapidly developing as a mainstay of contemporary armed conflicts. That is the argument Ukrainian officials have been making when asking their partners for help with air defense. The forces of ally nations may profit from Ukraine's hard-earned experience if it can successfully use its three-pronged approach to shoot the drones down, said Sak, in an indirect reference to Israel.
He further said that these Iranian drone attacks on Ukrainian cities were neither planned nor intended for Ukraine. They were created to strike Israel in large numbers. They are using Ukraine as a testing ground to find their shortcomings and strengthening the drones to use them against Israel at some point in the future. This is where Israeli assistance comes into the picture.
Israel has been keeping an eye on Iranian drones that Russia has been using to assault Ukraine. According to some reports, Israeli drone specialists have reportedly been in Ukraine for some time to study the Iranian drones that Kyiv was able to shoot down.
The Arrow 3, Iron Dome, and the most recent and sophisticated Iron Beam laser-based missile defense system are just a few of Israel's top-notch air defense systems that could tremendously bolster Ukraine's counter-drone operations.
It is also pertinent to note that the former Israeli President and current opposition leader recently said in an interview that he would look into supplying weapons to Ukraine if he comes to power in November's election.
Currently, in the absence of Israeli acknowledgment of military assistance, the mystery surrounding it is expected to remain.