Iran is converting a former merchant container ship into a drone aircraft carrier at a dry dock near the entrance to the Persian Gulf, as per satellite imagery and open-source images.
Iran's powerful Islamic Revolutionary Guard Corps (IRGC) has its naval division, and it is well known for its fleet of small armed speed boats that it uses to harass the large US Navy vessels in the Persian Gulf.
However, the IRGC could soon begin to operate a far larger class of warship, an 'aircraft carrier'!
A former Iranian-flagged container ship is getting converted into a warship to carry helicopter and fixed-wing unmanned aerial vehicles at the Iran Shipbuilding & Offshore Industries Complex Co (ISOICO) at Bandar Abbas near the Strait of Hormuz, according to the images published by Sutton on December 30, 2022.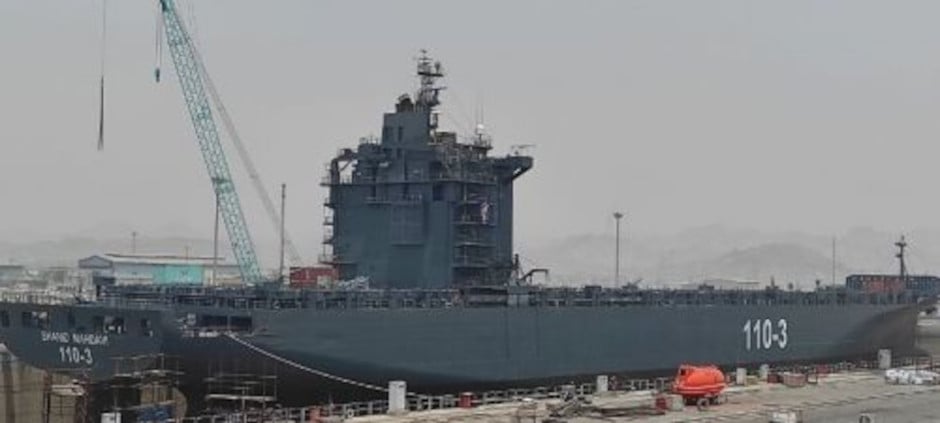 Based on the images, Sutton points out that the conversion process has added a large cantilever flight deck on the port (left) side, but it is unclear whether an overhang will be added to the starboard (right) side as well.
"The fact that the superstructure spans the original deck means that a traditional aircraft carrier layout is impossible. The angles on the added light deck are also not traditional. Possibly this hints at a flight deck running across from port to starboard ahead of the superstructure," wrote Sutton.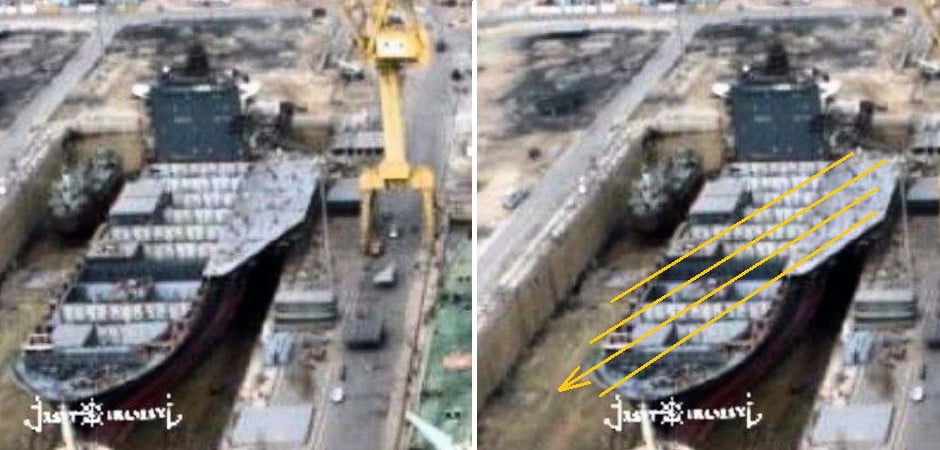 Sutton reported that two vessels are expected to be built: the Shahid Mahdavi and Shahid Bagheri. Based on open sources, the first one is believed to be the Shahid Mahdavi (110-3). However, Iranian social media sources have also reported it to be the Shahid Bagheri.
Nevertheless, according to him, the two ships would probably be similar or identical, so that this detail may be less critical. The first of the two ships could be launched early this year.
Iran Takes A Page From The US' Strategy
The merchant ship has been in dry dock since at least May 2022, undergoing the conversion to a warship, according to a previous report by The Maritime Executive.
The Maritime Executive reported that the ship is identical to the Iranian-flagged container ship Sarvin (ex-name Sarita, Dandle, Twelfth Ocean, Iran Isfahan), which is a 22-year-old vessel with a nominal capacity of 3,300 Twenty-foot equivalent unit (TEU).
Sarvin's operator is covered by US sanctions on the Iranian maritime sector, preventing her use in most commercial trade lanes. Therefore, it might have been decided to be converted into a warship for the IRGC, reported the Maritime Executive.
However, Sutton's report suggests the ship was originally Perarin, a large container ship built in 2000 and operated under an Iranian flag. It has a carrying capacity of 3,280 TEU, a length overall (LOA) of 240.2 meters, and a beam of 32.2 meters. Her reported draught was 7.8 meters.
Nevertheless, Iran seems to have taken a page from the US expeditionary sea base model when converting merchant ships into warships.
US special operator forces are known to use base ships for covert action. US SOFs reportedly use one such 'civilian' base vessel in the Western Pacific and another commercial conversion with special-operations features, Ocean Trader, formerly known as Cragside, has been off Automatic identification systems (AIS) since 2017.
One of the prominent examples of Iran's adoption of the base ship idea is the Iranian Navy's IRINS Makran, a former petrochemical tanker turned into a warship in 2021. The Makran ranks among the largest naval vessels in the world, though she is considerably shorter than a carrier.
Last year, Makran and the Iranian Navy frigate IRINS Sahand were deployed to the Atlantic for four months. They traveled to the Baltic Sea to represent Tehran in a Russian Navy fleet review.
Makran appears to be transiting across the Pacific, going by the recent sighting of the ship reported by the French Navy.
#FAPF/ ?? Falcon 200 established contact with 2 iranian navy ships wesbound french polynesian EEZ. They have declared their intention to cross it south of the Marquesas for a transpacific transit. F200 are to provide situational awareness and contribute to the security of our EEZ pic.twitter.com/bGKxp5oNWv

— ALPACI – France Pacific Command (@ALPACIFRAPACOM) December 25, 2022
Reports suggest the IRGC does not want to be outdone by the Iranian Navy in terms of capabilities, and therefore it appears to have created a base ship of its own.
Also, according to Sutton, the IRGC does have another covert base ship, the freighter Behshad, which operates in the Red Sea. A previous IRGC base ship, the Saviz, was struck in an attack widely attributed to Israel in 2021.
New Aircraft Carrier Could Increase Iranian Drone Threat
The new drone aircraft carrier will provide the IRGC with a long-range strike capability, leveraging the wide variety of aerial combat drones developed by Iran.
Behnam Ben Taleblu, an Iran expert at the Foundation for the Defense of Democracies, told USNI News that the open-source photos of the under-development drone carrier are in line with Iran's expressed use for the ship in the local media.
"Iranian media had talked about it being used to store drones to grow the long-range strike capabilities of the country. The world should look at how Iran plans to use merchant vessels and tankers to grow its long-range strike capabilities," Behnam Ben Taleblu said.
As discussed earlier by EurAsian Times, Iran has been a revolutionary in the UAV industry for many years. The country assumes a more prominent role as an emerging drone superpower in the Middle East.
Iranian armed forces are known to operate more armed drones than many other nations that have twice their defense budget, and that too under crippling Western sanctions.
Iran has many UAVs ranging from small, light short-range systems to medium to heavy unmanned aerial vehicles (UAVs) for intelligence, surveillance, and reconnaissance (ISR).
Shahed-136 kamikaze drones deserve special mention in particular, as they have been wreaking havoc on Ukraine's air defenses and critical infrastructure in recent weeks at the hands of the Russian military.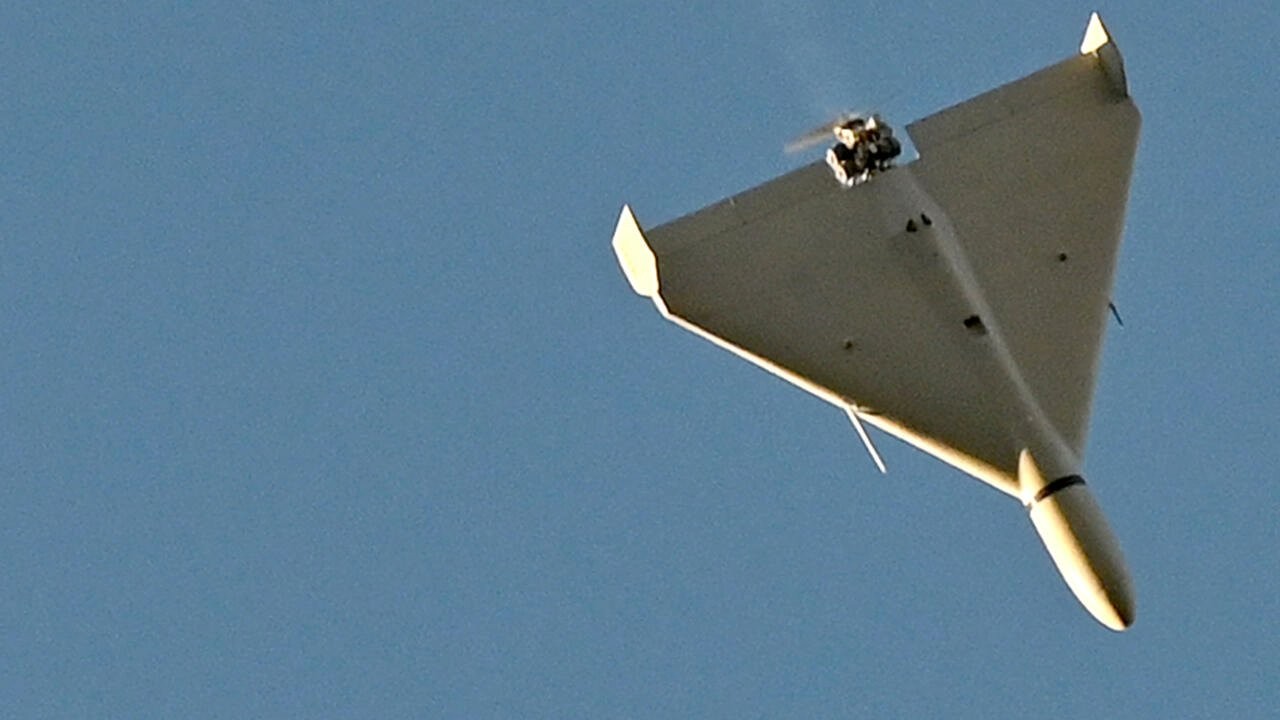 Apart from that, Iran has also allegedly employed Shahed-136 for an attack on an oil ship belonging to an Israeli billionaire off the coast of Oman in November last year, according to an investigation by the US Navy.
The attack was carried out on an oil tanker, 'Pacific Zircon,' operated by Eastern Pacific Shipping of Singapore, owned by Israeli tycoon Idan Ofer. The incident damaged the ship but left no one hurt. According to Western and Israeli officials, the attack was reportedly carried out from an IRGC base in the city of Chabahar in southeast Iran.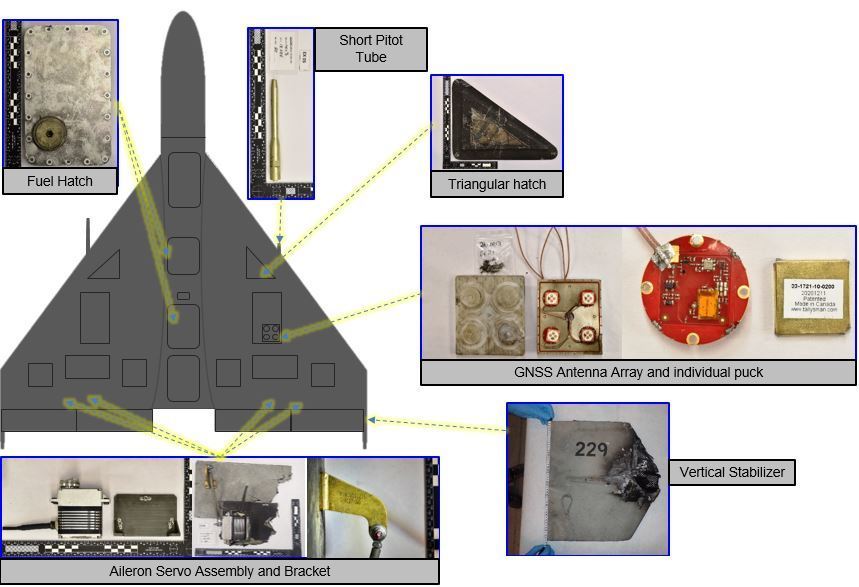 Iranian drone threat could increase multi-fold in terms of scale when coupled with an aircraft carrier, enabling the IRGC to strike any place at any time. As the ongoing Ukraine war has demonstrated, Iran could fill the skies of the adversarial nations with swarms of UAVs to overwhelm their air defense systems.
Former Israeli Prime Minister Naftali Bennett warned of this possibility in his speech to the UN General Assembly in New York on September 27, 2021.
"If you think Iranian terror is confined to Israel — you're wrong. Just this year, Iran made operational a new deadly terror unit, a startup: swarms of killer UAVs armed with lethal weapons that can attack any place at any time. They plan to blanket the skies of the Middle East with this lethal force," said Bennett.
"Iran has already used these deadly UAVs — called Shahed 136 — to attack Saudi Arabia, US targets in Iraq, and civilian ships at sea, killing a Brit and a Romanian," Bennet noted in the speech.