The IPL 2021 (Indian Premier League) has been suspended. Having hit hard by the COVID-19 pandemic, the IPL 2021 has been postponed indefinitely as per latest reports.
The announcement came after Sunrisers Hyderabad's Wriddhiman Saha tested positive for Covid-19 along with Delhi Capitals' veteran spinner Amit Mishra. Earlier, Chennai Super Kings bowling coach Balaji along with Kolkata Knight Riders bowlers Sandeep Warrier and Varun Chakravarthy had also tested positive for Covid-19.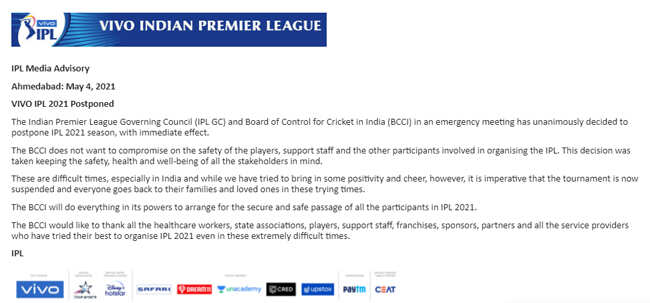 As EurAsian Times earlier reported, the Indian Premier League (IPL) has been in the eye of the storm for being tone-deaf to the devastating Covid-19 pandemic that has engulfed the country.
UPDATE: The Indian Premier League Governing Council (IPL GC) and Board of Control for Cricket in India (BCCI) in an emergency meeting has unanimously decided to postpone IPL 2021 season with immediate effect.

Details – https://t.co/OgYXPj9FQy pic.twitter.com/lYmjBId8gL

— IndianPremierLeague (@IPL) May 4, 2021
BCCI Press Release On Cancelling Of IPL 2021
BCCI sent out a press release confirming the development: The Indian Premier League Governing Council (IPL GC) and Board of Control for Cricket in India (BCCI) in an emergency meeting has unanimously decided to postpone IPL 2021 season, with immediate effect.
The BCCI does not want to compromise on the safety of the players, support staff and the other participants involved in organising the IPL. This decision was taken keeping the safety, health and well-being of all the stakeholders in mind.
These are difficult times, especially in India and while we have tried to bring in some positivity and cheer, however, it is imperative that the tournament is now suspended and everyone goes back to their families and loved ones in these trying times.
The BCCI will do everything in its powers to arrange for the secure and safe passage of all the participants in IPL 2021. The BCCI would like to thank all the healthcare workers, state associations, players, support staff, franchises, sponsors, partners and all the service providers who have tried their best to organise IPL 2021 even in these extremely difficult times.
SRH were scheduled to play Mumbai Indians in Delhi on Tuesday.
With Saha testing positive there was no way this match could have gone ahead anyway. Speaking to ANI, BCCI vice president Rajeev Shukla said the tournament has been suspended for this season.
IPL 2021: Calls For Being Suspended
Considered India's "biggest sporting extravaganza", the almost two-month-long IPL has fans not just in India but across the globe with cricketers from various countries participating in the tournament.
Despite this, the decision to continue the matches amid the deadly second wave of the pandemic sparked a fierce debate — both online and offline.
Australian cricketer Pat Cummins, who is playing for Kolkata Knight Riders, donated $50,000 to India's fight against COVID-19. Similarly, former Australian player Brett Lee donated 1 Bitcoin (US$57,632) as Covid aid to India.
Another Australian cricketer Adam Gilchrist, who led the now-defunct Deccan Chargers, questioned whether it is "appropriate" or just "an important distraction each night?"
Gary Lineker, former England footballer, and television commentator said it is "terribly wrong" for the IPL to continue amidst such a "catastrophe." He further said, "People are dying faster than runs are being scored for crying out loud."
British Television Host, Piers Morgan, called Indian Prime Minister Narendra Modi's leadership "woefully irresponsible" and that "cricket is irrelevant".
Rejecting such criticisms, an email sent to the 8 IPL teams by the acting Chief Executive of The Board of Control for Cricket in India (BCCI), Hemang Amin, read, "When you walk out onto the field, you are bringing hope to millions of people who have tuned in."
"If, even for a minute, you can bring a smile to someone's face then you have done well. While you are professionals and will play to win, this time you are also playing for something much more important – humanity," he added.
Questioning the logic behind Amin's statement, Greg Baum, a sports columnist writes in a piece for the Sydney Morning Herald, "The Covid crisis in Australia was never nearly as acute as it is in India right now, but we shut down all sport and somehow bumbled through… Yeah, but humanity."
A number of cricketers like Ravichandran Ashwin, Kane Ricardson, and Adam Zampa walked out of the tournament mid-way to be with their families.
The Indian Express quoted Andrew Tye, one of the overseas players who too dropped out of IPL, as saying, "how are these companies and franchises, and the government, spending so much money on the IPL when there are people not being able to get accepted into hospital?"
A tweet from Indian cricket chief Sourav Ganguly which was later deleted read, "I keep my guard up with the ultimate protection against bacteria and viruses – @livinguard's masks and gloves that are supercharged with Livinguard Technology."
The opportunistic undertone of the tweet amid desperate cries for oxygen, hospital beds and medical supplies met with heavy criticism.
Just like any other debate, the opinions in the media on IPS are different too. According to news agency Reuters, The New Indian Express and a sister publication had called off their IPL coverage in order to keep "nation's attention focused on life and death issues."
On the other hand, calling the demand to end IPL a "misguided moral outrage", The Indian Express in its editorial wrote, "… cricket or cinema or music offers a reprieve … the responsibility of fighting the pandemic is not on players or celebrities, but state and central governments".
According to Al Jazeera, Chennai Super Kings Chief Executive Kasi Viswanathan said the three-time champions were comfortable with the safety arrangements for the league.
In a telephonic interview with Reuters, Satish Menon, the chief executive of the Punjab Kings franchise said, "The league generates considerable money for the economy. It has to be seen from that context too. How does stopping IPL help?"