Russia's successful test launch of a new Zircon hypersonic cruise missile on July 19 has many strategic implications. One of these could be termed as good news for India as it will hasten the development of the delayed BrahMos-II hypersonic cruise missile, a joint India-Russia project.
The BrahMos-II is very similar to the Zircon. As a winged, anti-ship hypersonic cruise missile, Zircon is a tactical weapon, designed to be carried by frigates of the Russian Navy as well as submarines.
The missile reportedly has a maximum range of 1,000 kilometers, with a flight speed of nearly Mach 7 (and as has been tested, it can go up to Mach 8). It is also spelled as Tsirkon and known as 3M22 in Russia and as the SS-N-33 by the NATO countries.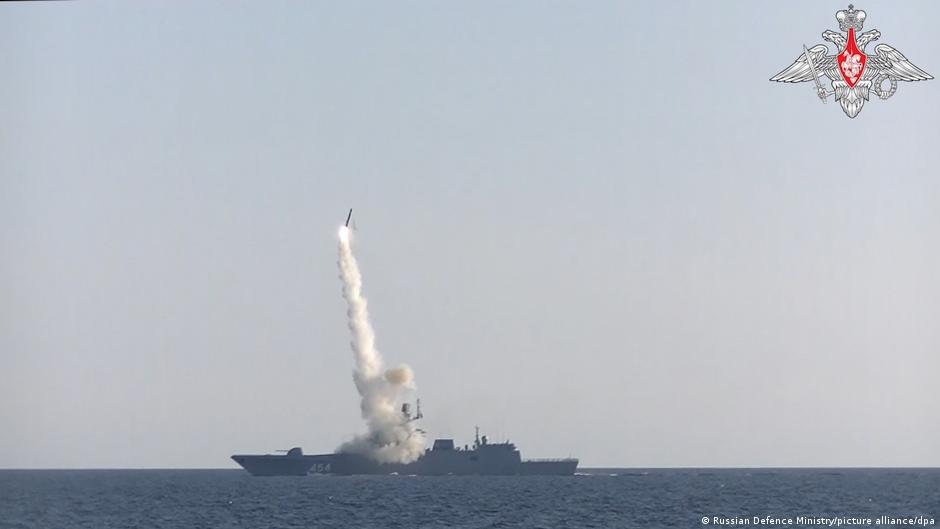 If the information that in one of the trials it gathered the speed of Mach 8 is correct, the Zircon missile is the fastest in the world, making it nearly impossible to defend against due to its speed alone.
Another valuable aspect of the missile is its plasma cloud. During its flight, the missile is completely covered by a plasma cloud that absorbs any rays of radio frequencies and makes the missile invisible to radars. This allows the missile to remain undetected on its way to the target.
Prelude To BrahMos-II
Although India test-fired its first indigenous Hypersonic Technology Demonstrator Vehicle (HSTDV), developed by the Defence Research and Development Organisation (DRDO), in August last year, knowledgeable sources say that this is related to the making of the BrahMos-II, which is supposed to succeed the Indian Navy's BrahMos anti-ship missile.
BrahMos is also supersonic, flying at 3 times the speed of sound, known as Mach 3. But BrahMos II, like Zircon, will be about twice as fast, flying at speeds in excess of Mach 6. Though expected to have a range of 600 km, BrahMos II can develop the range to 1,000 km and the speed of Mach 8, it is said. However, its scheduled testing was to be held in 2020. Things have been delayed.
The BrahMos series is being developed by the BrahMos Aerospace Private Limited, the joint collaboration of India's DRDO and Russia's NPO Mashinostroyenia (NPOM). The Zircon has been designed by none other than the NPOM.
What is noteworthy is that though it is supposed to carry conventional warheads, Zircon can be fitted with nuclear warheads if the need arises. Whether BrahMos II will be allowed to carry nuclear warheads remains unclear.
Russia Bets Big On S-500; But How Is S-500 Missile Defense System Better Than S-400s?
Hypersonic Weapons
It is said that if hypersonic weapons are to be conventionally armed, they need to require greater accuracy for having the greatest impact on the enemy and will be thus more technically challenging to develop than a nuclear-armed system. A nuclear-armed glider is believed to be effective if it were 10 or even 100 times less accurate [than a conventionally-armed glider] due to nuclear blast effects.
The importance of the likes of Zircon lies in the fact that they could enable "responsive, long-range, strike options against distant, defended, and/or time-critical threats [such as road-mobile missiles] when other forces are unavailable, denied access, or not preferred."
Secondly, they could challenge detection and defense due to their speed, maneuverability, and low-altitude of flight. And by the time they are detected, they would have already covered such a big distance because of their speed, the interceptor missiles will not be able to fly fast enough to catch up.
Thirdly, analysts point out that developing defense systems against hypersonic missiles will prove to be very costly.
As physicist and nuclear expert James Acton explains, "Point-defense systems, and particularly [Terminal High-Altitude Area Defense (THAAD)], could very plausibly be adapted to deal with hypersonic missiles. The disadvantage of those systems is that they can only defend small areas. To defend the whole of the continental United States, you would need an unaffordable number of THAAD batteries."
Can China's 'Very Own' F-22 Raptor & F-35 Stealth Fighter Jet Present Any Challenge To The Original US Warplanes?
However, all told, the analysts also caution that hypersonic cruise missiles may not be used against countries possessing intercontinental ballistic missiles (ICBM) in their heartlands. For instance, if Russia manages to use a missile such as Zircon against the United States, the latter can retaliate massively with ICBMs.
This, perhaps, explains, why the US has not developed, as of now, a known hypersonic system, though its three services and the Defense Advanced Research Projects Agency (DARPA) of the Department of Defense are working on their respective hypersonic programs.
Threat To American Carriers?
The US Navy is requesting $1.4 billion in FY2022. The US Army wants $301 million for the program in FY2022. The US Air Force has requested similarly $691 million for the various segments of the program. DARPA's demand for similar purposes $411 million.
All these organizations are being funded by the Department of Defense for a number of hypersonic weapons programs, the US has not established any program of record, leading experts to suggest that the US may not have approved requirements for hypersonic weapons or long-term funding plans.
There is a school of thought which argues that Russia has developed Zircon as a means of contending with American superiority in size, technology, and the sheer number of aircraft carriers. At the moment, the US Navy has 12 nuclear-powered aircraft carriers, whereas Russia has only one.
Therefore, it is said that "while at sea, any of Russia's 15 Buyan–class corvettes will be able to carry up to 25 Zircon hypersonic missiles. It would take fewer than a half-dozen of those missiles to sink even the most advanced American aircraft carrier, such as the USS Gerald R. Ford".
In fact, aircraft carriers are believed to be the principal targets of hypersonic missiles like Zircon. It is argued that these missiles may not be actually applied against carriers, but their possession creates such apprehensions about their vulnerability in the minds of nations with carriers that they do not use these huge platforms assertively and effectively.
F-22 Raptors – World's Most Powerful Fighter Jets Deployed To Asia In 'Big Numbers' To Counter Chinese 'Muscle Flexing'
The huge value or costs of the carriers may become their greatest weakness against these much cheaper missiles. No nation will like the loss of the carriers (many cannot afford to lose them), so they are forced to remain effectively on the sidelines "in case of high-intensity, peer-competitor conflict."
This is not to suggest that aircraft carriers will become obsolete in the face of hypersonic missiles but to underline the dangers they face from advanced military technology. And this brings to one's attention how important the BrahMos II could be for India in meeting the challenge of the rising naval capabilities of China in the Indo-Pacific, particularly the Indian Ocean region.
China is about to have at least three aircraft carriers and a host of large destroyers, frigates, and submarines. India's hypersonic anti-ship missiles will be effective counters in that regard.
Author and veteran journalist Prakash Nanda has been commenting on politics, foreign policy on strategic affairs for nearly three decades. A former National Fellow of the Indian Council for Historical Research and recipient of the Seoul Peace Prize Scholarship, he is also a Distinguished Fellow at the Institute of Peace and Conflict Studies. CONTACT: prakash.nanda@hotmail.com