India is set to outfit its domestic Arjun Mk1A main battle tank (MBT) with an electro-optical (EO) fire-control system, allowing the tank to target with greater precision.
---
The MK1A is an upgraded version of the Arjun platform, with increased firepower, maneuverability, and survivability, designed and developed by India's Defense Research and Development Organization (DRDO).
The Janes report said that Banglore-based Tonbo Imaging is building the system in collaboration with the state-run Bharat Electronics Limited (BEL) plant in Chennai, India. 
The report said, "Tonbo Imaging is partnered with BEL, Chennai, to meet [BEL's] demand for fire-control systems. Hence, BEL awarded us a contract to manufacture and deliver the [electro-optical fire-control system] for Arjun MK1A MBTs."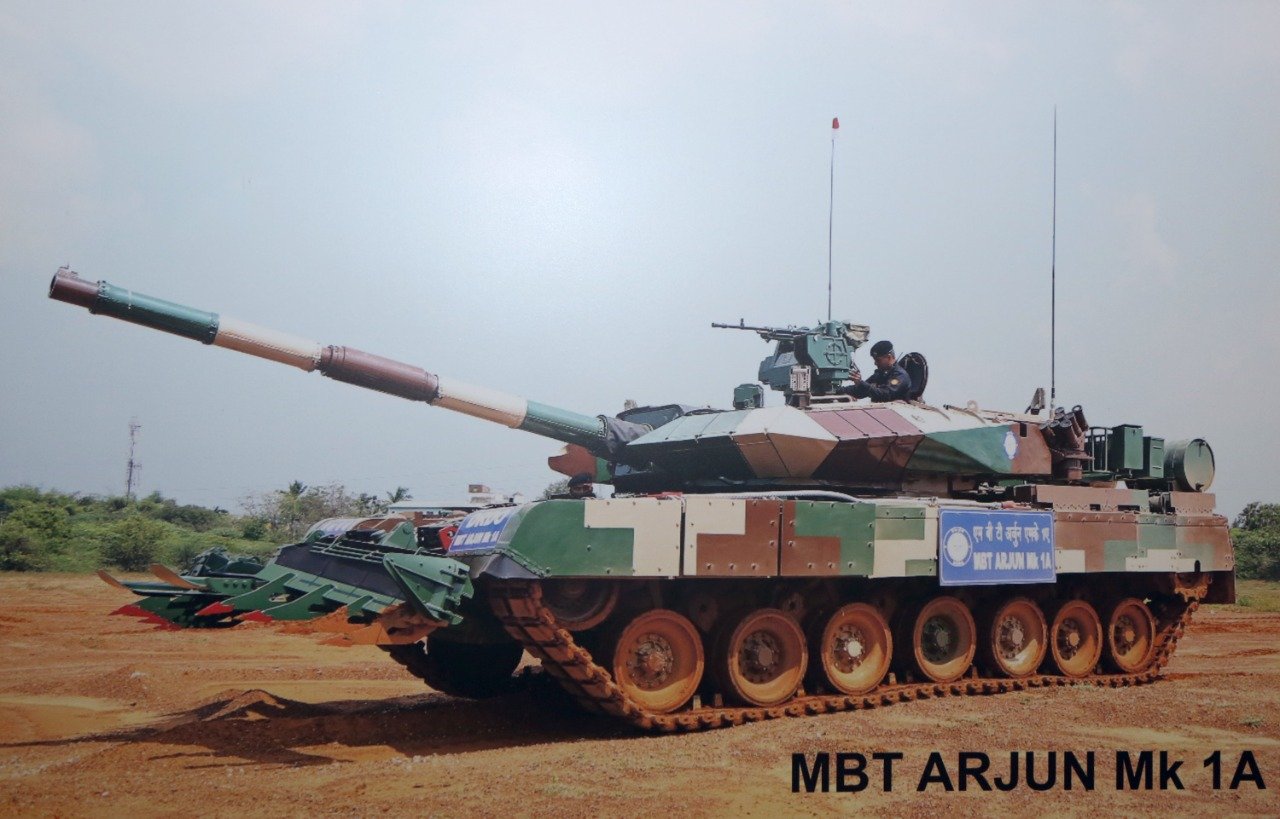 The Elpeos fire-control product will be delivered as part of the deal and integrated into the Arjun MK1A MBTs. According to the Tonbo Imaging website, ELPEOS is a multi-sensor electro-optical payload developed for precision targeting and easy integration into remote-controlled weapon systems (RCWSs). 
ELPEOS has a cooled MWIR imager with high resolution, a color CCD camera, a Laser Range Finder, and an integrated ballistic computer. For target acquisition and georeferencing, it can optionally incorporate a GPS and a Digital Magnetic Compass with an inclinometer.
This system makes it easier for tanks to acquire, lock, and engage moving targets using human or automatic tracking. 
EurAsian Times contacted the company to find out more about the system's capabilities.
Tonbo Imaging told EurAsian Times that "the system is one of the lightest sighting systems for RCWS equipped with an advanced AI processor capable of detecting, tracking and engaging the 12.7mm gun on identified targets. It has also been supplied to a few global armies for the 12.7mm weapon."
"The ELPEOS sighting system has been qualified in summer and winter trials. It is a sensor-fused system. So you can see day and night imagery in the same video feed," Tonbo Imaging added. 
The company also informed EurAsian Times about the system's three silent features, which are as follows:
1. Automatic target detection, tracking, and classification
2. Low power consumption and weight
3. Free from foreign export and licensing requirements and India's only indigenous RCWS sighting system
In September 2021, India announced the procurement of 118 homegrown Arjun MK1A tanks for the Indian Army. With various cutting-edge technology systems, the MK1A is outfitted with precise and superior firepower, all-terrain mobility, and unbreakable multi-layered protection.
It can engage the adversary in day and night conditions in static and dynamic modes. The tank is believed to include 72 new features with a higher percentage of domestically produced components.
Arjun MK1A Tank
Arjun MK1A is the latest version of the Arjun Tank built by the Combat Vehicles Research and Development Establishment (CVRDE) and other DRDO research facilities.
The tank has significant enhancements over the Arjun MBT, the Indian Army's existing main combat tank in service. Furthermore, the MK1A can operate in all terrains and engage targets at night.
The tank is outfitted with advanced technologies. As a result, this indigenous MBT is at par with any modern tank in its class elsewhere in the world. The tank is specifically constructed and designed for Indian conditions, making it appropriate for deployment to protect the borders effectively.
The order is anticipated to provide 200 Indian vendors, including micro, small, and medium-sized businesses (MSMEs), with the opportunity to engage in manufacturing.
The Arjun Mk II or MK1A's overall design is comparable to other main battle tanks, with the driver's compartment at the front, the three-man turret in the middle, and the engine and transmission in the back. The four-person crew of the Arjun Mk II consists of the commander, gunner, loader, and driver. 
The driver has a seat that provides additional protection during a mine blast. An integrated explosive reactive armor (ERA) system is installed in the turret and the front portion of the chassis. With upgraded KANCHAN, an Indian modular composite armor, all-around protection has been improved.
The Mark 1-A has a better gunner sight (a 120mm main cannon) equipped with automated target tracking capabilities than its predecessor, the Arjun 1. This facilitates attack even while the MBT is moving, enabling the tank's crew to find and track mobile targets automatically.
Aside from the standard armor-piercing fin-stabilized discarding sabot (APFSDS) and high explosive squash head ammunition, it also has integration for thermobaric and penetration-cum-blast ammunition.
The Arjun Mark 1A is said to have a maximum cruising range of 500 kilometers and a top speed on the road of 58 kilometers per hour and 40 kilometers per hour in cross-country. 
Trenches up to 2,430 mm broad, whether created naturally or artificially, can also be traversed. The tank can cross a 1.4-meter-deep water obstacle without special equipment. 
The Arjun MK II or MK1A is powered by a German V-90 turbocharged, charge-cooled, water-cooled diesel engine producing 1030 kW at 2,400 rpm. The Arjun Mk II has an epicyclic gearbox, a hydrodynamic torque converter, a mechanical lock-up clutch, a hydrodynamic retarder, and four forward and two reverse gears.