On the occasion of Navy Day, the Indian Navy is conducting a passage exercise (PASSEX) with the Russian Navy in Eastern Indian Ocean Region (IOR), the Indian Ministry of Defense informed on Friday.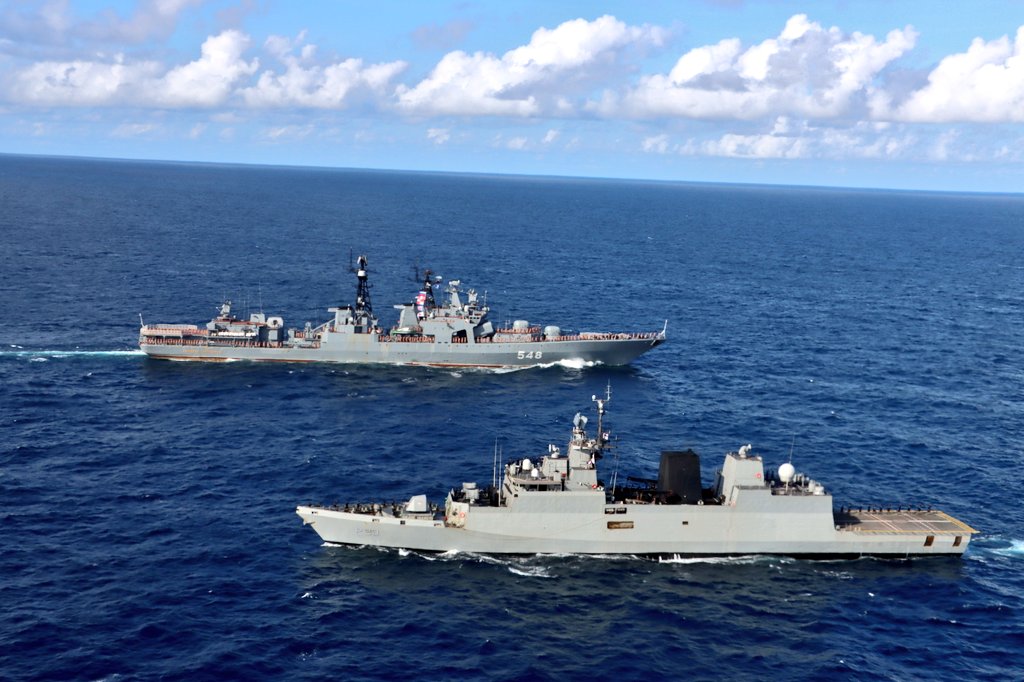 The Indian side would be represented by the indigenously constructed guided-missile frigate Shivalik and anti-submarine corvette Kadmatt along with integral helicopters.
The Russian involvement includes the guided-missile cruiser Varyag, anti-submarine warfare ship Admiral Panteleyev, and medium ocean tanker Pechegna.
"The exercise is aimed at enhancing interoperability, improving understanding and imbibing best practices between both the friendly navies, and would involve advanced surface and anti-submarine warfare exercises, weapon firings, seamanship exercises and helicopter operations," the Indian press release stated.
The two navies have conducted many exercises in the past and the relations are kept cordial with biennial exercise INDRA, the latest of which was conducted early in September in the Northern Indian Ocean Region when the Indian Armed Forces refused to participate in the Kavkaz-2020 exercises in Russia due to pandemic restrictions.
#NavyDay2020#BridgesofFriendship#IndianNavy ships Shivalik & Kadmatt carrying out Passage Exercise (PASSEX) with Russian Federation Navy (RuFN) ships Varyag, Admiral Panteleyev & Pechenga in the Eastern #IndianOceanRegion (IOR).#PASSEX from 04 – 05 Dec 2020.#Interoperability pic.twitter.com/lmA2uTa0Fa

— SpokespersonNavy (@indiannavy) December 4, 2020
"PASSEXs are conducted regularly by IN with units of friendly foreign navies, whilst visiting each other's ports or during a rendezvous at sea. This exercise, being conducted in the Eastern Indian Ocean Region, reflects the strong long-term strategic relationship between the two countries and particularly, defense cooperation in the maritime domain," it added.
The Indian Navy Day is celebrated annually on 4 December to mark the successful execution of Operation "Trident". In this operation, the Indian Navy utilized a heavy barrage of Anti-ship missiles and torpedoes to target Pak Navy ships stationed on Karachi harbour. The attack effectively damaged the harbour infrastructure as well as destroyed several hostile vessels.