India has recently issued a Request for Proposal (RFP) for the procurement of six new diesel attack submarines under Project 75I (P75I).
The development that comes right after the AUKUS deal quite clearly illustrates the perceived efficacy of submarines, especially nuclear submarines, to keep an adversary like China in check in the Indo-Pacific region.
Project 75I: Requirements
At present, there are four competitors vying for the Indian Navy's next-generation P75I submarine contract. All contenders are currently submitting design proposals to the Government of India.
It is expected that the vessels will all be built in India and, like every other deal, political and industrial considerations, along with naval requirements, will be an important factor.
As of now, India has one ballistic missile firing nuclear submarine (SSBN)- INS Arihant. The second one, INS Arighat, is expected to be ready for commissioning next year. It is believed that the security scenario in and around Indian waters has made the procurement of these submarines a high-priority affair.
Based on an analysis of the Indian Navy's current capabilities, investments, and threat perceptions, it appears that P75I will probably have air-independent power (AIP) and that the service will insist on getting a vertical launching system (VLS) for BrahMos anti-ship missiles.
While AIP refers to a marine propulsion technology that enables a non-nuclear submarine to operate without needing to access atmospheric oxygen by surfacing or using a snorkel, the VLS is a system for holding and firing missiles on mobile naval platforms.
To provide these two features together, the P75I will have to be much larger compared to previous Indian Navy conventional submarines.
India has already developed its own fuel cell AIP that it plans on fitting on the current French-designed Kalvari Class (Scorpene type). This would also serve as a logical choice for the P75I, especially from the perspective of the development of the indigenous industry.
However, there is a high chance that the Navy will have a keen interest in the AIP already available with the designs as incorporating the local AIP would not only increase development risks, but also close off opportunities to access better AIP systems.
The integration of VLS will also be difficult since all the contenders are offering relatively smaller boats. The amount of dependence the contract has on VLS remains to be seen, though.
Here's a look at the four contenders: Amur from Russia, the Barracuda design from France, DSME-3000 from South Korea, and the S-80-Plus from Spain.
The Russian Amur
Project 1650 Amur class is the export variant of the Lada class. It was designed specifically for markets such as China and India. This boat is offered in different configurations with a displacement of 550t to 1,850t and different weapon systems.
Amur's parent Lada class generates electricity for low noise operation using hydrogen-oxygen fuel cells. The submarine has a surface speed of 10k and a submerged speed of 21k. It can dive up to a maximum depth of 300 meters.
Amur has the smallest hull diameter of the contenders. However, its design models have frequently shown a VLS that seems to have been made for smaller Kalibr sized weapons, rather than the Brahmos.
Russia has not yet developed an AIP system for its Lada class. It is likely that the Indian system is key to their proposal. Nevertheless, a strong historic relationship with Russia seems to provide it with a 'home advantage'.
The French Barracuda
It appears that France's Naval Group is offering a diesel-electric variant of their nuclear-powered Barracuda- or Suffren- class attack submarines. The boat is 326 feet long and has a displacement of about 5,200 tons.
The Barracuda comes equipped with four torpedo tubes and 20 weapons racks able to carry heavy torpedoes, anti-ship missiles, cruise missiles, and naval mines. But, rather than its huge weapons rack, it would seem that the biggest design advantage of the Barracuda is its size.
The submarine has a hull diameter of around 8.5 meters, the largest one among the competitors. This should make it comparatively easy to fit a VLS, even with the Brahmos missile.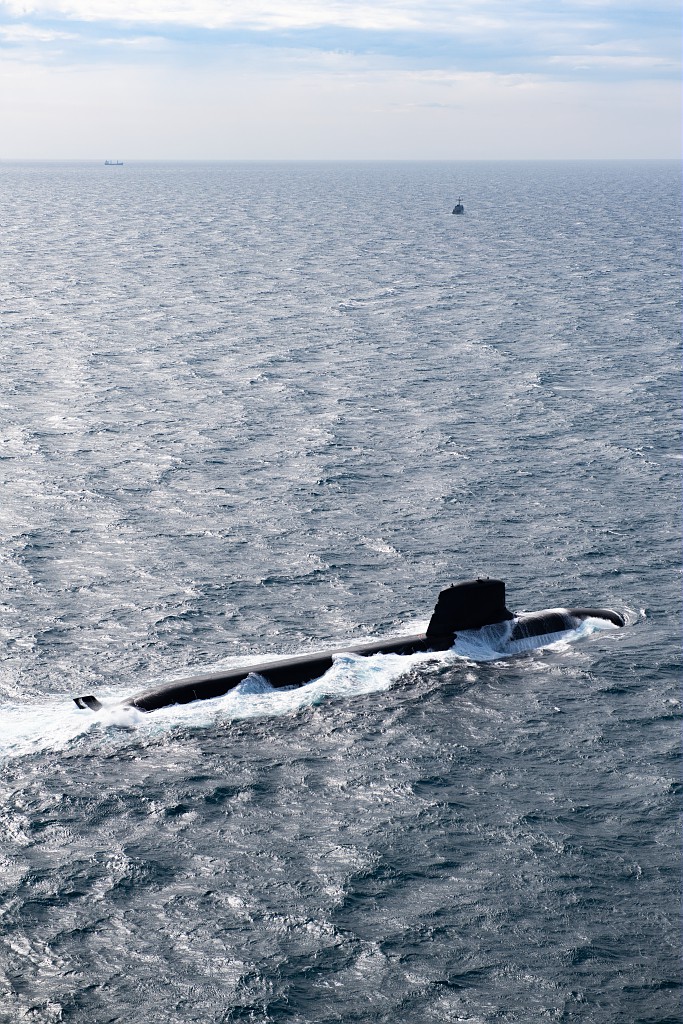 However, a diesel submarine is easy to be detected and monitored, given the quality of commercial and military sensing present with most countries with huge fleets- especially China. This is one of the major reasons why Australia chose nuclear-powered submarines over the French diesel-electric ones.
The South Korean DSME-3000
South Korea is proposing to provide an export variant of their indigenously-made KSS-III (Dosan Ahn Changho-class) design. Called DSME-3000, this is a comparatively large non-nuclear boat with a length of 83.5 meters, a beam of 9.7 meters, a draft of 14.7 meters. This sub provides a maximum submerged speed of 20 knots per hour.
South Korea is advancing well in the race to fit lithium-based battery technology that offers extended endurance into its submarines.
While the DSME typically comes equipped with six 533 millimeter torpedo tubes and six vertical launch system (VLS) cells, the variant being offered to India will not have as many.
It is believed that the removal of the cells behind the sail of the submarine will offer increased flexibility. However, equipping such a small submarine with VLS will probably result in trade-offs such as fewer weapons slots in the regular torpedo room.
A company representative highlighted the possibility of adding new features to meet the Indian Navy's needs along with the likelihood of offering submarine rescue vessels alongside the subs as part of a large 'package' deal.
The Spanish S-80 Plus
Offered by Spain's Navantia, the S-80 Plus is a boat that is larger than the Scorpene design (per India's Kalvari Class), but smaller than the South Korean and French options.
While Spain's S-80 Plus boats are not running with AIP right now; a fuel-cell system with a bio-ethanol reformer is being tested for the sub. The system is expected to become operational in a few years.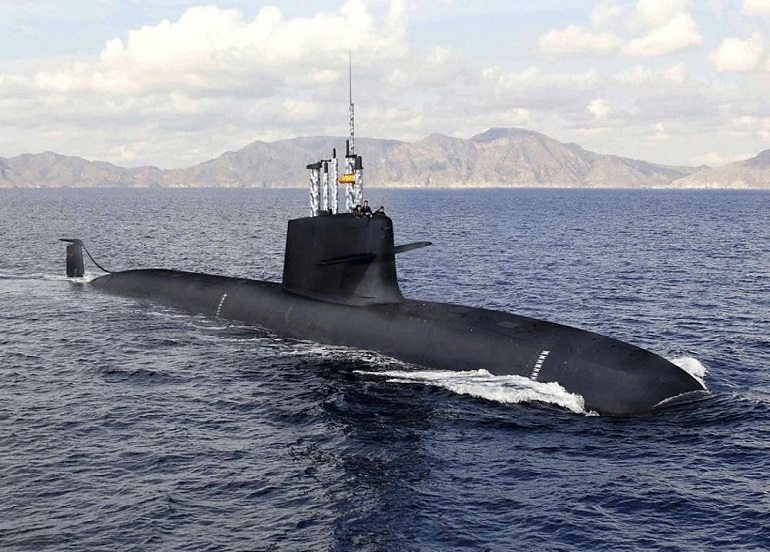 This class of submarines has a full load displacement of 3,200 tons. The boats are 81.05 meters long with a beam of 11.68 m. It comes equipped with six 533 mm torpedo tubes with DM2A4 torpedoes as well as Harpoon missiles.
The S-80 Plus subs offer a cruising speed of 12 knots and a range of 8,000 nm. It can accommodate 32 personnel along with 8 troops.
While India mulls over which submarine design to procure, a different debate is also silently waging: should the country focus more on aircraft carriers than submarines?
Carriers Vs Submarines
India has focused quite a bit on stocking up aircraft carriers. The country acquired its first carrier- INS Vikrant, a British Majestic-class ship – in 1961. India's second carrier, also called Vikrant, is the first to be made in India.
In August, Vikrant (IAC-1) completed five-day sea trials with helicopters. Now, the Indian Navy is preparing for trials with fighter jets. Meanwhile, the nation's naval engineers have been drawing up designs for a third carrier.
Such was the case till February, when Gen. Bipin Rawat, the Chief of Defense Staff (CDS), questioned the need for having three carriers. He argued that carriers are very expensive- India's only carrier in operation- Vikramaditya, cost $2.35 billion.
Vikrant is expected to cost $2.8 billion. Besides, carriers' way of operating in battle groups also leaves them with no stealth element. Ships, aircraft, and submarines can all easily attack carriers.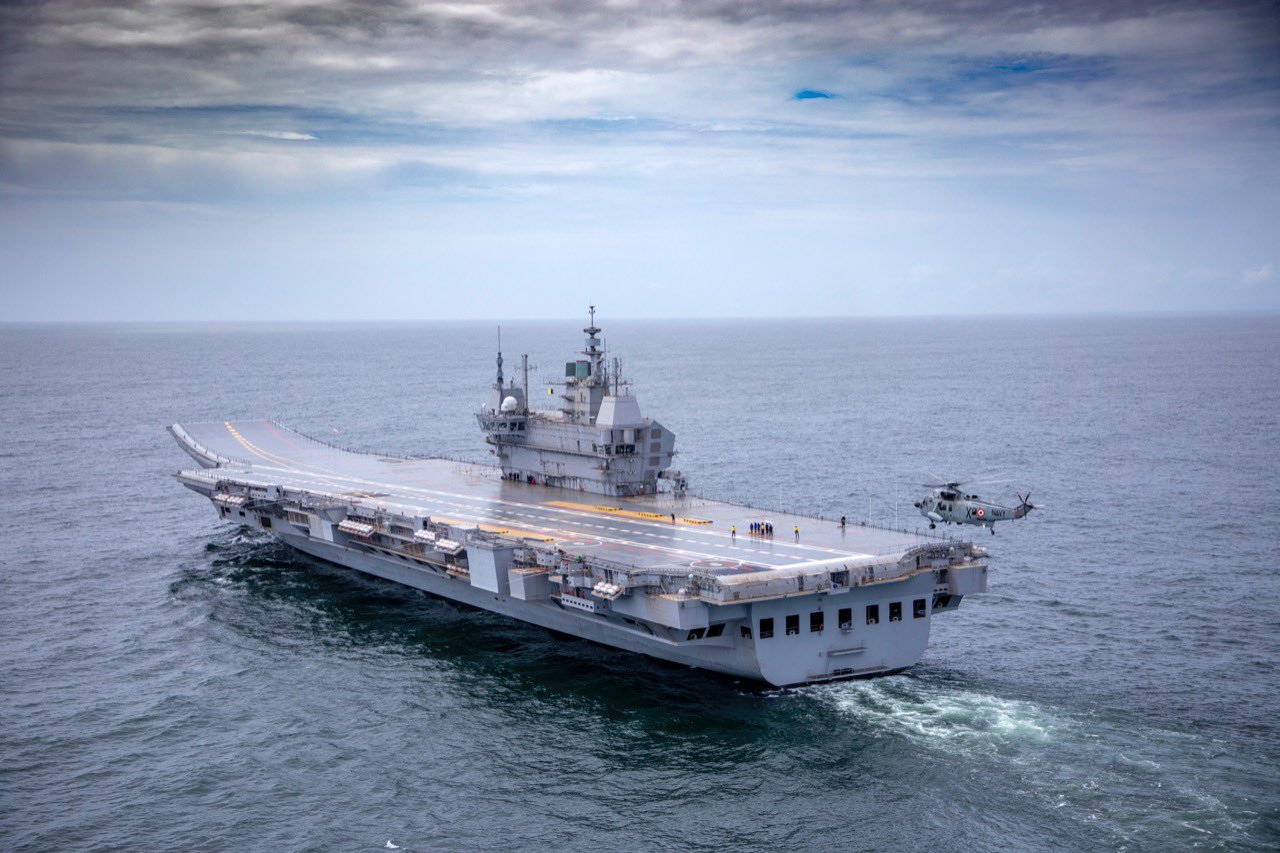 Rawat's plan seems to involve integrating more submarines into the navy and developing islands in the Bay of Bengal and the Arabian Sea into "unsinkable strategic hubs".
However, carriers aren't obsolete. INS Vikrant, for instance, played a key role in enforcing the naval blockade of East Pakistan during the 1971 war. Its Sea Hawk planes struck Chittagong and Cox's Bazaar. During the Kargil war, Vikrant's successor – Viraat – threatened to starve Pakistan with a blockade of the Arabian Sea.
The Indian Navy, now tasked with policing not only the Arabian Sea against Pakistan, but also the Bay of Bengal, and effectively the entire Indian Ocean from Malacca Strait to the Persian Gulf, has maintained that it needs at least three carriers to fulfill these duties.
There seems to be a very apparent schism between the Chief of Navy Staff (CNS) Karambhir Singh and CDS Rawat over the necessity of a third carrier.
Both types of vessels have their own importance: submarines are effective for sea denial while carriers control seas and project power. The debate has reached a stalemate with the Navy unlikely to budge from its current stance.