The Indian DRDO (Defence Research & Development Organization) is gearing up to work on the Self-Reliant India Project (Atma Nirbhar Bharat) and one name has created a lot of confusion – Anti-Terrorists Vehicle (ATV).
Indian DRDO Developing 'Anti-Terrorists Vehicle' For Mission Kashmir
In a meeting with the Defense Minister Rajnath Singh, India's Defense Research and Development Organisation (DRDO) has assured the government that they will be able to effectively deliver indigenous defense equipment which were earlier imported.
The Government of India on Sunday, 9th August declared that they would apply a self-imposed embargo on 101 defense equipment. This is an effort to give a secure environment for indigenous defense companies to grow and help India become self-reliant and realize the goal of "Aatm-Nirbhar Bharat".
After receiving the list of 108 items that the DRDO would design, develop, and manufacture, the organization's secretary Dr. G Satheesh Reddy tweeted: "This initiative will pave the way for Indian Defence industry to develop many technologies towards building an AtmaNirbhar Bharat."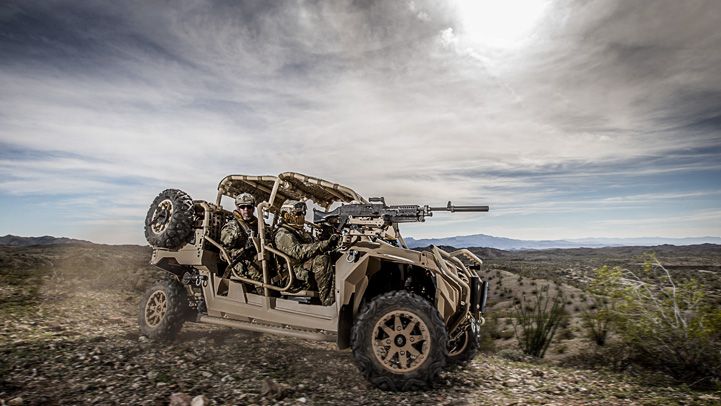 Singh told that the research organization had informed him about the systems and subsystems that have been identified as having a potential for the Indian industry. The list includes mini and micro UAVs, mine laying and marking equipment, armored engineering reconnaissance vehicle, and fuel system components for aircraft. However, the inclusion of 'anti-terrorist vehicle' abbreviated as 'ATV' in the list has raised eyebrows- which is speculated to be misinterpreted for 'all-terrain vehicle'.
Developed by Vehicles Research and Development Establishment (VRDE), a laboratory the DRDO, the ATV can reportedly carry three soldiers equipped for operations. The ATV, weighing around three tonnes provides all-round protection from small arms and hand grenades.
It can move around in a hostile environment especially in buildings, small gullies, and constrained spaces of hideouts providing an edge to thwart attacks.
The ATV has situational awareness provisions and six firing ports. A top hatch in the vehicle helps security personnel to exit in an emergency. The ATV can be used in the passages of hostile terrains where it is difficult to operate in a normal wheeled vehicle.
"The armored vehicle has a very low turning circle diameter, which enables it to turn around itself within a limited space. It has all-round ballistic and blast protection, better firing capability, and is equipped with varied requirements to carry out the counter-insurgency operation in urban areas," the official stated.
India Responds to China's Plans To Bypass Malacca Straits By Militarizing Indian Ocean Islands
Out of the 108 items, 68 would be developed by the fall of this year. The rest 40 items would be developed by 2021, the report stated.
"The DRDO will provide its support to industries in this development process," his tweet added. The indigenous industries would manufacture the products with a transfer of technology from the DRDO or team up to develop solutions jointly. Various engineering pioneer institutes like IITs and IISc will help in the process.
"DRDO will also provide support to industries for design, development, and testing of these systems on a requirement basis.  All the requirements of these systems by R&D establishments, Armed Forces, and other Security Agencies can be met through development contracts or production orders on a suitable Indian industry.
This will allow DRDO to focus on the design & development of critical and advanced technologies and systems", the government press release said.