India and Vietnam discussed their plans to increase military cooperation and joint strategies for regional development, amid Beijing's aggressive posture in the South China Sea.
India's Defense Secretary Ajay Kumar and his Vietnamese counterpart Lieutenant General Nguyen Chi Vinh held a virtual meeting on Tuesday.
"India and Vietnam held their second maritime security dialogue in a virtual format on 06 April 2021. The consultations involved exchanges on developments in the domain of maritime security, regional cooperation activities and opportunities for cooperation between the two countries," India's Ministry of External Affairs said in a press release on Tuesday.
During the India-Vietnam Virtual Summit last December, Indian Prime Minister Narendra Modi identified Vietnam as an "important pillar of India's Act East Policy" and "an important partner of our Indo-Pacific Vision".
"Peace, Stability and Prosperity are our shared purpose in the Indo-Pacific region," Modi had said.
India's growing ties with ASEAN (Associations of South-East Asian Nations) countries to counter Chinese aggression in the South China Sea is a strategic necessity. While China claims sovereignty over the entire sea and wants all the littoral states to agree to the 'Nine-Dash Line', Vietnam and other members of the ASEAN bloc claim otherwise.
China claims the sea and all the islands that are contained within the line as its territory.
The Dragon's growing military maneuvers and naval exercises have been seen as a threat to freedom of navigation and increased militarization of the Indo-Pacific region. While India has shown its willingness and capability of impacting maritime control over the South China Sea, according to The Diplomat, Vietnam has also made its position clear that it is willing to challenge Chinese transgressions under the United Nations Convention for the Law of the Seas (UNCLOS).
Maintaining the cooperation in defense matters, Vietnam has also mentioned that it seeks to strengthen its partnership with India to explore hydrocarbons on the shelf of Vietnam which falls under its Exclusive Economic Zone (EEZ).
The fact that both India and Vietnam have territorial disputes with China is likely to help them to reach a common strategy to counter Beijing. India and China had been locked in a 10-month-long border standoff in eastern Ladakh before their troops disengaged in February this year.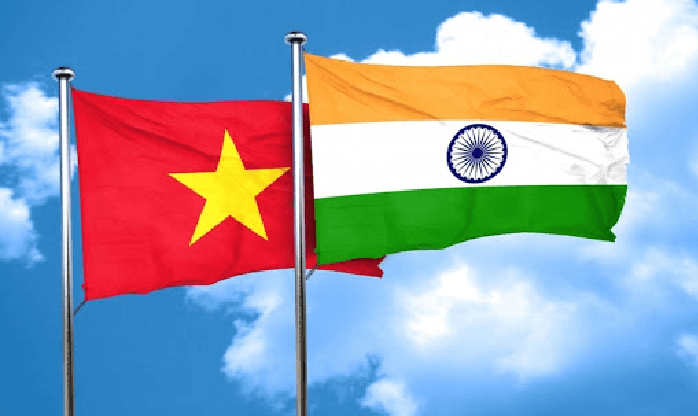 Similarly, Vietnam along with Taiwan, Malaysia, the Philippines, and Brunei has territorial disputes with China over the Spratly Islands in the South China Sea.
Therefore, growing ties between India and Vietnam is a clear message for China to ease down its aggressive and assertive military operations and also keep lines of communication and transportation in the South China Sea fair and open.
India has also joined the US-led Quadrilateral Security Dialogue or QUAD to counter China's rising influence in the Indo-Pacific region.
Being at the receiving end of Chinese aggressive expansionist propaganda, India and Vietnam can benefit from this partnership in the changing geopolitical environment and bring some degree of stability in the disputed waters of East Asia, according to experts.
Follow EurAsian Times on Google News