India is set to export one of its prized possessions, the "Pinaka" missile system, to conflict-ridden Armenia, just days after recording the highest-ever defense export that swelled by a staggering 334% over the last five years.
PLAAF's J-20 Mighty Dragon Performs 'Stunning Maneuvers' At Low Speeds; Has China Mastered The Thrust Vectoring Tech?
As Armenia grapples with managing a surge in violence with Azerbaijan in a new flare-up of tensions, India has decided to export missiles, rockets, and ammunition, including indigenous Pinaka multi-barrel rocket launchers, Economic Times reported. The system figured in India's export list published in February 2021.
The Ministry of Defense authorized the export of weapons via a government-to-government channel, under which the two countries signed agreements to deliver weapons and ammunition to Armenia earlier this month.
While the deal's value has not been disclosed, the report claims armament worth $250 million would be sold over the next few months.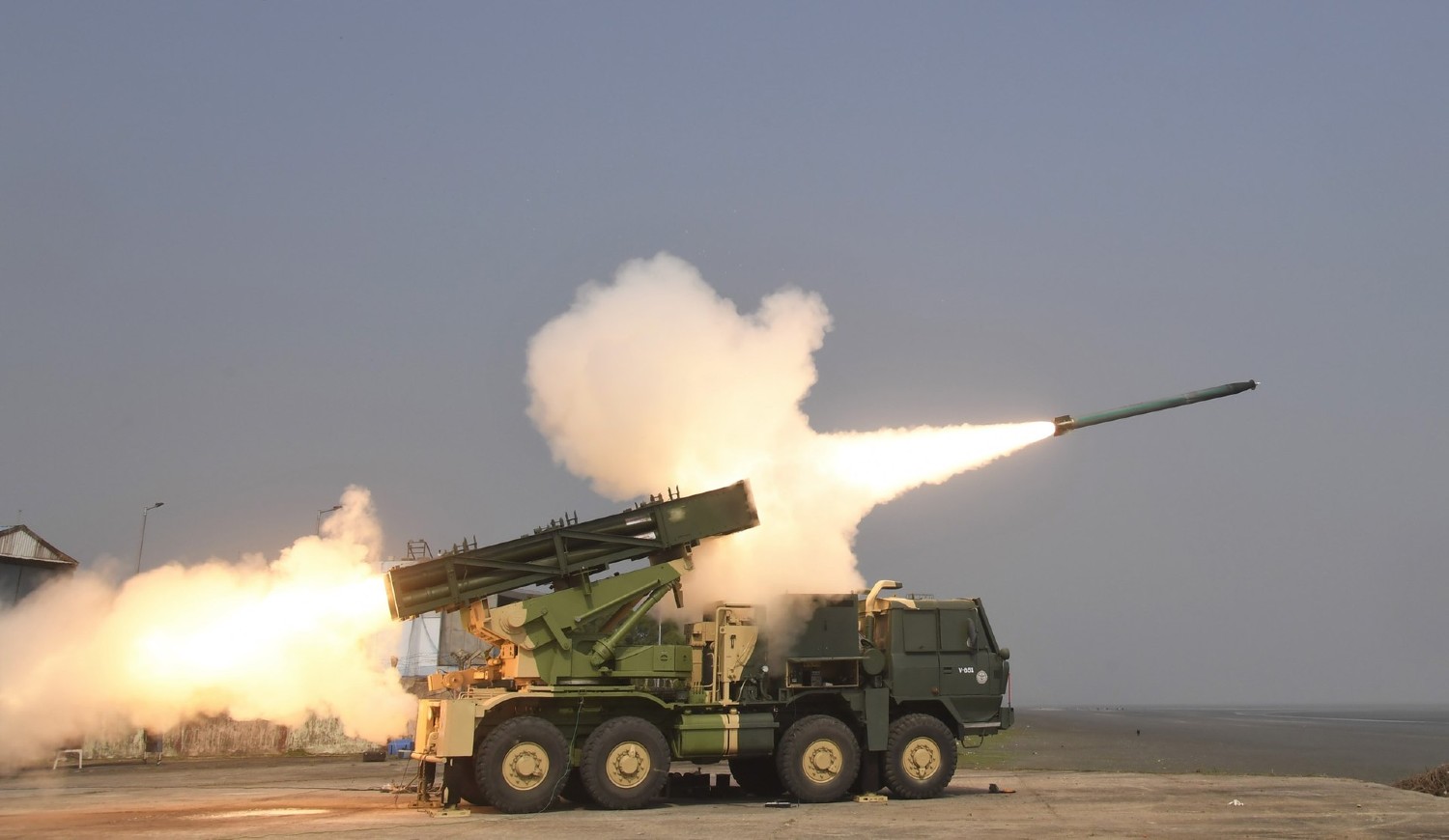 This disclosure comes days after India called on the "aggressor side" in fresh fighting along the Armenia-Azerbaijan border to "immediately cease hostilities" without directly naming Azerbaijan. Fighting erupted between the two sides on September 13 over the lingering Nagorno-Karabakh region dispute.
Armenia Foreign minister informs EAM Jaishankar about the "consequences of the large-scale aggression unleashed by Azerbaijan against the sovereign territory of Armenia". Statement by Armenian foreign ministry: pic.twitter.com/Epa6rPAVvt

— Sidhant Sibal (@sidhant) September 25, 2022
Azerbaijan, for one, has received backing from its traditional allies and supporters, Turkey and Israel. During the 2020 skirmish between the two combatants, Baku turned the tide in its favor by overwhelmingly deploying Turkish Bayraktar and Israeli kamikaze drones.
While Armenia has often turned to Russia for support, Moscow's preoccupation with war against Ukraine has garnered limited assistance. In the face of rising hostilities and little military aid, a deal with India for rocket systems and another armament would prove to be a shot in the arm for a beleaguered Armenia.
The deal also comes when India has recorded its highest-ever defense export and is chasing an even higher target. By 2025, the Defense Ministry wants to produce 1.75 lakh crores of weapons, including 35,000 crores (roughly $5 billion at an exchange rate of 1:70) for export.
Pinaka Export Debut With Armenian Contract
India is set to export its indigenously developed Pinaka multi-barrel rocket launchers for the first time. Pinaka has been developed by the Defense Research and Development Organisation (DRDO) and manufactured by indigenous private sector firms.
Pinaka is a multi-barrel rocket launcher primarily developed for the Indian Army. The system is mounted on a Tatra truck for mobility. Each Pinaka battery has six launchers, 12 rockets, and the DIGICORA MET radar. A battery of six launchers can neutralize an area measuring 1000metersx800meters.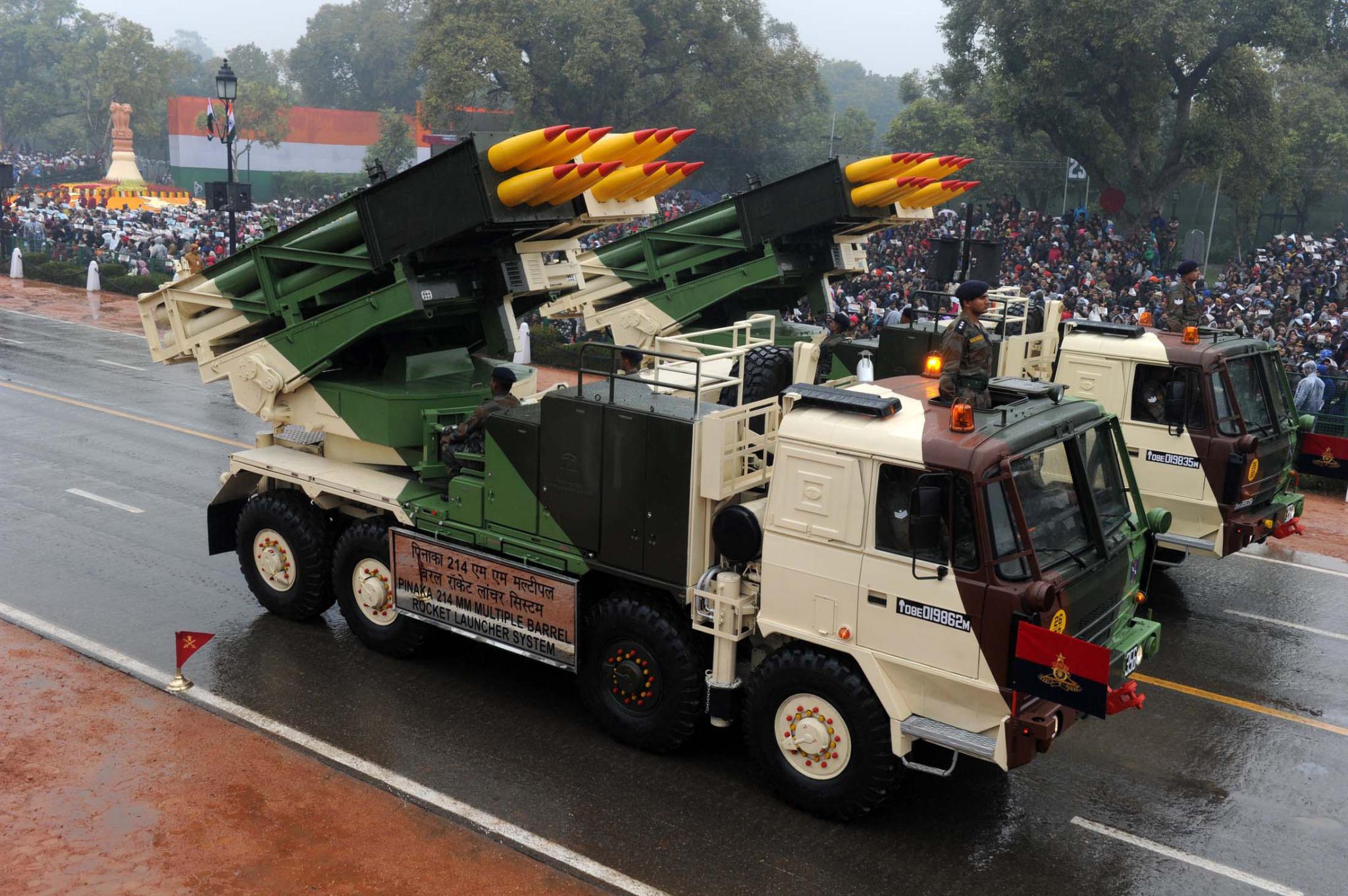 Each launcher has a separate direction of fire. The system can choose to launch all of the rockets at once or just a few using a fire control computer. The six launchers of a battery are all connected via a command post. Each launcher has its computer, allowing it to function independently if it becomes separated from the other five vehicles during a battle.
Besides the Pinaka, Armenia will also receive anti-tank missiles and a variety of ammunition from India as part of the package agreement. The complete details of these armaments have not yet been disclosed.
It is not the first time that Armenia has received weapons equipment from the South Asian country. In 2020, India triumphed over Russia and Poland in a $40 million defense agreement with Armenia providing it with four indigenous SWATHI counter-battery radars.
Developed by DRDO and produced by Bharat Electronics Limited (BEL), it provides accurate information on enemy artillery firing positions and weapons up to 75 kilometers away.
These radars track incoming rockets, mortars, and artillery shells and provide the precise location of enemy launchers and positions. The radars have been effectively used on the borders with China and Pakistan and are thus tried and tested for use.
India's military assistance for Armenia comes against the backdrop of its regional rival's bonhomie with Azerbaijan. Pakistan, the arch enemy of India, has consistently backed Azerbaijan in the Nagorno-Karabakh conflict and has refused to establish diplomatic ties and legally recognize Armenia as an independent state.
The Armenian Army's primary source of weaponry and other military equipment has by far been Russia. However, Moscow's depleted stocks and crippled defense industry could be India's turn to further its weapon export goals.