Arch-rivals, India and Pakistan strongly denounced the terror attacks in Afghanistan which targeted a maternity hospital, a funeral and a military check post. Both nations vying for influence in Afghanistan expressed grief over the attacks while netizens blamed each other for the ghastly acts.
WARNING: GRAPHIC CONTENT – More than a dozen people, including two newborn babies, were killed when gunmen attacked a hospital in Kabul pic.twitter.com/02KAi8vdTc

— Reuters (@Reuters) May 12, 2020
Terrorists attacked a maternity hospital in Kabul on Tuesday, killing 14 people, including two newborn babies. In a separate attack, a suicide bomber targeted a funeral ceremony in Nangahar province killing at least 24 people and injuring 68.
India Condemns the Attacks
India strongly condemns the brutal terrorist attacks against innocent people, including women and children, at the Dasht-e-Barchi hospital maternity ward, funeral in Nangarhar province and the Army check post in Laghman province," the MEA said.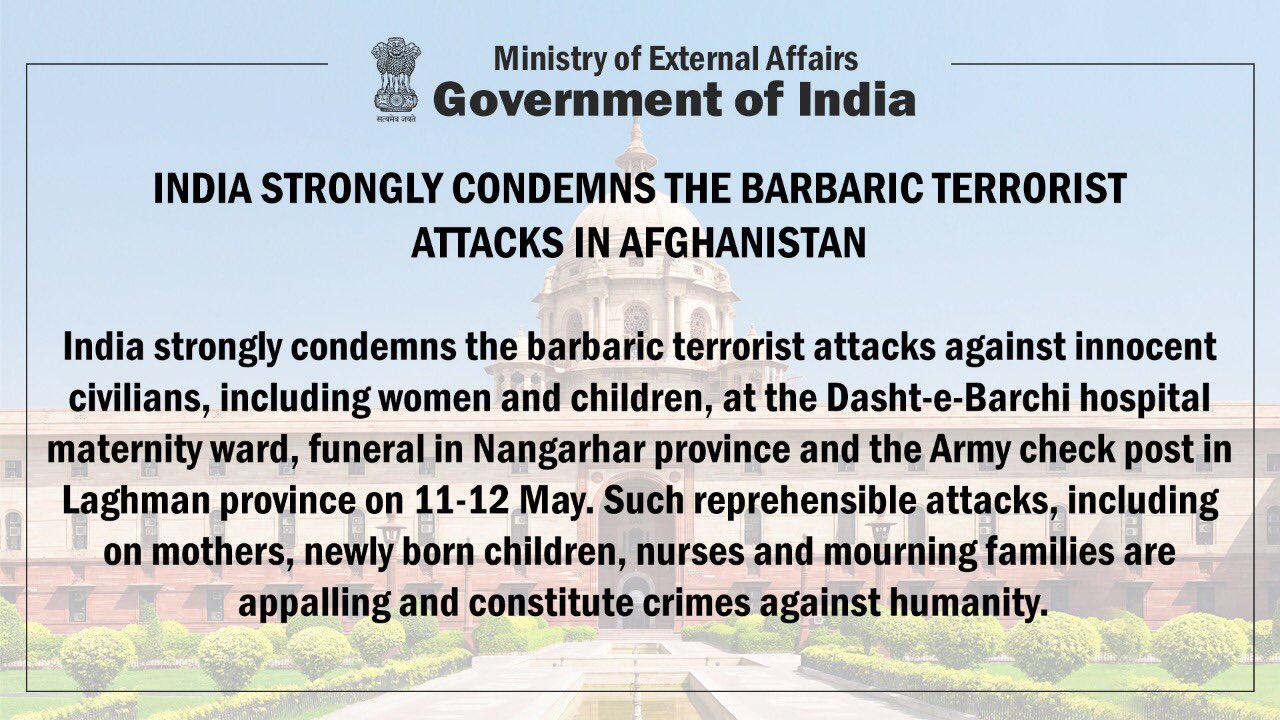 In a statement, it said the "reprehensible" attacks, including on mothers, newly born children, nurses and grieving families are horrifying and constitute crimes against humankind. We extend our deepest sympathies to the families of the departed and wish a quick recovery to those injured, the MEA said.
They should be required to annihilate safe havens that have supported terrorism in the region for decades and created endless sufferings to an unimaginable number of people in the region, the MEA said.
"We call for an immediate cessation of terrorist violence and cooperation to deal with the humanitarian situation arising from the spread of coronavirus in Afghanistan," it added.
Pakistan Condemns
Pakistan also condemned the 'inhuman and cowardly' terror attack in Afghanistan which killed scores of innocent civilians in the war-torn nation.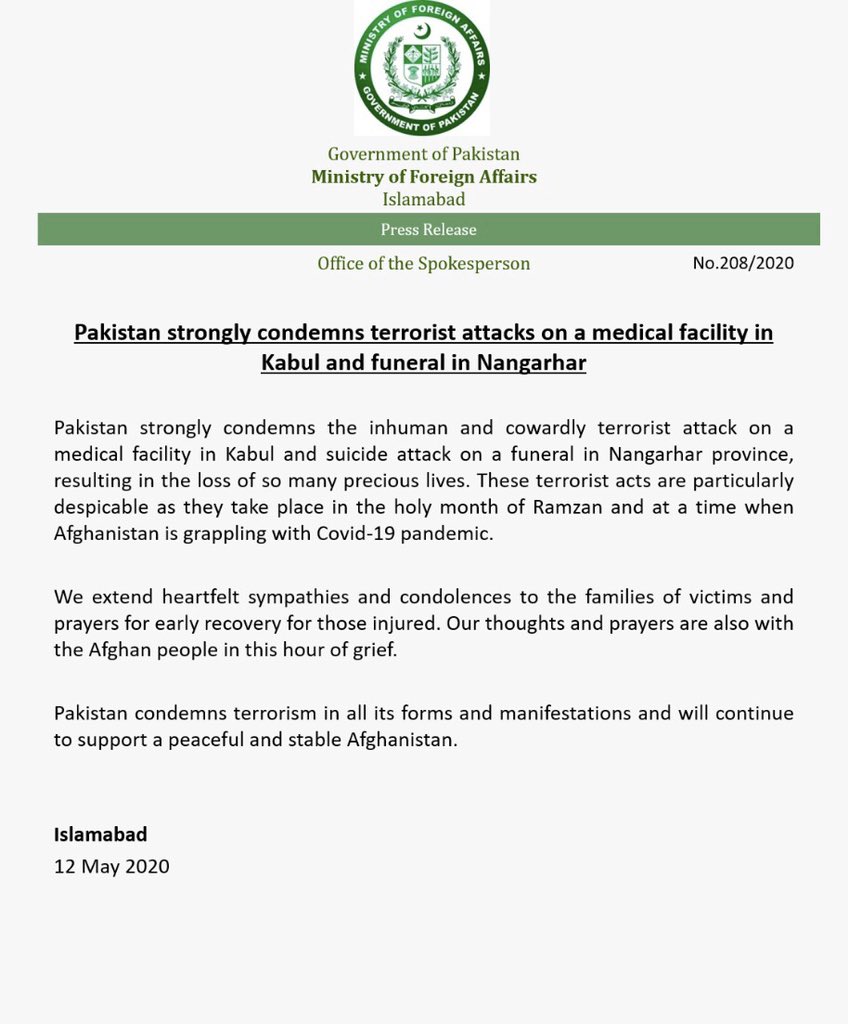 These terrorist acts were especially contemptible as they take place in the holy month of Ramadan and at a time when the country is battling with coronavirus pandemic, the Foreign Office spokesperson said in a statement.
The unspeakable acts of violence in Afghanistan today against mothers, babies, and unborn children as well as the attack on a funeral procession are acts of pure evil. https://t.co/N3XqP7ufGf

— U.S. Special Representative Zalmay Khalilzad (@US4AfghanPeace) May 12, 2020
Pakistan strongly denounces terrorism in all its forms and will continue to encourage a peaceful and stable Afghanistan. "Our thoughts and prayers are also with the Afghan people in this hour of grief," said the statement.
Strongly condemn todays cowardice attack on vulnerable civilians in #Kabul. World must realise the fact that, Pak will never allow peace in Afghanistan at any cost. Pakistani Generals must be held accountable for nourishing and supporting these fanatics. https://t.co/aVjWzX9xSh

— Niaz Baloch (@Niaz_Zehri) May 12, 2020
Ghani Orders Offensive
President Ashraf Ghani has ordered his security forces to launch all-out strikes against the Taliban. Ghani authorized the Afghan forces to switch from "active defensive" mode to "offensive" mode in a public address on Tuesday night.
In a televised message, President Ghani said the Taliban have ignored repeated calls for decreased violence and ceasefire. He added that a call for a ceasefire does not mean weakness – it shows a commitment to peace.