India and Russia have collaborated for developing an advanced version of the BrahMos cruise missile, modeled on the latter's Zircon hypersonic weapon and could be deployed earliest by 2025. 
---
An India-Russia joint venture, the BrahMos is considered the world's fastest supersonic cruise missile, which can fly at a speed of Mach 3, or three times the speed of sound. India has inducted this weapon for use on tri-services platforms.
Like the rest of the superpowers, India too has now joined the race to develop hypersonic weapons. The country has developed a hypersonic technology demonstrator vehicle (HSTDV) and tested a Mach 6 scramjet in June 2019 and in September 2020.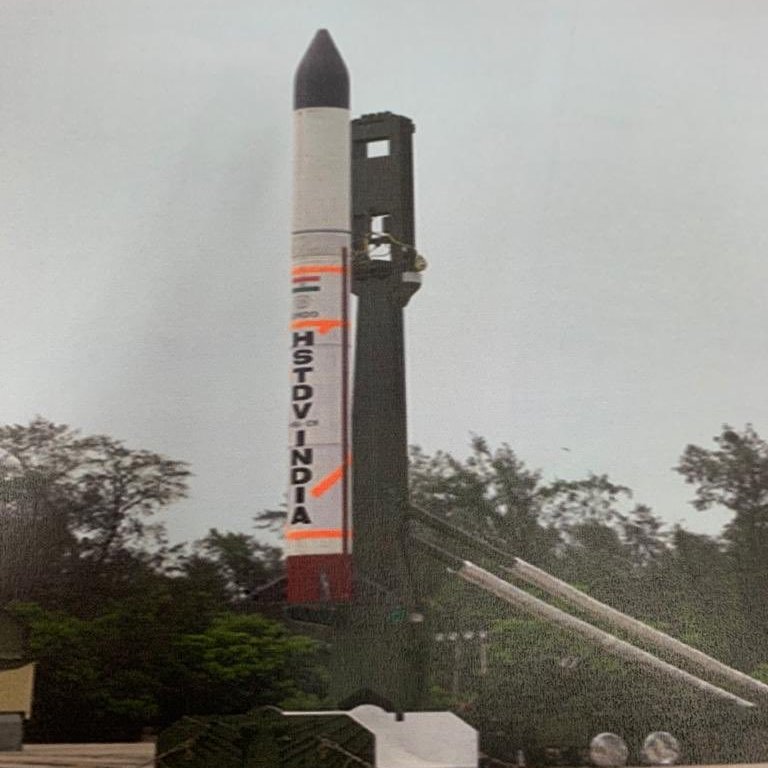 The HSTDV had been developed by India's Defence Research and Developmental Organisation (DRDO). According to experts, this test-firing was related to the making of the BrahMos II hypersonic missile. This new missile is likely to complement the Indian Navy's existing BrahMos anti-ship missile.
What Is BrahMos II? 
The BrahMos II is twice as fast and can reach a speed of over Mach 6. Even though the missile is expected to have a range of 600 km, experts claim that the BrahMos II, which is similar to Russia's Zircon hypersonic missile, can exceed its range of 1000 km and can fly at a speed as high as Mach 8.
BrahMos Aerospace is a joint venture between India and Russia. While DRDO represents India, NPO Mashinostroyenia represents Russia in it. The Zircon missile has been developed by NPOM.
According to the latest report by the Congressional Research Service (CRS), a US Congress think tank, India is among one of the selected few countries which are developing hypersonic weapons.
The report which came out this week said that although the US, Russia, and China have one of the most advanced hypersonic weapons programs, several other countries such as India, Australia, France, Germany, and Japan are underway in developing hypersonic weapons technology.
The BrahMos II was originally scheduled to be fielded in 2017. However, it faced significant delays and is now expected to achieve initial operational capability between 2025 and 2028, according to various reports.
India has around 12 operational hypersonic wind tunnels and can test hypersonic weapons with a speed of up to Mach 13, according to the CRS report.
The Hypersonic Arms Race
Earlier this week, The Financial Times reported that China had conducted a test for hypersonic missiles. However, these claims were denied by China as it said that the country had only tested a hypersonic vehicle and not a nuclear-capable hypersonic missile, according to the British newspaper which also said that the missile missed its target by approximately 12 miles.
The FT report stated that China had tested a nuclear-capable hypersonic missile, which circled the Earth before speeding towards its target. This demonstrated China's advanced space capability and caught US intelligence agencies by surprise.
Exclusive: China tested a nuclear-capable hypersonic missile in August that circled the globe before speeding towards its target, demonstrating an advanced space capability that caught US intelligence by surprise https://t.co/oSRa0eA1QR pic.twitter.com/Roxvf98wvM

— Financial Times (@FinancialTimes) October 16, 2021
Meanwhile, according to the CRS, Australia has collaborated with the US for the Hypersonic International Flight Research Experimentation (HiFiRE) program for developing hypersonic technologies since the year 2007.
A HiFiRE test was successfully conducted in July 2017 to evaluate the flight dynamics of a Mach 8 hypersonic glide vehicle. The previous HiFiRE tests explored scramjet engine technologies. Its successor, the Southern Cross Integrated Flight Research Experiment (SCIFiRE), has been put in place for developing hypersonic air-breathing capabilities. Demonstration tests of the SCIFiRE may be scheduled for mid-2020s.
Similarly, France has collaborated with Russia for developing hypersonic technology while Japan is developing the Hypersonic Cruise Missile (HCM) and the Hyper Velocity Gliding Projectile (HVGP).
In the past few years, the US has focused its efforts on developing hypersonic glide vehicles, which are launched from a rocket before gliding to a target, and hypersonic cruise missiles, powered by high-speed, air-breathing engines during flight.
The US Department of Defense (DoD) has been working towards developing hypersonic weapons under the Navy's Conventional Prompt Strike Program. This program is expected to provide the US military with the ability to strike hardened or time-sensitive targets with the help of conventional warheads.
According to the CRS, contrary to the hypersonic programs of China and Russia, the US hypersonic weapons are going to be conventionally armed. Due to this, the US hypersonic weapons will require greater accuracy and their development will be more technically challenging than the nuclear-armed Russian and Chinese systems.