India recently performed a series of weapon tests including the Helicopter-launched Stand-off Anti-Tank (SANT) missile, long-range Supersonic Missile Assisted Torpedo (SMART), and the Pinaka Mk2 extended-range rocket, highlighting the country's progress in the indigenous defense programs. 
The recent tests indicate India's efforts to increase self-reliance and strengthen its strike power in the light of mounting concerns about China's aggression. The newly developed SANT missile and Pinaka rockets were both tested at the Pokhran testing range in northwest India on December 11, according to the Ministry of Defense.
The long-range SMART system, developed by Defence Research and Development Organisation (DRDO) was successfully tested on December 13 at Balasore in Odisha. 
The successful demonstration of these weapon systems is intended to increase indigenous defense capabilities.
Stand-off Anti-Tank Missile
The Indian Air Force (IAF) and the DRDO successfully flight-tested the indigenously developed Helicopter launched SANT missile from the Pokhran ranges on December 11. 
Indigenously designed and developed Helicopter launched Stand-off Anti-tank (SANT) Missile was successfully flight tested from Pokhran ranges.https://t.co/y5nvAdPISy pic.twitter.com/k3yTDOaZqG

— DRDO (@DRDO_India) December 11, 2021
The release mechanism, advanced guidance and tracking algorithms, all avionics with integrated software, performed satisfactorily and tracking systems monitored all mission events. According to a statement released by the Ministry of Defense (MoD), this 'made in India' missile is capable of neutralizing targets up to a range of 10 kilometers.
The missile is equipped with an advanced millimeter-wave (MMW) seeker, which aids in the delivery of high-precision strikes from a safe distance.
The Hyderabad-based Research Center Imarat, a DRDO lab, designed and developed this missile. This was done in collaboration with other DRDO with some inputs from the defense industry. This missile is predicted to boost the IAF's armament.
It is the third in a series of indigenous stand-off weaponry that has recently been tested, the other two being a long-range bomb and smart anti-airfield weapon.
The SANT missile was successfully tested by DRDO off the coast of Odisha last year as well. It boasts both lock-on after launch and Lock-on before launch features. The SANT weighs 50 kg and is equipped with an MMW seeker instead of Helina's imaging infrared guidance and an 8 kilogram tandem high-explosive warhead. 
The missile can be mounted on a variety of helicopters, including the Mi-35 attack helicopter,  India's Light Combat Helicopter, and the 'Dhruv' Advanced Light Helicopter. It will particularly aid in the demolition of enemy assets, according to experts. The Mi-35 currently has a Russian-made Shturm missile that can target tanks from a distance of 5 kilometers. 
Pinaka Multi-Barrel Rocket Launcher
The Pinaka Extended Range (Pinaka-ER) Multiple Launch Rocket System (MLRS), one of the army's most powerful fire support systems, was successfully tested with rockets built by private sectors, according to DRDO. 
Two DRDO laboratories in Pune, the Armament Research & Development Establishment (ARDE) and the High Energy Materials Research Laboratory (HEMRL), have successfully developed the Pinaka MLRS in collaboration with two private sector companies, L&T and Tata Power Company Ltd. (TPCL).
The DRDO provided technology to a Nagpur-based "industry partner" called Economic Explosives after evaluating the performance of the Pinaka MLRS.
Successful tests of Pinaka Extended Range (Pinaka-ER), Area Denial Munitions (ADM) and indigensouly developed fuzes were carried out at various test ranges.https://t.co/yYkdT6KvCG pic.twitter.com/Bt2iQ82Z1J

— DRDO (@DRDO_India) December 11, 2021
The DRDO and the Indian Army have conducted a series of successful performance trials of Economic Explosives' rockets over the past three days. Enhanced range Pinaka rockets were test-fired at various ranges with various different capabilities, DRDO said, adding that "all of the testing objectives were met satisfactorily".  
The Pinaka rocket system, which was first used in the 1999 Kargil War, is known for its pinpoint accuracy and deadly attacks, eliminating adversaries on mountain peaks.
A Pinaka regiment is made up of 18 multi-barreled launchers with 12 launcher tubes apiece. In just 44 seconds, these 216 tubes can drop seven tons of high explosives on the target, hitting opposing forces in the open without allowing them time to seek cover. 
The army had previously used the Pinaka Mark I, which had a range of 37.5 kilometers and a limited accuracy of 500 meters. In 2016, the service requested DRDO to deliver a guidance kit for each individual missile.
The 'Enhanced Pinaka' project was taken up by Armament Research & Development Establishment (ARDE), which turned the Pinaka into a world-class rocket. The Enhanced Pinaka has a range of 75 kilometers and can hit within 10 meters of its target, enabling the army to eliminate a terrorist camp, enemy station, logistical dump, or headquarters without sending troops to hostile territory.  
America's AMRAAM Vs China's PL-15: US To Significantly Upgrade Its AIM-120 Missiles To Keep Pace With J-20 Fighters
Between 2006 and 2010, two private industry partners – L&T and TPCL – produced the army's first two Pinaka regiments. The Ministry of Defense contracted for the army's third and fourth regiments in 2016. The third order for six regiments was placed in 2020, bringing the army's Pinaka inventory to 10 units. These will be outfitted with the Pinaka-ER rockets, which are now undergoing testing.
The SMART System
On December 13, the DRDO performed a successful flight test of the Supersonic Missile Assisted Release of Torpedo (SMART). The last test was conducted in October 2020.
The entire trajectory was tracked by the electro-optic telemetry system, multiple range radars, including down-range equipment, and down-range ships positioned at various points in the Bay of Bengal, according to DRDO, who called the latest test a "text-book launch". The missile was outfitted with a torpedo, a parachute delivery system, and several systems necessary for torpedo discharge during the test.
#WATCH | India today successfully carried out a long-range Supersonic Missile Assisted Torpedo (SMART) off coast of Balasore in Odisha.

"The system has been designed to enhance Anti-sub marine warfare capability far beyond the conventional range of the torpedo," DRDO says pic.twitter.com/ZhD34UwuFW

— ANI (@ANI) December 13, 2021
"This canister-based missile system consists of advanced technologies — two-stage solid propulsion, electro-mechanical actuators and precision inertial navigation. The missile is launched from a ground mobile launcher," said DRDO.
A canister-based system allows the missile to be stored and operated from dedicated compartments. The inside environment of the canister is regulated, making transportation and storage easier; it also increases the weapon's shelf life.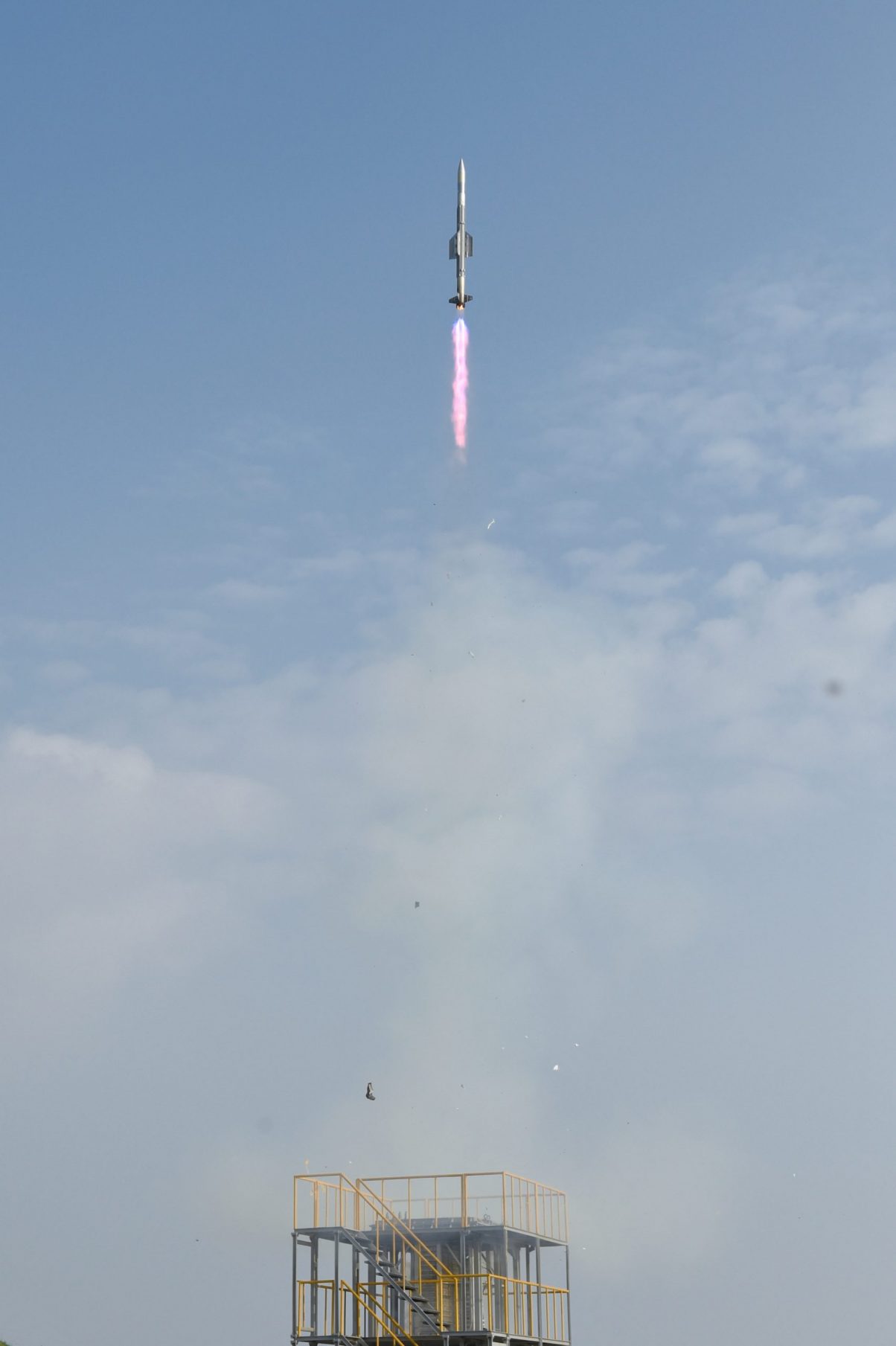 Torpedoes are self-propelled weapons that can be shot from above or below the sea surface and travel underwater to hit their target. The DRDO embarked on an ambitious project in the mid-2010s to develop the capability to fire torpedoes aided by missiles. On October 5, 2020, the system underwent its first flight test.
This SMART system includes a mechanism that allows the torpedo to be fired from an existing supersonic missile system, extending its range well beyond its own. A torpedo with a range of roughly 50 kilometers, for example, can be carried by a missile system to a distance of 1000 kilometers, from where it can be launched.
According to DRDO officials, the system not only provides the capability to fire the torpedo beyond its range but also provides versatility in terms of the launch platform that comes with the missile system. 
The Defence Research and Development Laboratory (DRDL) and Research Centre Imarat (RCI) — both in Hyderabad; the Aerial Delivery Research and Development Establishment (ADRDE) in Agra, and the Naval Science and Technology Laboratory (NSTL) in Visakhapatnam are among the DRDO laboratories that have developed technologies for the SMART system. 
Officials stressed that given China's proactive deployment of naval assets in general and submarines in particular in the Indian Ocean Region, India's capability building in the field of anti-submarine warfare is critical. When the SMART system becomes operational, India would be able to fire torpedoes at enemy naval assets from far-off positions.