The Ukraine offensive by Moscow is being keenly watched by both New Delhi and Beijing — the biggest customers of Russian military hardware. India purchases a quarter of its arms from Russia, the world's second-largest arms exporter, followed by China.
Russia accounts for nearly 19% of worldwide weapons shipments. However, according to the latest Stockholm International Peace Research Institute (SIPRI) report titled, 'Trends in International Arms Transfers', Russian arms export fell by 26% between 2012 and 2016 followed by a steep fall in its global share from 24% to 19% between 2017 and 2021.
However, the Russian arms industry has a loyal customer base across the world. Nearly 90% of Russia's weaponry is sent to only 10 countries. India, Russia's largest customer, had purchased 19% of Russia's armaments for $6.5 billion between 2016 and 2020.
Russia accounted for 49.3% of India's total arms imports while China was the second-largest importer of Russian weapons, spending $5.1 billion between 2016 and 2020, according to SIPRI.
The high volume of Russian military acquisitions has caused anxiety in India, with experts voicing alarm about the war's influence on ongoing projects and deals with delivery dates approaching. Further, India is heavily reliant on Russian spare parts for the maintenance of its ordnance.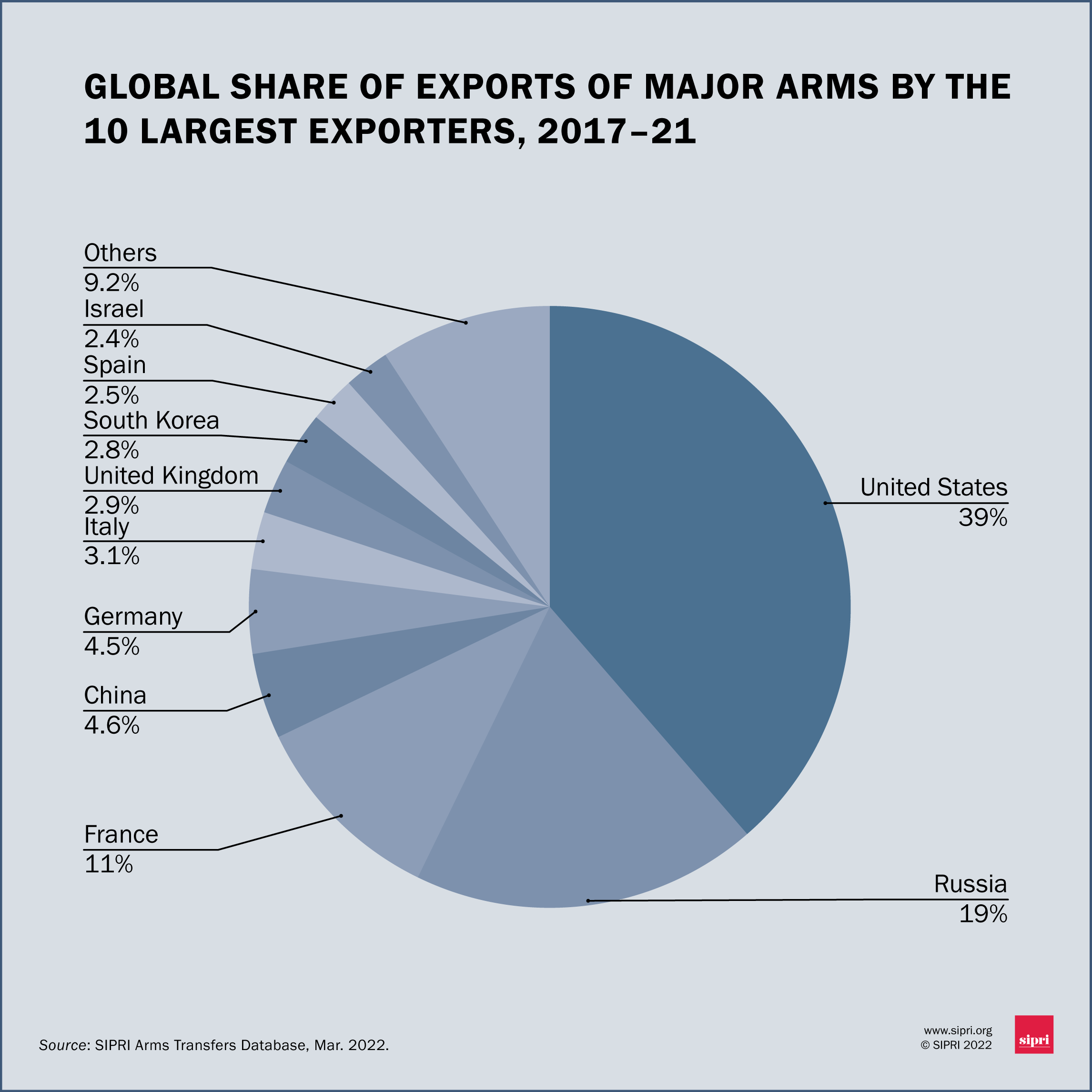 On the other hand, China has traditionally shared a military relationship with both Russia and Ukraine. Some observers have pointed out that the war could negatively impact China's illicit arms industry.
India's Military Hardware
Russian-made weapons account for more than 70% of India's military arsenal. The Indian Navy's sole operating aircraft carrier, the INS Vikramaditya, is a modified Kiev-class Soviet-era ship.
Four of the Indian Navy's 10 guided-missile destroyers are Russian Kashin-class ships. Six of its 17 frigates are Russian Talwar-class vessels, and the Indian Navy's lone nuclear-powered attack submarine, INS Chakra, is a Russian Akula-class vessel on lease.
Similarly, the Indian Air Force (IAF) has a large number of Russian fighter jets, with 272 Su-30MKIs and over 100 MiG-21 Bisons in service.
Russian-made Mi-17 and Mi-8 helicopters are also used by the IAF. As of now, Russia and India jointly manufacture BrahMos cruise missiles and the production of Russian AK-203 rifles is set to begin in India soon. India is also acquiring the S-400 systems from Russia.
On the other hand, China has shared a hot and cold relationship with Russia since the Cold War era. Following hard negotiations in 2015, Moscow and Beijing renewed their arms trading.
For around $7 billion, Russia agreed to deliver China 24 Sukhoi-35 (Su-35) combat aircraft and four S-400 SAM systems. These are currently some of Russia's most modern weapons. This accord was a watershed moment and the first big sale of Russian major weapons to China since the mid-2000s.
It represents a significant increase in Russia's total yearly value of arms exports, which has recently ranged between $13.5 billion and $15 billion.
China possesses many older and obsolete weapon platforms that were made using Soviet-era Union technologies. Some of its contemporary weapon systems are built by reversed re-engineering competitors' technology.
Ukraine War – A Test Of Russian Weaponary 
— Combat Aircraft
India has a massive fleet of Sukhoi Su-30MKI while China boasts of the lethal Sukhoi Su-30 and Su-35 Flankers. Both these aircraft, the finest in their respective inventories, form a significant part of their air force and would be the most important combat asset in case of a war.
Besides Su-30, India also uses MiG-29s which the Russian air force had fielded generously in the initial days of the Ukraine invasion. Despite significant engine reliability concerns, the MiG-29, with a maximum weight of 27 tons, appears to perform better at high altitudes than heavier fighter planes.
Russia had fielded the Su-30 days before the invasion began and the aircraft participated in the joint exercises conducted in Belarus. However, Ukraine had claimed that its air defense systems downed two Russian Su-30 fighters and a Su-35 recently.
"Just in the sky over Kyiv oblast enemy's SU-25 was destroyed and the enemy's SU-35 was shot down. In total, minus more than 10 russian air targets per day." – Commander-in-Chief of the Armed Forces of Ukraine General Valerii Zaluzhnyi.

— Defence of Ukraine (@DefenceU) March 17, 2022
— Air Defense System
Both India and China have the Russian S-400 air defense systems in their arsenal. India, for one, decided to deploy its first system in Punjab to combat the twin threat from China and Pakistan as the border standoff between the Indian Army and the Chinese PLA between India and China is about to enter its second year. China also has the Russian-made S-300 in its inventory.
Days into the invasion, Russia started military drills with the S-400 Triumf air defense system. The missile system has reportedly hit many fighter aircraft of the Ukrainian Air Force.
Russian army fires S-400 air defense system at Ukrainian Su-27 fighter. pic.twitter.com/GSfKtVfEBS

— World's Military Forces (@Military9Army) February 24, 2022
"The S-400 training exercises have started in Russia. The servicemen of the S-400 'Triumf' anti-aircraft missile systems have started practicing combat training tasks to detect and destroy a simulated enemy within the framework of the exercises in the Novosibirsk region," news agency NEXTA tweeted.
⚡️Another location of Russian missiles was found.
Skysat satellite recorded the location of Russian missile system a few hundred meters from the Mazyr border detachment near the village Prudok (Gomel region).@konrad_muzyka says that Russian S-400 missiles are stationed there. pic.twitter.com/Vywl3xHQ0j

— MotolkoHelp (@MotolkoHelp) March 12, 2022
Despite Russia's inadequacies on the battlefield, US sources claim that Russia's missile defenses on its own turf are far more advanced. Russian facilities are better defended by "layer upon layer upon layer" of advanced S-300 and S-400 interceptors, according to General Mark Kelly, head of the USAF Air Combat Command.
Russia's air defenses, particularly its S-300 and S-400 surface-to-air missile batteries, have prompted the US military to invest substantially in high-tech stealth aircraft that can avoid detection by these interceptors' radars.
Further, the debate on arming Ukraine with the Polish MiG-29 has divided the NATO members with the US recognizing that the move could escalate the Ukraine crisis.
"The MiG wouldn't survive for a minute in Ukrainian airspace given what the Russians have, the surface-to-air missiles they have, given the quality of their fighter jets," House Armed Services Committee Chairman Adam Smith, D-Wash was quoted as saying in media reports.
 — Choppers
Both India and China have an array of Soviet-origin choppers in their air forces and they are already in talks with Russia regarding the potential purchase of its latest lethal helicopters.
While India has been interested in purchasing the Russian Ka-226t, China has been eyeing the Ka-52 chopper, which is often compared with the US Apaches.
#Ukraine: Another Russian Attack Helicopter was destroyed by Ukrainian Air Defenses; this time a Ka-52 with tail number of RF-13411. pic.twitter.com/xeRhgB3mrv

— ?? Ukraine Weapons Tracker (@UAWeapons) March 16, 2022
Videos circulating on social media have shown that the Ukrainian military purportedly shot down Ka-52s on the first day of the Russian invasion and a few more afterward. The Ka-52 'Alligator' is the most advanced assault helicopter in Russia's arsenal.
The EurAsian Times and the South China Morning Post both claimed last year that China was considering purchasing the Russian attack helicopter.
Moscow has marketed this as one of the most devastating combat helicopters in recent years. Last year, it was exhibited at the Dubai Air Show in the hopes of increasing its export prospects.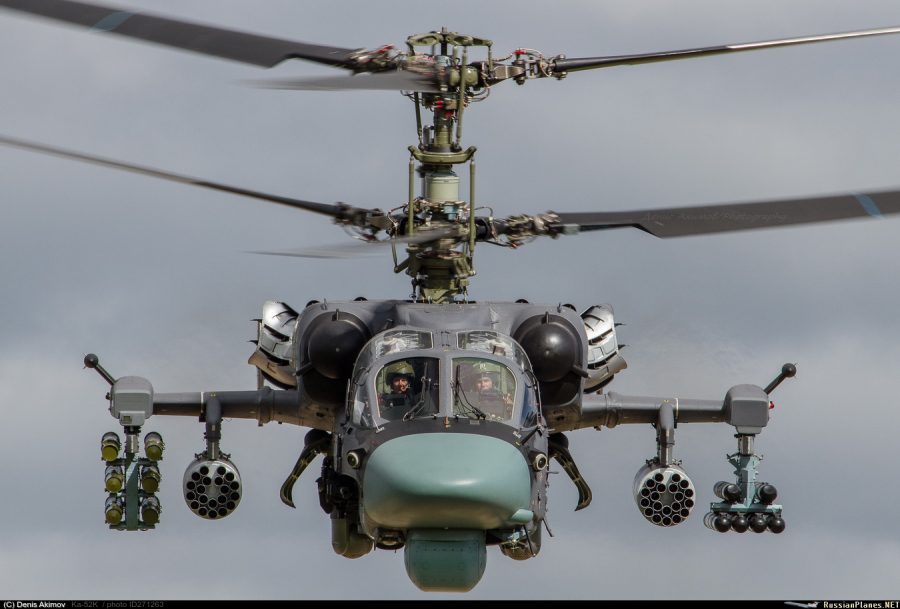 Ukraine has made big claims about downing about 30 Russian choppers in surprise attacks. On the other hand, Russia recently claimed to have shot down a Ukrainian Mi-24 chopper that India also has in service.
— Tanks
India operates the Russia-origin T-72 and T-90 tanks while China has developed its own tank by reverse engineering Soviet technology over the years.
A barrage of anti-tank missiles launched into Ukraine has the ability to shift the war's trajectory, placing pressure on Russia to locate enough skilled troops to fight in the arduous urban battle that is now more likely.
Looking at the latest numbers on Russian armor losses documented by @oryxspioenkop, and they are just staggering:
– 50 modernized T-72B3s (M/obr. 2016)
– 41 T-80Us
– 11 T-80BVMs
– 14 T-90As
Total for all visually confirmed MBT losses currently stands at 190.

— Veli-Pekka Kivimäki (@vpkivimaki) March 11, 2022
Meanwhile, the United Kingdom has sent 3,615 of its short-range Next-Generation Light Anti-Tank Weapons (NLAW), along with launchers; Germany has supplied 1,000 anti-tank missiles from its inventory; Norway has sent 2,000; Sweden has sent 5,000.
The US has sent an unspecified number of Javelin missile systems. While a majority of them are conventional weapons, they do pose a significant hazard, as previously explained by The EurAsian Times.
#UkraineWar: Another T-90A MBT captured by Ukrainian forces.

Note that its cope cage appears to consists of mattress springs. It is so poorly put together that it can't be classified as emotional support armour. pic.twitter.com/oPtK6VaEXo

— Oryx (@oryxspioenkop) March 16, 2022
Six of Russia's advanced T-90 tanks have been destroyed by Ukraine's military, according to Oryx, a project that chronicles independently verifiable losses throughout the conflict. According to Oryx's tally, Russia has lost 214 tanks and 1,292 vehicles in total to attack, capture, or desertion, Bloomberg reported.
Ukraine maintains that Russian tank losses are larger, while the Russian Defense Ministry refuses to provide numbers. According to Oryx, Ukraine has lost 65 tanks, 22 of which were destroyed, out of a total of 343 vehicles.
The media reports, as also the information flooding on social media, have primarily been about Ukraine's claims and conform to the narrative set by the Western world.
While the figures cited by the Russian and Ukrainian/Western media could not be verified independently unless both warring sides confirm the same statistics, some reports indicate that Russian troops have been unrelenting even in the face of stiff resistance.
Experts are of the opinion that Ukraine which is backed by the West has absolute control over information dissemination. Strategic affairs analyst Prakash Nanda earlier said, "Russia may or may not win the war militarily, and take full control of that country, but one thing is certain. And that is the fact that Russians have lost very badly to Ukraine in what is called the "information war".