In the last quarter of 1986, while Pakistan was busy with its internal affairs, Islamabad received intelligence reports suggesting a war-level military exercise was taking place adjacent to the country's border in Rajasthan.
Chinese Fighter Jets Simulate Indian Rafales, Su-30 MKIs In Mock Drills With Pakistan
About 600,000 Indian troops had been mobilized in the western sector by New Delhi, under 'Operation Brasstacks', the aim of which, according to India, was to "test and experiment the new concepts in warfare".
Led by General Krishnaswamy Sundarji, who was in charge of an infantry division in the 1971 war, these exercises combined the might of the Indian Army, Air Force, and the Navy, and were described as being "bigger than any NATO exercise and the biggest since World War II."
However, as the veteran Indian soldier Lt Gen P.N. Hoon later revealed in his memoirs, these exercises had a larger objective. "Brasstacks was no military exercise. It was a plan to build up the situation for a fourth war with Pakistan," he wrote.
This view was reinforced later in a report compiled by Global Security Inc: "Operation Brasstacks was tasked with two objectives: the initial goal was the deployment of ground troops.
The other objective was to conduct a series of assault exercises by the Indian Navy near the Pakistan naval base … An​​ amphibious assault group formed from Indian naval forces was planned and deployed near the Korangi Creek of Karachi Division of Pakistan. However, the most important aim of these war alert simulations was to determine tactical nuclear strategy overseen by the Indian Army."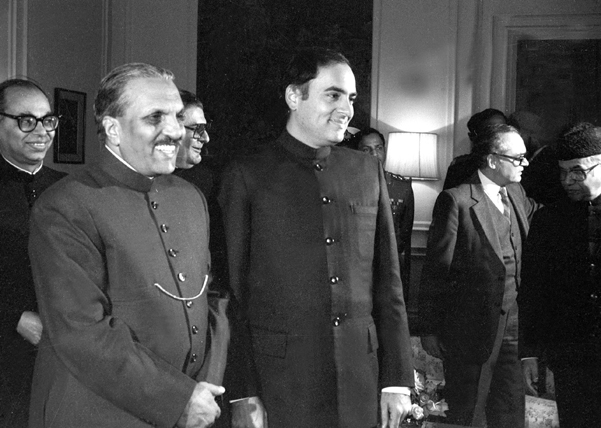 As Robert Art, an international observer wrote in 2009, General Sunderji's strategy was to "provoke Pakistan's response, and this would provide India with an excuse to implement existing contingency plans to go on an offensive against Pakistan and take out its nuclear bomb projects in a preventive strike".
The relations between the two countries deteriorated since India conducted the first Pokhran nuclear tests in 1974. After the tests, India worked hard to make its defenses unsurmountable and build an undefeatable military force. Pakistan, too, ramped up its efforts to acquire modern weapons, ammunition, and equipment to match its rival in strategic power balance, although it was much behind India in the acquisition of a nuclear weapon.
The military strategists in Pakistan, even today, regard Operation Brasstacks as a "blitzkrieg-like" integrated deep offensive strategy to infiltrate into dense areas of central Pakistan, a claim which India has formally denied.
As the largest war exercise was being held by the Indian armed forces, the country's Prime Minister at the time, Rajiv Gandhi, had reportedly been kept in the dark.
In an interview to a news channel, former Union minister and Gandhi family loyalist Mani Shankar Aiyar claimed that Mr. Gandhi had no knowledge about Brasstacks, which brought India and Pakistan on the brink of war in the 1980s. The claim has been repeated by other people close to the Gandhi family at the time.
The Operation Brasstacks had alarmed the Pakistani establishment and full-scale preparations to counter any Indian misadventure had begun. The exercises were taken as a threat against Pakistan's integrity, forcing the country to mobilize all strategic resources.
As the troop deployments on both sides of the border reached their zenith, the two countries' armies stood face-to-face by mid-January 1987.
However, the two countries were able to avoid a full-scale war. There are conflicting views on what actually prevented the war at the last moment, and according to some speculations, the US after learning that India was about to attack Pakistan's nuclear installations tipped off Gen Zia.
Pak nuclear scientist A.Q. Khan
The architect of Pakistan's nuclear weapons program, Dr. Abdul Qadeer Khan, in a recent interview with the BBC, claims that it was his 'informal conversation' with an Indian journalist Kuldeep Nayyar at his residence on January 28, 1987, that helped prevent a war between the two countries.
Recalling the conversation, he says, Nayyar was in Pakistan for a wedding of his friend Mushahid Hussain, who had accompanied him to his house. "If you make ten bombs, we will make one hundred," Kuldeep Nayyar tells Khan, who replies saying, "There is no need to make such a large number of bombs. Three or four will suffice on both sides."
"I went on to say that we are capable of making bombs in the shortest possible time," claims Khan. The Pakistani nuclear scientist says that Kuldeep Nayyar later sold the excerpts from the 'informal conversation' to the London Observer for GBP 20,000.
"It wasn't really an interview, just some gossip over tea," Khan tells BBC.
The meeting took place at a time when Pakistani and Indian troops were lined up face-to-face on the international border in the Rajasthan and Punjab sectors.
The London Observer quoted Dr. Khan as saying, "If our survival is threatened, we will drop bombs." The story also claimed that Pakistan had enriched uranium to the point of use in weapons and that it could be tested in a laboratory, attributing the claim to Dr. Khan.
After this interview was published, people in Pakistan began to believe that the 'nuclear threat' hidden in Kuldeep Nayyar's news story had prevented India from launching a major attack on Pakistan. This claim became embedded in the Pakistani psyche, and very few challenged it.
Dr. A.Q. Khan unequivocally claims in the BBC interview that the news of his conversation with Kuldeep Nayyar had played a role in easing tensions. Although Pakistan's nuclear program was still in its infancy at the time, the country was 12 years away from gaining nuclear status. Khan believes his 'threat' had worked.
It is also believed that General Zia's threat to Rajiv Gandhi when he met him in Jaipur during a cricket match played a major role in calming the situation. Zia reportedly told Gandhi that if the Indian army did not withdraw immediately, he would order a nuclear attack. "Rajiv panicked and the result was that he ordered the immediate withdrawal of the Indian Army," experts claim.
Dr. Qadeer told BBC that a few weeks before ​Operation ​Brass​t​ac​ks​, he had sent a written message to General Zia that Pakistan was capable of building a nuclear bomb on a ten-day notice. "It gave Zia the confidence to talk to Rajiv Gandhi and threaten him," Khan added.
Although leading strategists have denied that the nuclear threat by Pakistan to India had played any role in easing tensions. There are varied opinions on how the war was averted.
The US ultimately helped calm the situation, which urged both countries to deal with restraint to reduce such tensions in the future. Pakistan and India also agreed not to attack each other's nuclear facilities in the future. The two countries, therefore, exchanged the lists of their nuclear facilities. A number of confidence-building measures were also signed to ease any further tensions.
Follow EurAsian Times on Google News