INS Vikrant, the Indian Navy's first homegrown aircraft carrier, is going to start sea trials soon. But how does it fare against China's aircraft carriers – Liaoning and Shandong?
Sea trials denote the pre-induction phase and are aimed at testing a vessel's general performance and sea-worthiness. Once commissioned, the carrier will be the second in active operations with the Indian Navy, the first being the Russian-built INS Vikramaditya.
With this, India would join the league of nations operating more than one aircraft carrier.
The need for new warships is felt largely due to China's aggressive military posture in the region, as seen in the ongoing border standoff with India in the Himalayas to the South China Sea conflicts with littoral states.
And with two aircraft carriers in its possession, the Indian Navy can ensure protection from its two hostile neighbors — China and Pakistan — in case of a two-front war.
Among the Asian countries, the Indian Navy is the most experienced in terms of naval aviation, coming in third after the US and France globally.
In contrast, the Chinese naval aviation is only around 10 years old. However, military analyst H I Sutton believes that the lessons learned during China's recent power projections against Taiwan and Southeast Asian nations should not be taken lightly.
"We should not undervalue the lessons learned during this time, but China is still a few years away from accomplishing its full carrier potential. However, with at least three large carriers in service, it is a question of 'when' rather than 'if'," he writes in his article for NavalNews.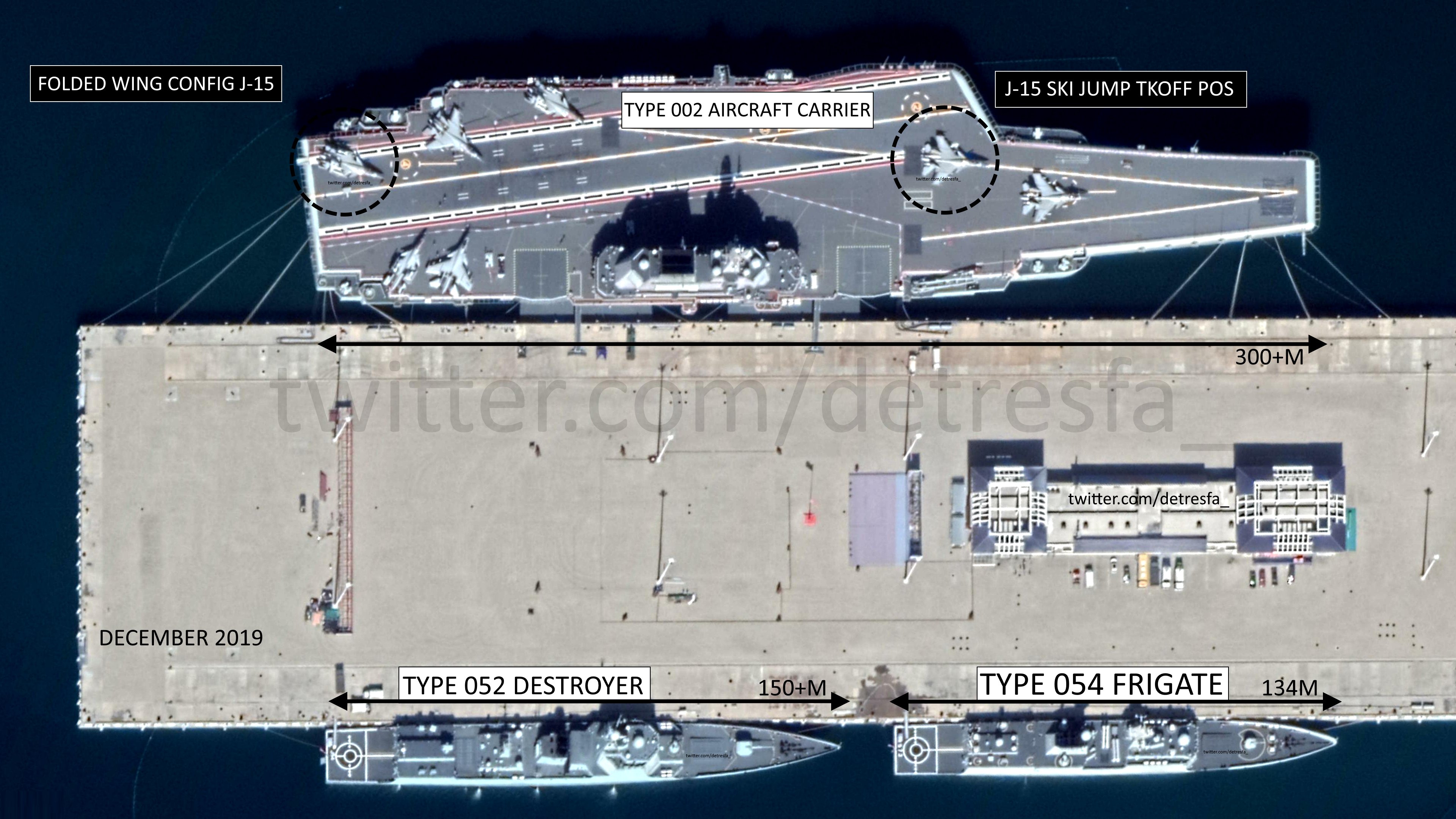 This third aircraft carrier that would be in service with PLAN is expected to be equal to US Navy's Gerald R. Ford-class supercarrier equipped with catapult systems.
Nevertheless, the Indian Navy's Vikrant is still a bit smaller than existing Chinese carriers, Liaoning and Shandong. But, they both share similar capabilities, and according to Sutton, Vikrant might be even superior to the Chinese ones.
"Although the development of the Indian and Chinese warships overlaps, in many respects the Indian aircraft carrier is a generation ahead in design. The design of Vikrant started in 1999 while the Chinese ships are rooted in 1970s Soviet technology," he adds.
However, he also cautioned that Liaoning's crews have been training on her for eight years, and is currently undergoing an exercise at Qingdao in the Yellow Sea.
Aircraft Strength
The Vikrant is expected to carry a complement of around 30 fixed-wing and about 10 rotary-wing aircraft, which has been the case with Vikramaditya as well.
While the new fighter jet for Vikrant is still in the planning stage, the initial phase might see the deployment of MiG-29Ks.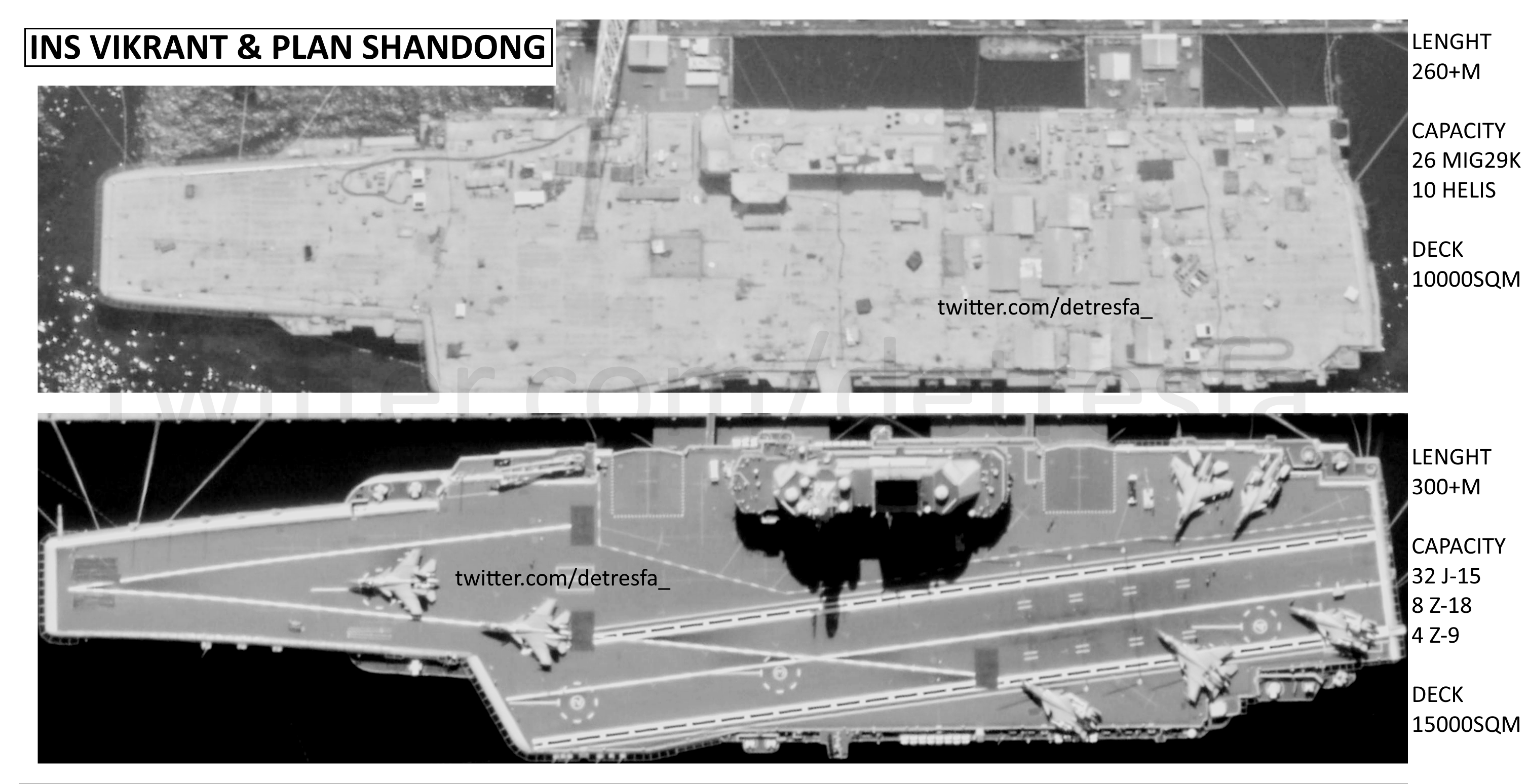 Contenders include the F/A-18E/F Super Hornet and Dassault's Rafale-M, while an indigenous development program of a Twin-Engine Deck Based Fighter (TEDBF) is also in the works.
Compared to MiG-29Ks, the PLA Navy operates a larger aircraft based (reverse-engineered) on the Su-33, named J-15. This aircraft can carry an arsenal much like other flankers in PLA service including PL-12 beyond visual range air-to-air missiles, and several types of anti-ship and land-attack precision munitions.
The Indian MiGs have been seen with R-73, R-77, Kh-35, and rocket pods. But the fact remains that China is and continues to be India's greatest threat. And according to Sutton, the service might never be able to catch up with the PLA in terms of numerical superiority. Nevertheless, the game's not lost yet.
"But with two carriers the gap will be manageable. Especially as China is unlikely to commit all its carriers to the Indian Ocean in the event of a conflict. With investment in aircraft, India can maintain a strong position in the carrier game," Sutton maintains.