The Indian defense industry has grown very rapidly in the past few years with BrahMos and Akash missile systems leading the show of the country's military exports.    
Since independence, India has been a net importer of defense products mainly from its trusted and strategic ally, Russia. Although India has set up a large number of Public Sector Undertaking (PSUs) for the production of a variety of defense products, they were never able to upgrade, update and align themselves with the evolving cutting-edge technology.
As a result, India had to procure various defense products from Russia, Israel, France, the UK, and in the past two decades from the United States as well.
India imported both technology and hardware, where technology was used for domestic manufacturing of defense hardware and equipment for the three organs of the Indian Armed Forces. The table is now turning with a change in the country's political leadership.
After taking over as Prime Minister, Narendra Modi exhorted to all defense PSUs to accelerate, upgrade, and spur up to tap all available possibilities of not only replacing existing imports but scaling up to exports to world markets.
The Ordnance Factory Board that looks after India's defense production and PSUs are being reformed and a regulatory regime is put in place for enhanced focus on both low-cost quality production and enhanced exports.
India's defense ministry has already set a target of $25 billion for defense production in the period 2020-2024. India aims to leverage domestic manufacturing to exports $5 billion worth of military hardware every year within a period of five years. There is a growing export performance of India's defense industry.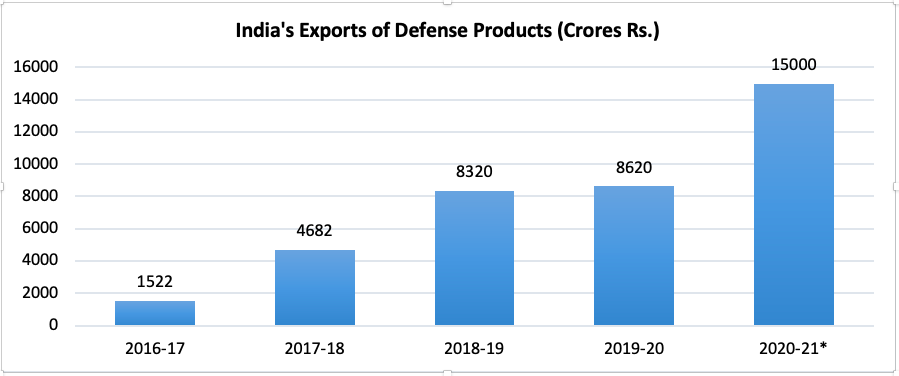 Source: Ministry of Defense, Government of India
Factors Behind This Rapid Change
India's emergence as an exporter of defense equipment and hardware in a short period of time is credited to factors such as first; liberalization in export policies, practices, and regime.
The export policies, practices, and regime witnessed a complete overhaul and the government of India now views defense exports as a business opportunity and India's increasing role as peace-enabler and net-security provider in the Indo-Pacific region.
The government has changed the export policy, allowing a level-playing field to both public and private companies as the new export policy is being streamlined to grant permission with the same set of procedures, without discriminating between the public and private companies.
Defense exports are not only allowed but promoted aggressively with the involvement of trade-related institutions and the Indian missions abroad. The Lines of Credit are offered to neighboring countries to procure defense equipment and hardware from India.
Indian missions abroad aggressively scout for opportunities in this sector and have lobbied with government, bureaucracy and military heads of respective countries to increasingly purchase, procure and source defense products from India.
The Director-General of Foreign Trade worked proactively wherever inter-ministerial approvals are required for the export of sensitive items. Accordingly to Stockholm International Peace Research Institute (SIPRI), India is ranked 23rd in the list of major arms exporters for 2015-2019 and is placed at 19th rank for the calendar year 2019.
Military Exports See A Huge Jump
A liberal, facilitative and propagative export regime has resulted in the quantum jump in India's defense exports.
Defense exports have increased more than five-and-half times in the past four years. Projects such 'Make in India' and 'Self-Reliant India' (Atmanirbhar Bharat) are major a contributor as dedicated efforts are being made by defense PSUs to excel in exports along with substituting the imports.
India's rising defense exports are also attributed to a reformed and improved business ecosystem. The manufacturing model for defense procurement whether for domestic or international orders has witnessed a sea-change since 2014.
The investment regime for defense products is largely liberalized, soliciting 100% foreign direct investments in all key sectors, except for the critical ones.
The concept of mandatory offset clause has been introduced to all foreign defense procurement thus providing larger business opportunities to domestic players. Further, the private players are actually at the center stage of India's defense production.
For instance, although orders from India's armed forces are placed to government-owned enterprises, they are actually executed by the private players under the Government Owned Contractor Operated (GOCO) model.
The participation of the private sector has created an environment of competitiveness in defense production.
Private Sector Playing A Key Role
The improved business ecosystem also includes a radical revamp of our ordnance factories and other defense PSUs in terms of modernization of technology as well as management practices.
Private players in the defense industry are scaling up fast with technology transfer rights and are making world-class defense products not only for the Indian Armed Forces but also for world markets.
Mahindra Defence System Ltd has successfully developed the Light Specialist Vehicle which is indigenously designed and developed and is extremely agile with all-round protection against small arms fire.
Mahindra Jeep will assist small independent detachments which are required to operate this weapon platform in the operational area.
The Defence Ministry signed a contract with Mahindra Defence Systems Ltd (MDSL) for buying 1,300 Light Specialist Vehicles for the Indian Army for Rs 1,056 crore in March 2021.
Similarly, Bharat Forge has received an order worth Rs 177.95 crore from the Ministry of Defence for the supply of Kalyani M4 vehicle, a multi-role platform, designed to meet the specific requirements of armed forces for quick mobility in rough terrain and in areas affected by mine and improvised explosive devices (IED) threats.
Hindustan Aeronautics Ltd (HAL) is offering Tejas light combat aircraft and L&T Engineering is supplying K-Vajra, a light combat tank to Indian Armed Forces. All these are examples of an improved business ecosystem.
India's Ministry of Commerce & Industry and allied offices are constantly working to improve the export ecosystem for India's defense exports. New Delhi-based Indian Institute of Foreign Trade is providing training and hand-holding assistance to officers of the Ordnance Factory Board for skilling them to engage in exports and imports.
The Engineering Export Promotion Council of India is extending wholesome support in organizing trade fairs and exhibitions globally to showcase the capabilities of Indian defense product manufactures.
The Director-General of Foreign Trade has revamped the complete system for obtaining a no-objection certificate (NOC) from the Ministry of Defence. All other allied export promotion institutions are extending support to India's defense industry to focus on export promotion/facilitation and export regulation.
The government is even contemplating setting up an export promotion body involving public and private players to advise the government, coordinate all export facilitation schemes of the government, and promote exports through specific marketing in select countries.
A Defense Export Steering Committee headed by the Secretary, Department of Defense Production with representatives from the armed forces, DRDO, Planning and International Cooperation Wing, and Acquisition Wings of the MoD, MEA, and the Director-General Foreign Trade — was set up to improve the defense export ecosystem.
It is tasked with making decisions on the export of sensitive equipment, monitoring the progress of defense exports, and suggesting specific steps/strategies to boost exports. India missions abroad are extending wholesome support to buyers-sellers meetings involving the delegations from the public, private and joint venture sectors with friendly countries to inspire confidence in India's defense products.
EXIM Bank of India has facilitated export on credit by extending the line of credit(s) to foreign countries to import defense products. Further to boost the eco-system of defense exports, the offset policy was reviewed and aligned towards the integration of weapons/systems in India to enable exports.
Global Traction — BrahMos & Akash
Lastly, India's defense manufacturers are also aiming to make their products globally competitive in terms of price, quality, technology, ease in operations, and assured after-sales services and maintenance support. Some of the Indian defense products have elicited great interest from foreign countries.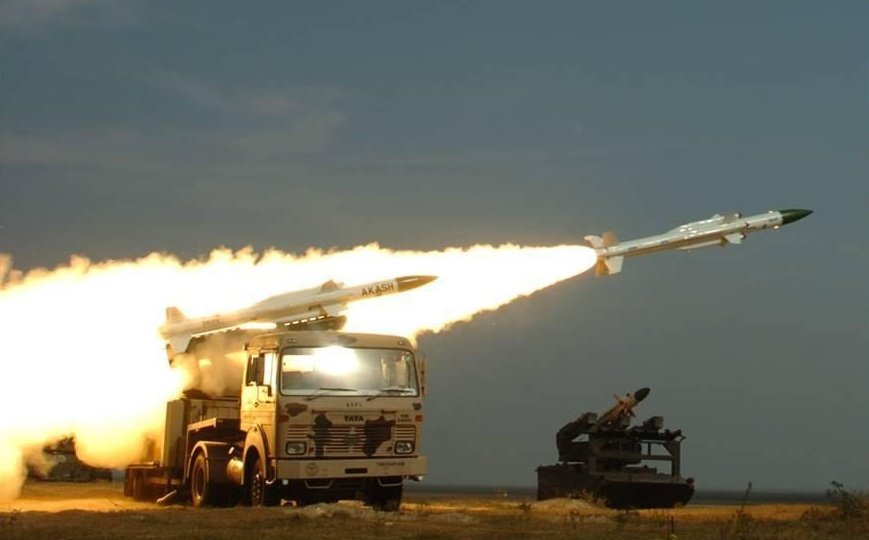 India has been able to sell its BrahMos Missile system to the Philippines. The UAE has shown keen interest in procuring India's Akash system, which is considered to the best of its class in the world. India has supplied critical defense radar to Armenia in its fight with Azerbaijan.
Indian defense players are also entering into technology agreements with established global players so as to access world-class technology to develop defense products for the Indian Armed Forces through reverse-engineering. All these efforts are paying a rich dividend and India's defense exports have witnessed a quantum jump in exports with greater participation of private players.
Written by Dr. Ram Singh
(The author is a Professor, & Head (MDPs) at the Indian Institute of Foreign Trade, New Delhi. Views expressed are personal.)