The US' secretive stealth spy drone, RQ-180, made its first public appearance on Instagram when a photographer and actor Rob Kolinsky captured it flying over his house.
He uploaded the picture with the caption: "This thing flew over my house several weeks ago and I still have yet to identify it," adding that it was shaped like a B-21 but painted in white.
US Looks To Unleash Its Latest B-21 'Stealth Bombers' In-Tandem With F-35 Jets As Tensions Escalate With China
"I was not going to post it but I thought that if it were really classified, they wouldn't be flying it in broad daylight like this," Kolinsky added.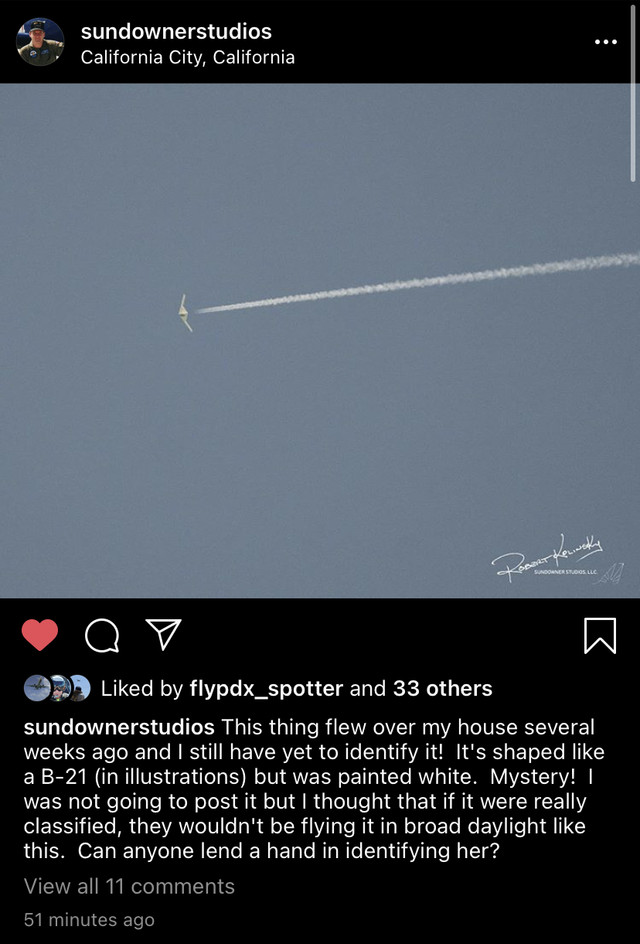 Aviation Week Network identified the object as Northrop Grumman RQ-180 unmanned aircraft system (UAS), whose presence in the US Air Force has never been acknowledged. 
"A picture has surfaced showing a new aircraft generally matching Aviation Week's understanding of the shape of what is commonly known as the RQ-180 unmanned aircraft system (UAS)," reported the Aviation Week, adding that the picture was taken in daylight hours above California City, at an estimated altitude of 20,000 ft. 
However, the picture from Kolinsky's account has now been removed and replaced with a black image with "REDACTED" written on it. He captioned the image as: "Until I dot the 'I's and cross the 'T's, then [the] picture will return."
In 2013, Aviation Week was among the first to report on the "classified aircraft" that was being developed by Northrop Grumman at the time.
"There is a growing body of evidence that the stealthy vehicle is now fully operational with the U.S. Air Force in a penetrating intelligence, surveillance and reconnaissance role," the media group wrote at the time.
Although the RQ-180 looks similar to that of the Northrop-designed B-2 stealth bomber, although the unmanned aircraft is much smaller in size. Reportedly, it was first flown in 2010 as a replacement of SR-71 Blackbird, the high-speed strategic reconnaissance aircraft, that was retired in the late 1990s. 
According to David Axe of Forbes, the RQ-180 was tested at Groom Lake, part of the Area 51 complex in Nevada. "By early 2020 the RQ-180 apparently was so well-established in Air Force service that the flying branch was comfortable cutting its fleet of non-stealthy RQ-4 Global Hawk drones," he stated.
In February, the US Air Force asked to cut 17 B-1 bombers, 44 A-10 jet aircraft, 24 Global Hawk Block 2 and 3 surveillance drones, as well as 13 KC-135 and 16 KC-10 tankers. The Air Force claimed that the cuts would save $21 billion in savings over the next five years. It claimed that 40 percent of this amount would be spent on "classified programs."
Axe emphasized that the Air Force didn't mention what it would deploy to make up for the gap in aerial surveillance that would result from a big reduction in Global Hawk patrols. "No regional combatant commander ever wanted less surveillance."
"Most of what we're giving up is unclassified," the Air Force's then-chief of staff Gen. David Goldfein told Defense News in February. "What we're buying—not all but a lot of it—is in the classified realm."
While there is a possibility that the classified RQ-180 could be one of the replacement, it has finally made its first public appearance.