Pakistan Air Force's (PAF's) Public Relations Department recently released a video featuring various aircraft and weapon systems within the PAF's fleet, including the Turkish-made Akinci combat drone.
The video by the PAF was released on October 19, when Pakistan's President Dr. Arif Alvi visited the Air Headquarters, Islamabad as a chief guest to attend the inaugural ceremony of the two-day flagship international seminar titled 'Global Strategic Threat and Response' (GSTAR) arranged by Centre for Aerospace & Security Studies (CASS).
The video lasts for three minutes and twenty-one seconds. After two minutes and twenty-one seconds, a PAF Squadron Leader, reportedly wearing an Akinci patch, can inspect the Akinci drone armed with light glide bombs.
Notably, the latest video comes shortly after Pakistan flaunted its Bayraktar TB2 drones, a medium altitude long endurance UAV (MALE), during an Air Force drill in late September.
Haluk Bayraktar, the CEO of Baykar – the developers of Bayraktar TB2 and Akinci drones – revealed in March that the company has concluded two export contracts for the Akinci drone without specifying the countries to which the drone will be exported, neither the number of drones nor its value.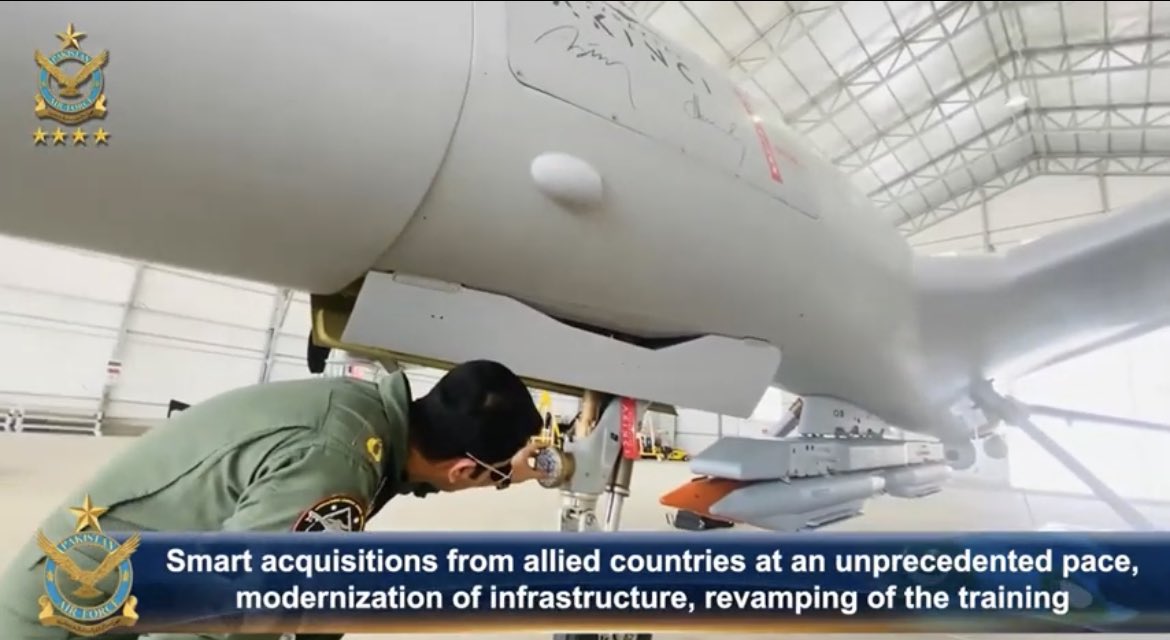 Interestingly, just days after Bayraktar's announcement, PAF's Public Relations Department posted a video that also featured the Bayraktar and Akinci drones, among various other weapon systems, suggesting that the two drones either have been ordered by the PAF or perhaps already in use.
— DGPR (AIR FORCE) (@DGPR_PAF) March 11, 2022
However, stock footage was used in the video for both drones, so it was unclear if either of them was actually delivered.
A Turkish defense portal reported in June, citing unnamed defense sources, claimed that Pakistan had placed an order for Akinci and Bayraktart TB2 drones without specifying the value of the contract or the number of drones involved.
Also, in January, there were some unconfirmed reports that Pakistan had purchased six Bayraktar TB2s from Baykar in March 2021 and signed an agreement with the Turkish Aerospace Industry (TAI) to jointly develop a larger ANKA-S-type UAV.
Akinci Combat Drone
The Akinci, Turkish for "Raider," is a high-altitude, long-endurance Unmanned Aerial Vehicle (UAV) developed as a successor to the TB2 Bayraktar tactical UAV, which is currently the mainstay of Turkey's military.
It is capable of performing both air-to-ground and air-to-air attack missions.
Baykar produced three prototypes initially, of which the first one took to air in December 2019. The flight test for the first mass-produced Akinci drone was completed in May 2021, following which the unmanned system was delivered to the Turkish Armed Forces in August 2021.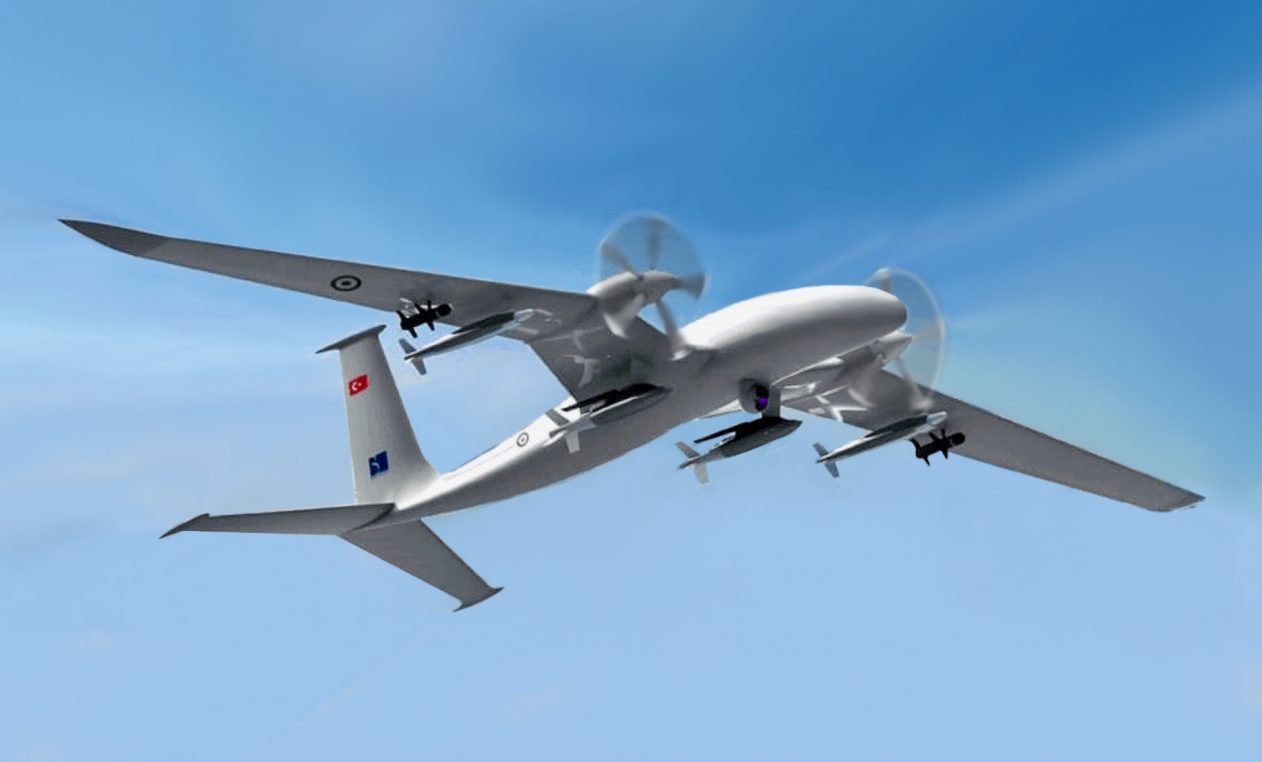 The combat drone has a length of 12.2m, a height of 4.1m, and a wingspan of 20m. It can fly at an altitude of 40,000 feet (12,192 meters), has a take-off weight of 5,500 kg, and carries a maximum payload of 1,350 kg.
Compared to that, the Bayraktar TB2 can reach only up to 25,000 feet and has a payload capacity of only 150 kg.
The sensors onboard the drone includes an electro-optic/infrared/laser designation (EO/IR/LD), multi-mode active electronically scanned array (AESA) radar and signals intelligence (SIGINT) system. The drone uses advanced AI features to collect and process data received from onboard sensors and cameras.
Experts suggest that Akinci's larger combat payload capacity, compared to Bayraktar TB2, brings more lethal weaponry and flexible concepts of operations (CONOPS) to the battlefield.
The drone can be fitted with different weapon payloads, such as laser-guided smart munitions, missiles, and long-range stand-off weapons.
It completed its first firing test in April 2021, where it fired Rokestan-made laser-guided smart micro munitions (MAM), namely MAM-T (Long Range Variant), MAM-C (Thermobaric Variant), and MAM-L (High-explosive variant).
The Akinci drone can fire other weapons, including the Cirit missile, mini smart munition Bozok, long-range anti-tank missile system (L-UMTAS), MK-81, MK-82 MK-83 guided bombs (JDAM).
The drone can also be armed with Gokdogan and Bozdogan air-to-air missiles, wing-assisted and SOM-A stand-off missiles.
In addition, the Akinci can also be used as a mother ship for drone-swarming attacks. For example, in 2019, Prof. Ismail Demir, the head of Turkey's Presidency of Defense Industries (SSB), posted a simulation on his Twitter feed depicting the indigenous 'Alpagu' kamikaze drones released by the Akinci drone.
Milli İHA platformlarımızdan atılabilen sürü vurucu İHA sistemi ve farklı konseptler üzerine çalışıyoruz. pic.twitter.com/yGHGqjEs7p

— Ismail Demir (@IsmailDemirSSB) May 26, 2019
Alpagu is a fixed-wing drone developed by the STM, a Turkish defense company, which can be used for reconnaissance, surveillance, and attacks. The drone features smart algorithms, other autonomous features, and advanced image-processing systems.
The Akinci, using its advanced sensors, including an AESA radar, can share real-time target updates with the released kamikaze drones to ensure precision strikes.
Akinci Drone, A Threat For India? 
The Akinci drone saw combat for the first time in a major operation in April against the PKK terrorists in northern Iraq.
According to veteran Indian Air Force fighter pilot and an analyst/columnist with The EurAsian Times – Vijainder Thakur, the Akinci drone in the hands of Pakistan military could be quite a bother for the Indian Armed forces during peacetime as well as in the limited war.
During peacetime, the Akinci would "provide 24×7 surveillance" deep into Indian territory without crossing the border, Thakur says.
"In a limited war that does not involve cross-border troop movement, like the Kargil operation of 1998, it would give Pakistan a distinct advantage providing communication relay, SIGINT, and all-weather ground & air surveillance using its AESA radar," Thakur continued.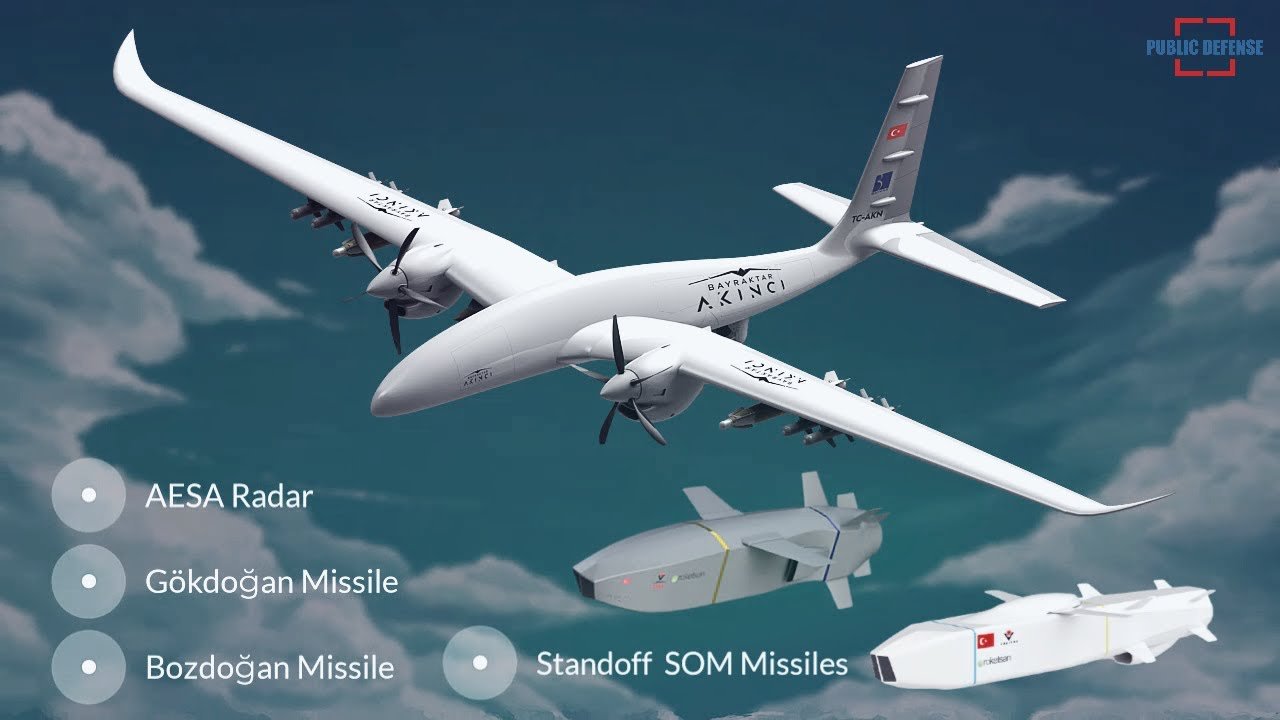 However, in an all-out war, Akinci's role would be limited, according to Thakur, because it would come under Indian Air Defense fire even when operating well within Pakistan airspace.
"Since it's a large, slow-moving drone, it would be susceptible to Air Defense missiles. It would also be a juicy target for air-to-air engagement," Thakur said.