Israel Aerospace Industries (IAI) announced that it has sold its ELI-4030 Drone Guard counter-unmanned aircraft system (C-UAS) to an undisclosed South Asian nation.
The development assumes significance as it comes in the wake of a terror attack on an Indian Air Force Station in Jammu.
A drone, locked with GPS coordinated targets, dropped two low-intensity improvised explosive devices (IED) at the IAF station in Jammu on June 27, causing minor damage to a building and injuries to two persons. This was a first-of-its-kind drone attack at an Indian military installation, The EurAsian Times earlier reported.
The Jammu and Kashmir Police chief Dilbagh Singh called the June 27 incident a "terror attack" while the National Investigation Agency (NIA) is probing the possible role of Pakistani terrorists.
According to leading defense portal Janes, Israel Aerospace Industries (IAI) announced the sale of Drone Guard on July 2, without revealing details about the customer or the delivery timelines.
The possibility of India acquiring the Israeli counter-drone system cannot be ruled out given a top official of the company had talked about New Delhi's interest in the equipment last year.
In an interview with Geopolitics magazine, Eli Alfassi, EVP, Marketing of IAI, said, "The Drone Guard is a compact lightweight scalable drone detection and disruption system tailored to meet challenges of mini and small size drones and to provide an effective protection suite.
"IAI's Drone Guard incorporates advanced adaptive jamming systems which can be used in concert with its detection and identification sensors, or as a continuously operated stand-alone system. The jamming disrupts the drone's flight, causing it either to return to its point-of-origin ('Return Home' function) or to shut down and make a crash landing. 
"Indian authorities have shown significant interest in this system which is already in service with several customers,"  Alfassi added.
As of now, India does not have an effective counter-drone system, Abhijit Iyer-Mitra, a senior research fellow at the Institute of Peace and Conflict Studies, New Delhi, recently told The Eurasian Times.
In the wake of the Jammu attack, India felt the need to acquire anti-drone systems. And Israel being the tried and trusted military partner of India, the latter would not mind acquiring counter-UAV systems from this country.
According to Janes, there are short, medium, and long-range variants of Drone Guard. This can detect and disrupt the flight of drones. The system can also be used against single or multiple threats coming from different directions.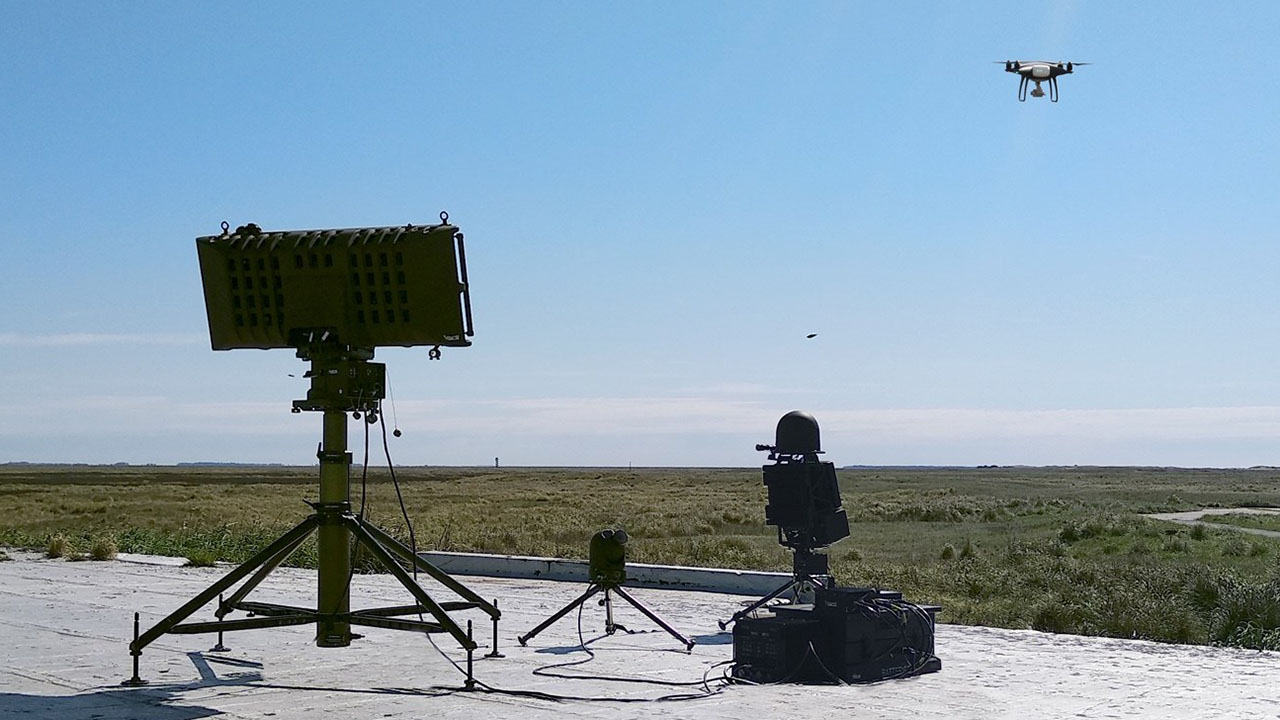 Drone Guard employs a multi-layered approach where the sensors perform designated functionalities. The detection and classification layers include: a state-of-the-art AESA, multi-mission 3D X-band radar; COMINT/jammer to exploit UAV data link communication; and a high-performance day/night electro-optical (EO)/ infrared (IR) sensor to support enhanced classification and target acquisition, IAI said.
"The interception layers include soft-kill measures such as jamming or take-over to land the hostile drone in a safe zone and hard-kill measures such as a rifle installed smart sight connected to the system by a tactical data-link, targeted rocket or a drone-kill-drone (DKD) solution," according to the company.