SAAB demonstrated its Mobile Short-Range Air Defense (MSHORAD) system in maiden live firings in Karlskoga, Sweden, on August 30, before an audience of 15 national delegations, the company said in a press release on September 5.
F-35B Stealth Fighters Make Debut At Australia's Pitch Black Exercise Amid China's Continued Threat Perception
The Swedish company said the system successfully identified, tracked, and engaged several targets during the shots.
A total of five firings were performed with the company's RBS 70 NG missiles, two of which were fired from a Mobile Firing Unit (MFU), mounted on the MARS-S330 mobility vehicle, and the remaining three in the man-portable air defense system (MANPADS) mode.
Mats-Olof Rydberg, Head of Marketing and Sales in SAAB's Missile Systems business unit, told an online press briefing on September 2 that the first target was a DJI Matrice 300 RTK target drone traveling at 15 meters per second at a range of two kilometers, followed 30 seconds later by the destruction of an elevated AS365 N3 helicopter platform simulating hovering at a range of 1,908 meters.
After that, the missile launcher was taken off the vehicle for three firings in MANPADS mode, which also included a night firing conducted against a towed-sleeved target moving at 90 meters per second at a range of 3,481 meters.
Mobile Short-Range Air Defense (MSHORAD) System
The entire MSHORAD system consists of a Mobile Radar Unit (MRU), based on the Giraffe 1X radar, the Mobile Firing Unit (MFU), based on the RBS 70 NG missiles, all connected with SAAB's GBAD Command And Control (C2).
"These successful firings prove we have a fully operable mobile air defense solution. These firings highlight the value of a single supplier being able to deliver everything from radar to the firing unit, including a GBAD C2 solution," said Stefan Öberg, Head of SAAB's Missile Systems business unit, in the press release.
The RBS 70 NG (New Generation) is a MANPAD system based on SAAB's first generation RBS 70 which entered the service of Swedish Air Defense forces in 1977.
It uses the new BOLIDE 4th generation missile, an all-target VSHORAD missile that can take out aircraft, cruise missiles, and drones up to a range of eight kilometers and an altitude of up to five kilometers. Apart from BOLIDE, the RBS 70 NG can also fire the existing generation of RBS 70 missiles.
The combined shaped-charge and pre-fragmented warhead are said to make the system capable of defeating armored air targets such as attack helicopters, Close Air Support (CAS) aircraft, and armored ground targets like armored personnel carriers (APCs).
The Giraffe 1X radar of the MRU is based on an Active Electronic Search Array (AESA) antenna weighing under 300 kilograms and a consumption of 2.3 kiloWatt. The radar provides an elevation coverage of over 70° and a rotation rate of 60 rpm.
According to SAAB's data, the radar has a detection range of 30 kilometers and up to 10 kilometers in altitude against fighter aircraft, 25 kilometers and 8 kilometers in altitude against smaller aircraft, and 13 kilometers and 4 kilometers against small Unmanned Aerial Systems (UAS). The Giraffe 1X radar is capable of following over 100 air tracks at the same time.
A single MRU can either work in stand-alone mode or be connected to the broader air defense network, including up to 12 MFUs.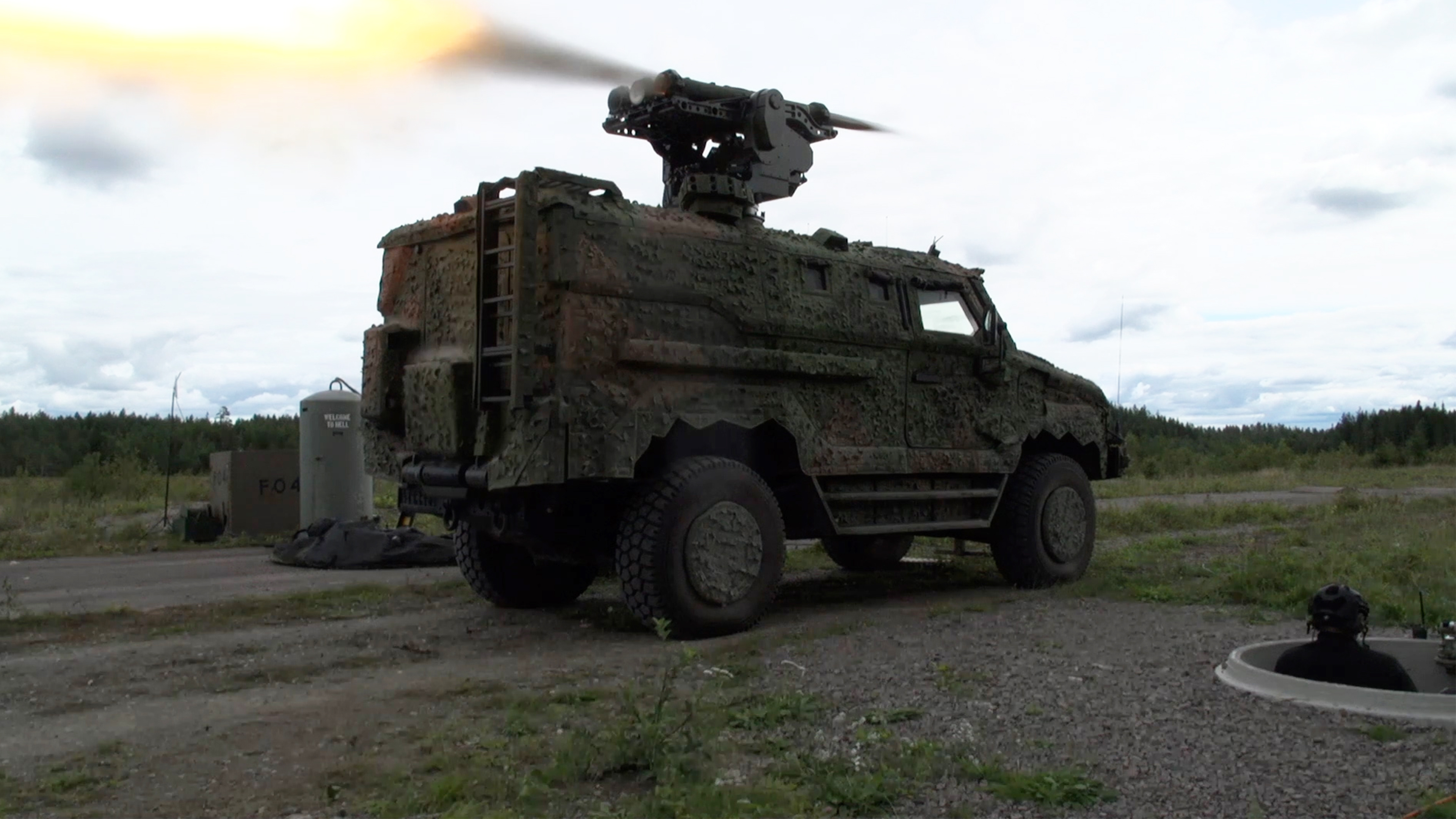 The MARS-S330 mobility vehicle of the system is designed and manufactured by a Czech company, SVOS, which produces armored vehicles for military, police, and commercial use. It can be used as a platform to mount both the MRU and the MFU.
The vehicle's current standard configuration allows space for a three-person crew with all its equipment, four spare missiles, and the MANPAD stand. The MSHORAD can also be integrated on other vehicles of similar size or bigger, wheeled or tracked.
Significance Of SHORAD In Modern Battlefield
In its press release, SAAB described MSHORAD as its response to the new battlefield era, with evolved airborne threats such as the advent of drones, unmanned aerial vehicles, and other advanced airborne weapons.
The importance of SHORAD and MANPAD systems against drones has been highlighted by the ongoing Ukraine war, where experts note that drones had free reign due to the absence of these systems. Four months later, MANPADS, like the US-made Stingers and their Russian counterparts, the SA-25, and other air defense systems have been knocking down drones.
Russian MoD video showing Strela-10MN SHORAD systems with Barnaul-T command posts shooting down a Ukrainian UAV. https://t.co/eddR7Y1ZFu pic.twitter.com/fnNPW40FYO

— Rob Lee (@RALee85) March 28, 2022
Even the Ukrainian pilots admitted in June that the famous TB2 Bayraktar drones that were initially instrumental in destroying Russian armored columns and troops marching toward the capital Kyiv had later become "almost useless" in the face of threats posed by Russian air defenses in the eastern Donbas region.
However, after two months, TB2s appear to be back in the game with the introduction of US-made AGM-88 HARM anti-radiation missiles by the Ukrainian forces, reportedly destroying Russian air defense systems to make the skies safe for the TB2s, which then strike other Russian ground targets.
Other European countries, like neighboring Poland, are also drawing lessons from the Ukraine conflict and accelerating their efforts to develop new SHORAD capabilities.
In April, Poland's Defense Ministry approved a contract to supply short-range air defense elements under the Narew program.
"We draw conclusions from what is happening beyond our eastern border," said Mariusz Błaszczak, Poland's defense minister. "Hence, we have significantly accelerated the delivery of the Narew short-range air defense system to the Polish Army."