India and Greece recently had a security briefing about the current situation in the eastern Mediterranean region. The Foreign Ministers of the two countries held virtual talks on October 29 about a range of regional and multilateral issues.
Watch Donald Trump's Secret, Most Advanced Stealth Fighter Jet Ever: The F-52 Warplanes
The situation in the eastern Mediterranean has been tense with Turkey and Greece involved in a dispute over energy exploration rights and maritime boundaries in the area. The two neighbours have been wrangling over military games in the region despite both being part of the NATO alliance.
Complicating the matters have been Erdogan's plans to install the high-end Russian S-400 air defence system in the country, which has left even Washington worried. Greece's Minister of Defense Nikos Panagiotopoulos was quoted by a news agency as saying the decision was enough to prove that potentially Turkey, whether it wanted to or inadvertently, would prove to be a source of "undermining NATO's cohesion from within."
He added that if nothing was done, then Turkey's leaders have all the right to believe that "they can go on uninhibited, demonstrating that type of hostile and confrontational behaviour that threatens stability in the whole region." He said that deployment of the Russian system will be "too much of an aggressive move" on part of Turkey.
However, there was a pause in the exchange of heated words between the countries after a 7-intensity earthquake hit both the countries doing considerable damage. The leaders of the two countries expressed solidarity on social media, pledging to help each other while sidelining existing differences.
India, Greece Virtual Meeting. Via: Twitter
With Turkey's increased bonhomie with its iron brother Pakistan in recent times, Greece is exploring an alliance of its own. Although supported by many European nations in its maritime disputes with Turkey, Greece is reaching out to a new player in the new global power tussle – India.
India can serve as a valuable partner for Greece, with the emerging South Asian country's immense economic and military clout, and most importantly, its historic animosity with Pakistan – makes it a match made in heaven.
India's relations with Turkey too have been undermined after Ankara criticized Modi's Kashmir policy at the UN. The two nations were subsequently embroiled in a war of words over the issue.
Turkey is gaining increased support from Pakistan's political and military counterparts, which has worried Greece, who has, therefore, been forced to look in all directions to help bolster its military infrastructure.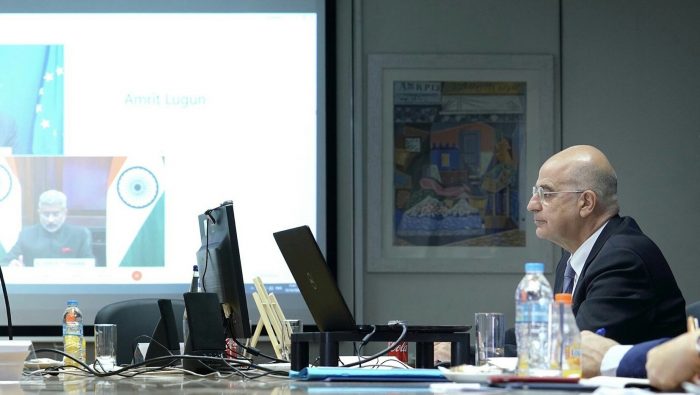 India too, on the other hand, has been eager to enhance bilateral relations with Greece, and the two countries have even talked of establishing military relations, reportedly, in light of the recent events.
After the virtual talks between the two countries, Greek Foreign Minister Nikos Dendias tweeted, "In a video conference with India FM Dr S Jaishankar. Strengthening Greek, India relations & developments in Eastern Mediterranean & South Asia in focus."
In video conference with #India FM @DrSJaishankar. Strengthening ???? relations & developments in #EasternMediterranean & South Asia in focus. pic.twitter.com/mNZsZat6Lz

— Nikos Dendias (@NikosDendias) October 29, 2020
Although there is a renewed focus on enhancing bilateral relations, the two countries share common approaches to many international issues, such as UN reforms and Cyprus.
Greece has consistently supported India's core foreign policy objectives. Greece participated with India in the 6th National Delhi Declaration on Nuclear Disarmament in 1985.
After his recent visit to the Indian embassy, the Greek Defense Minister Nikos Panagiotopoulos is reported to have tweeted, "Meeting with the Ambassador of India to Greece, Amrit Lugun, in the context of his ceremonial visit today to the Ministry of Foreign Affairs.
We discussed issues of further deepening our bilateral relations in the defence sector and promoting cooperation between the defence industries of our two countries."
The security analysts quickly drew upon the importance of the military relations between India and Greece, and how such cooperation would ultimately confront the Turkish-Pakistani defence axis in the future.
They argue that it will be difficult for Ankara to confront a militarily strong alliance, backed by major powers since Turkey is facing an acute economic and financial crisis at the moment.
Some Greek experts believe that India and Greece could also open up to the possibility of holding joint naval exercises since Turkey and Pakistan have already been holding such exercises in the past.
They suggest that Indo-Greek exercises could be kicked off in the strategically important Aegean Sea or even the eastern Mediterranean.
As the new geopolitical developments divide the world into two power blocs, the East Mediterranean conflict will create further divisions in the opposing fronts, forcing more nations to join the two opposing blocs, led by the US and China.
With the US and Russia coming to rival each other in the Greece-Turkey conflict over the S-400 sale, the Mediterranean conflict is surely going to reinforce the existing two-bloc world order, with India and China siding with opposing fronts.