Rostec, Russia's military-industrial behemoth, told TASS on February 1 that German Leopard 2 tanks that some NATO nations plan to provide to Ukraine can easily be destroyed by Kornet anti-tank missile systems.
Although the Leopard 2 is a sophisticated and well-defended machine, it is not impregnable, Rostec claimed.  
Combat experience has demonstrated that even outdated portable anti-tank missile systems, which are less effective than the weapons of destruction used by the Russian Army, can kill these tanks, the Russian company added.
In addition to Kornet anti-tank missile systems, German Leopard 2 tanks can be destroyed by 125mm Mango armor-piercing shells and Vikhr and Ataka air-launched missiles.  
The report explained that the Leopards don't have explosive reactive armor like Russian tanks, making them vulnerable to the Vikhr and Ataka missiles used by Russian combat aircraft.
"The German tanks will surely be knocked out by 125mm Mango shells, regardless of the angle of their hits: a tank will be destroyed if a projectile hit its front or side armor," Rostec emphasized.  
The Russian firm asserted that the Russian Army has T-90M Proryv tanks, which have some performance traits that are superior to those of the Leopards and capable of defeating them.
Russian Military analyst Vasyl Dandykin had previously stated on January 28 that while the transfer of Western tanks to Ukraine presents a significant risk of escalation of the conflict, it is unlikely to be able to strengthen the Ukrainian Armed Forces (AFU). 
The Russian expert said that the training procedure is challenging to standardize because the tanks from different nations have varied designs and operating procedures. These distinctions won't give the Ukrainian Army an advantage, Dandykin noted.  
On January 25, the German government announced that it will supply 14 Leopard 2 tanks to Ukraine and permit their reexport from other nations. According to German Defense Minister Boris Pistorius, the first Leopards can be shipped to Ukraine in around three to four months. 
The US has also stated that it will supply Kyiv with 31 M1 Abrams tanks, possibly as part of a deal with Berlin. The Leopard 2 has long been at the top of the list of tanks that Ukraine has requested from the West to help its forces fight Russia.  
It is classified as a main battle tank and was first introduced in 1979. It provides good defense against armor-piercing shells and anti-tank-guided weaponry. 
Spain intends to transfer four to six Leopard 2A4 tanks to Ukraine, according to unnamed government officials quoted in El Pas on January 31. 
Aside from that, the White House announced earlier this month that it will supply dozens of Bradley Fighting Vehicles (BFV) to Ukraine.
Even though they aren't tanks, according to Pentagon press secretary Brigadier General Pat Ryder, they offer a degree of firepower and armor to give soldiers an advantage in battle.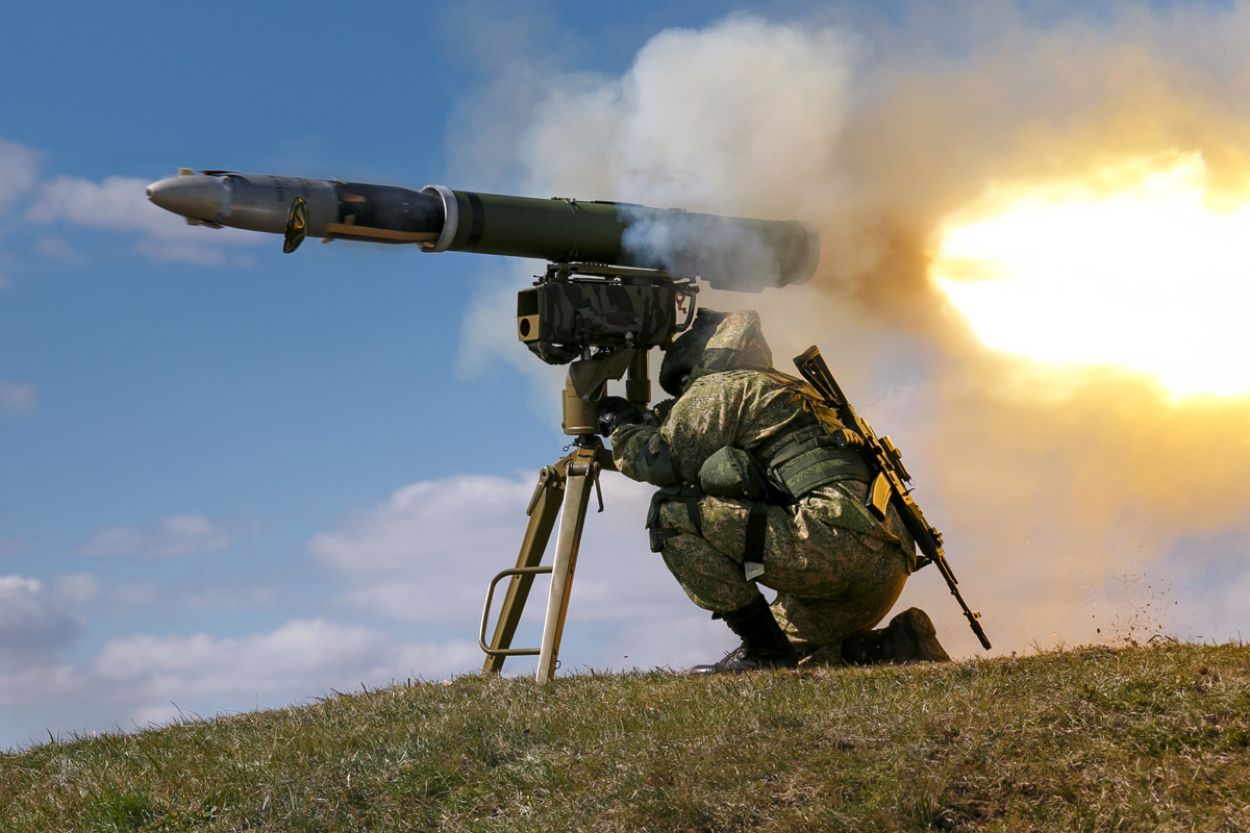 Kornet Anti-Tank Weapon System
The Kornet anti-tank missile system, developed by the Tula-based Shipunov Design Bureau of Instrument-Making (a division of High Precision Systems Holding Company), is designed to target tanks and other armored vehicles, including combat vehicles with modern reactive armor. 
The NATO reporting name for the Kornet is AT-14 Spriggan. The anti-tank weapon has a daytime operational range of 100 meters to 5,500 meters and a nighttime operational range of up to 3,500 meters. 
The Kornet launches a large 152mm missile, and Hezbollah successfully used the Kornet against Israeli tanks during the Israeli invasion of Lebanon in 2006. 
A two-man crew launches the Kornet. However, depending on the situation, one person could put it together and fire it. One man in a two-person setup carries the launch tube with the missile inside, and the second person carries the fire control system and the day/night sight on its portable tripod.
The Kalashnikov firearms factory produced the Vikhr-M missile for the Ka-52 assault helicopter. The missiles have an 800-10,000 meter striking range and a top speed of 610 meters per second. The Vikhr can pierce 750mm of homogenous reactive armor. 
The Ataka anti-tank missile is meant to destroy enemy armor, troops, bunkers, air defense installations, and other targets. The Kolomna Mechanical Engineering Design Bureau engineered the missile, which the Degtyarev Plant mass-produced. With an upgraded warhead, the Ataka can accelerate to 550 m/s. 
The 125mm Mango sub-caliber armor-piercing tank shell is made to attack enemy tanks, self-propelled artillery, and other heavily fortified targets. Russia unveiled the Mango-M projectile in 2019 with improved armor-piercing characteristics.