A breathtaking video has emerged of a Ukrainian interceptor missile destroying what appears to be a Russian Kalibr cruise missile. The video was reportedly filmed somewhere in Kyiv Oblast.
Russia unleashed another wave of missile and drone attacks across Ukraine during the afternoon of November 15, shortly after Russian forces withdrew from Kherson city in southeast Ukraine, which was the only provincial capital captured by Russian forces since the war began.
The large-scale Russian attack was aimed at destroying Ukraine's energy infrastructure. According to the Institute for the Study of War (ISW), it was the largest missile offensive since the onset of the Russian invasion of Ukraine on February 24.
A Ukrainian Air Force spokesperson reported that Russian fired around 100 cruise missiles across 13 Ukrainian provinces, including Kyiv, Rivne, Zhytomyr, Lviv, Khmelnytskyi, Dnipropetrovsk, Poltava, Vinnytsia, Odesa, Kirovohrad, Cherkasy, Volyn, and Kharkiv.
Ukrainian forces claimed to have shot down 73 cruise missiles and all the drones involved in the offensive on November 15.
Ukrainian Air Defense Missile Smashes Into A Russian Cruise Missile
While these claims cannot be independently verified, there have been videos on social media of alleged Russian Kalibr cruise missiles being intercepted by Ukrainian air defense missiles.
Of these, one particular video clearly shows the exact moment of a Ukrainian interceptor missile smashing into what appears to be a Kalibr cruise missile in flight.
You may have seen this from yesterday – but IYMI – here's a rare close-up of a shootdown of a Kalibr cruise missile. Considering it flies low and over so many settlements, their shootdowns can almost be called "crowd-sourced". pic.twitter.com/n8GK9oObUJ

— Christo Grozev (@christogrozev) November 16, 2022
Notably, the interceptor missile seen in the video seems to be traveling much faster than the alleged Russian cruise missile.
Apart from that, another video is widely shared across social media, which purportedly shows two Kalibr missiles being shot down by Ukrainian interceptor missiles.
Spectacular footage: Two Russian Kalibr cruise missiles shot down within seconds over Kyiv Oblast on Nov. 15. First is audible explosion and glow on horizon, second a clear view of interception by German Iris-T air defense system. pic.twitter.com/bDp1twuzJB

— Euan MacDonald (@Euan_MacDonald) November 17, 2022
The video reportedly shows two missiles flying over a residential area and exploding after both of them were intercepted. In the case of the first interception, only an explosion can be heard, but the second interception that follows shortly is captured clearly in the video.
The video was reportedly filmed in Kyiv Oblast, and the German IRIS-T air defense system allegedly carried out the second interception, according to a Ukrainian journalist who also writes for the BBC.
Not The First Time
The Russian bombardment on November 15 was much larger in scale than the similar one carried out on October 10, which was also followed by videos circulating on social media of what appeared to be a Kalibr cruise missile exploding mid-flight.
Ukrainian air defence destroys a Russian 3M-54 Kalibr cruise missile mid-flight, moments before impact. pic.twitter.com/Gp1bhZvhHP

— Jimmy Rushton (@JimmySecUK) October 18, 2022
As per the Ukrainian Air Force estimate, Russia fired over 83 missiles in its attacks across Ukraine on October 10 after the attack on Kerch Bridge.
Shortly after this offensive, the Ukrainian Air Force reported intercepting 43 of the 83 missiles it claimed Russia had fired.
"Out of 43 missiles, more than half were destroyed by our air defense. Considering the means we have in our arsenal today, this is an extremely high indicator," Ukrainian Air Force spokesperson Yurii Ihnat said at the time.
Assuming that Ukraine did manage to intercept 73 cruise missiles used in the November 15 offensive, this would indicate an improvement in the accuracy of its air defense systems.
Addressing a briefing shortly after the October 10 missile offensive, a senior US Defense official said, "We did get indications yesterday of some Kalibr missiles being fired from the sea, and our understanding is that they were all intercepted by the Ukrainian air defenses."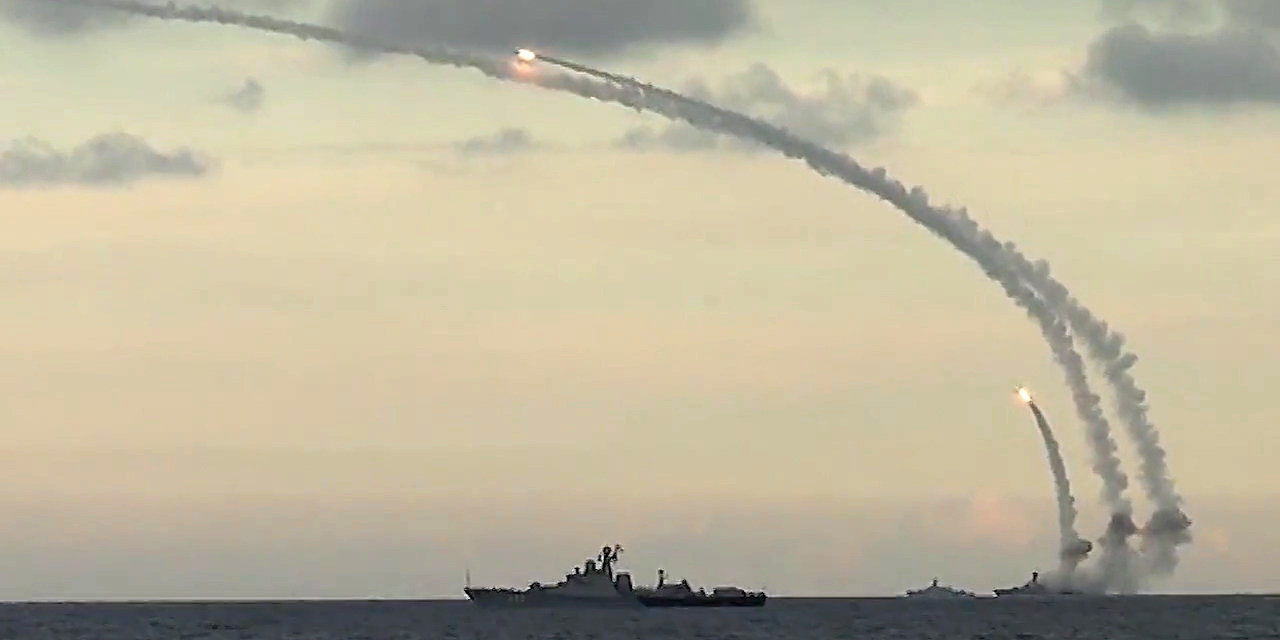 According to the US defense official, four Kalibr missiles were fired from the Russian naval ships deployed in the Black Sea. "So we think there were four [missiles] fired yesterday from the Black Sea, and of those four, we believe all four were intercepted," the official said in the background briefing, without mentioning which system intercepted the missiles.
The official noted that about a half-dozen Russian warships are deployed in the Black Sea, and about half of those are Kalibr-capable.
Russia Destroying Ukraine's Energy Infra 
Since early October, Russia appears to have stepped up its large-scale missile and drone attacks aimed at systematically destroying Ukraine's critical energy grid ahead of the onset of winter.

Even in the bombardment on November 15, Russian missiles and drones targeted energy facilities in almost every region where they were deployed, according to Ukraine's state-owned energy company, Ukrenergo.
On October 20, Ukraine began restricting electricity consumption for the first time since the beginning of the war.
Oleksandr Kharchenko, an advisor to the Ukrainian energy minister, said on October 19 that the government would have to impose restrictions on electricity supplies nationwide and scheduled blackouts nationwide.
"Unfortunately, according to new data, about 40% of the total infrastructure is seriously damaged," Kharchenko said on Ukrainian television while adding that "restoration and repair work is ongoing, but miracles are possible only to a certain extent."
"Therefore, we should expect not only emergency but also scheduled outages today and tomorrow in order not to overload the grid," he said.
Emergency blackouts are being implemented across Ukraine's northern and southern regions to stabilize the grid.