Chief of Army Staff (COAS) of Pakistan – General Qamar Javed Bajwa was reappointed as the Army Chief by Prime Minister Imran Khan on Monday. Many experts have termed the three-year extension granted to Bajwa as 'self-appointed' with Imran Khan working as a rubber stamp.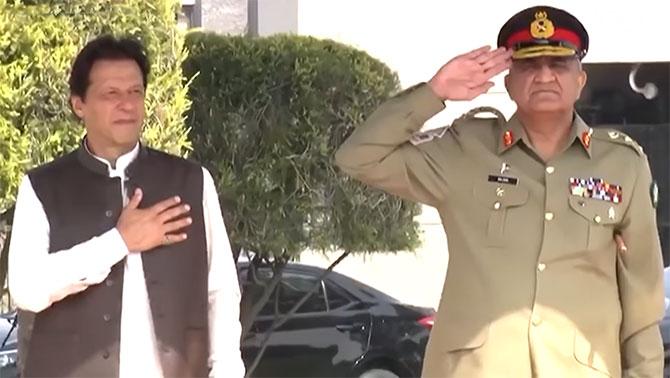 As per a statement issued by the PM Office, the decision has been claimed to be taken in view of the regional security environment.
General Bajwa was appointed as COAS on November 26, 2016, by detained former PM Nawaz Sharif. Bajwa took over command of Pakistan's military from Raheel Sharif. Bajwa was commissioned on October 24, 1980, in the 16 Baloch Regiment.
According to the Inter-Services Public Relations (ISPR), he is a graduate of Canadian Forces Command and Staff College-Toronto, Naval Post Graduate University-Monterey, California and National Defence University (NDU)-Islamabad.
Will India Extend Defence Cooperation to Afghanistan To Crush ISIS Militants?
Bajwa has been the Brigade Major of an Infantry Brigade and Chief of Staff of Rawalpindi Corps. General Bajwa has commanded the 16 Baloch Regiment, an Infantry Brigade as well as Infantry Division in Northern Areas.
He had also commanded Pakistan Contingent in Congo, where he worked alongside the former Indian army chief General Bikram Singh, who according to The Hindustan Times, described Gen Bajwa as a professional soldier.
Pakistan Army Will Go To Any Extend To Free Kashmir From India – General Bajwa
According to senior analyst, this is a "timely and a good decision". "If you look at Pakistan internally — be it the economy, fight against terrorism or accountability, it is pertinent for the Army to stand behind the government."
"He played an important role for this government in Qatar, China, the UAE, and Saudi Arabia for the betterment of our country. General Bajwa is the first Army chief who met the Chinese President at the latter's request. He got a guard of honour with a 21-gun salute at the Pentagon. His extension was necessary given the circumstances. I think it will benefit Pakistan a lot – stated the analyst."