2021 was an eventful year for the Indian military with evolving security dynamics in the neighborhood. Though the standoff with China along the LAC and a devastating second wave of Covid-19 tested the forces, positive developments too dotted the year gone by.
While the military was successful in sealing some crucial deals and indigenizing its technology, the highlight was home-grown aircraft carrier Vikrant undergoing sea trials. Another significant development was the tough balancing act the forces did between two of its most significant defense partners, the United States and Russia.
Though most of the acquisitions in 2021 were based on the weapon systems that were in the advanced stages of procurements, many deals were signed and expedited keeping the security threat in mind.
As the year comes to a close, here is a rewind of the five path-breaking weapon systems that the Indian military finally got to improve its operational combat capability.
The French Combat Aircraft – Rafale
One of the most important inductions that India made was of the French Rafale fighters. The procurement started in the year 2020; it has continued in 2021 and is set to be completed by early next year.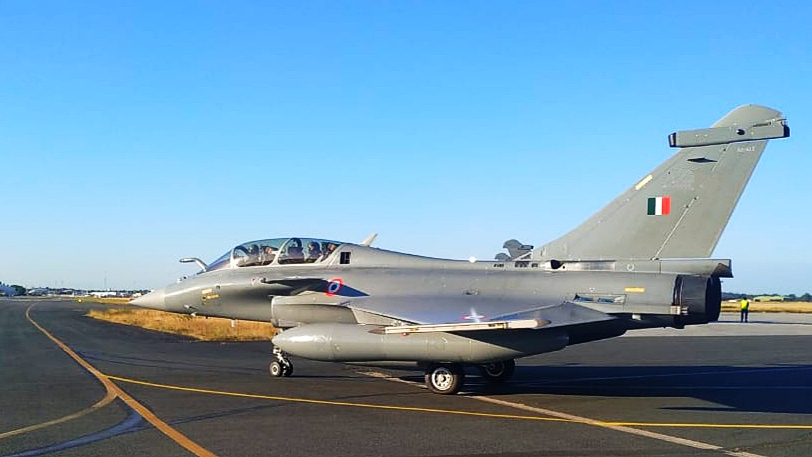 This year saw the second squadron of Rafale becoming operational at the Hasimara airbase in West Bengal. Currently, there are 2 functional Rafale squadrons in India — the 117 'Golden Arrows' at Ambala that could cater to the Ladakh sector and the 101 'Falcon' that could make a swift flight to the eastern sector of the LAC, the disputed border between India and China.
The Indian Air Force has received 32 of the 36 Rafale fighters with the rest integrated with 'India specific' enhancements to land in India early next year.
During the French Defense Minister Florence Parly's India visit, she had expressed intention of supplying additional Rafale jets if New Delhi needed them. She also hinted at manufacturing additional Rafales in the country by emphasizing the 'Make in India' initiative.
Dassault Aviation's Rafale is a twin-jet, 4.5th generation combat aircraft capable of carrying out a wide range of short and long-range missions. Ground and sea attacks, reconnaissance, high-accuracy strikes, and nuclear strike deterrence are all possible with this advanced combat jet.
Besides the Meteor air-to-air beyond visual range missiles, the Rafale has powerful weapons such as SCALP air-to-ground laser-guided ammunition that can target the enemy from a distance of over 300 kilometers and HAMMER precision terrain hugging ammunition that can hunt and destroy high-value enemy targets from a distance of 60 kilometers.
All these specifications make it an ideal match for India's requirements against its adversarial neighbors. The Rafale aircraft were deployed for patrolling in eastern Ladakh and other fronts during the height of the India-China faceoff along the Line of Actual Control (LAC).
The Russian Air Defense System – S-400
One of the biggest and most significant military procurements for India in 2021 was the S-400 air defense missile system supplied by Russia. This induction invited American disapproval, with Washington threatening to impose Countering America's Adversaries Through Sanctions Act (CAATSA), a law that allows it to sanction a country that purchases this Russian system.
India took the risk of being alienated by the United States in order to complete the purchase of the S-400 system due to its ability to help strengthen its defenses. Fortunately, the United States had not acted yet.
Another reason for India's alacrity to secure the S-400 is the Chinese possession of the same system as well as its reported deployment opposite the Ladakh sector.
India recently received its first squadron of the S-400 which it has deployed in the Punjab region, apparently to take on threats from both, Pakistan as well as China.
The S-400 Triumf is an air defense missile system that replaces the S-300P and S-200 models. The S-400 includes a multi-function radar, autonomous detection and targeting system, and was first deployed in combat by the Russian army in August 2007. It may form a layered defense by firing three types of missiles.
Hostile aircraft, unmanned aerial vehicles (UAVs), ballistic and cruise missiles can all be targeted using the system. It has a range of 400 kilometers and can attack targets at altitudes of up to 30 kilometers.
The S-400 contains four additional missiles in addition to the missiles from the older S-300P system. It can also fire medium ground-to-air missiles 9M96E and 9M96E2. These missiles have a maximum range of 120 kilometers and can kill mobile targets like fighter planes with pinpoint accuracy.
American MQ-9 Reaper Drones
Besides French Rafale and the Russian S-400, another significant addition to the Indian arsenal is going to be the American MQ-9 Reaper drones. Earlier in 2020, India had leased the MQ-9B SeaGuardian variant of the Reaper drone for maritime awareness and surveillance operations.
New Delhi signed a contract for the procurement of 30 MQ-9 drones, 10 for each service, after being impressed with its operational performance. It has since been stuck in limbo due to cost and process issues.
With the lease on the two drones coming to an end and the Indian Navy emphasizing the importance of inducting these drones, the approval is expected to be granted soon, as previously reported by the EurAsian Times.
The MQ-9 Reaper is capable of both remotely-controlled operation and autonomous flights. The MQ-9, also called Predator-B, is a hunter-killer drone that succeeds the MQ-1 Predator, which was primarily employed for Intelligence, Reconnaissance, and Surveillance (IRS).
It's made for long-range, high-altitude operations. Because of its long loiter time, wide range of sensors, multi-mode communications suite, and precise weaponry, the UAV has a unique capability to perform strike, coordination, and reconnaissance against high-value, transitory, and time-sensitive targets.
The drone has an external weapons payload capacity of over one ton, allowing it to carry up to four Hellfire missiles and two 227-kilogram bombs on the same flight. It is outfitted with a fully operational system that includes multiple sensor/weapon-armed aircraft, a ground control station, the Predator Primary Satellite Link, spare equipment, and operations and maintenance personnel.
This drone, once inducted, would add more teeth to India's surveillance efforts, on the seas as well as at land borders. With China expanding vigorously along the LAC as well as making unwarranted forays into the Indian Ocean region, the Reaper will enhance India's target and strike capability. It could also be deployed along the western border with Pakistan that perpetually remains volatile.
Indigenous Light Combat Aircraft – Tejas
One of the most significant and long-awaited procurements for the Indian military is its homegrown light combat aircraft (LCA). Earlier this year, a long-awaited contract for 83 Tejas Light Combat Aircraft (LCA) was inked with the state-run Hindustan Aeronautics Limited (HAL). The deal includes 73 Mark 1A aircraft and 10 trainer aircraft.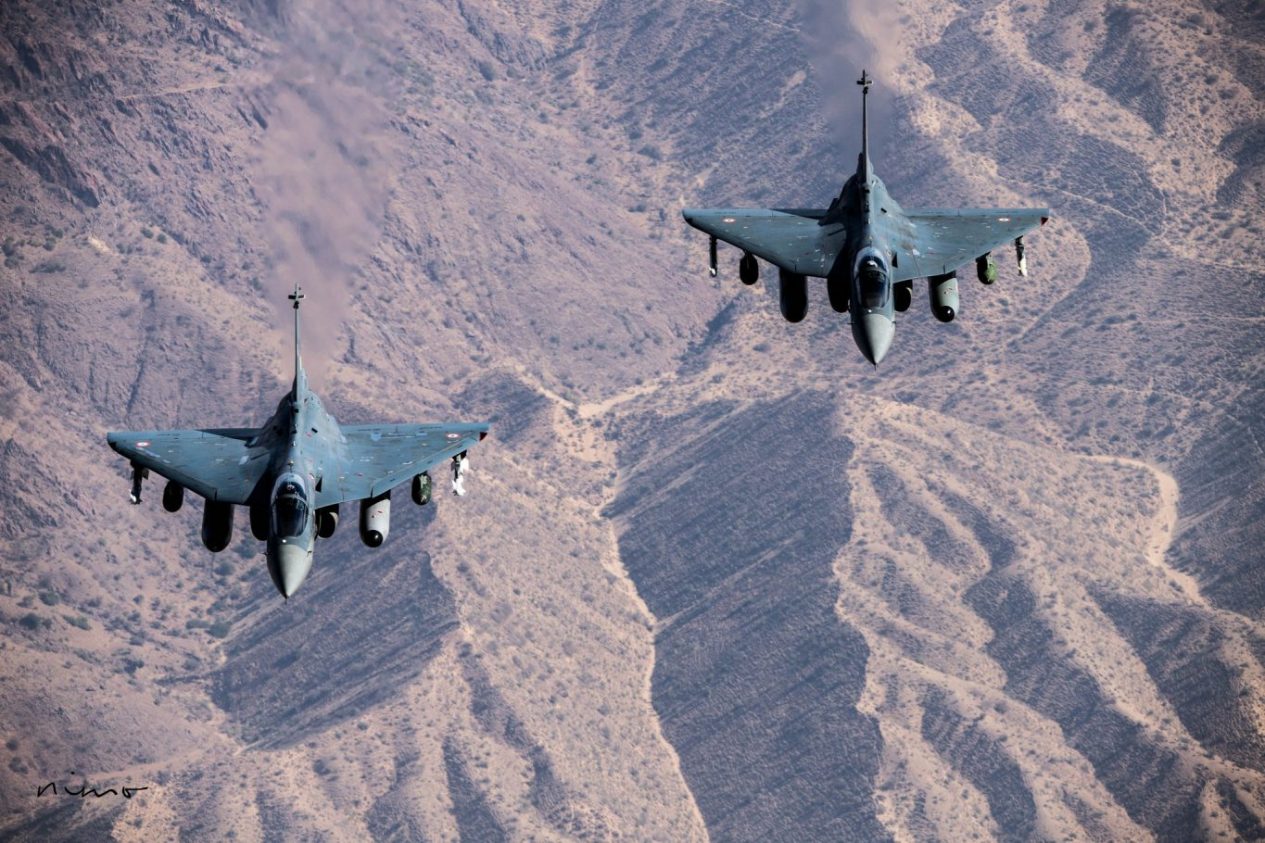 The Indian Air Force (IAF) is also concentrating on the Tejas Mark 2 variant, which is intended to replace the Mirage 2000s and MiG-29, as well as the Advanced Medium Combat Aircraft (AMCA), a fifth-generation fighter aircraft.
The IAF has reportedly cleared the design for this variant and the production is set to start in 2023, as revealed by a leading defense expert, Col. Ajai Shukla (retired).
India has made significant strides when it comes to boosting the capability of these aircraft. Earlier this year, it placed an order with France under the emergency procurement route for HAMMER missiles to be integrated with the LCA Tejas.
Additionally, it is also reportedly developed a homegrown Active Electronically Scanned Array (AESA) radar which will give Tejas, advanced electronic warfare capabilities.
Tejas is a single-engine supersonic fighter with minimal weight and excellent agility. It is equipped with a quadruplex digital fly-by-wire Flight Control System (FCS).
The delta-winged aircraft is designed for 'air combat' and 'offensive air support' with secondary roles of 'reconnaissance' and 'anti-ship' missions. Advanced composites are used extensively on this aircraft, resulting in a high strength-to-weight ratio, long fatigue life, and low radar signals. The project manager for the development of LCA is the Aeronautical Development Agency.
DRDO's Missiles Tests
The year 2021 also saw a string of successful test launches of indigenous defense equipment and systems. With the possibility of a two-front war looming, New Delhi is preparing for the worst-case scenario.
The Agni-P or Prime, a new variant of the nuclear-capable Agni missile, that was tested by the Defence Research and Development Organisation (DRDO) on December 18, is getting closer to entering service in India.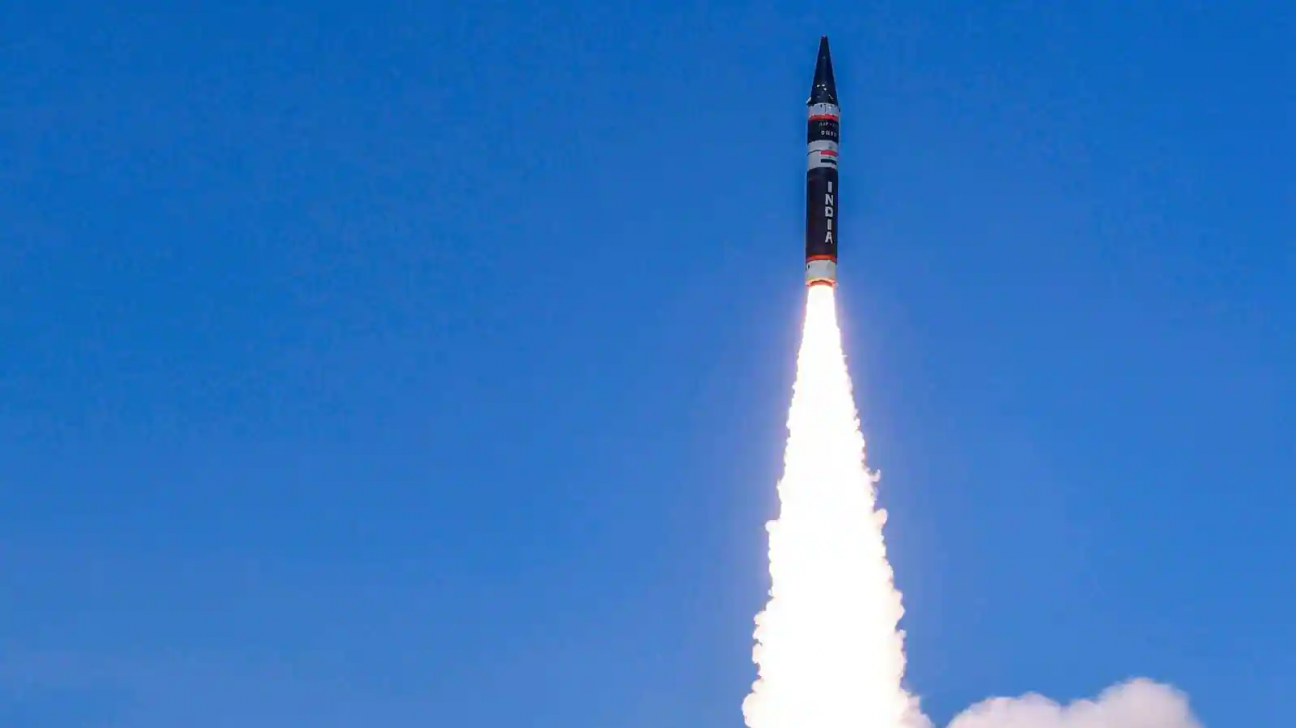 The Agni-P is a two-stage solid-propellant ballistic missile with redundant navigation and guidance system that can be launched from rail or road and stored for extended periods of time in canisters.
Because of the missile's adaptability, it is more portable and has more teeth, allowing it to be launched against urgent threats in less time. Depending on the conditions, it can be carried over the length and breadth of the country.
On December 22, India successfully test-fired its new Pralay surface-to-surface short-range ballistic missile (SRBM). The solid-propellant rocket motor and other new technologies power 'Pralay,' which has a range of 150 to 500 kilometers. Modern navigation systems and integrated avionics are included in the missile guidance system.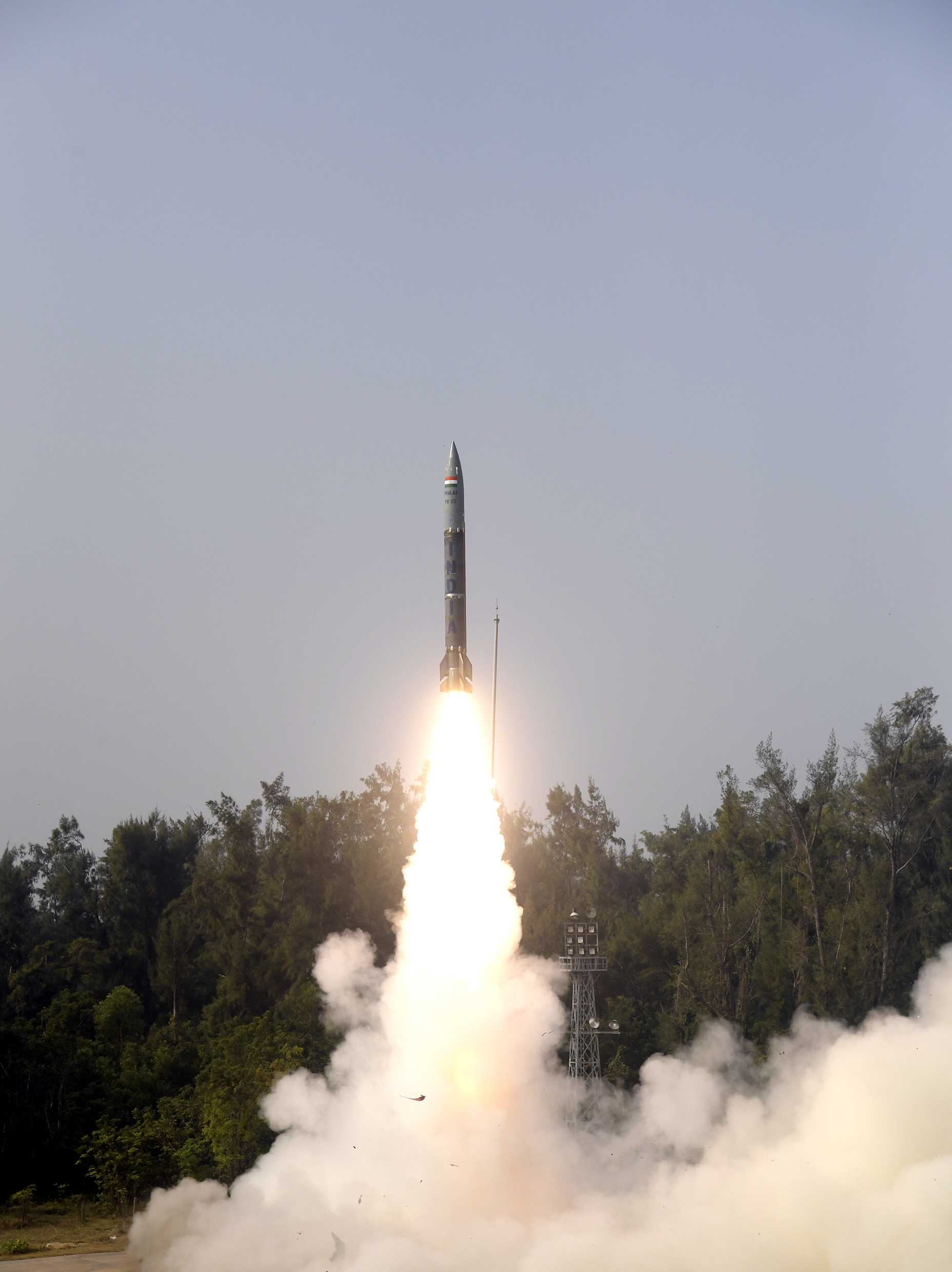 Additionally, a helicopter-launched Stand-off Anti-Tank (SANT) missile, a long-range Supersonic Missile Assisted Torpedo (SMART), and a Pinaka Mk2 extended-range rocket were all tested recently, showing India's advances in indigenous military systems.
DRDO's latest test and last for the year was for High-Speed Expendable Target (HEAT) called Abhyas. During the test flight, the unmanned aerial vehicle attained a high subsonic speed trajectory at a very low altitude with long endurance. Two boosters provided initial acceleration, and a tiny turbojet engine was used to sustain a high subsonic speed with lengthy endurance during the launch.
India also has strengthened its nuclear deterrence capability by successfully testing its "most formidable" Agni-5 ICBM. Agni-5 Intercontinental ballistic missile was test-fired from APJ Abdul Kalam Island off the coast of Odisha on Wednesday evening. The Angi-5 missile was successfully tested for its entire range of more than 5,000 km.
All these test launches are proof that it has been a busy year for DRDO. It also points to the steady progress in indigenous technology and defense manufacturing.
India's threat perception, a shift in its military policy, its push towards indigenization of the weapons' development have guided its acquisitions and deals in 2021. All this demonstrates India's resolve to modernize its military while maintaining a balance in strategic relationships with friendly countries.