With the coronavirus pandemic continuing to spread across India and people being advised to stay indoors, India has developed a novel way to fight novel coronavirus.
Coronavirus Originated From The Wildlife And Not From Chinese Bio Labs: Beijing
Indian Navy Sets up Quarantine Facility to Treat Novel Coronavirus
The Indian Navy has set up a quarantine camp at INS Vishwakarma in Eastern Naval Command-ENC for Indian nationals being evacuated from novel coronavirus (COVID 19) affected countries. The Indian Ministry of Defence in a statement said that the quarantine camp is fully equipped to accommodate nearly 200 personnel with all suitable facilities and other arrangements.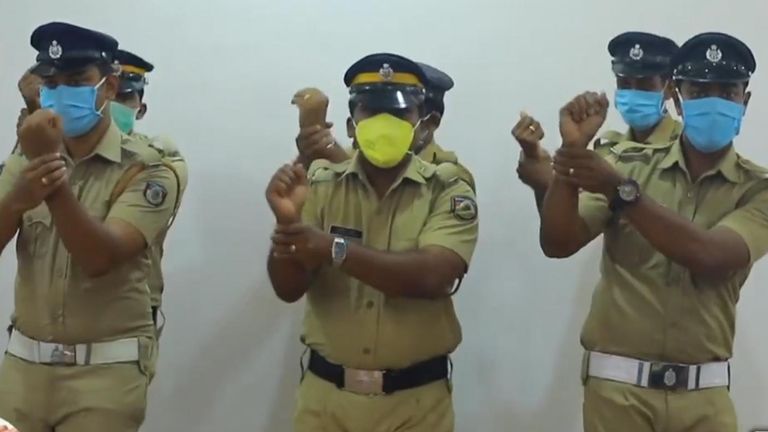 The evacuated personnel in the camp will be closely monitored to ensure social distancing. As a precautionary measure, the evacuated persons would be kept under quarantine for a period of fourteen days.
ENC is proactively coordinating with the Health Officials from State and District Administration to ensure adequate preventive care is provided to all evacuated personnel and to prevent the spread of the virus.
Amar Chitra Katha Offers Free 30-Day Access to its Tinkle and Comic Archive to Help Cooped Up Kids
The publishing house which has for years entertained children with its ACK and Tinkle comic book series has decided to offer a 30-day free subscription to their entire archive.
With schools across India facing indefinite closure due to the coronavirus pandemic, many children across cities have been cooped up at home. As the country heads toward a lockdown with several state governments such as Maharashtra calling for a ban on the congregation of more than five people to restrict the spread of coronavirus.
Turkey To Lose A Whopping $2.3 Billion Deal From India After Erdogan Rants Over Kashmir
Both children and adults may need to prepare for the most constructive and entertaining ways to spend their time in isolation. But to solve the problem, at least in part, Amar Chitra Katha has come up with a novel solution.
The publishing house which has for years entertained children with its ACK and Tinkle comic book series has decided to offer a 30-day free subscription to their entire archive. The move is meant to provide relief to children stuck at homes and cut off from social interaction for days on end.
Preeti Vyas, President from ACK told The News Minute that the move was meant as "gift" from the publishing house to the "children of India" as it was "the little we can do to help ease this challenging environment we suddenly find ourselves in".
The ACK catalogue would be free to access till March 31 and would include over a hundred Tinkle Magazines and over 350 Amar Chitra Katha books that can be read on phones and tabs. The move has been receiving a lot of appreciation on social media.
Why Re-Emergence of PM Modi Could Be Blessing In Disguise For Kashmir Struggle
Netizens also recalled how the publishing house, which was started in 1967 by Anand Pai, played an important part in their childhood. The first Tinkle magazine was published in 1980 and has since been popular among Indian children and adolescents. With its varied collection of mythological and fantasy stories, AKC has been a pioneer in Hindi children's literature in India.
The novel Coronavirus pandemic has resulted in the shutdown of schools, gyms, offices, movie theatres and several public places across India. People have resorted to social distancing as a precautionary measure to curb the spread of the deadly virus.
Nagpurians Take to Streets
Recently, a group of people from Nagpur city took to the streets to work out after all the gyms in the state were shut due to the COVID-19 outbreak. A few women were spotted exercising with dumbbells as men performed pushups.
India Operationalizes Mountain Warriors – ITBP in Leh To Counter Chinese Build Up
One of the participants, a local named Hardeep Bhatia told ANI, "We are building our immunity system by exercising".
According to the Maharashtra State Health Ministry, the total number of cases has scaled to 47, after two women tested positive in Mumbai. The afflicted are a 49-year-old from Ulhasnagar town in Thane who had travelled to Dubai, and a 22-year old from Mumbai who had visited the UK.
The deadly virus claimed its first victim in the state of Maharashtra on Tuesday after a 63-year-old man with a history of travel to Dubai passed away in Mumbai's Kasturba Hospital.
Coronavirus Dance
With India trying hard to "flatten the curve" with the spread of coronavirus, efforts have been stepped up to educate people about how to keep themselves safe.
People making outgoing phone calls are first made to listen to a recorded message about handwashing and symptoms, while public messaging on mainstream media is also being deployed to do the same.
And now police in the southern state of Kerala is the latest to do their bit – their video of six policemen doing a "handwashing" dance has gained traction on social media.  Kerala has 27 active cases of the virus and has been praised for its proactive efforts in trying to contain it.
Wayanad administration distributes books to quarantined patients
After releasing multi-lingual pamphlets on the dos and don'ts on the novel coronavirus, the Wayanad district administration has launched yet another innovative scheme of distributing books and periodicals among those under home quarantine in the district.
"This is a kind of positive gesture on our part towards those who are under isolation. We are trying to send out a humanitarian message to these people that the whole society is with them and that it is for the sake of the society they are being put on home quarantine," district Collector Dr Adeela Abdulla told PTI.
Avangard Hypersonic Glide Vehicle Makes US Patriot Missile Defence System Obsolete?
The whole exercise is done under a scheme called 'Donate-a-book', wherein anyone can donate books and periodicals to their panchayats. The books would be delivered to those under isolation through a mechanism via the panchayat concerned, she said.
Panchayat sources said there has been a good response to the scheme in the district and the people in isolation have also taken the 'read-and-relax' project in good spirit.
With an objective to reach out to the tourists from around the globe, reaching the tourist hotspot of Wayanad and creating awareness among labourers from different parts of India, the district administration had on last Tuesday released leaflets on the Covid-19 in three foreign and six Indian languages.
INS Vikramaditya – Russian Build Aircraft Carrier Is A Disaster? OpEd
Conceived and created in association with Totem Resource Centre, which translated the content into different languages, the leaflets were a first-of-its-kind in the efforts to contain the spread of the novel coronavirus in Kerala.
Foreign languages in which the pamphlets were printed are German, Spanish and French. Besides Malayalam, the other Indian languages in which the leaflets were printed include Assamese, Hindi, Bengali, Telugu and Tamil.