The Indian Army Aviation Corps (AAC) witnessed its third helicopter crash this year, and the second crash in a span of six weeks. Five Indian Army officers have lost their lives in chopper crashes since January.
The officers who were killed in these mishaps included Lt Col Rishabh Sharma, Lt Col AS Bath, Captain Jayant Joshi, Major Rohit Kumar, and Major Anuj Rajput ar. The series of accidents has raised questions pertaining to safety protocols and fitness of the aircraft among others.
September 21, 2021
Two Cheetah helicopters from the 9 R&O Flight, part of the 662 Army Aviation Squadron were returning to Udhampur, Jammu and Kashmir, following a training sortie in the Gulabgarh-Kishtwar area.
The pilots reportedly experienced poor weather conditions and fog around 1100 hours near Patnitop. The Cheetah crashed at the Shivgarh Jungle above Nag Devta Mandir, a civilian area while the other helicopter landed safely.
"On 21 Sep 2021, during an operational area clearance sortie in Patnitop area, Majors Rohit Kumar and Anuj Rajput met with an accident while maneuvering the helicopter they were flying. During the crash landing of the helicopter, both Pilots suffered grave injuries," said Defence Public Relations Officer, Lt Col Devender Anand.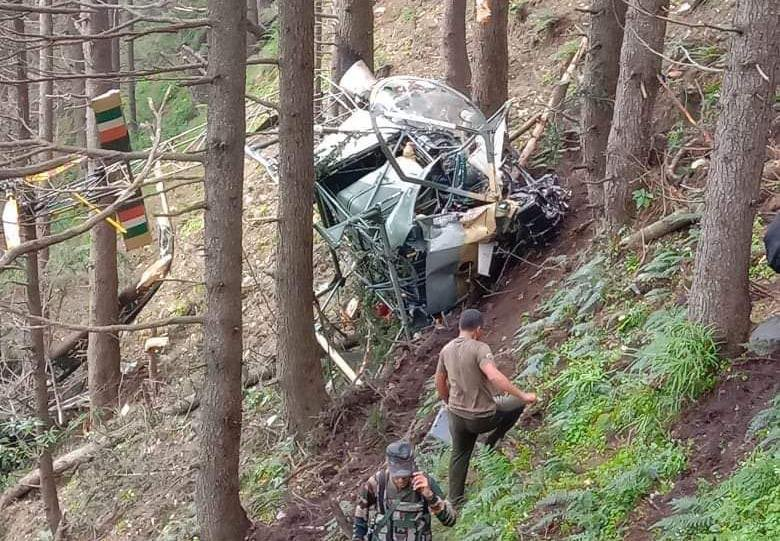 "They were immediately evacuated to Command Hospital Udhampur, however, the officers succumbed to their injuries. Maj. Rohit Kumar, aged 35 years and Maj. Anuj Rajput, aged 28 years, were brave officers who made the supreme sacrifice in the line of duty.
The Indian Army will always remain indebted to their supreme sacrifice and offer deepest condolences to their families" added the officer.
Maj. Rohit Kumar hailed from Noida, a satellite city in India's National Capital Region, while Maj. Anuj Rajput was from Panchkula, Haryana.
Major General Rana Goswami (Retd), a veteran army aviator, told the EurAsian Times, "From whatever I could gauge from the videos of the crash, it was pretty evident that the rescue came pretty fast. From the sound in the video, I could make out that the helicopter's jet engine was still on… In most emergencies, as a part of laid-down procedures, the fuel shut-off lever is pulled fully back. This is done because the chance of fire is always very high but was not done."
Two pilots were injured when an Army helicopter crash-landed in a densely forested area in #JammuKashmir 's Udhampur. pic.twitter.com/chdoeTjCKE

— Geetanjali Nigam (@GeetSahayNigam) September 21, 2021
"In this case, the engine had not been switched off, which indicates that perhaps the circumstances didn't permit the pilots to do so. It's possible that either due to extremely bad weather and poor visibility, before they realized it, the helicopter had hit trees, resulting in the crash.
Whoever is carrying out the inquiry will possibly know whether a distress/mayday call was made giving out an emergency, as these aircraft do not have black boxes or cockpit voice recorders. From their photos, possibly one of them, Major Rohit Kumar, was a flying instructor, and the other officer, Major Anuj Rajput, was from my own unit," he added.
"During their operational flying syllabus, helicopter pilots are given helipad clearance based on height bands, which means that they are initially cleared to land on helipads which are at lower altitudes and gradually as their experience increases, they progress to landing at higher altitudes on more difficult helipads.
I personally feel that since the accident took place somewhere near Patnitop, it is possible that the height band clearance of the under-training pilot must have been going on as Patnitop has a helipad," the General explained.
When asked as to why the two pilots were flying amid fog, Goswami said that if the weather was really bad, they would not have gone for the sortie! However, the weather, when the sortie began must have been fine for the sortie to have been undertaken.
"Every day, all pilots attend a morning Met and ATC briefing. During this, they are briefed on the Met conditions at the time, as also trend forecasts for the day…Pilots are given precise briefings by their flight commander on exactly where to go and what type of flying activities they will carry out during their sortie and what to do if there is bad weather, especially since the monsoon season is going on," exclaimed the veteran aviator.
"Weather is dynamic in hilly areas; a sortie might start out in clear weather. However, as the day progresses, convective heat currents in areas with high moisture often turn into clouds. It is not fog; they are low clouds. However, there is a trend forecast for whether weather could deteriorate during the course of the day and the flying supervisor always briefs pilots accordingly. There are also times when the weather unexpectedly changes," he explained.
August 3, 2021
A Rudra advanced light helicopter (ALH), a Weapon System Integrated version of the ALH Dhruv from the 254 Aviation Squadron, crashed last month. The incident took place while the pilots were carrying out low-level sorties near J&K's Sagar Dam Lake.
The dam is situated in the union territory's Kathua district, approximately 30 km from Pathankot from where the chopper took off.
Lt Col. Bath and Capt. Joshi lost their lives in the accident. The mortal remains of Lt Col Bath were found by divers on August 15, 2021.
However, the body of 27-year-old Capt. Joshi is yet to be found. Harish Joshi, the father of the deceased, expressed his disappointment over the inability to recover his son's body. The victim's mother is a serving officer in the Military Nursing Service (MNS).
Maj. Gen. Goswami said, "Flying over still water is very much like flying over fresh snow, as it inhibits depth perception. Any pilot would find it hard to discern from the cockpit whether he is over 10-20 feet over the water or is virtually going into it.
A similar accident had taken place in the mid-1970s in Beale Lake in Deolali. Two pilots had died in that crash as well. Naval divers were called in and had recovered their bodies."
January 25, 2021
An ALH Dhruv, also from the 254 Aviation Squadron, crashed in the Lakhanpur area of the Kathua district. Thirty-six-year-old Lt Col. Rishav Sharma lost his life in the crash while his co-pilot Capt. Anjani Kumar Singh was last reported to be in critical condition.
The helicopter was believed to have gotten caught on wire whilst on a routine patrol from the Basohli Brigade headquarters. He was an alumnus of MVN Public School and joined the National Defence Academy (NDA) in 2003.
Other Chopper Crashes
A Chetak helicopter crashed in the Rudkhud area of J&K's Reasi district in February 2020 after the chopper developed a technical snag. Both pilots survived the accident and were reported to be safe. An inquiry was ordered into the incident.
In October 2019, an ALH carrying erstwhile Northern Army Commander, Lieutenant General Ranbir Singh along with his staff officers made an emergency landing after the chopper developed a snag in J&K's Poonch district. All seven on-board (including the pilots) narrowly escaped.
In September 2019, an Indian and a Bhutanese army officers lost their lives in a chopper crash in Bhutan.
Factors Behind Chopper Crashes
"There are several issues plaguing Army Aviation and the Air Force. For starters, the basic technology of these French Alouette aircraft, be it the engine, airframe, main and tail gear-boxes, the rotors, drag dampers, virtually everything is technology from the 1960s! One may change the instrumentation, upgrade the avionics but the fact of the matter remains that these aircraft are vintage," according to Maj. Gen. Goswami.
"How much can one flog such an old aircraft? France, the country of origin of these aircraft, declared these aircraft obsolete and put them in the museum by 1980, but here in India, the same obsolete aircraft continue to fly, even 40 years later.
"I have seen many accidents and near accident situations during my flying career and what happens when the weather takes a turn for the worse. If the weather is bad, one should not attempt to brave the elements but instead, return to base or land the aircraft wherever feasible and wait for the weather to improve. It may well make the difference between life and death."
He stressed the need for pilots to adhere to the flying brief given by the flight commander and the need to eliminate complacency, "Complacency is a major factor resulting in aircraft crashes. As a pilot rakes in more flying hours, confidence levels build-up, but so does complacency. There is no denying that it is a natural tendency."
My Deepest Condolences To The Families? #HelicopterCrash ?#AnujRajput #Udhampur #RestInPeace pic.twitter.com/uZzDTvxbdR

— India Our Home (@IndiaOurHome1) September 21, 2021
All pilots while being encouraged at achieving a certain number of flying, say 1000/2000 hours without accidents/incidents, should be counseled by their flying supervisors and senior pilots, so as to not get complacent, according to Goswami.
He explained a few key factors which affect pilot safety, drawing from his experience. One major reason is that most of them are aging and obsolete aircraft.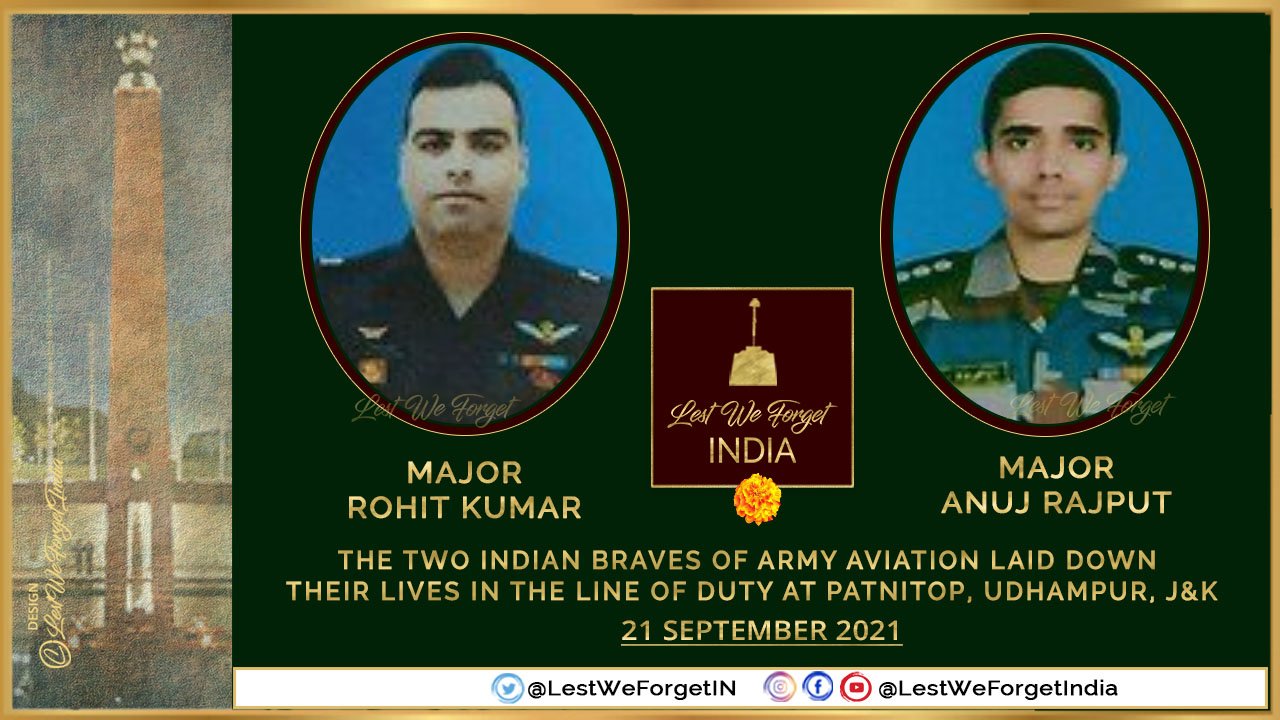 "We are losing pilots and aircraft. It takes countless manhours and exorbitant costs to train a pilot. Training schedules are clearly laid down and are tested regularly. But at the end of the day, it comes down to the people on the ground. It is the Army Aviation Directorate, flying supervisors, the flight commanders, the flying instructors, and the CO who set the SOPs, rules and regulations and implement them on the ground. They are the people who ensure that all the Standard Operating Procedures are followed. So, unless they are strict about it [avoidable accidents will take place].
"In 1982 I was part of a flight safety review during which we conducted a seminar on all helicopter flying accidents since the induction of helicopters into the country. We identified a certain pattern in the accidents.
In each accident, it was amply clear that the helicopter pairing [Pilot pairing] was suspect. Either they were course mates, close friends, had similar flying hours, or they had undergone the flying course together. Something along these lines. So, I ensured when I was a Flying Supervisor, that such pairing was completely avoided.
"My rationale behind it was, that if a pilot was to do anything in contravention of laid down orders and SOPs, his copilot would either stop him from doing so or diligently report the matter. Two pilots who are close friends or have similar flying experiences, often tend to show off their flying prowess with one another. This is unprofessional and a recipe for disaster. Therefore, the pairing of pilots is vital. Failure to do so is a supervisory lapse."
"However, this was definitely not the case in yesterday's (September 21) aircraft crash. The pairing was appropriate. Yet, this remains an issue which holds relevance in the military aviation sector," he emphasized.
"The manual of helicopter operations highlights that the captain of a helicopter has the leeway to land anywhere if the safety of the aircraft and/or its crew and passengers are at stake, especially in bad weather and/or if faced by an emergency at any time due to a snag in the aircraft. We have to go by the book by and large and must be clear on what we can and cannot do.
"Another factor for crashes I would like to point out as we had noticed during the helicopter safety review is a phenomenon known as the get-back-home attitude."
"After being out on a mission for a long stretch, be it a few days or more than a week, when on their way back, they often feel an urge to get back to base, even in the face of poor weather. They feel compelled to take a chance to brave the elements and head back to base. This psychological phenomenon too has caused a few accidents in my experience," Goswami said.
A South Asian military analyst this correspondent spoke to noted that it would serve the Indian military well to retire its antiquated equipment [aircraft]. The EurAsian Times had previously reported on the perils of "rehashing" aging aircraft.
Aritra Banerjee is a defense journalist who has worked in both online and print media. He has laid an emphasis on issues related to military human resources, tactical psychology, military-media relations, professional military education, and combat fitness. He can be reached at aritrareporter@gmail.com.