Satellite images show considerable activity at Russia's Engels-2 Air Force Base (AFB). Apparently, the Russian Aerospace Forces (VKS) has amassed dozens of bombers and cruise missiles, suggesting another imminent large-scale attack across Ukraine.
The German publication Der Spiegel was the first to report about the activity at the Engels-2 AFB citing satellite imagery provided by Maxar Technologies and Planet Labs.
The images taken on November 28 show around 20 missile-carrying aircraft on the tarmac, including the Tu-160 and Tu-95 strategic bombers.
Experts who reviewed satellite images pointed out the extremely high activity at the airfield.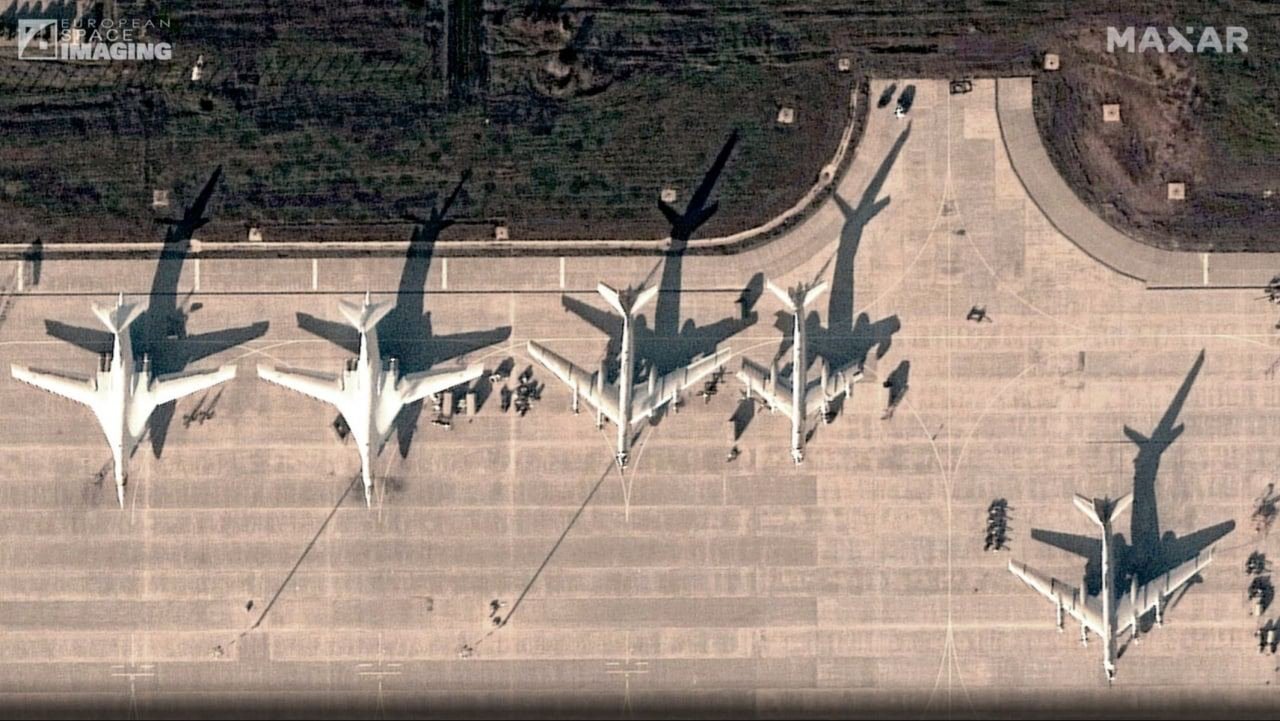 "Ground personnel is very active, fuel tankers are parked next to long-range bombers, numerous large boxes of ammunition, vehicles, and repair materials are visible," independent military analyst Arda Mevlutoglu told Der Spiegel.
Mevlutoglu also noted the presence of many transport aircraft parked at the airfield, which he believes might have delivered missiles for the bombers. Also present are multiple wheel loaders used to transport the missiles.
The Tu-160 (NATO reporting name 'Blackjack') supersonic strategic bomber can carry six Kh-55 missiles in each bay. Its weapons bays are also fitted with launchers for the Kh-15P anti-radiation variant of the Kh-15 missiles that are said to have a range of 200-280 kilometers.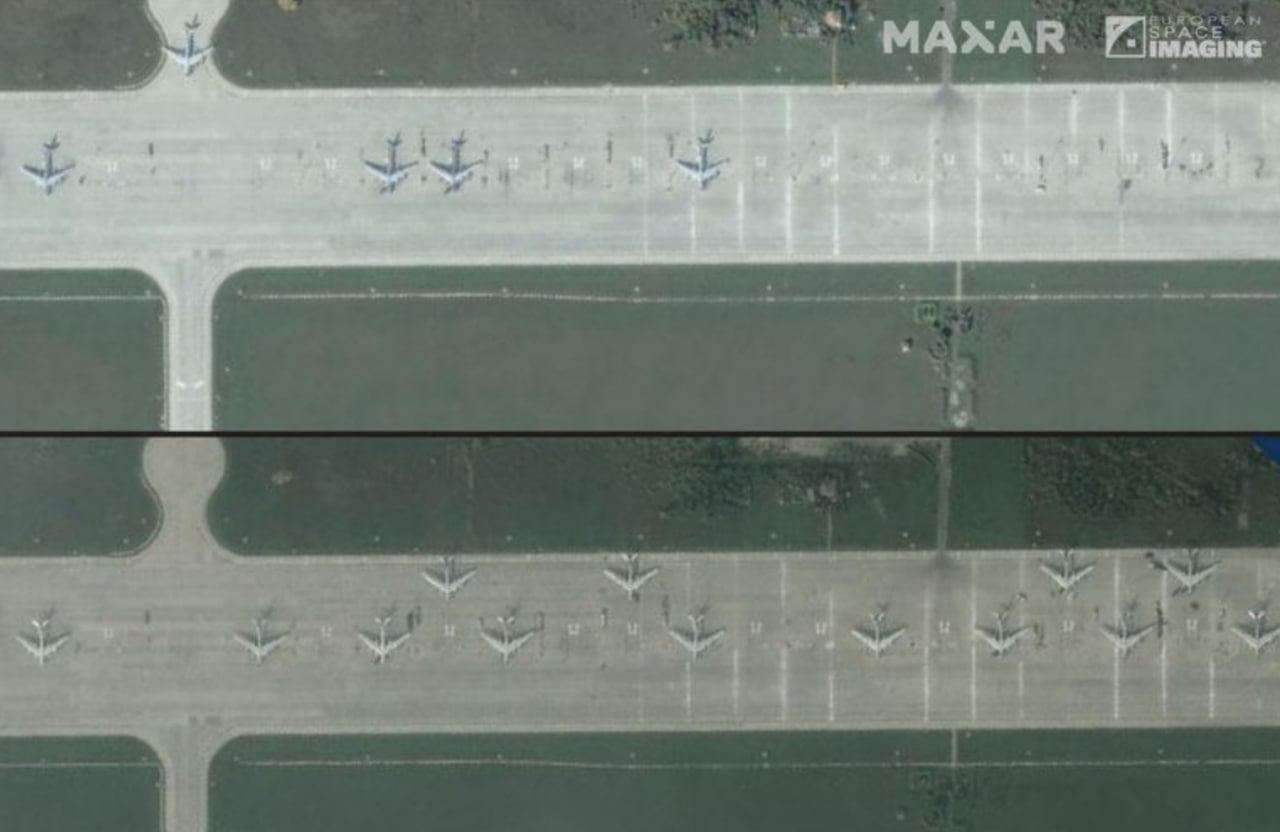 The Tu-95 has two variants, namely the MS-6 and MS-16 variants, of which the Tu-95MS-6 can be equipped with six Kh-55 missiles in a rotary launcher, while the Tu-95MS-16 can carry 16 Kh-55 missiles externally.
The Kh-55 is a subsonic air-launched cruise missile with a range of up to 2500 kilometers.
The Tu-95 can also be modified to carry up to eight Kh-101 air-launched cruise missiles with a range of around 2,500-2,800 kilometers.
Meanwhile, the Engels-2 AFB is Russia's strategic bomber military airbase, located around 700 kilometers from the Ukrainian border. It is home to the 121st Guards Heavy Bomber Aviation Sevastopol Red Banner Regiment with the Tu-160M and 184th Heavy Bomber Aviation Regiment with the Tu-95.
More importantly, Engels-2 is Russia's sole operating location for the Tu-160 strategic bomber.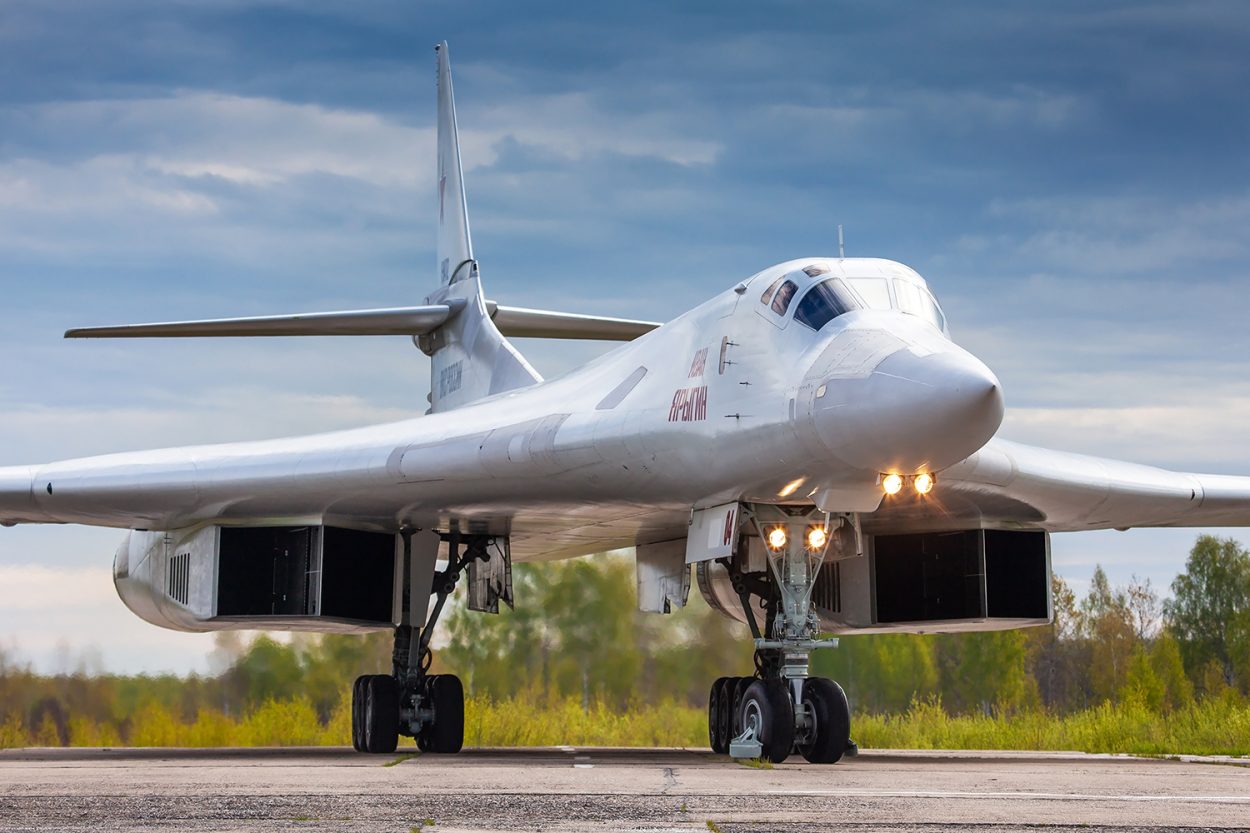 Russia has been using bombers armed with long-range cruise missiles to attack Ukrainian positions outside Ukraine's airspace to keep its aircraft out of the range of Ukrainian air defense systems.
For example, Russia used six Tu-22M3 bombers in June to fire around 60 air-launched cruise missiles from Belarus into Ukrainian territory, mainly targeting Kyiv, Chernihiv, and Sumy regions.
Air Raids Alerts Across Ukraine As Nearly Six Million Ukrainians Live In Darkness
Meanwhile, Ukrainian authorities issued air raid alerts across the country on December 1 amid fears of imminent large-scale Russian bombardment using waves of missile and drone strikes.
"An overall air raid alert is in place in Ukraine. Go to shelters," Ukraine's border service wrote on the Telegram messaging app.
The spokesperson of the Ukrainian Air Force, Yuriy Ihnat, informed the country on November 30 of the increased Russian activity at the Engels-2 airbase and the possibility of increased Russian strikes in Ukraine.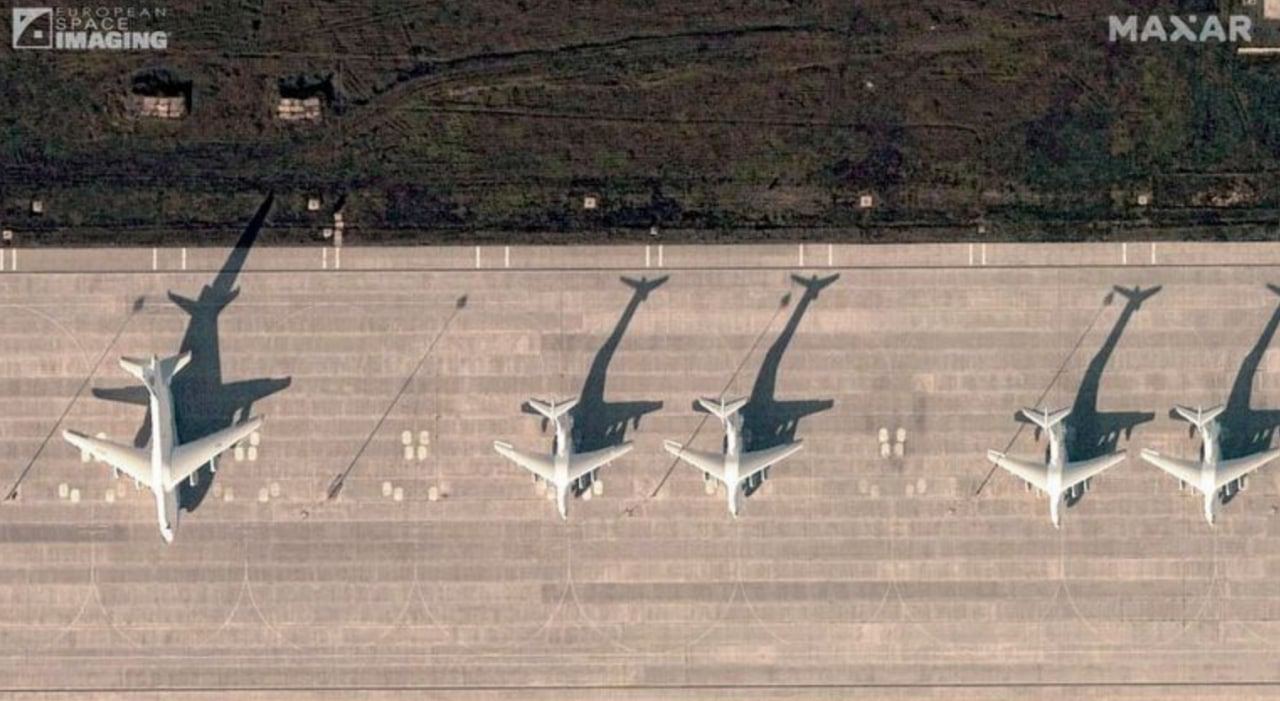 However, Ihnat also said that the number of aircraft at the air base itself is not as significant as the number of missiles left with Russia for its strategic bombers to launch. There are not so many of them left in the Russian inventory.
He further said that Russia's goal remains unchanged: to carry out strikes on Ukraine's critical infrastructure, especially the energy system.
Since early October, Russia has consistently carried out large-scale missile and drone attacks to destroy Ukraine's critical energy grid as the winter sets in.
The latest such Russian attack was on November 23, which involved the firing of 67 cruise missiles across Ukraine, of which 30 missiles were launched at Kyiv alone, according to the Commander in chief of Ukraine's armed forces, Valeriy Zaluzhniy, who also claimed that Ukrainian defense forces shot down a total of 51 missiles.
In all the Russian bombardments across Ukraine since early October, missiles and drones targeted energy facilities in almost every region where they were deployed.
Nearly six million people across a majority of Ukraine's region woke up without power on the first official day of winter, Ukrainian President Volodymyr Zelensky said on the night of November 30.
Patriot Missile System For Ukraine?
As the situation deteriorates, Kyiv is urging its allies in the NATO alliance to speed up weapons deliveries and help restore its power grid.
Ukraine's Foreign Minister Dmytro Kuleba appealed to his NATO counterparts to supply weapons faster during a two-day meeting of NATO foreign ministers in the Romanian capital Bucharest.
The Secretary-General of NATO, Jens Stoltenberg, and US officials have suggested that discussions are ongoing to provide Ukraine with Patriot anti-air defenses.
In response to Stoltenberg's statement, Deputy Chairman of Russia's Security Council and Former President Dmitry Medvedev warned that NATO would make itself a 'legitimate target' by supplying the Patriot missile system to Ukraine.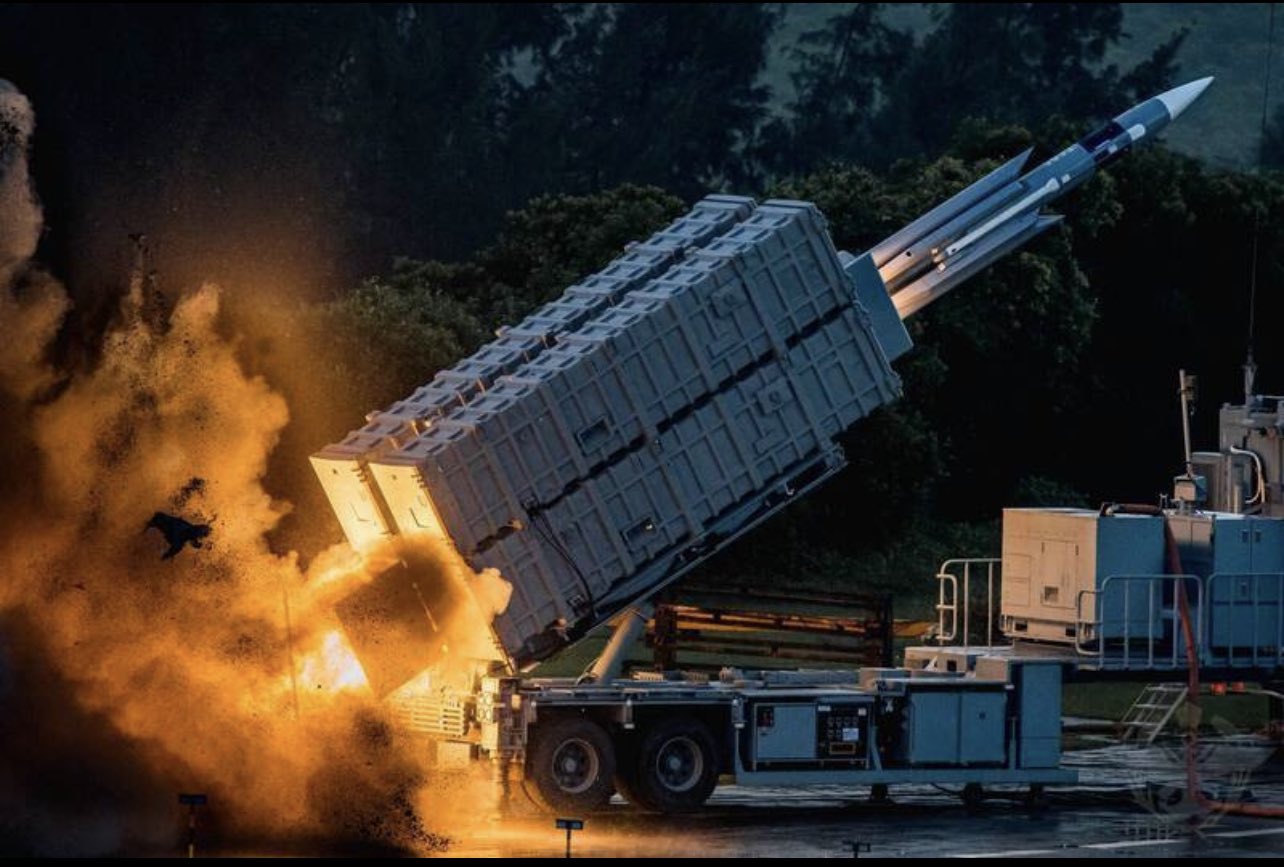 Medvedev wrote in a Telegram post: "If, as [NATO Secretary General Jens] Stoltenberg hinted, NATO supplies Kyiv fanatics with Patriot complexes along with NATO personnel, they will immediately become a legitimate target of our armed forces.
"I hope the Atlantic impotents understand this."
The M-104 Patriot is a mobile medium-range surface-to-air missile capable of engaging aircraft, ballistic missiles, and drones. It is complex and challenging to operate and is often supplied with experienced personnel.
Therefore, the US and its NATO allies are hesitating to provide Ukraine with Patriots. They fear Russia would try to target these missile systems and could end up killing NATO personnel manning the Patriot units.
Additionally, as explained in detail by veteran Indian Air Force (IAF) fighter pilot Vijainder Thakur in his recent article for EurAsian Times, for various reasons, the final engagement authority for Patriot units rests with the Regional or Sector Air Defense Commander (RADC/SADC), who is usually onboard a US Navy guided missile cruiser or on a USAF AWACS aircraft.
Therefore, it is possible that the US commander onboard the AWACS aircraft presiding over Ukrainian Patriot engagements could also be considered a legitimate target by Russia, in which case, the AWACS aircraft could be taken out using the Russian fighter-launched RVV-BD air-to-air (A2A) missile or the S-400 system-launched 40N6E missile.
And that could mark the start of World War 3!