France could join India to arm Armenia against Azerbaijan after Russia's failure to come through on the defense deals it signed with Yerevan.
A rattled Azerbaijan President Ilham Aliyev has scolded France and said its decision to send military aid to Armenia could renew violent hostilities in the South Caucasus that ceased after Azerbaijan's swift military operation ended in September.
The strong words from the Azerbaijan President have come in the face of France promising military aid to Armenia in early October 2023. France's show of support has been preceded by Azerbaijan declaring victory after a swiftly executed military offensive in Nagorno-Karabakh, the main bone of contention and a "frozen conflict" between the two Caucasian neighbors.
The conflict has forced the exodus of around 100,000 ethnic Armenians living in the Nagorno-Karabakh region. At the beginning of October 2023, Baku officially dissolved Nagorno-Karabakh.
"The provision of weapons by France to Armenia was an approach that was not serving peace, but one intended to inflate a new conflict, and if any new conflict occurs in the region, France would be responsible for causing it," according to the Azerbaijani readout of a call between Aliyev and European Council President Charles Michel.
Aliyev also blamed France for his absence at a summit of the European Political Community last week in Granada, Spain, where an EU-brokered meeting with Armenian Prime Minister Nikol Pashinyan was arranged to boost the peace process between the two countries. The meeting aimed at preventing further escalation of conflict between the two countries.
Azerbaijan's state-run APA news agency, citing unnamed sources, said Aliyev had decided not to go after its request to have its ally Turkey represented at the meeting was turned down. Following France and Germany's objection, Baku felt "an anti-Azerbaijani atmosphere" had developed among the meeting's potential participants.
The French statement about military aid to Armenia comes as Yerevan has, for some time now, sought to diversify its arms imports and find new allies after Russia failed to provide the country with ordered weapons worth around US $400 million (it has not yet returned the money).
The failed arms deal came as an additional trigger in the worsening Russia-Armenia relations, which made Armenia seek to diversify the sources of its arms imports, looking at the West and India.
The French Shift In Strategy
France and Armenia have shared strong diplomatic ties, as the former is home to a large Armenian diaspora. In 2001, Paris was among the first Western capitals to recognize the Armenian genocide, two decades before the United States did.
So far, France has backed Armenia only politically, but there is a shift in its policy in the conflict. French Foreign Minister Catherine Colonna, during her visit to Armenia's capital Yerevan, on October 3, said: "France has given its consent to sign a future contract with Armenia, which will enable the provision of military equipment to Armenia so that Armenia can ensure its defense, it is clear that I cannot elaborate on this issue for now."
Colonna declined to give details about the proposed aid but added that she had asked the European Union's chief diplomat, Josep Borrell, to expand the EU mission in the region and proposed including Armenia in an EU peace mechanism similar to that implemented by the bloc in Moldova.
The European country is stepping up as Russia is bogged down in Ukraine, and the peace brokered by it has been shattered by Azerbaijan as it launched a military campaign in 2020.
In the latest conflict that erupted on September 19, Azerbaijan launched an offensive and, within 24 hours, declared victory over the separatist province of Nagorno-Karabakh. Authorities of the province have now said the ethnic Armenian enclave would dissolve on January 1, 2024.
France has also been fostering closer defense ties with India, as the latter opted to induct Rafale fighter jets both in its Air Force and Navy. Dassault Chairman and CEO Eric Trappier is in Delhi for two days to visit the details of the proposed purchase of 26 naval variants of the Rafale fighter jet for the Indian Navy.
The Indian defense minister will be concurrently on a four-day visit to Italy and France beginning October 9 to further the bilateral strategic ties with the European countries and explore joint development of military hardware.
India Siding With Armenia
India has diplomatic ties with both Azerbaijan and Armenia, which are geographically important for New Delhi's connectivity with Russia and Europe through Central Asia and Iran.
In 2022, when India inked the deal to supply PINAKA multi-barrel rocket launchers (MBRL), anti-tank munitions, and ammunition worth US $250 million to Armenia, it was seen as New Delhi taking a position in the conflict. It was the first export of PINAKA by India.
Armenia opted for Pinaka MBRLs, considered at par with the American HIMARs, for its shoot and scoot capability. The mobility is an advantage as adversary Azerbaijan has been deploying drones, including suicide drones.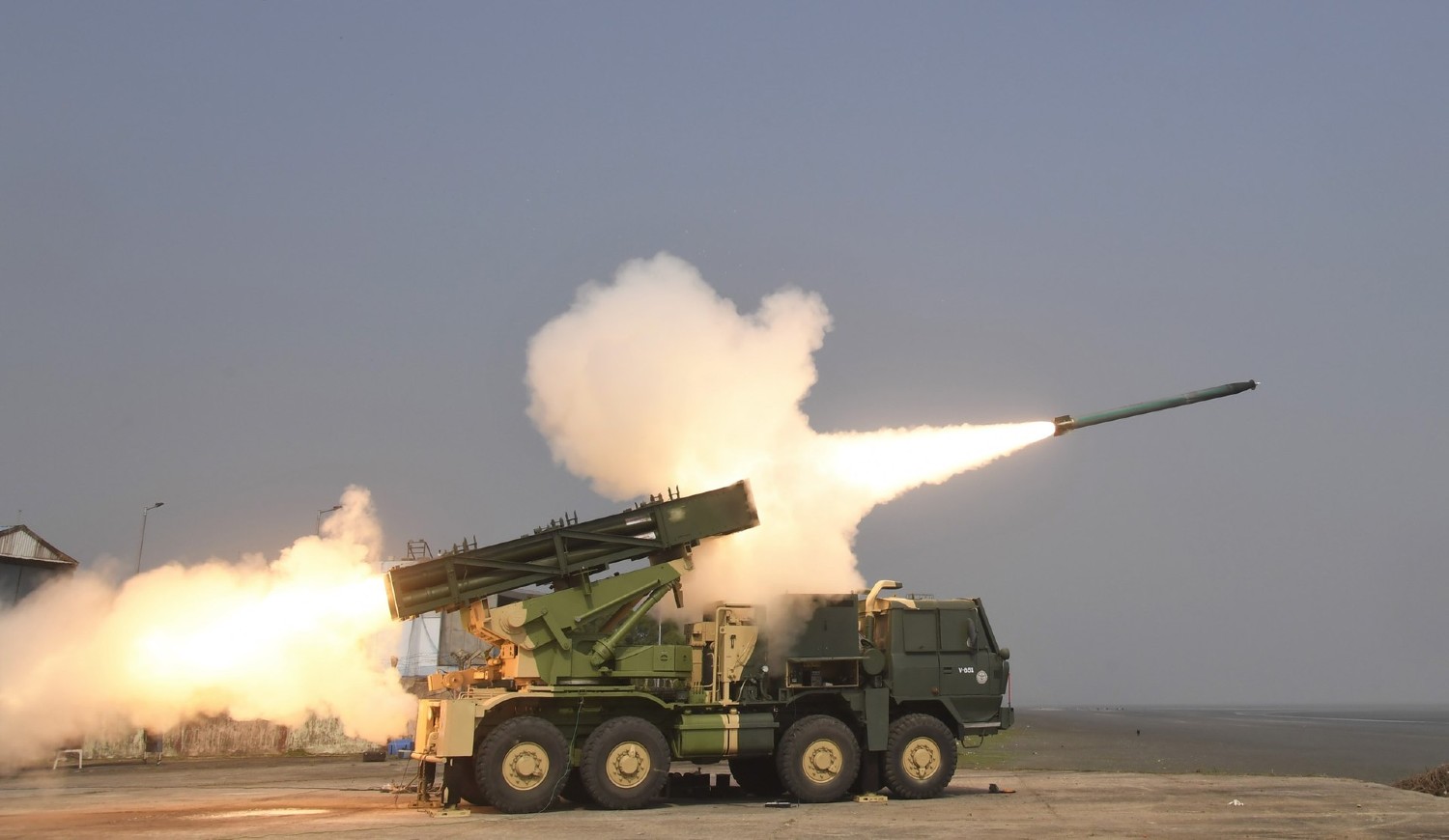 Armenia's endorsement of the Indian position on Kashmir and support for New Delhi's ambition to join the permanent seat in the expanded UN Security Council and Azerbaijan's proximity to Pakistan has tilted the scales in favor of Armenia.
Armenia has been vocal about diversifying its defense suppliers following Russia's recanting on its defense orders. It has also made public the negotiations with India for possible delivery of military equipment. Yerevan has shown interest in Indian drones and loitering munitions, besides mid-range surface-to-air missile (SAM) systems like the Akash.
While India has not confirmed publicly that it is supplying the Akash SAM system to Armenia, Bharat Dynamics Limited (BDL) did announce it has received export orders from a friendly country.
Ritu Sharma has been a journalist for over a decade, writing on defense, foreign affairs, and nuclear technology.
She can be reached at ritu.sharma (at) mail.com