For the 1971 Bangladesh Liberation War, the Indian Army played a vital role in the liberation of Bangladesh. Now Bangladesh will honour the martyrs of Indian Army during the Vijay Diwas celebrations at the Eastern Command Headquarters, Fort William, on December 16 for their selfless sacrifice.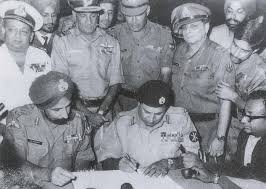 Deputy high commissioner of Bangladesh in Kolkata Toufique Hasan announced this on Saturday at a curtain raiser of Vijay Diwas celebrations at Fort William in presence of Major General N D Prasad, the MGGS of Headquarter Eastern Command.
Mr Hasan said, "This is the second time Bangladesh is going to bestow the Bangladesh Liberation War honours to the Indian armed forces' martyrs. A nine-member delegation led by the minister of Liberation War Affairs A K Mozzamel Haque will come here from Bangladesh."
He added, "They will hand over the awards to family members of around 17 to 25 Indian martyrs. The awards will include a silver plaque, a certificate, a speech of Bangladesh PM, two books written by our Father of the Nation Bangabandhu Sheikh Mujibar Rahaman, a prison diary and an unfinished memoir."
An award giving ceremony will be held after the wreath laying at Vijay Smarak at Fort William on December 16 morning. Mr Hasan elaborated, "This will be the added feature of this year's Vijay Diwas celebrations.
This is also a unique thing that a country is honouring the martyrs of its neighbour. In April last year, PM Sheikh Hasina Wajed honoured the family members of seven such Indian soldiers in New Delhi in presence of Indian PM Narendra Modi. So far we have records of 1,600 Indian martyrs with us."
Maj Gen Prasad said, "We have been working together for the greater good of the region." This year a Bangladeshi delegation of 72 members comprising of 30 Mukti Jodhas, six serving officers of the Bangladesh armed forces along with their spouses are participating in the celebrations at Fort William.
More News at EurAsian Times