On February 3, the Russian Ministry of Defense (RuMoD) claimed that its military finally managed to destroy the US-supplied NASAMS air defense system months after the Ukrainian military first deployed it.
Even though these claims remain unverified, they were extensively reported by the local Russian media.
"A Tochka-U tactical missile launcher and a NASAMS anti-aircraft missile system manufactured by Norway were destroyed in the settlement of Krasnoarmeysk in the Donetsk People's Republic," RIA Novosti reported citing the Russian MoD.
Russian missile strikes against Ukraine have intensified in recent weeks as Ukraine continues to secure more lethal aid from NATO countries. A fresh barrage of missiles ripped through the city of Kramatorsk in Ukraine's eastern district, hitting the residential buildings and sending civilians running for cover.
Moscow has frequently chastised the west for supplying military equipment to Ukraine and issued a stern warning that the move was akin to "playing with fire." Russian officials have also warned on multiple occasions that these systems could become a legitimate target for attack by Russian troops.
The Ukrainian troops have deployed the National Advanced Surface to Air Missile Systems (NASAMS) with cutting-edge precision. The Norway-manufactured system, delivered to Ukraine in November last year, has been effectively taking down Russian cruise missiles and kamikaze drones.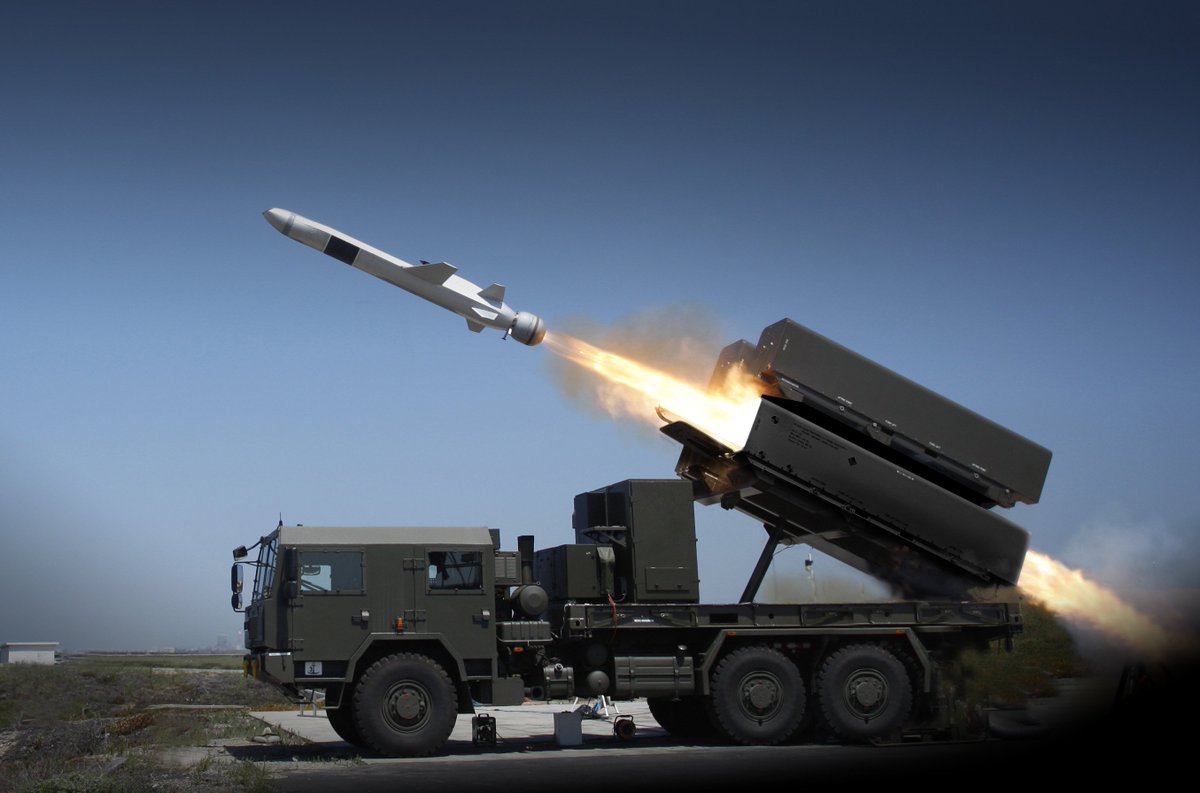 Besides the two batteries delivered by Washington, Kyiv is also hopeful of securing this state-of-the-art air defense system from other NATO countries. Last month, Canadian Prime Minister Justin Trudeau said that Canada would purchase a US-manufactured National Advanced Surface-to-Air Missile System (NASAMS) for Ukraine.
The Kremlin lambasted the decision, which accused Ottawa of funneling money to fuel the Ukrainian war. However, adding to the woes of the Russian troops, Ukraine is also geared to receive an even more lethal PAC-3 Patriot missile defense system which will also protect its cities from Russian ballistic missiles.
Further, the Russian claims of destroying the NASAMS come weeks after Raytheon Technologies CEO Greg Hayes said last month that US officials were in talks with NATO and Middle Eastern allies to send NASAMS interceptors from their respective inventories to Ukraine.
"The DOD is going to attempt to do some trading for us where we'll take some from the Middle Eastern countries that are our friends and some from our NATO allies and try and get those into Ukraine early next year," the CEO said. "Then we'll backfill [those countries] with new products over the next two years."
Making a case for second-hand NASAMS to be delivered to Ukraine, Hayes said that redirecting these air defense systems from third countries to Kyiv would be faster than building them.
"Just because it takes 24 months to build, it doesn't mean it's going to take 24 months to get in [the] country," he said."
However, for any transfer of the air defense systems from a third country to Ukraine to materialize, it must be approved by the Biden administration.
NASAMS Bolstered Ukrainian Defense
US Defense Secretary Lloyd Austin earlier stated that the NASAMS had a 100% kill rate in Ukraine and was efficiently thwarting Russian attacks. The US has so far delivered two of the eight batteries of NASAMS that were pledged to Ukraine last year.
The system, developed by the Kongsberg Defense of Norway and Raytheon of the US, is the first short to medium-range ground-based air defense system. As a result of its deadly precision, even the US deploys NASAMs to guard the delicate airspace surrounding the White House and US Capitol in Washington.
This system sports some advanced features like a net-centric design, numerous simultaneous engagements, beyond visual range (BVR) capabilities, and is tightly integrated and tailored to a country's integrated air and missile defense system (IAMD).
The NASAMS is a point defense system designed to thwart attacks on high-value targets from drones, helicopters, cruise missiles, and aircraft. For this, it uses AIM-120 AMRAAM air-to-air missiles, which have been modified for ground launch and have an engagement range of about 30 kilometers.
Ukraine has likely received the NASAMS-2 variant, which has a Link-16 data link and may be cued toward the target by an airborne surveillance asset like the E-3 Sentry AWACS, which monitors Ukraine's airspace.
As previously noted by EurAsian Times, this significantly distinguishes NASAMS from most air defense systems currently being used by Ukrainian forces that cannot leverage the E-3 capability.
Additionally, NASAMS can also be mounted on HIMARS, which the US has explored as part of its 'common launcher' concept. Ukraine already operates HIMARS, which has become its most formidable weapon against Moscow.
If the Russian claims about the NASAMS being destroyed in Ukraine are true, it might be a major setback for the war-torn nation, which only has two of these systems and is currently facing an unrelenting onslaught of Russian missiles.
Contact the author at sakshi.tiwari9555 (at) gmail.com