That the first-ever Quad summit would take place so soon after the advent of the Biden Presidency was not indicated when the third 'Quadrilateral Security Dialogue' meeting of the foreign ministers of India, Australia, Japan, and the US took place on February 19.
In June 2017, Indian PM Narendra Modi happened to be the first foreign head of the government whom the then-US President Donald Trump hosted in the White House.
Modi will also be one of the three PMs whom new US President Joe Biden will be interacting with, in what is going to be the latter's first-ever multilateral meeting — Quad summit — with international leaders after assuming office on January 20.
President Biden will meet Modi, Japanese Prime Minister Yoshihide Suga, and Australian premier Scott Morrison in a virtual summit on Friday (March 12).
The significance of the summit further lies in the fact that this is the first-ever summit of the four heads of the government as members of the informal group called Quadrilateral Security Dialogue, better known as 'Quad'.
In the meeting, as announced by Prime Minister Modi's office, "The Leaders will discuss regional and global issues of shared interest, and exchange views on practical areas of cooperation towards maintaining a free, open and inclusive Indo-Pacific region."
The White House had added that Covid-19, economic cooperation, and the climate crisis will also be topics of discussion by the four leaders.
"Choosing a 'Quadrilateral Security Dialogue' meeting for his first summit highlights [Biden's] plan to reinvigorate the Quad as part of his China strategy." https://t.co/30cCNwMoHM

— Milan Vaishnav (@MilanV) March 8, 2021
"That President Biden has made this one of his earliest multilateral engagements speaks to the importance we place on close cooperation with our allies and partners in the Indo-Pacific," White House press secretary Jen Psaki has said.
That such a "historic" meeting of the Quad leaders would take place as indicated by Australian Prime Minister Morrison on March 5 after his telephonic talks with President Biden.
He told reporters in Canberra, "It was one of the first things, the first thing I should say, I discussed with President Biden and I was so pleased the new administration was also so enthusiastic about this program, and that President Biden is taking this to another level and seeing the Quad as his first engagement in this way, and to elevate it in this way. The Quad is very central to the United States' and our thinking about the region. "
The Australian Premier then added, "This will become a feature of Indo-Pacific engagement. But it's not going to be a big bureaucracy with a big secretariat and those sorts of things. It will be four leaders, four countries, working together constructively for the peace, prosperity and stability of the Indo-Pacific, which is good for everyone in the Indo-Pacific."
That the first-ever Quad summit would take place so soon after the advent of the Biden Presidency was not indicated when the third 'Quadrilateral Security Dialogue' meeting of the foreign ministers of India, Australia, Japan, and the US took place on February 19.
In their virtual meeting, External Affairs of India S. Jaishankar, Australian Foreign Minister Marise Payne, Japan Foreign Affairs Minister  Toshimitsu Motegi, and US Secretary of State Antony Blinken "emphasized their commitment to upholding a rules-based international order, underpinned by respect for territorial integrity and sovereignty, rule of law, transparency, freedom of navigation in the international seas and peaceful resolution of disputes," a press release from India's Ministry of External Affairs (MEA) said.
A statement issued by the Japanese foreign ministry had also pointed out that the four ministers confirmed the importance of a "free and open Indo-Pacific".
Interestingly, in all the above remarks, there is no mention of China, though it is an open secret that it is the China-factor that has been singularly responsible for the creation of the Quad.
The Quad was the original idea of former Japanese Prime Minister Shinzo Abe in 2006 to convene like-minded democratic partners in the Indo-Pacific region as a quadrilateral format to counter China. It found ready acceptance by the then-Indian government led by Dr. Manmohan Singh, Australian Prime Minister John Howard, and US President George W. Bush.
So much so that in April 2007, India and the US welcomed the Japanese navy to the annual India–US Malabar naval exercise for the first time. Rather than being held in the traditional venue, the Indian Ocean, the Malabar exercises of 2007 were held in the Sea of Japan.
One month after the naval exercises, on May 25, 2007, the four countries held the first Quadrilateral Strategic Dialogue (QSD) on the sidelines of an Association of Southeast Asian Nations (ASEAN) Regional Forum meeting in Manila. The gathering of mid-level officials was billed as an "exploratory meeting".
President @JoeBiden and I are committed to a rules-based international order. We look forward to consolidating our strategic partnership to further peace and security in the Indo-Pacific region and beyond. @POTUS

— Narendra Modi (@narendramodi) February 8, 2021
However, less than one year after its inception, the QSD collapsed because of the very China-factor which had played a role in its creation. Abe, who resigned following a poor electoral showing in late 2007, was not there to keep it alive when the Sigh government, critically dependent then on the Communists' support, did not want to be seen as "an American-camp follower against Communist China".
Worse, in November 2007, the government led by Prime Minister John Howard in Canberra was replaced with a new coalition led by Prime Minister Kevin Rudd, a Mandarin speaker who was more enthusiastic about the prospects for engagement with China.  His government openly declared that Canberra was no longer interested in the QSD.
However, the idea was revived when Abe returned to power in December 2012. Because of his active pursuit of the cause, although the four countries did not come together immediately, India and the US invited Japan to become a permanent partner in the Malabar naval exercises after its periodic participation in 2007, 2009, and 2014. Abe then elevated ties with Australia and India to a "Special Strategic Partnership" and a "Special Strategic Global Partnership," respectively.
Without even a quadrilateral mechanism, Tokyo, Canberra, Washington, and New Delhi continued strengthening multilateral defense-coordination under the auspices of a trio of complementary strategic dialogues. To complement the Australia–Japan–US trilateral dialogue, India, Japan, and the US upgraded their own trilateral strategic dialogue to the ministerial level in 2015. The same year, a new Australia–India–Japan strategic dialogue was inaugurated.
Meanwhile, Abe renamed QSD to QUAD, and in all this, he was helped by three factors. One, there was now a good chemistry among the four leaders — three new, in India (Modi), Australia (Morrison), and the US (Trump).
Two, bilaterally among all these countries, the relationship registered a great height.  One saw the formalizations of the concept of Indo-Pacific, enhanced military ties between India and the US, and between Japan and Australia.
Incidentally, some analysts point out that Jaishankar, the former foreign secretary whom Modi made minister of external affairs after his re-election in 2019, is a big supporter of Quad. In fact, he was reported to have persuaded the Indian Prime Minister in June 2019 to accede to Japanese Prime Minister Abe's request that all four Quad country leaders sit together across from Chinese President Xi Jinping at the G20 summit at Osaka.
This was a symbolic, albeit implicit, show of Indian support for the Quad that previously would have been unthinkable.
Three, there was the widely-realized phenomenon of the Chinese hegemony (the South China Sea, the Belt and Road Initiative, disturbances in Hong Kong and Taiwan, collusions in nuclear and missile proliferations with countries like Pakistan, and so on).
Some analysts do have a point when they say that because of their "fear of China", Australia and India are the weakest links of the Quad. All told, Australia's economy depends a great deal on business with China.
But in recent times, Australian perceptions of China have progressively dimmed because of the manner of promotion of Huawei in Australia, China's growing influence in its domestic politics and academia, and threats of economic retaliation amid Australian calls to hold China accountable for the coronavirus.
So much so that Australia on July 1, 2020, released a defense strategic update and force structure plan that reiterated its 2016 paper on the paramount impact of US-China great-power competition on Australian national security.
India's relations with China also deteriorated significantly because of Beijing's collusion with Islamabad, the Doklam incident, and the military standoff at the Line of Actual Control (LAC), among others.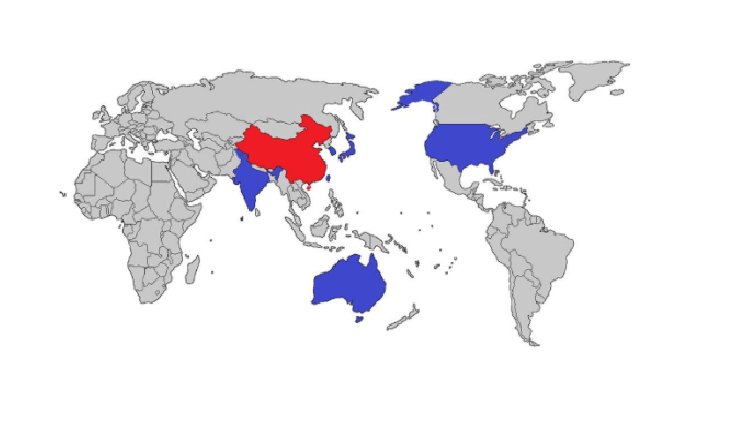 And yet, it needs to be emphasized that all the four nations continue to avoid mentioning China officially for their coming together. In fact, each of them has stressed separately that the Quad does not constitute a China-containment alliance, let alone being a military arrangement to be an 'Asian NATO', as some detractors, including China, say.
So far, what is openly said is that Quad members are displaying their will and the political, economic, and military capabilities to resist any form of coercion from any source so that the Indo–Pacific remains free and open.
As Jaishankar told once the New York-based Asia Society, "Quad is meant as a diplomatic consultation and coordination forum of countries who have convergences, who do not agree on every issue but have substantial common ground. And to my mind, you should leave it alone.
It works. It has a good agenda [and] has continued to function well…. The quality of relations among the Quad, bilaterally, trilaterally, plurilaterally, it's all good. And I think the Quad kind of pulls all the threads together."
So it remains to be seen whether the first-ever summit of the Quad leaders on Friday will adopt an openly anti-China profile.
Follow EurAsian Times on Google News