Months after the Commander of the Pacific Air Forces of the USAF, General Kenneth Wilsbach revealed that the F-35 had a close encounter with China's J-20 fighter jet over the East China Sea, the US Air Force is constituting an F-35 aggressor squadron to 'replicate the threat emerging from China.'
Following the revelations by the US Commander and his unusually positive comments about the Chinese fighter, the PLA Air Force deployed the J-20′ Mighty Dragon' for training patrols in the East and South China Seas amid rising tensions with the West over the Taiwan issue.
At the time of deployment, a Chinese military analyst Song Zhongping told Chinese state media Global Times that the J-20 would be deployed to potential battlefields and at sea, especially when the American F-35 and F-22 fighters were operating close to China.
In what could be considered an American strategy for preparing for a future confrontation, On June 9, the US Air Force re-established the 65th Aggressor Squadron (AGRS) at Nellis Air Force Base in Nevada. The unit will only fly the F-35A Lightning II and will focus on mimicking China's superior airpower capabilities.
The unit's first two aircraft have been displayed in a new customized aggressor paint scheme that takes advantage of existing radar-absorbent coatings.
"Due to the growing threat posed by PRC [People's Republic of China] fifth- and sixth-gen fighter development, we must use a portion of our daily fifth-generation aircraft today at Langley, Elmendorf, Hill, Eielson, and now Nellis, to replicate adversary fifth-generation capabilities," said Air Combat Command commander Gen. Mark Kelly.
"Precisely because we have this credible threat, when we do replicate a fifth-gen adversary, it has to be done professionally. That's the aggressors."
While the US Air Force did not name the J-20 directly, it is the only fifth-generation stealth advanced fighter jet in the PLA Air Force as of now.
China is working on producing another fifth-generation fighter, the JF-31, but it would not enter service for at least a few years. The F-35 aggressor squadron would then potentially mimic the Chinese J-20 fighters.
It's here! the first ever camouflaged F-35 aggressor aircraft using the splinter camo seen on Chinese J-20. The newly activated USAF 65th Aggressor Squadron will mainly focusing on replicating Chinese stealth threats

U.S. Air Force photo by Airman 1st Class Josey Blades pic.twitter.com/shQSxVr9Ix

— Fighterman_FFRC (@Fighterman_FFRC) June 10, 2022
"Aggressors themselves represent a huge conglomeration of subject matter experts that focus mostly on Russia and China. The 65th will focus on China, and we're talking about doctrine, their training, and their capabilities so that when [the 65th AGRS is] flying, we are actually modeling the pacing challenge as closely as we can, Col. Scot Mills, Commander of the 57th Operations Group told The War Zone.
For the first time during Red Flag-Nellis 21-3, the 57th Operations Group introduced dedicated F-35 aggressors to expand upon the F-16 Fighting Falcon aggressors assigned to the 64th AGRS.
The F-35s will be employed in large Combat Air Forces exercises, US Air Force Weapons School missions, joint exercises, and operational test and evaluation events that are only conducted at Nellis Air Force Base and the Nevada Test and Training Range.
Mills also said that the F-35 as an aggressor allows pilots to train against low-observable threats similar to what adversaries are developing.
An aggressor squadron is trained to act as the opposing force. Aggressor squadrons simulate air warfare by using enemy tactics, techniques, and procedures rather than training against one's own force.
US Acknowledgment Of J-20s Might?
Air Combat Commander Gen. Mark Kelly's acknowledgment of the growing threat from China's fifth and sixth-generation fighter development indicates that the US Air Force is alive to the challenges faced by a growing arsenal of PLAAF fighter jets.
As tensions continue to rise between the bitter rivals, the raising of the F-35 Aggressor Squadron would allow the USAF to improve its combat capability against China.
The activation of the Aggressor Squadron was approved in 2019 by the then-Commanding General of Air Combat Command and the Secretary of the Air Force to increase training for fifth-generation fighter tactics development, advanced large force training, and operational test support.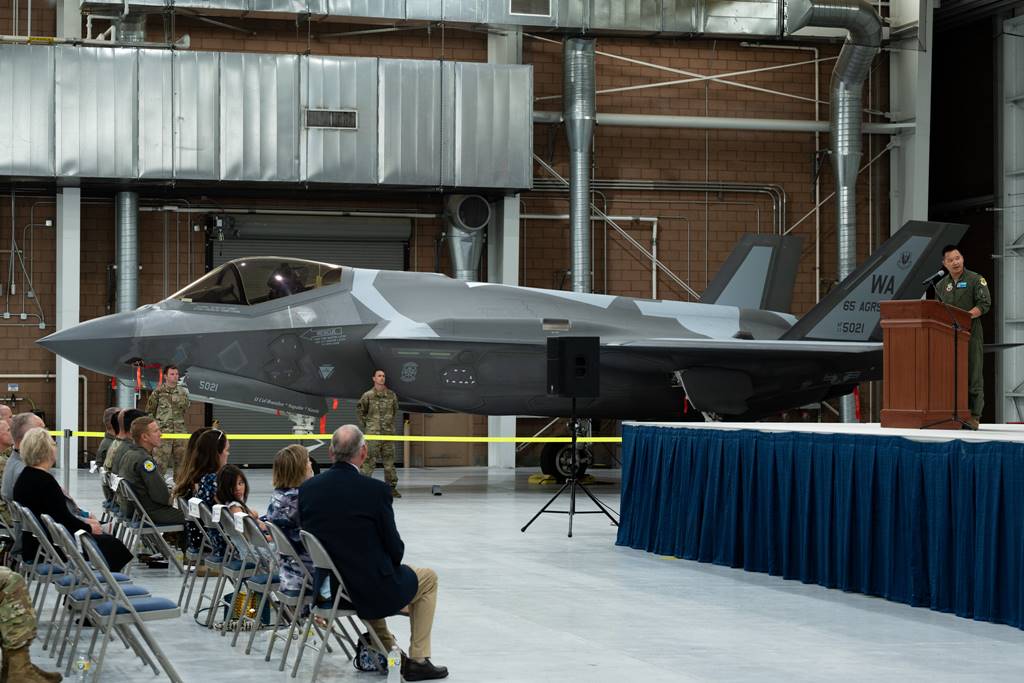 Previously, from 2005 to 2014, the 65th AGRS was stationed in Nellis. With a fleet of F-15 Eagles, the unit mimicked likely adversary tactics and procedures during that time. The aggressor mission was continued by the 64th AGRS with F-16 Fighting Falcons after the F-15 Eagles were inactivated, according to a press statement from the Nellis Air Force Base.
Now, the 65th Aggressor Squadron will be equipped with early-production F-35As, the first of which was delivered to the resident 422nd Test and Evaluation Squadron (TES) in 2013 and was revealed at Nellis on June 9 in its new aggressor scheme.
"There's been discussion over taking F-35s and putting them into an aggressor unit, but the fact is we have some older [build] Lot F-35s that will never be combat coded – we will take those assets, decrease some of their capability, and make them a perfect representation of Chinese threats," explained Mills.
At the time of admitting that the F-35 had an encounter with the J-20, General Kenneth Wilsbach said "We're seeing relatively professional flying and it's still too early to tell exactly what they intend to do with [the J-20] – whether it's going to be more like an F-35 that's capable of doing many, many missions or more like an F-22 that is primarily an air superiority fighter that has an air-to-ground capability."
Furthermore, using the decision to use F-35 as an aggressor aircraft to counter China aligns with the common view among the US security establishment that China will eclipse the US military superiority by 2035.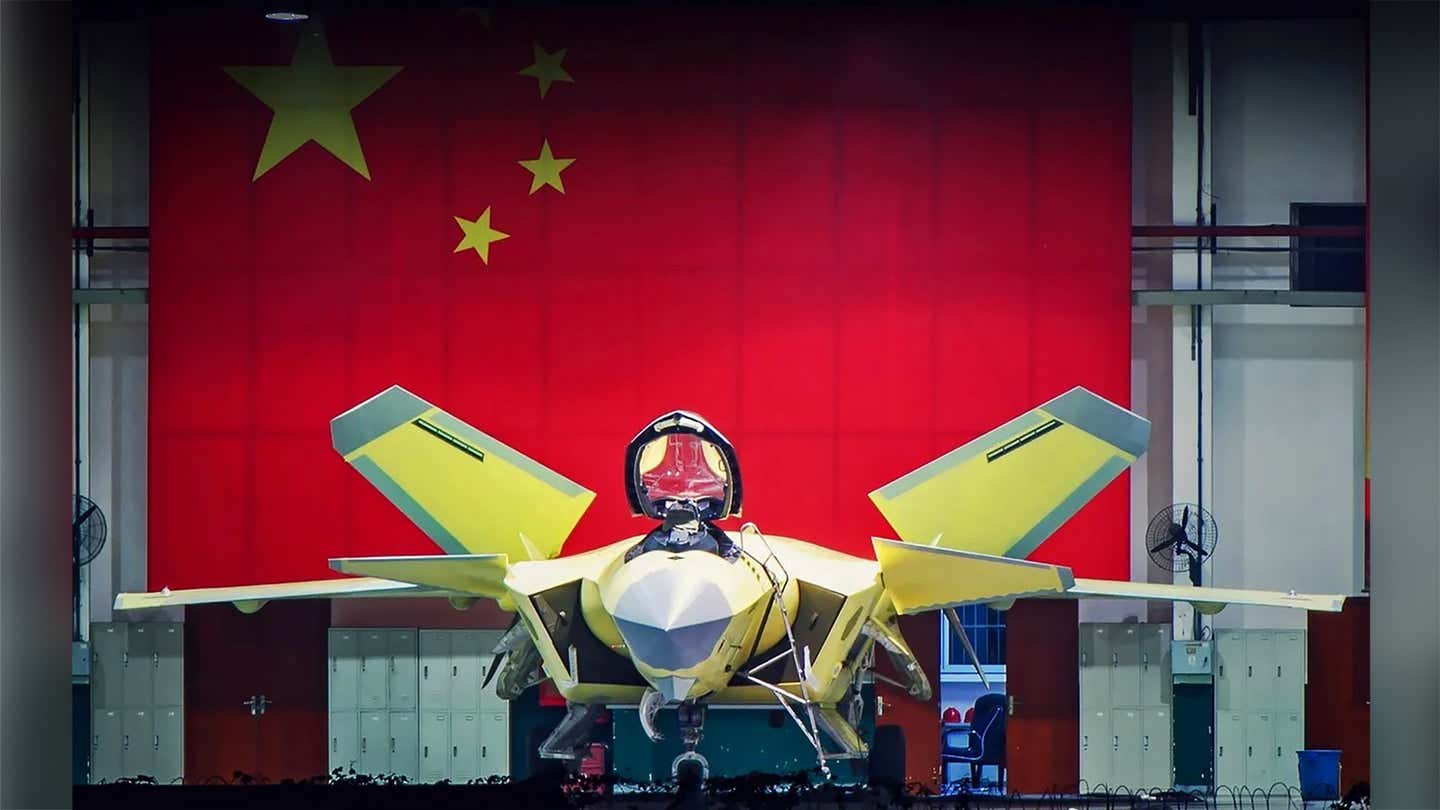 During an Air Force Association meeting in September last year, US Air Force Chief of Staff General Charles Brown Jr. declared the PLA had "the largest aviation forces in the Pacific" and had grown them "underneath our nose."
Brown also claimed that China would have eclipsed the United States' air superiority by 2035, as previously reported by the EurAsian Times.
On the one hand, China has increased its belligerence against Taiwan by carrying out military drills, intrusions into its air space, and even partly simulating an attack.
On the other hand, US President Biden has announced that Washington would intervene militarily if China attacked Taiwan. Therefore, the stakes are high in the region and the US seems to be preparing for a potential conflict.
F-35 Vs J-20
The F-35 Lightning II is a stealth multirole combat aircraft designed to perform air superiority and strike missions. It's a single-seat, single-engine stealth multirole combat aircraft that can fly in all weather. It also has electronic warfare, intelligence, surveillance, and reconnaissance capabilities.
The F-35A is a Conventional Take-off and Landing (CTOL) aircraft, the F-35B is a short take-off and vertical landing (STOVL) aircraft, and the F-35C is a carrier-based (CV/CATOBAR) aircraft.
The Chengdu J-20, on the other hand, is known to be a multirole stealth fighter built to carry ground assault missions in challenging terrain. The aircraft's delta wings allow it to fly at supersonic speeds and reach higher altitudes.
Apart from the American F-22 Raptor, F-35 Lightning II, and Russian Su-57, the J-20 is the world's only operational fifth-generation stealth fighter jet.
As of 2021, China was known to have built 150 J-20 stealth fighters. On the other hand, the US Air Force (USAF) had over 280 F-35As. It intended to buy 1,763. This figure does not include the F-35's B and C variants. Furthermore, an increasing number of allied countries have been purchasing F-35s.
In response to a question on the J-20's production capacity, Wang Haitao, the aircraft's deputy designer, told China's state-run Global Times that China's aviation sector can fulfill any amount of demand from the PLA Air Force.