On February 17, the US military announced that the first shipment of US-made M2A2 Bradley infantry fighting vehicles had arrived at the Coleman Army Prepositioned Stocks-2 worksite in Germany. 
In a press release, the US military disclosed that the more than 60 Bradleys that had left Charleston, South Carolina, began to arrive at the Coleman APS-2 worksite in Mannheim earlier this week. 
The shipment is part of a $2.85 billion US military aid deal announced earlier this year and is intended to help Ukraine acquire more defensive capabilities to protect itself from Russia.
Bradleys are armored vehicles that move infantry through hostile environments and provide supportive fire. The vehicle can effectively take on tanks thanks to its TOW missiles and powerful 25mm chain gun.
Apart from over 60 Bradleys, President Biden announced an additional $2.85 billion in security aid, which included more fighting vehicles, ammunition, missiles, and Stryker armored personnel carriers.
With this, the US has contributed $27.1 billion to the operation since the Russian invasion started in February 2022.
The Coleman APS-2 worksite serves as a staging area for US Bradleys en route to Ukraine, the US Army said. 
The statement reads that a team of professionals led by the 405th Army Field Support Brigade is staging and preparing the Bradleys for further movement. 
Jason Todd, Army Field Support Battalion-Mannheim's deputy support operations officer, said, "Personnel from Red River Army Depot, Texas, US Army Communications-Electronics Command, Project Manager Bradley, Army Field Support Battalion-Benelux, the 16th Sustainment Brigade's 624th Transportation Detachment (Movement Control), and US Army Tank-automotive Armaments Command have arrived and are working together on the reception, integration and onward movement of the Bradleys."
Calling it "a critical effort," Todd said that this is being done to ensure that the US military continues to support its allies and partners and aid Ukraine in defending itself against Russia's unprovoked attacks. 
Coleman APS-2 Worksite
The heavy armored vehicles and equipment needed for an armored brigade combat team are stored and maintained at the Coleman APS-2 facility, which is situated on a former Army airfield.
The Coleman worksite was supposed to be returned to the German government, but US Army Europe and Africa declared in August 2021 that it would retain it.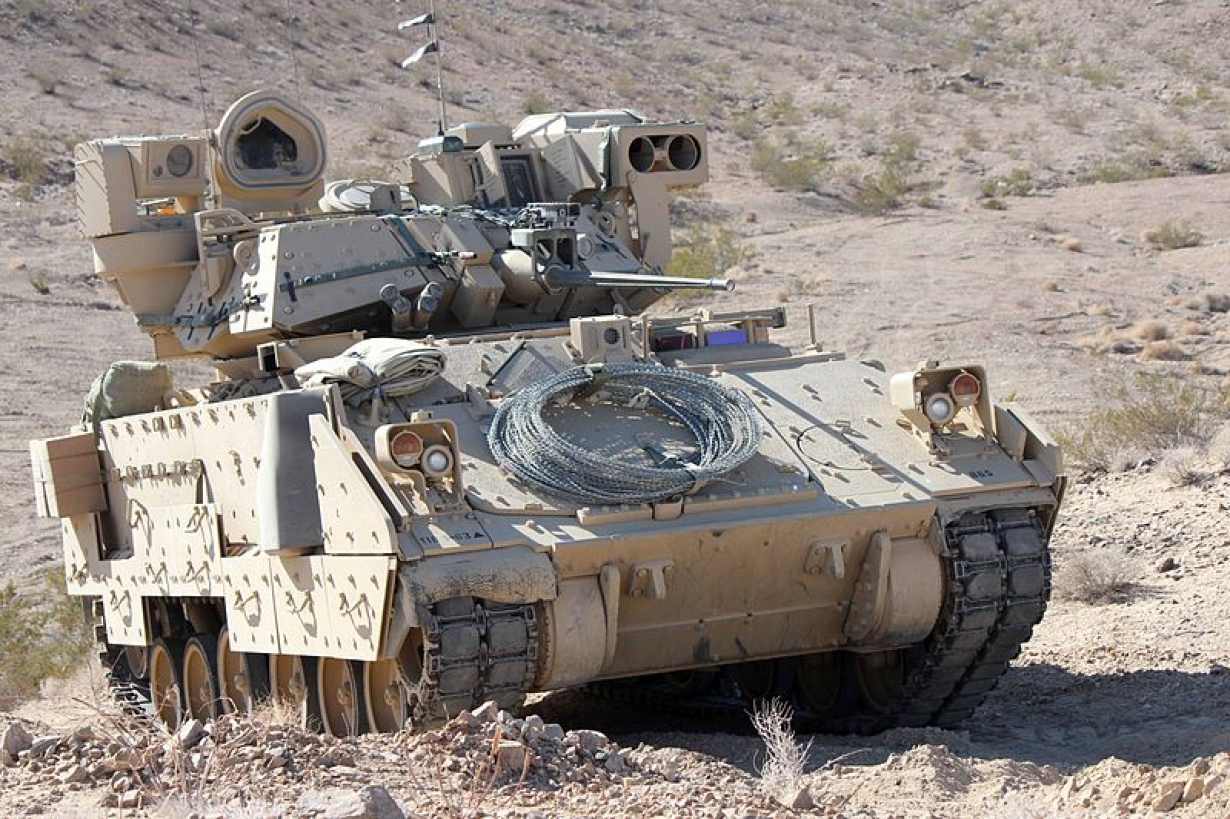 Such worksites help shorten deployment times, enhance deterrence potential, and augment combat power for emergency operations. For training and exercise purposes, APS-2 equipment may also be drawn.
The US Army defines the worksite as a staging area with maintenance facilities, a highly skilled and experienced labor force, and a stockpile of repair parts if needed. 
The Coleman team, according to Todd, "is merely a cog" in a much broader machine charged with assisting ongoing operations in Europe and the defense of Ukraine. 
To ensure that all of these Bradleys arriving from the US are prepared for their follow-on mission, the staff at the site is working carefully in a coordinated effort and utilizing their logistical partners across the US Army Materiel Command (AMC) enterprise. 
These efforts demonstrated the US Army's capacity to mobilize, integrate resources, and complete the mission quickly. 
Recently, the Mannheim battalion of the 405th AFSB issued some Bradleys from their Coleman APS-2 worksite to assist in training Ukrainian soldiers in using and maintaining infantry combat vehicles and the systems they are associated with. 
"The 405th AFSB's APS-2 program provides turn-key power projection packages ready to deploy at a moment's notice while helping to reduce the amount of equipment needed from the deploying forces' home stations," the statement noted. 
The 405th AFSB is a part of the US Army Sustainment Command and is operationally supervised by US Army Europe and Africa's 21st Theater Sustainment Command.
The brigade, which has its headquarters in Kaiserslautern, Germany, supports joint forces by utilizing AMC's materiel enterprise, providing theater sustainment logistics, coordinating procurement, logistics, and technology, and supporting US Forces across Europe and Africa.