US lawmakers sought an increase in the acquisition of aircraft and warships as the House approved the annual defense bill on December 7. The move is aimed at maintaining a formidable military and sending a strong message to America's adversaries, Russia and China. 
The National Defense Authorization Act (NDAA) for the Fiscal Year 2022 allocated $768 billion. This includes $7.1 billion for the Pacific Deterrence Initiative to dissuade China and has pledged its support for Taiwan's defense. The legislation also seeks prohibition on the Pentagon acquiring products made using forced labor in China's Xinjiang province.
Whereas the Pacific Deterrence Initiative is focused solely on China, the NDAA does not overlook America's other key geopolitical competitor, Russia. It authorized $300 million for the Ukraine Security Assistance Initiative, which will provide equipment and weaponry to Kyiv in order to deter Russian aggression on its border.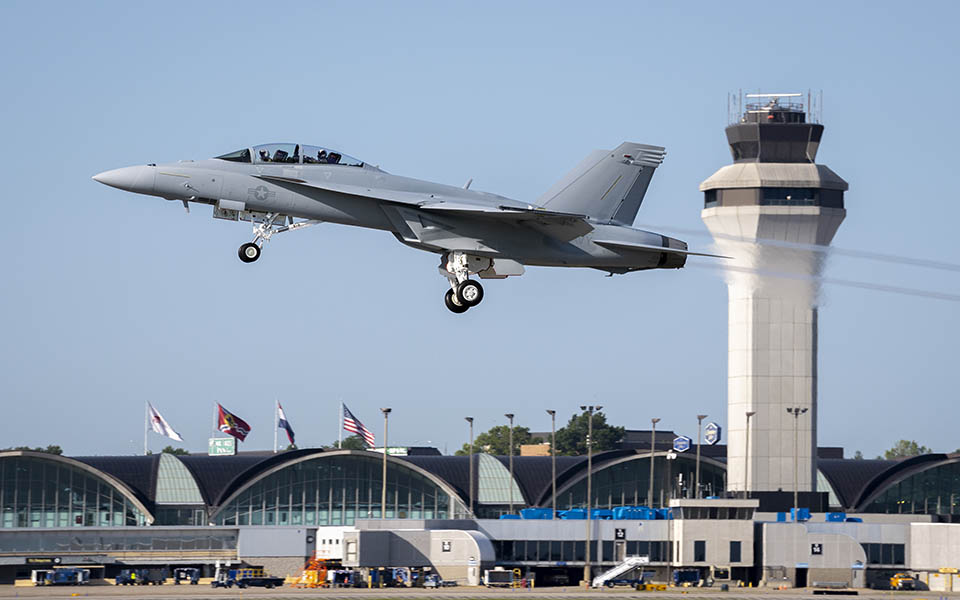 Lawmakers also approved $4 billion for the European Deterrence Initiative, which aims to improve collaboration with Eastern European countries while also deterring Russia on their flank.
It does not include a measure that would compel the Biden administration to slap penalties on Russia for the $11 billion Nord Stream 2 pipeline, which would transport Russian gas straight to Germany. The US and Germany approved an agreement earlier this year that permits the installation of the pipeline.
Ship And Aircraft Purchases
Lawmakers agreed to fund the purchase of 13 new warships, five more than the US Navy had proposed. The list includes two Virginia-class submarines, three Arleigh Burke-class destroyers, one guided-missile frigate, two John Lewis-class fleet oilers, one surveillance ship, two Expeditionary Fast Transport ships, and two towing, salvage and rescue ships.
NDAA prevents the Navy from retiring two cruisers of the Ticonderoga class. It includes $800 million funding to expand and modernize the shipyard and submarine industrial base. 
US Congress also supports the Navy's purchase of a dozen Boeing-built F/A-18E/F Super Hornet fighters, although the service did not raise any request so as to reduce its acquisitions. The purchase would "mitigate the Navy's strike-fighter shortage and improve tactical fighter aircraft capabilities", lawmakers said.
In addition, five additional F-15EX jets, also built by Boeing, were approved by lawmakers, bringing the total number of F-15EX jets to 17. NDAA did not raise funds for the number of F-35 fighter jets produced by Lockheed Martin, though.
The plan also includes funding for the National Guard to purchase five new CH-47F Block II Chinook helicopters and nine UH-60 Black Hawk helicopters besides additional funding for the CH-53K heavy-lift helicopter. 
Other Areas
NDAA establishes an independent commission to examine the two decades of war on terror in Afghanistan. The multi-year review's mission is to examine important strategic, diplomatic, and operational decisions made by the US in Afghanistan and report back with lessons learned.
The Pentagon's request for $3.3 billion to aid Afghanistan's now-defunct military and police forces is also zeroed out in the final deal. The funding was included in a Senate defense measure that was passed prior to the Taliban's takeover. The money was primarily moved to other accounts by the House, which advanced its bill later.
NDAA creates a new Pentagon office to research and undertake field investigations of unidentified aerial phenomena or UFOs, as well as requiring "extensive reporting, analysis, and sharing of information on UAP incidents," particularly through an annual unclassified report. 
NDAA repeals a House proposal to create a separate Space National Guard and mandates a Pentagon study to "examine the entire organization of the reserve component, including the appropriate allocation and use of space assets".