The fifth generation F-35 stealth fighter jet made its debut at the multinational Pitch Black Exercise hosted by Australia that commenced on August 19 and will last until September 8.
---
The 12 F-35B short-takeoff-and-vertical landing (STOVL) aircraft of the US Marine Corps (USMC) Marine Aircraft Group 12 (MAG-12), based in Iwakuni, Japan, were practicing the Corps' concept called the 'Expeditionary Advanced Basing Operations' (EABO) at the Royal Australian Air Force (RAAF) Base Curtin.
The F-35Bs have been stationed at RAAF Base Tindal, some 966 kilometers from Curtin, since mid-August for unit-level training in the Pitch Black Exercise, which involves more than 2500 personnel and 100 aircraft from 17 nations.
Lt. Col. Richard Behrmann of the MAG-12 told Defense News on September 2 that the EABO training of the F-35Bs in Australia culminated in several MAG-12 events intended to refine those concepts.
The EABO (Expeditionary Advanced Base Operations) is a USMC's concept of expeditionary warfare that involves employing mobile, low-observable, operationally relevant, and relatively easy to maintain and sustain naval assets from a series of remote, temporary locations ashore or inshore within a contested or potential contested maritime area to conduct sea denial, supporting sea control, or enabling fleet sustainment operations.
The 'hub and spoke' model of the EABO enables rapid dispersion of aircraft during times of high tension, from major bases, called the 'hubs,' to several smaller distributed bases known as 'Spokes.'
The RAAF Base Curtin, which served as a 'spoke' in the recent EABO exercise, is a front-line 'bare base' with a 10,000-foot runway, aircraft shelters, and other infrastructure. It is usually crewed and maintained by a small caretaker staff unless activated for operations during exercise or a crisis.
A pair of Japan-based Marine Corps KC-130J Super Hercules tankers also performed transport tasks and rapid ground refueling to support the F-35Bs during the EABO training.
The American air and ground elements deployed to Australia included around 150 fighter squadron personnel and 60 members from support units who performed the USMC's air-ground task force concept, which seeks to provide multi-domain capabilities.
Behrmann also told Defense News that the F-35s had been sent to Australia with the Autonomic Logistics Information System (ALIS), which enables predictive maintenance of the aircraft while noting that the Marines used a very small aperture terminal – a ground station with a satellite dish – for transmission of ALIS data.
Moreover, MAG-12 also employed a PACE plan – primary, alternate, contingency, and emergency — that allowed the force to transmit data and voice communications between Iwakuni, Tindal, and Curtin using high-frequency radio during the EABO exercise.
Pitch Black Exercise 
Apart from the EABO exercise, the American F-35Bs and the Australian F-35As flew in various air-to-air and air-to-ground missions during the day and night as part of large-force employment operations with various aircraft from other participating nations, including F-15, F-16 and Su-30 fighters.
As stated earlier, 17 nations are participating in this year's edition of the biennial Pitch Black exercise after a four-year gap due to the Covid pandemic.
These include Australia, France, Germany, Indonesia, India, Singapore, Japan, South Korea, the UK, the Philippines, Thailand, the United Arab Emirates, Canada, the Netherlands, Malaysia, New Zealand, and the US.
Germany, Japan, and South Korea are taking part for the first time in the exercise with their Eurofighter 2000s, Mitsubishi F-2s, and KF-16Us (Korean F-16V variant), respectively.
The Indian Air Force has also sent a contingent led by Group Captain YPS Negi, comprising over 100 personnel, four Su-30 MKI fighters, and two C-17 heavy-lift aircraft.
The exercise involves a variety of realistic, simulated threats that can be encountered in a modern battle-space environment and therefore presents an opportunity for the participating nations to test and improve force integration by using one of the largest training airspace areas in the world over the Northern Territory and Queensland.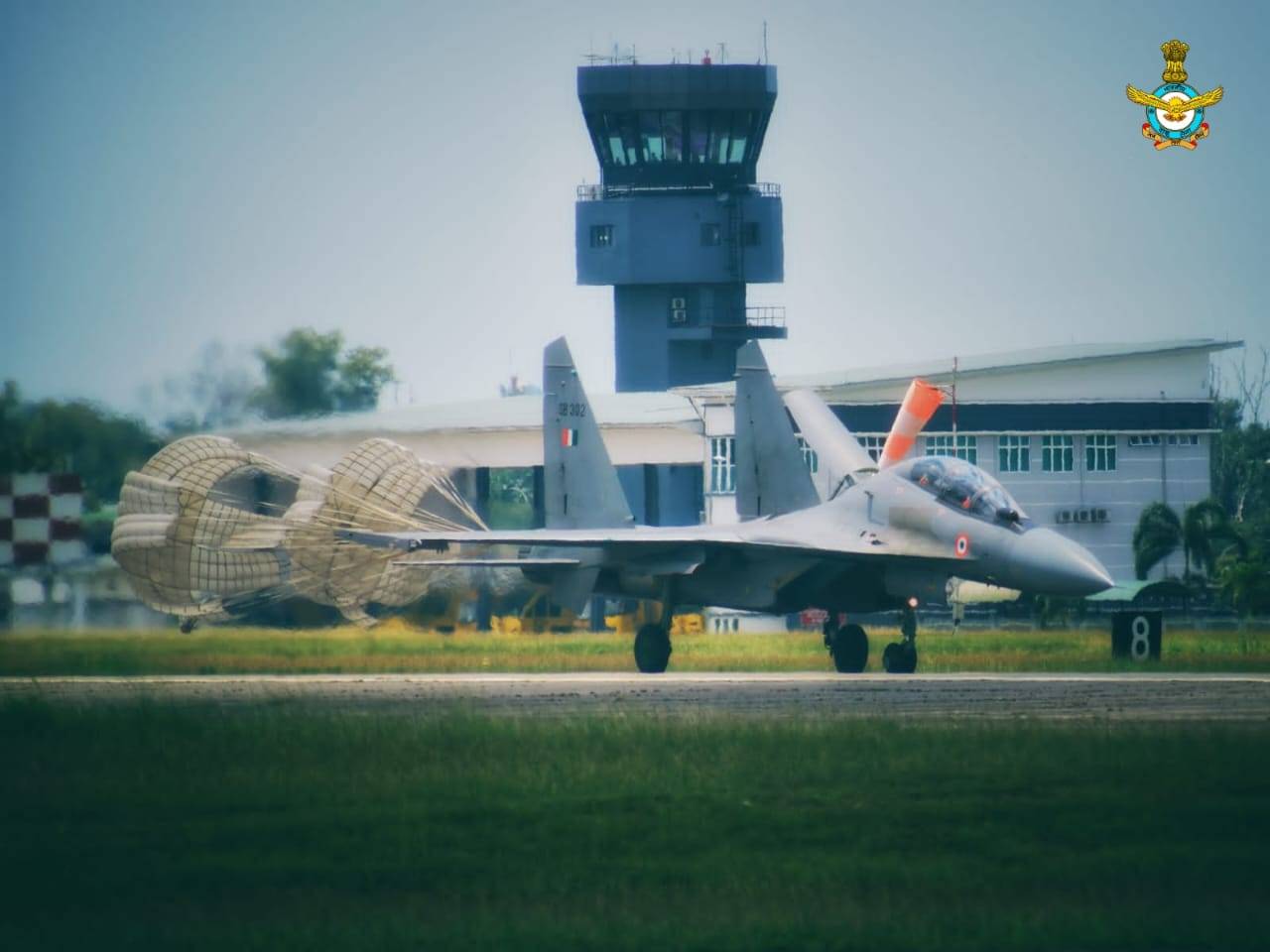 Behrmann said these exercises enhance interoperability and integration capabilities with allied and partner nations in the Indo-Pacific region and beyond, adding that large airspace was set aside for the drills.
There will not be any large, all-inclusive scenario in the exercise, and each mission will be executed as a stand-alone mission with distinct training objectives.
While the Pitch Black exercise will include several drills covering formation attacks, air defense, air-to-ground, and air-to-sea strikes, with a special focus on aerial refueling capability.
#PitchBlack22 Indian Air Force (#IAF) Su-30MKI & Australian Airforce (#RAAF) EA-18Gs air combat drills✨.#ExPitchBlack22 #IndianAirForce #SU30MKI #EA18GS #aviationlovers #aviationdaily #India #Australia pic.twitter.com/SZeT54I3o7

— SANDEEP S?? (@itssandeep_s) August 29, 2022
The USMC's F-35Bs took part in mid-air refueling with multirole tanker/transport aircraft from Australia, Singapore, and the United Kingdom. And the Corps' KC-130J tankers refueled British Eurofighter Typhoon jets.
Also, the Indian Su-30MKI fighter jets were refueled by France's A330 Phénix, marking the first time French tankers refueled Indian aircraft on a long-range deployment.
A French Air Force A330 Phénix, deployed for #PitchBlack2022 in Amberley ??, refuelled IAF Sukhoi SU-30s ahead of their touchdown in Darwin. This is the first time that ?? has refuelled ?? jets in flight during their projection. #Interoperability @IAF_MCC @Armee_de_lair pic.twitter.com/WRNuUNaLui

— Emmanuel Lenain ???? (@FranceinIndia) August 18, 2022
"Air-to-air refueling is a force multiplier, providing essential reach to our combat aircraft. Working with many participating nations aims to increase our force projection and maximize our capability," the RAAF press release about the Pitch Black Exercise said.
US' Attempts To Create Asian NATO?
The Pitch Black Exercise comes after the recent crisis in the South China Sea, which involved massive Chinese military drills in waters surrounding Taiwan after US House Speaker Nancy Pelosi visited the self-governing island.
The drills that lasted nearly a week demonstrated China's ability to cut off Taiwan's ports, attack its most critical military facilities, and block access for outside forces that might come to the island nation's aid.
Therefore, the ongoing multinational exercise in Australia conveys to Beijing that the US and its allies could form a collective security apparatus to contain China's growing military growth.
Experts from the People's Liberation Army's (PLA) Air Force Research Institute have characterized the Pitch Black exercise as the US's attempt to create an "Asia-Pacific version of NATO."
The PLA experts, in a recent article published on China Military Online, emphasized the aerial refueling drills of the exercise, noting how the air forces of the US and its allies and partners deployed in the Asia-Pacific region could provide air refueling support to each other, and rapidly improve their long-range operations and agile deployment capabilities.
"Pitch Black 2022 shows that Australia has become a "bridgehead" for the US to strengthen its military presence in the Asia-Pacific region. The US actively woos countries in and outside the region to speed up the establishment of an 'Asia-Pacific version of NATO' and steps up the pace of establishing military alliances in the Asia-Pacific region," the experts from the PLA Air Force Research Institute said.