Following the RAF Typhoon's first-ever landing on a highway in Finland, the Royal Norwegian Air Force (RNoAF) F-35As have now executed their first landing on a Finnish highway. 
This accomplishment has positioned Norway as the first nation to showcase the capability of the conventional takeoff and landing F-35A Joint Strike Fighter to operate from a highway. The two Norwegian F-35As achieved this notable milestone on September 22 as part of an exercise in Finland. 
In a recent press release, Major General Rolf Folland, Chief of the Royal Norwegian Air Force, stated that the event was not only a significant milestone for the Norwegian Air Force but also held great importance for the Nordic countries and NATO as a whole.  
The General explained that this demonstration underscored their proficiency in executing a concept of dispersal. He explained that fighter jets are vulnerable when grounded, making the ability to utilize small airfields and, now, motorways a critical strategy.  
The operation was part of the latest iteration of Finland's annual Baana road base exercise, which kicked off on September 18.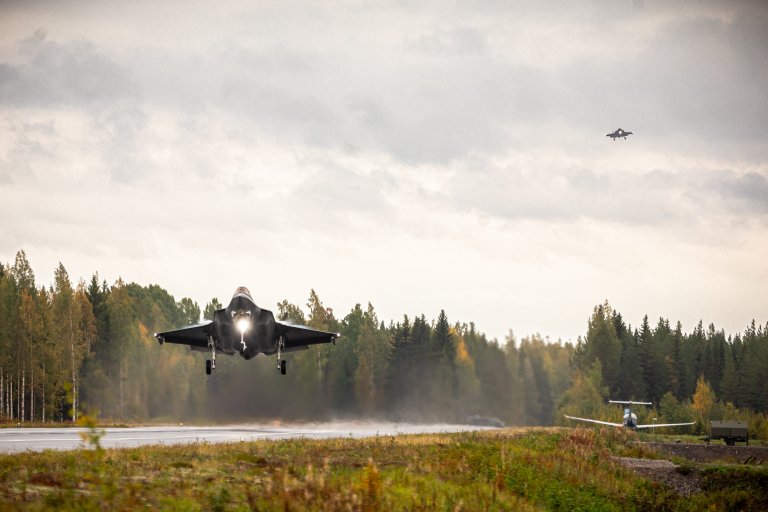 In addition to their highway operations training, the jets underwent "hot pit" refueling, a procedure where their engines remained operational while refueling took place. 
This approach significantly minimizes the time required to prepare the jets for flight, ultimately enhancing operational agility and reducing vulnerability. 
Moreover, it bolsters sortie rates during heightened operational demands. Notably, this process also facilitates smoother crew changes. The avoidance of shutting down advanced fighter aircraft also mitigates the risk of potential serviceability issues when starting them up again. 
In a similar operation, on September 20, the Royal Air Force's Typhoon successfully landed on a road strip in Finland for the very first time.
For the Baana 23 exercise, a stretch of Finland's Regional Road 551 between Karttula and Tervo in the southern part of the country has been transformed into a makeshift air base. 
Based on the available images and videos, it seems that no specific modifications were made to facilitate the takeoff and landing of Norway's F-35As on Regional Road 551. Notably, Norwegian Joint Strike Fighters possess a distinctive feature—drag chutes—which sets them apart. 
These chutes are presently exclusive to the Norwegian F-35As and serve a crucial purpose during landings in challenging winter weather conditions, also expected to be integrated into forthcoming Finnish and Canadian F-35As. 
The drag chute not only ensures safer landings but also reduces strain on braking systems, potentially beneficial for short-field operations like those on roads. However, there's no indication of its utilization during Baana 23. 
Increasing Focus On Makeshift Runways
The strategic utilization of roads as makeshift runways is a practice not limited to Finland alone; neighboring Sweden is actively engaged in regular training to enhance their capacity for road-based operations. 
Such operations can prove crucial, particularly in scenarios where established air bases face imminent threats or potential incapacitation. Baana, an annual exercise, stands as a testament to Finland's longstanding preparedness for such contingencies.  
Within the NATO alliance, the focus on road operations has gained renewed prominence, largely fueled by concerns about Russian aggression.
These concerns have been significantly heightened by Russia's full-scale invasion of Ukraine, underlining the critical importance of adaptability and contingency planning.
Norway's  Major General Folland emphasized, "This [Baana 23] is also a demonstration of the exciting development we have initiated within the military-air cooperation in the Nordic region." 
This event aims to make it increasingly difficult for adversaries to target aircraft while they are on the ground. Folland stressed the importance of thoroughly exploring and practicing all possible scenarios for this concept to be effective.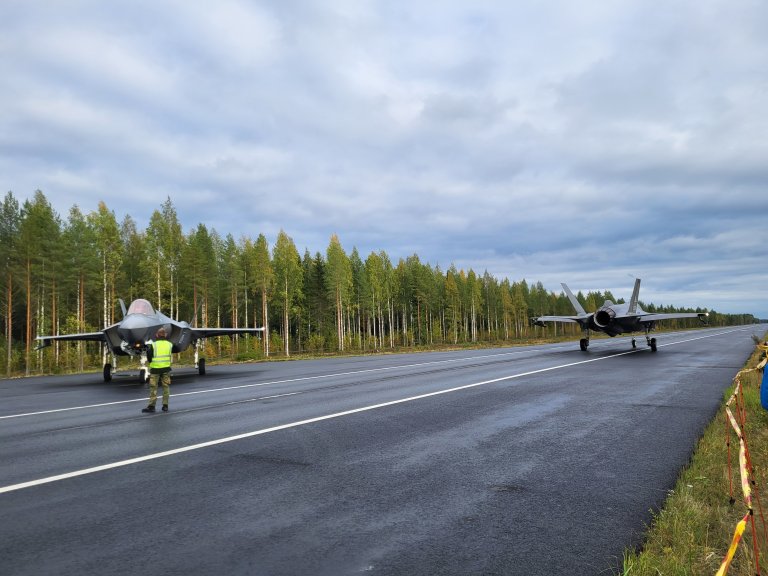 Nonetheless, Finland's recent entry into NATO and Sweden's impending membership have elevated the Nordic countries to a crucial position in the development and coordination of NATO's deterrence efforts in the northern regions. 
Norwegian Defence Minister Bjørn Arild Gram underscored this unique responsibility and highlighted the significance of collaboration and strategic planning among Nordic nations to bolster NATO's deterrence capabilities in this vital geographic area.
Beyond Europe, the US military is increasingly concerned about vulnerable bases globally, notably in a potential conflict with China in the Pacific.
To address this, the US Armed Forces are actively exploring flexible strategies, including using roads to deploy F-35s and other aircraft from remote locations to enhance operational adaptability and resilience.