Even though the Secretary of State Antony Blinken and Secretary of Defense Lloyd Austin snuck into Ukraine on Sunday for an exceptional wartime meeting with President Volodymyr Zelenskyy, the F-35 fighter jet appears to be stealing all the limelight with its purported presence in the area.
The fifth-generation F-35 fighters were reported by the Russian media to have been spotted near the Ukraine border. At least four F-35 fighter planes, as well as a tanker plane and an electronic surveillance plane, were allegedly sighted near the border, the local media AviaPro claimed. The EurAsian Times cannot verify the claims independently.
The reasons for the presence of US Air Force combat aircraft in Ukraine have not been formally revealed; nevertheless, according to unconfirmed sources, military aviation provided cover for the Minister of Defense and the head of the US State Department who went to Ukraine on Sunday.
The two US military planes, an RC-135 reconnaissance plane and a tanker aircraft, were reportedly visible in the live flight tracker, the local Russian media reported. The data on the F-35's route, on the other hand, was unavailable since the fighter jet was presumably flown with transponders switched off, the report added.
The report claims that at least four F-35 fighter jets took off from a base in Rzeszow, Poland, but did not travel into Ukrainian airspace. 
US Secretary of State Antony Blinken has already revealed that he and Defense Secretary Lloyd Austin traveled from southwestern Poland to Kyiv by train and met Zelenskyy and other top Ukrainian officials at the presidential palace for three hours.  
This is not the first time F-35s have flown over the region. The US Air Force previously stated that its F-35 fighter jets flew over Eastern Europe and even performed refueling missions in the region.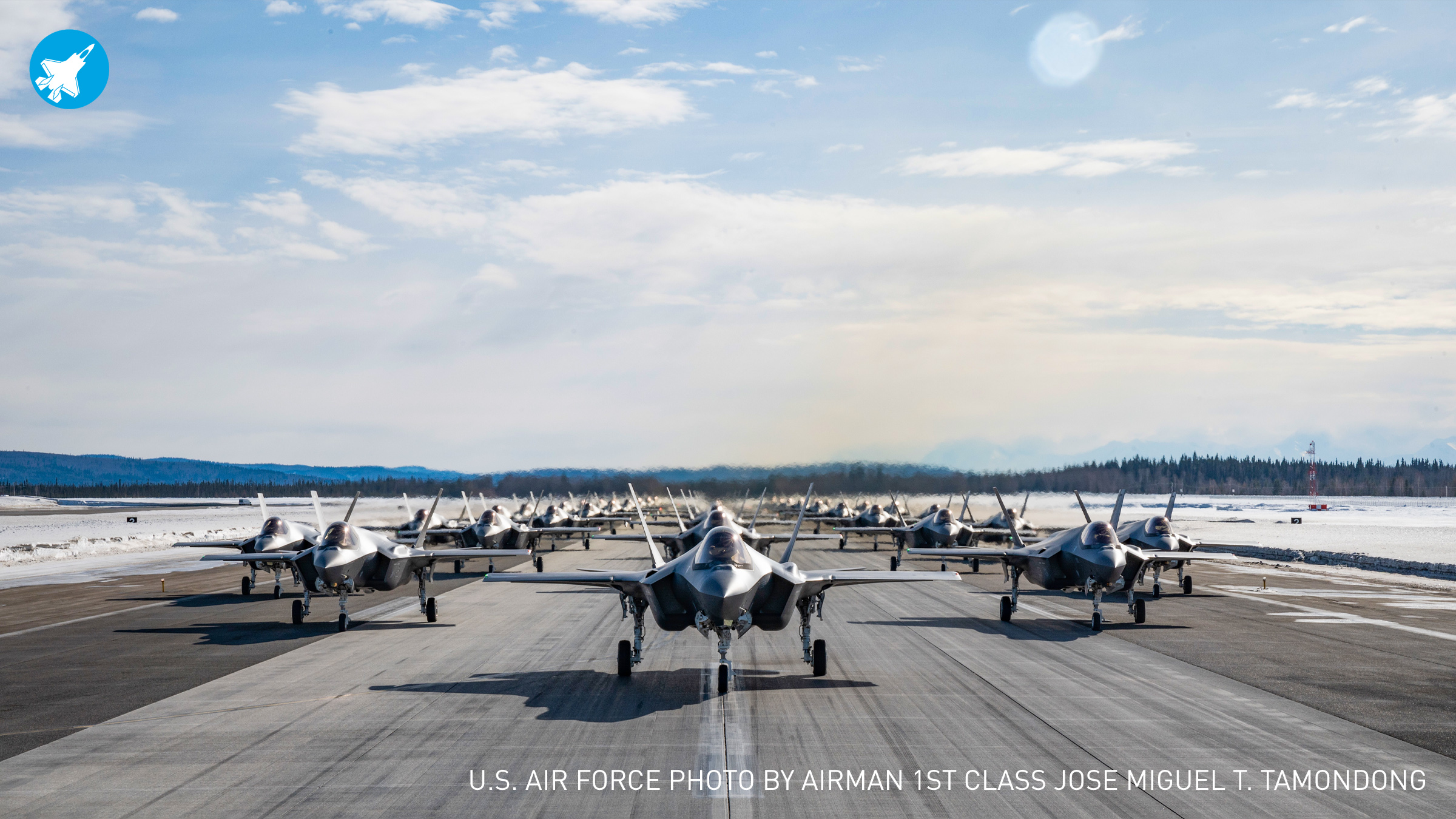 On February 2, F-35 stealth aircraft took off from Germany's Spangdahlem Air Base and landed in Southeastern Poland. A day later, the US Air Force flew two F-35s and a KC-Stratotanker in the region.
Similarly, two American surveillance planes, the RC-135S, were earlier believed to have flown toward Russia's east coast on a mission to monitor the test of Russia's new Sarmat ICBM on April 20 in an unprecedented move, as previously reported by EurAsian Times. 
The two RC-135S planes, having serial numbers 62-4128 and 61-2663, lifted off from Eielson Air Force Base in Alaska and flew toward Russia's Far East coast. 
These planes were claimed to have been examining the Sarmat's multiple independently targetable reentry vehicle (MIRV) test warheads when they landed on a specific region at the Kura Proving Ground on the Kamchatka Peninsula in Russia's Far East.
F-35: Boosting Defenses of NATO
As part of NATO's response to Russia's invasion of Ukraine, F-35s have been conducting intelligence, surveillance, and reconnaissance operations throughout Eastern Europe.  
In line with this, the head of the US European Command previously told lawmakers on March 30 that the fifth-generation fighter aircraft will "deliver a tremendous improvement in our strategic ability, in indications and warnings, command and control, and mission command, as already demonstrated by US F-35s that are contributing to the assure and deter mission at this time."
During an Atlantic Council session in June 2021, Wolters projected that by 2030, Europe will have 450 F-35s. Since then, Finland and Germany have announced they would purchase the fighter, joining the United States, Belgium, Denmark, Italy, the Netherlands, Norway, Poland, the United Kingdom, and Switzerland as European states and partners that have either begun or intend to operate the F-35.
Shortly before Russia launched its war on Ukraine, the US moved F-35 fighter jets from Hill Air Force Base in Utah to Spangdahlem Air Base in Germany. These planes were then dispatched to Romania and Poland to help shore up the eastern flank, arriving on February 24. 
Other European states are also deploying F-35s in allied nations and airspace near Russia. For example, the Netherlands sent four F-35 fighter fighters to Bulgaria as part of NATO's air policing operation.
Italy followed a similar course, recently announcing the deployment of an Italian Air Force F-35A fighter detachment to Iceland to help NATO's ongoing Air Policing activities in the High North.
Billie Flynn, a former Royal Canadian Air Force lieutenant colonel and senior F-35 test pilot for Lockheed Martin, recently told the EurAsian Times that "The deployment of the F-35 certainly demonstrates the maturity of NATO forces operating this fifth Gen platform and demonstrates that they're prepared to protect the NATO alliance flying the most lethal fighter that exists today."
"As a deterrent, I think it would be naïve to underestimate the capability, effectiveness, and lethality of F-35s," Flynn argues, although many perceive the F-35's capabilities in the present battle to be limited to deterring Russia.
The F-35's deployment will continue to improve NATO defenses while also acting as a deterrent to Russia's actions.