US Air Force pilots recently fired a record number of air-to-air missiles from an F-22 Raptor to prepare for an intense war with Russia.
Teams from the 94th Fighter Squadron and 94th Fighter Generation Squadrons were able to load and fire a record-breaking 28 missiles across an F-22 unit during a weapons test in September, according to a report in Task & Purpose.
One of the conditions of the drills was to perform with a reduced ground crew, indicating that the USAF is seriously preparing for operating under constrained logistical and manpower environments, usually a very realistic scenario in war.
This assumes particular significance when the F-22 is no longer manufactured with the production lines shut, and the USAF might have to use the fighter judiciously.
Raptor Is The 'Tip Of The Spear'
The F-22 would be the United States' most crucial fighter in challenging Russian air superiority in the event of a war with the North Atlantic Treaty Organization (NATO).
While the F-35 is expected to lead the campaign with other F-35s used by NATO partner nations building situational awareness of the complex battlefield, the F-22s are likely to undertake the critical niche air-to-air engagements to degrade the Russian Air Force's (RuAF) fleet, using its superior stealth.
With NATO's annual nuclear drill Steadfast Noon underway, a group of four F-22s has also arrived at Netherland's Leeuwarden Air Base, along with F-35 and F-15s.
While the F-22s and F-15s will stay at Leeuwarden for about a week, the F-35s will "leave a week later to practice elsewhere abroad," according to a statement by the Netherlands' Ministry of Defense. "Dutch and American fighters will be flying several joint exercise missions in the near future.
The aim is to integrate weapon systems. It is also about promoting cooperation and deployability between NATO partners," said a statement from the Dutch MoD (or Ministerie van Defensie).
Largest Missile Barrage
"At Weapons System Evaluation Program 22.12, the 94th FS and 94th FGS loaded and employed 28 air-to-air missiles, which represents the most missiles loaded and employed by an F-22 unit, during the two-week long exercise," Tech Sgt. Ceaira Tinsley, a 1st Fighter Wing spokesperson, told Task & Purpose.
The report added that all missiles were fired at aerial targets "being flown by drones," with the total value of all 28 missiles approximately $14 million. The feat was achieved in more than 96 sorties that the units affected through their 'turnaround' and maintenance tasks.
The current record breaks the previous mark of 22 missiles fired by an F-22 unit in the last Weapons Systems Evaluation Program held in 2014. The unit was from Joint Base Elmendorf-Richardson in Anchorage, Alaska. The aim of the exercise was logistical, ground crew, and technical readiness, reflected in Staff Sgt. Edgar Baez-Lopez's assertion about having proved their "unit being prepared" to the USAF leadership.
"It basically tells big Air Force that our unit is prepared to deploy and if they did deploy us, how well we would perform compared to other squadrons," Baez-Lopez said. Baez-Lopez is an aircraft armament systems craftsman with the 94th FGS.
The 94th FS and 94th FGS, part of the 1st Fighter Wing located at Joint Base Langley-Eustis in Virginia, demonstrated how squadrons prepare and field fighter jets for air-to-air combat. It featured live fire, not just with missiles but with the F-22 Raptor's Gatling guns.
"They also demonstrated a high level of proficiency while shooting the F-22's six-barrel, 20mm Gatling gun, and the M61A2 Vulcan at the Advanced Gunnery Target System," said a statement from the Air Combat Command.
According to the Air Force, each F-22 Raptor aircraft can carry eight missiles when sent for air-to-air missions – six AIM-120 AMRAAMs and two AIM-9 Sidewinders. However, the exact missile loadout for these F-22 aircraft participating in the exercise was not revealed.
"As the 1st Fighter Wing, we're already held to those high standards, but even for us, 28 air-to-air missiles is unheard of, and it's record-setting for a reason," Baez-Lopez added. The two-week test also featured several restrictions, with teams having fewer stealth fighters to work with, smaller crews, and multiple first-time shooter pilots, which simulate sudden "no-notice deployment taskings."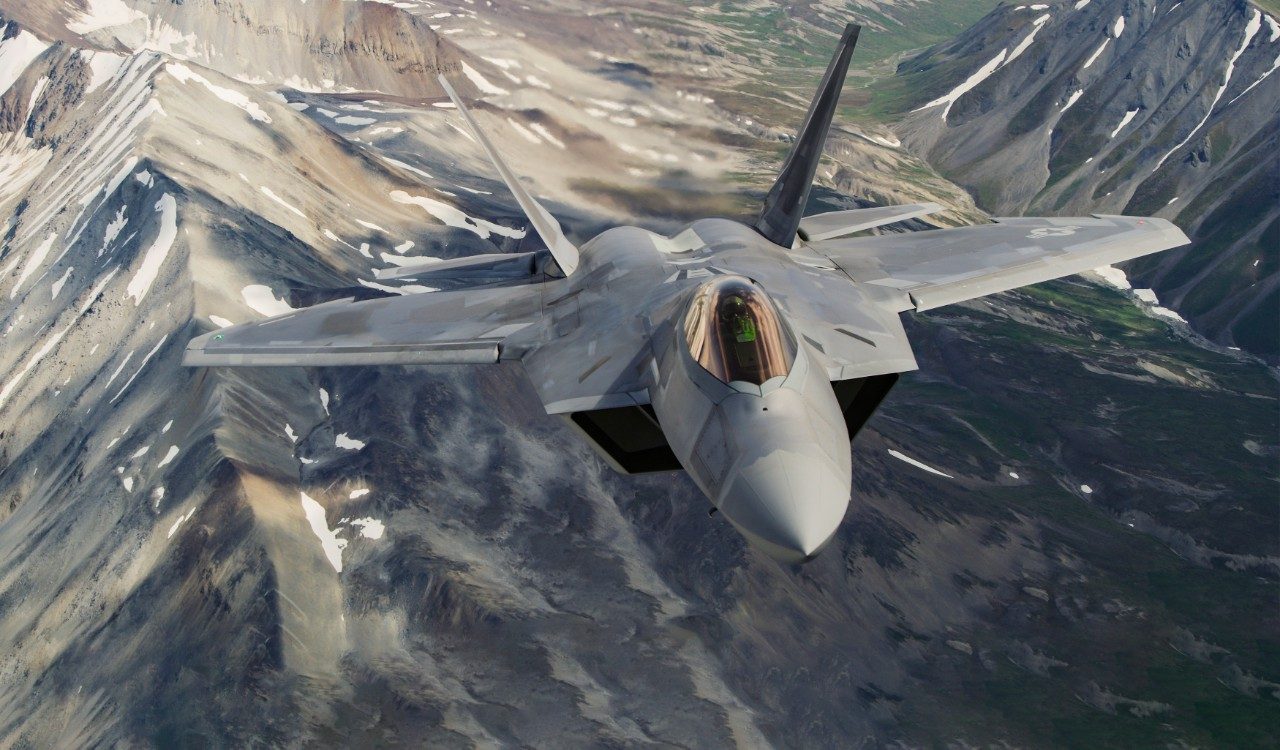 IAF Did The Same In Ex-Gagan Shakti 2018
The logistical and techno-industrial element of bigger full-scale conventional wars was addressed by the Indian Air Force (IAF) as well in Exercise Gagan Shakti in 2018. The aim then was "real-time coordination, deployment, and employment of air power in a short and intense battle scenario."
A few figures put the sheer magnitude of the pan-India right in perspective. The IAF achieved 80% serviceability of aircraft and 97% of radars and surface-to-air weapons, while the "dispatch rate of combat assets" was 95%.
Naturally, IAF had roped in Hindustan Aeronautics Limited (HAL), Bharat Electronics Limited (BEL), and the Defense Research Development Organisation (DRDO). Even the Indian Railways' services were commandeered.
"(The) Indian Air Force (exercised) the entire machinery to validate its concept of operations and war waging capability," a statement regarding the drills had said at the time.
"This exercise is aimed at coordinating operations, maintenance, and administrative responses to achieve the stated objectives of the Indian Air Force in case of any contingency," the IAF had added.
The WSEP 2022 wasn't as gigantic as Ex Gagan Shakti, which galvanized the US defense industry and transport infrastructure. It was at a much smaller, unit-level scale that attested to the "strong rapport between operation crews and maintenance teams," according to Senior Master Sgt. Jared Robinson of the 94th FGS.
But Ukraine has shown that the adversary doesn't have to attack your troops to win and can starve them of ammunition and rations by striking factories and industries.
Kyiv is virtually fighting the war with no weapons of its own and exclusively depending on Western, US, and NATO supplies, proving industrial, economic, and technological advancement (or resilience) should take precedence over mere military modernization. We can only hope India's Aatmanirbharta (self-reliance) drive achieves this aim.