The Royal Saudi Air Force (RSAF) operates the F-15SA, an advanced variant of the F-15E Strike Eagle. In an exercise held earlier this month, the RSAF demonstrated a lesser-known capability of its F-15SA jets.
---
The Strike Eagle
Developed by US aerospace giant Boeing, the F-15E Strike Eagle is an all-weather multi-role fighter jet, which was designed in the 1980s for conducting long-range strike missions and high-speed interdictions without the need of depending on escorts or electronic warfare aircraft.
The Strike Eagle is an upgraded variant of the F-15 Eagle, which took its first flight in 1972 and was officially inducted in the year 1976.
It is a double-engine, two-seat, supersonic, long-range, air superiority aircraft powered by two Pratt & Whitney F100-PW-100 turbofan engines, which have a variable after-burning thrust. The aircraft has a shoulder-mounted swept wing designed primarily to achieve transonic maneuverability.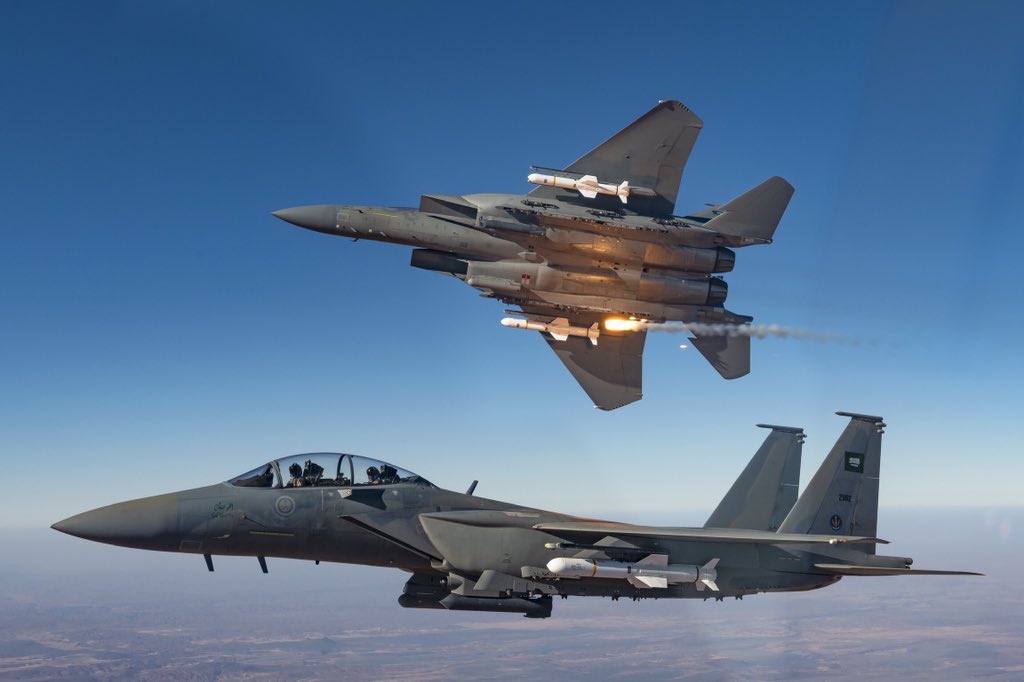 The total wingspan of the warplane is approximately 13 meters. Once the aircraft was in service with the US Air Force, it was exported to Israel, Japan, and Saudi Arabia. It can hit speeds as high as 2.5 Mach and has a range of 3,900 kilometers.
Boeing has pitched the most advanced version of the F-15 series, the F-15EX, for the Indian Air Force's MMRCA 2.0 (medium multi-role combat aircraft) tender. Other contenders include Dassault Rafale, Eurofighter Typhoon, MiG-35 and Su-35, Saab Gripen and Lockheed Martin's F-21.
Boeing has also offered its latest F/A-18 Super Hornet Block III to the Indian Navy, which is looking for a carrier-borne aircraft, and demonstrated the fighter jet's ski-jump capability.
Saudi Strike Eagles
Last December, the RSAF had received the final delivery of the Boeing-built F-15SA as part of a $29 billion foreign military sales (FMS) agreement for 84 jets, which was signed with the US in 2010.
The aircraft boasts a digital electronic warfare suite, fly-by-wire flight control system, Active Electronically Scanned Array radar, an infrared search-and-track system, advanced cockpit displays, and Joint Helmet Mounted Cueing Systems.
The RSAF's F-15SA fighter jets took part in a Pakistan-Saudi Arabian exercise, known as the Naseem Al Bahr XIII, which began on October 3. This was the first time that these fighter jets, which are based at Dhahran on the Persian Gulf coast, were a part of the Naseem Al Bahr exercise series.
In a video released on Youtube, the fighter jets are seen destroying warships and other vessels using its AGM-84 Harpoon anti-ship missiles. The RSAF also flaunted their ability to strike the targets at a considerable distance as Harpoon-armed F-15 fighter jets were seen flying continuously from Saudi Arabia to a location off the coast of Pakistan.
Although the video shows at least two targets being destroyed, there is a possibility that they were also struck by surface-launched missiles fired from warships of the Pakistan Navy or the Royal Saudi Navy, or even helicopters, during the same exercise.
According to reports, plans to integrate the Harpoon to F-15SA were announced in 2016 when Boeing started working on it under a Naval Air Systems Command (NAVAIR) contract. The variant of the missile chosen for this contract was the AGM-84L Harpoon Block II.
Prior to this contract, the Saudi government had put forth a request for acquiring 400 AGM 84Ls as part of an overall large weapons purchase deal worth $6.8 billion. Apart from this, another order of 402 Harpoon Block II missiles for Saudi Arabia was placed with Boeing under the NAVAIR. These may also include surface-launched variants of the missile.
Keeping in mind Saudi Arabia's regional adversary Iran, which has been conducting various maritime activities in the Persian Gulf and also further afield, Saudi Arabia's demand for deadly anti-ship capabilities seem justified.
Across the Persian Gulf, Saudi Arabia faces threats simultaneously posed by the Iranian Navy as well as Iranian Revolutionary Guards Corps Navy. While these forces are known for operating fast in-shore attack craft, semi-submersibles, and submarines, they also have missile-armed corvettes as an expeditionary sea base-type vessel.
These could be potential targets for powerful anti-ship missiles such as the Harpoon.
AGM 84L Harpoon
The AGM 84L Harpoon is equipped with a combined GPS/inertial navigation system (INS) guidance package which provides the missile with accurate mid-course updates to increase its precision.
This technology has been imbibed from the Standoff Land Attack Missile Expanded Response (SLAM-ER), a land-based variant of the Harpoon.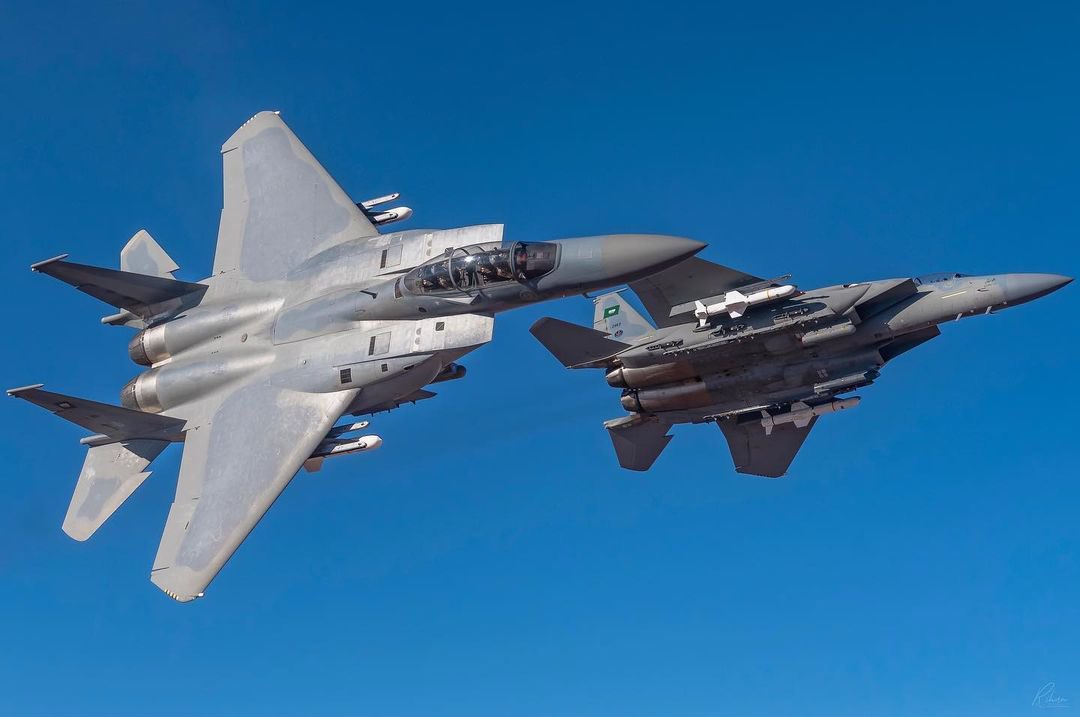 The AGM 84L's mission computer and its software have been adopted from the SLAM-ER. The missile's key features include an active radar seeker for terminal guidance along with a 500-pound high-explosive warhead. It has a range of approximately 121 kilometers.
As Saudi Arabia exhibits its ability to attack naval targets beyond the Persian Gulf, the RSAF as well as the whole Saudi Arabian military demonstrates its capabilities by giving equal competition to Iran in projecting its power.
Apart from securing its two strategic ports closer to home, Saudi Arabia calls for a more robust presence in the Persian Gulf, Arabian Sea, Gulf of Aden, and the Red Sea. Pakistan is an important ally for conducting operations in the Arabian Sea. This was well exhibited during the Naseem Al Bahr XIII exercises held this week.
The addition of the niche Harpoon missile to the RSAF's fleet of F-15SAs is going to provide Saudi Arabia with cutting-edge anti-ship capabilities and will further strengthen the country's wider naval modernization efforts.