Over the past few days, the Polish-Belarusian border has become the hotspot of violence and conflict, sparking global concerns especially within the European Union and the US.
The situation has deteriorated to the extent that Polish authorities, along with Latvia and Lithuania are considering invoking Article 4 of the NATO charter. This comes along with a fresh Russian military buildup at the Ukrainian border.
The Crisis
The situation became tense at the Polish-Belarusian border when groups of migrants from the middle east tried to forcefully and violently make their way into Poland. This has resulted in an unarmed conflict with the Polish border security personnel.
Something very bad is reportedly happening at the Poland-Belarus border! Belarusian soldiers are pushing migrants onto the fence. A woman is heard shouting, someone is using gas, Polish and Belarusian soldiers are shouting at each other. A lot (!) of swearing. pic.twitter.com/uZnPiQNbmp

— Tadeusz Giczan (@TadeuszGiczan) November 15, 2021
The migrants have been stranded at the western borders of Belarus for a few months, and the Belarusian government has been blamed by NATO for inciting violence and creating unrest at the Polish border.
Warsaw has released images and video proofs of Belarusian soldiers supporting the migrants to destroy the fences and supervising the 'attacks'. More than 10 migrants have died so far, and the situation has aggravated with the onset of winter.
Today's attack is being conducted under the strict supervision of the officials of the ??Belarusian services. https://t.co/zB1mpEUO1p

— Poland MOD ?? (@Poland_MOD) November 16, 2021
The migrants were equipped with stun grenades by the Belarusian services and they threw at Polish soldiers and officers https://t.co/PBX1i4kNkN

— Poland MOD ?? (@Poland_MOD) November 16, 2021
??Belarusian services under cover of night destroy the fence to allow migrants to cross the ??-??border illegally. https://t.co/IXgvOsaSx2

— Poland MOD ?? (@Poland_MOD) November 16, 2021
There is also strong evidence against the Belarusian government, supported by Kremlin, is deliberately weaponizing these migrant groups and forcing them over the border as retaliation over fresh sanctions on the Lukashenko regime.
However, Russia has denied any such allegations. These migrants were lured to Europe in hopes of legal migration and tourism packages and were then forced to move into refugee camps.
These migrants have been trying to cross into multiple bordering states, only to be pushed back by the Polish, Latvian, and Lithuanian authorities. The rise of anti-immigrant settlement in Europe has also given Belarus a reason to tarnish these NATO countries, with an exchange of harsh words and threats from both sides.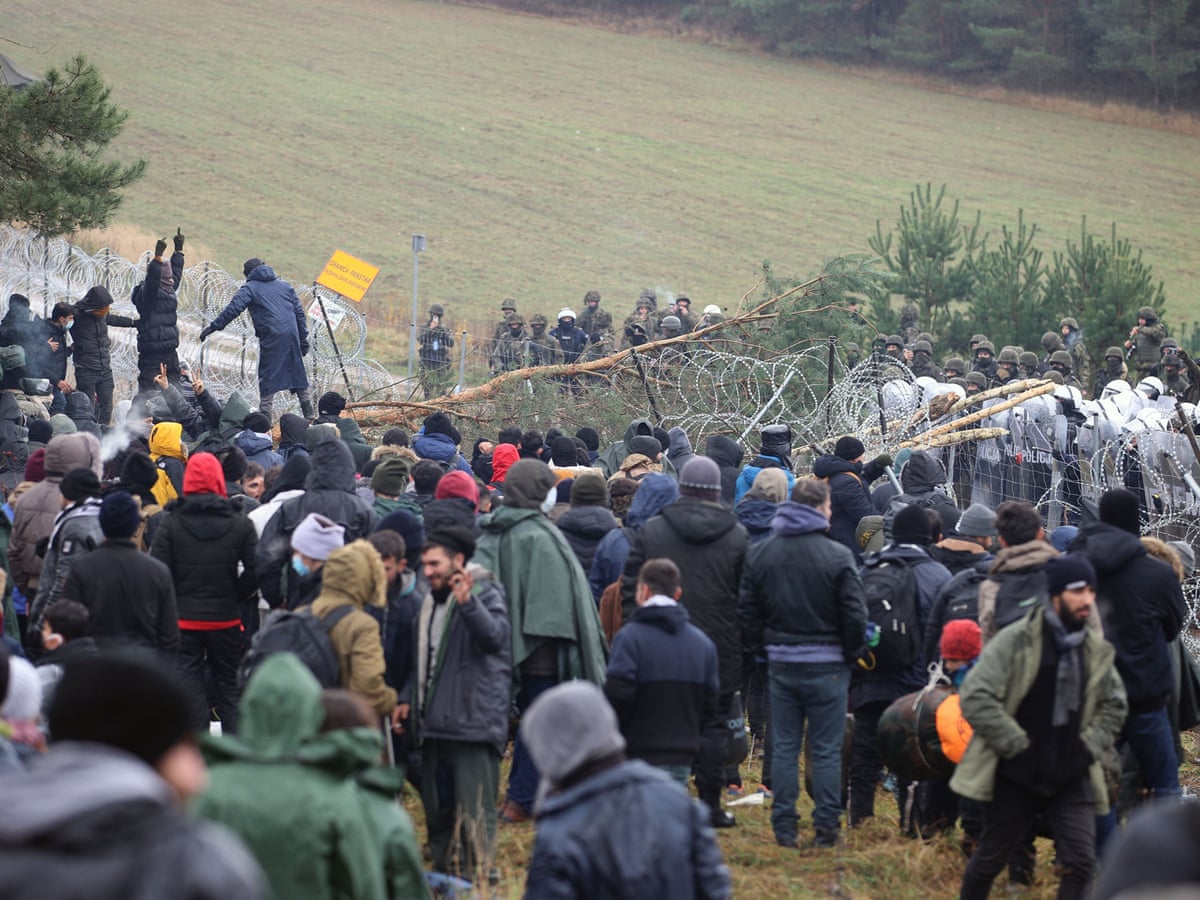 On Sunday, the Polish Prime Minister said that their government is in discussion with Latvia and Lithuania to invoke Article 4 of the NATO charter. This article mentions a mechanism in which all the alliance members have a consultation meeting when "the territorial integrity, political independence or security of any of the parties is threatened."
A team of British Army's Royal Engineers have already been deployed to Poland to strengthen border fortifications with Belarus. Estonia too pledged to send reels of barbed wires to Lithuania in July. Several American intelligence-gathering and electronic warfare aircraft have also been reported active along the Belarusian border.
A USAF ?? E-8C Joint STARS aircraft has been dispatched to Lithuania ?? to monitor the #BelarusBorder situation. The E-8C is an airborne ground surveillance, battle management and command and control aircraft. It tracks ground & air targets, and relays them. #REDEYE8 pic.twitter.com/taaHFjLXNK

— Military Aircraft Tracking (@aircraftrack) November 16, 2021
In response, the Belarusian premier Lukashenko announced on November 13 that his country is ready to deploy several Iskander short-range ballistic missile systems from Russia.
"We have a regional group of forces that includes this missile system. If need be, they will arrive in our territory to fulfill tasks," Belarus defense minister chief said in an interview with the Al Jazeera television channel, an excerpt of which was uploaded on the ministry's Telegram channel on Tuesday.
'Problem' with Belarus
Belarus has been a staunch ally of the Russian Federation, with the authoritarian regime of Alexander Lukashenko, infamously known as "Europe's last dictator". His regime is allegedly strongly and overtly supported by Kremlin, which has saved the Belarusian economy from NATO sanctions with multi-billion loans.
"Lukashenko does it all with the Kremlin's blessing. He's like a cornered rat, and Moscow is his only protector," Pyotr Lysevich, a Belarusian graphic designer who fled to neighboring Ukraine following last year's opposition protests against Lukashenko's sixth presidential victory, told Al Jazeera.
Economically, politically and even linguistically, Belarus resembles Russia's weaker, smaller conjoined twin, it added.
According to several experts, by luring Syrian and Iraqi Kurds into Minsk on the pretext of tourism and diverting them to migrant camps, Lukashenko wants Warsaw to 'run out of patience' and create instability, in a show of force and revenge against sanctions.
"This is a hybrid attack. Not a migration crisis," Ursula von der Leyen, President of the E.U. Commission, Tweeted last week.
I had a productive meeting with @POTUS at the White House⁰
We touched upon a series of issues including the situation at the border with Belarus⁰
This is a hybrid attack. Not a migration crisis
 
Beginning of next week, we will very quickly expand our sanctions against Belarus. pic.twitter.com/nsdCVLbyk4

— Ursula von der Leyen (@vonderleyen) November 10, 2021
However, the chances of direct military action against Belarus remain low. Earlier, Belarusian Permanent Representative to the United Nations Valentin Rybakov said in an interview that the situation is tense on the Belarusian borders, as neighboring countries keep pulling military equipment there, and any mistake can lead to tragic consequences.
According to the diplomat, not only Poland and Lithuania are strengthening their military presence at the border: Ukraine also declared plans to deploy additional border guards and servicemen. Russia and Belarus are already implementing security measures, with aerospace forces jointly patrolling borders, Rybakov assured.
"At today's meeting, the president instructed the defense minister that Belarus should adequately respond to the strengthening of the military component on the other side of the border, in Poland, Ukraine and other countries.
The president stressed that we in no way want to escalate the situation. We understand that the situation is so tense that any provocation, any [manifestation of the] human factor and any mistake can lead to extremely tragic consequences," Rybakov said.
Belarus does not "engage in rattling" or try to "frighten anyone" but is committed to defend national interests, including through Union State armed forces, the diplomat warned.